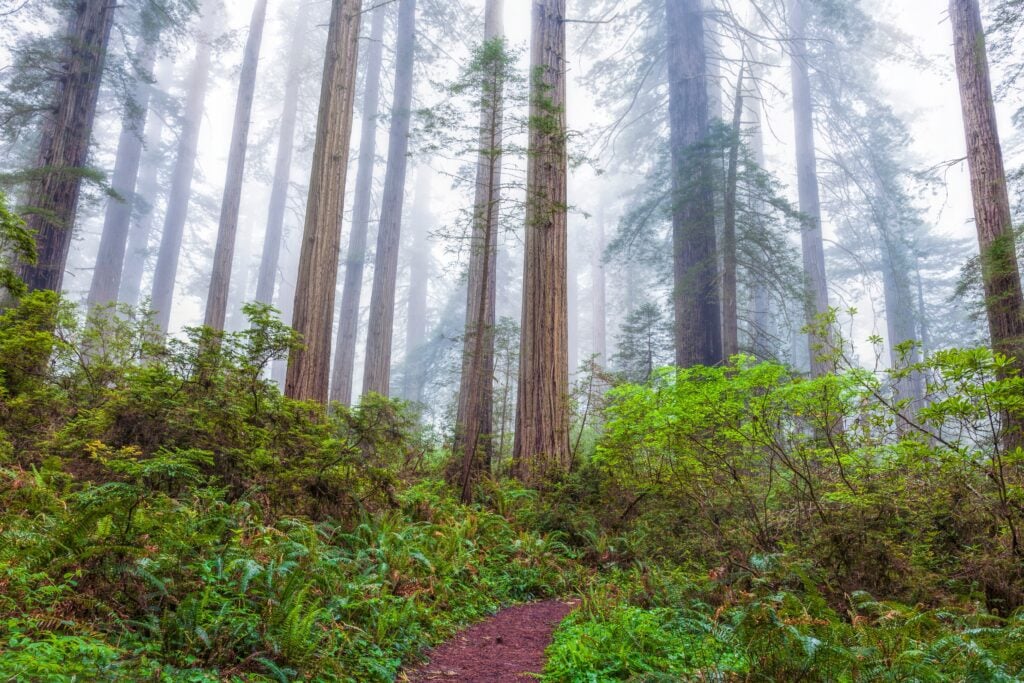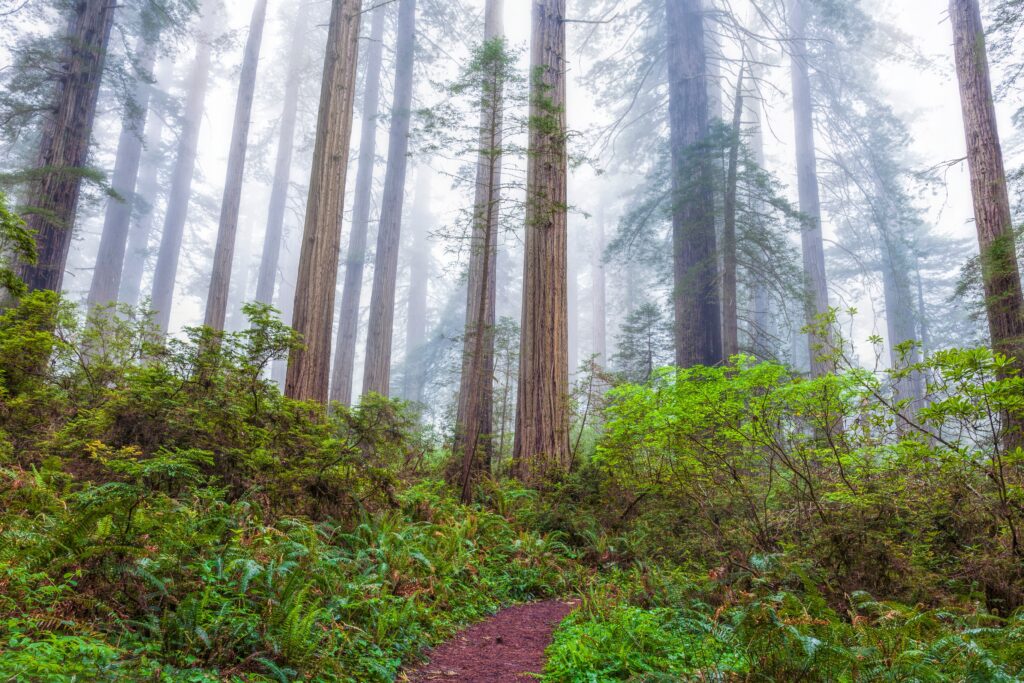 Spring Travel: The Top National Parks To Visit For RVers
RVers across the country are celebrating the onset of spring, as the snow thaws, flowers bloom, and parks unlock their gates. If you have yet to prepare your RV for springtime, you will soon be doing so. Springtime grants us access to our exceptional national parks, free of summer heat and crowds.
The US boasts 424 national park sites, each reserved as public parkland for their distinctive magnificence. With parks spanning from coast to coast, there is likely one in close proximity. This article will highlight our preferred national parks to visit during spring. While everyone has personal preferences, this article focuses on less frequented destinations. Beginning on the West Coast, the Redwood Forest on the northern California coast is a must-see.
Redwood Forest National And State Park
Redwood National Forest is renowned for its ancient grove of California Redwood trees, which have thrived for thousands of years. However, the park extends beyond this iconic attraction to encompass a staggering 131,983 acres of prairies and rugged Pacific coastline. It's home to a diverse ecosystem and well worth a visit if you are planning a trip to the West Coast.
Camping at Redwoods Forest National Park
The park features four campgrounds, in addition to several nearby RV parks such as Emerald Forest Cabins, which is highly recommended by reviewers on RV LIFE Campgrounds.
Getting here
The National Park Service advises against using Bald Hills Road to reach Redwood National Park, despite indications from your GPS. To ensure a secure journey, rely on the dependable RV LIFE Trip Wizard. This tool provides detailed, RV-friendly directions, based on your rig's specifications and preferences.
Great Basin National Park, Nevada
Great Basin National Park showcases the diverse landscape of the Great Basin area, with sage-covered foothills and snow-capped mountain peaks. The park is also home to vast subterranean caves, featuring geological formations such as stalagmites and stalactites that predate human existence. Reserve a spot for the guided Lehman Caves tour, which allows for exploration of these unique natural wonders.
Pet policies
Pets are not allowed on most hiking trails at Great Basin National Park, but there are some exceptions. For example, pets are allowed on the Alpine Lakes Loop Trail and the Bristlecone Trail, both of which are less than a mile in length. It's important for pet owners to check the park's rules and regulations before bringing pets.
Camping in Great Basin National Park
Great Basin National Park offers five campgrounds for visitors. During peak season, four of these campgrounds are reservable. One highly reviewed campground is Lower Lehman Creek, which is praised for its tranquil setting and secluded sites.
Arches National Park, Utah
Arches National Park is a mesmerizing red rock paradise, primarily due to its incredible natural rock formations boasting over 2,000 stone arches, soaring pinnacles, and colossal balanced rocks. The warm, vibrant hues of the landscape create a stunning contrast against the park's blue skies, resulting in a truly breathtaking spectacle.
Should you bring your pet?
Bringing a pet on your trip? Arches National Park is geared towards human visitors, and it's not particularly accommodating to pets. Although you can walk your dog on the park's roads, hiking trails are off-limits. It's important to note that paved surfaces can become uncomfortably hot for your pet in the afternoon. Additionally, Arches poses several risks that could be harmful to pets, such as scorpions, rattlesnakes, coyotes, thorns, and jagged rocks.
Dog-friendly hiking paths can be found outside the National Park and typically require a leash. It is noteworthy that Moab, a nearby city, provides kennels and dog daycares for your pet's care while you enjoy hiking in the park without any concerns. The Discover Moab website offers excellent advice for pet owners visiting the region and also includes a brief listing of kennels and other pet-related facilities.
Camping in Arches
Devil's Garden is the only campground in Arches National Park and is highly rated by campers. The absence of Wi-Fi in the park is the main disadvantage. If you intend to camp in the park, make sure to reserve your campsite well in advance since this campground fills up rapidly from March to October.
If you can't secure a campsite at Devil's Garden, don't worry, as there are exceptional RV campgrounds in the surrounding area, including a few operated by the Bureau of Land Management. Another great option is Moab Valley RV Resort; you can read a full review on it here.
Getting here
Located in southeastern Utah, Arches National Park is situated five miles north of Moab along US 191. If coming from Moab, travel north on Main Street/US 191 for five miles and make a right at the stoplight. If traveling from Interstate 70, take exit 182 (Crescent Junction), then proceed south for 28 miles on US 191 before turning left at the stoplight.
Canyonlands National Park, Utah
Not far from Arches National Park, Canyonlands National Park features extensive river canyons that emit primitive desert ambiance in a secluded region. It appeals to enthusiasts of off-road excursions, 4×4 trails, and mountain biking, while also offering various unique attractions across its four distinct zones.
The Island In The Sky Mesa, a striking feature that stands over 1000 feet above the surrounding canyons, is the park's most accessible area. Paved roads provide numerous pullouts with breathtaking views. The White Rim Road, a loop around the Island In The Sky Mesa, allows visitors to explore ancient petroglyphs and other fascinating sites. Additionally, the park's unpolluted skies offer a spectacular view of the starry night.
Pet policies
Pet owners should be aware that dogs aren't allowed in some areas of Canyonlands National Park, even in vehicles. This includes anywhere on White Rim Road.
Camping at Canyonlands National Park
Canyonlands National Park has two campgrounds: The Island in the Sky, also known as Willow Campground, has 12 primitive campsites, while Needles has 26 primitive campsites. While a few campsites can be reserved, the majority function on a first-come, first-served basis. In case the campgrounds are occupied, there are several RV campgrounds in Moab that may be available.
Aztec Ruins National Monument, New Mexico
At Aztec Ruins National Monument in New Mexico, you can explore the 400-room Great House and follow in the footsteps of the ancient Pueblo people. These ruins are a testament to their culture and building prowess, standing for over 900 years.
The visitor center is the ideal starting point, offering a basic orientation to the park and its trails. The park features an interpretive half-mile trail that winds through the ruins, providing insight into the captivating culture of America's early inhabitants.
Pet policies
Pets are prohibited on the Aztec Ruins Trail but can be walked in the parking lot, picnic area, and along the Old Spanish Trail. This route leads to downtown Aztec, where pet owners can visit the Aztec Off Leash Dog Park–a delightful spot for dogs.
Camping near Aztec Ruins National Monument
Aztec Ruins National Park does not have on-site camping facilities, but the nearby Ruins Road RV Park is a convenient option for visitors. The RV park is priced reasonably and located within a short walking distance to the Aztec Ruins. RVers have given positive reviews to the park, praising its amenities, staff, and proximity to the ruins.
Getting here
The Aztec Ruins National Monument resides on Ruins Road, situated approximately 0.5 miles to the north of New Mexico Highway 516 in Aztec, New Mexico.
Hot Springs National Park, Arkansas
Hot Springs National Park, located in the southwest of Arkansas, features eight intricate bathhouses built during the 19th and 20th centuries. Visitors can luxuriate in the naturally heated waters of local hot springs. The park offers 26 miles of walkways and hiking trails for visitors to explore.
Although it is not a typical National Park destination, it is definitely worth a visit. To indulge in a hot spring bath at one of the two remarkable bathhouses available for public use, advance reservations are required.
Pet policies
Leashed pets are permitted throughout Hot Springs National Park, with the exception of indoor facilities. Visitors may take leisurely walks alongside their canine companions amidst the verdant forests, provided that they keep their pets on a leash and tidy up after them.
Camping at Hot Springs National Park
Gulpha Gorge Campground offers on-site camping within the park. This highly-regarded campground provides electrical hookups at every site, ranging from 15 to 50 amps, as well as water and sewer. While the campsite fee of $32 per night exceeds that of several other National Parks, reviewers have generally shown great satisfaction with their stay.
Everglades National Park, Florida
Everglades National Park presents a unique opportunity to explore the Everglades Wetlands and observe a diverse array of wildlife on both land and water. The park features an impressive assortment of animals that have adapted to this exceptional tropical wetland. The swamps found in the Everglades are a rare occurrence, combining both freshwater and saltwater.
The park is home to numerous animal species such as the Florida panther, American crocodile, American alligator, West Indian manatee, wood stork, and snail kite. You can explore this fascinating ecosystem by kayak or boat or join a guided nature tour.
When planning a trip to the Everglades, it's important to note the two distinct seasons: the dry season (December-April) and the wet season (May-November). Mosquitoes are far more abundant during the wet season. Spring falls between the two seasons and can be an ideal time to visit the park since it's less crowded than winter and less rainy than summer.
Should you bring your pet?
Due to the presence of wild animals in Everglades Park, pets are not recommended to be brought along. As a result, several trails within the park do not permit dogs. However, leashed pets are permitted in specific areas:
Roadways
Roadside campground and picnic areas
Maintained grounds surrounding public facilities and residential areas
Private boats
Camping in Everglades National Park
Camping is not permitted in Everglades National Park, but there are numerous RV campgrounds in the vicinity that provide excellent camping choices. Refer to RV LIFE Campgrounds to learn more about the many nearby options.
Getting here
The park is extensive, with three separate entrances, each with its own visitor center, and they are not interconnected. For RV adventurers, it is advisable to plan your trip with RV LIFE Trip Wizard to find an RV-safe route. Unlike other tools, RV LIFE Trip Wizard and the accompanying RV LIFE App tailors a turn-by-turn route that is specifically designed for RVs.
Start planning your trip today
For all of your camping and trip planning needs, look no further than RV LIFE Campgrounds and RV LIFE Trip Wizard. Campground Reviews is a trusted source of campground and RV park reviews offered by camping and RV enthusiasts just like you. With its accompanying RV LIFE App, RV Trip Wizard gets you to your camping destinations utilizing RV-friendly routes specific to your RV and travel preferences.
Been to a campground lately? Don't forget to leave a review! Reviews help other RVers like yourself, and they help the campground. Leave a campground review today!
Related articles:
The post Plan Your Spring Adventure: National Parks You Won't Want To Miss appeared first on RV LIFE.
Source: https://rvlife.com/national-parks-to-visit-in-spring/