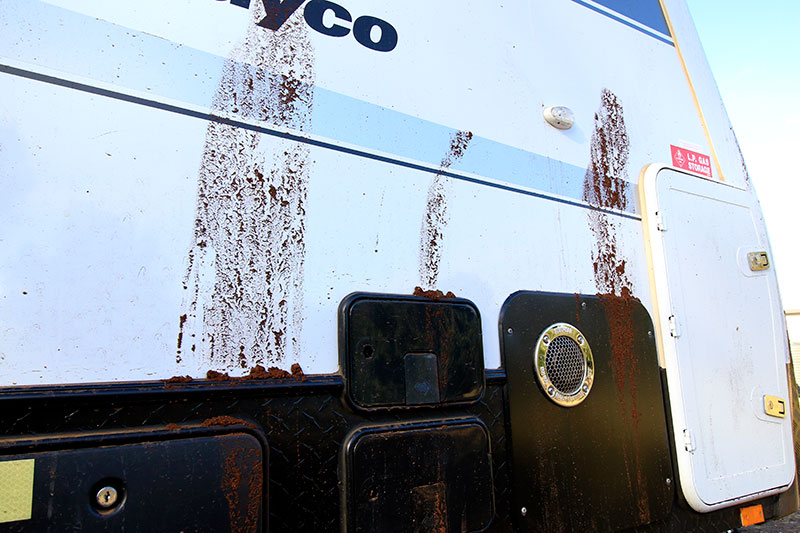 One of the best ways to keep your caravan looking like new is to clean it. Sounds obvious, right? But you'd be surprised how many people just tuck it away into storage at the end of a trip, oblivious to the damage salt water spray, bug guts and more is doing to the finish of the van. Your caravan is likely to be one of the largest financial investments you'll ever make, so an hour or two spent getting rid of the grime is time well spent.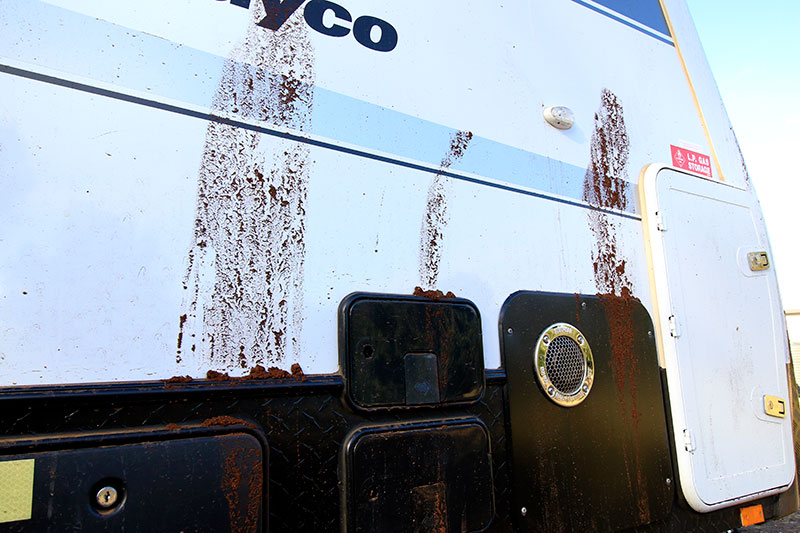 We recently had the chance to test out RV Outback Superwash. GoRV contributor, David Sajfar, had just arrived home from one of his regular trips to Port Arlington, Vic. His Jayco Silverline had quite a coating of dirt, some of which had become quite caked on, and he was particularly concerned about getting the salt off – after all, he was parked metres away from the ocean's edge for a few days.
MIXING UP OUTBACK RV SUPERWASH
Using Outback RV Superwash isn't rocket science. How soiled the van is will dictate the amount of solution to use. If it's heavily soiled, as David's was, you'd mix up a 20:1 ratio of Superwash and water. Regular washing only requires a 50:1 ratio, while if it's lightly soiled, you'd mix up a solution of 40:1 water and Superwash.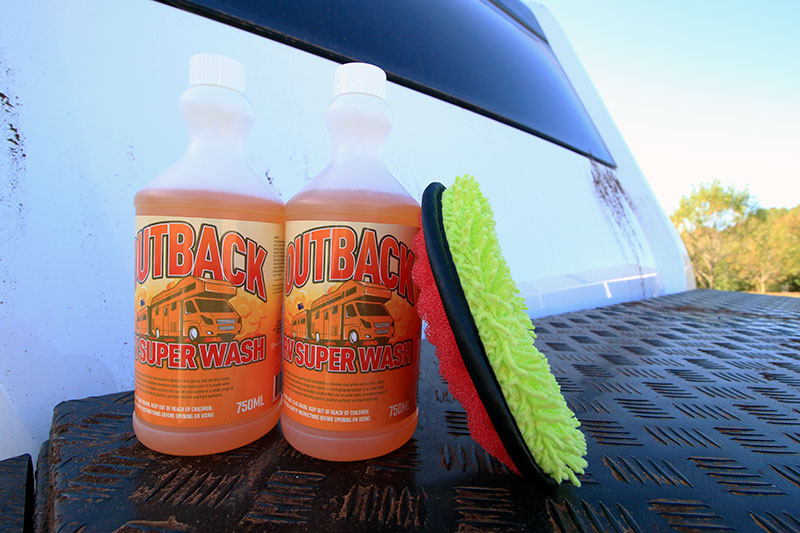 Now, there are a few ways you can apply this soapy solution. A special 'glove' is available from the company, with one side for regular application and a more abrasive side for getting rid of stubborn grime. You could also simply use a soft-bristled broom. Just make sure you've hosed off the worst of the dirt and grime first.
We, however, used the snow foam gun on David's pressure washer. The amount of foam coming out of the gun was particularly satisfying, as was the speed with which the task was accomplished.
It is best to only let the Superwash sit for a very short period, as it dries quickly, and then hose it all off. It is recommended that you only clean on section at a time, too.
Both David and I were pretty impressed with the result. His Silverline was almost sparkling once we'd finished.
DISSOLVE STAINS
According to the company, Outback RV Superwash is formulated to dissolve red bore stains, red dirt stains, mud, diesel and everyday road grime from your van. It is a water-based, acid-free detergent that is also suitable for vehicles with acrylic windows. However, red stains on any vehicle that has been acid-washed or cut and polished will be harder to remove.
It can be safely used on a wide range of surfaces, including painted surfaces, plastics polished aluminium, and it won't void your warranty.
Our Superwash came in a 750ml bottle; however, it is also available in 5L and 20L containers. Tip: it is recommended that you first try the product on a small section of the surface to be cleaned. However, in our experience cleaning the fibreglass finish of David's Jayco Silverline, Outback RV Superwash works a treat. While the van wasn't coated in red outback dust, it did have an unhealthy layer of dirt and general road filth, not to mention saltwater spray, and it only took minutes to get it clean. It is clearly a quality product that we, after testing it for ourselves, would have no hesitation in recommending.
PRICES
750ml: $29.50
5L: $105.60
20L: $380.16
More information: www.outbackcleaningproducts.com.au
The post Outback RV Superwash Tested! appeared first on GoRV.
Source: https://www.gorv.com.au/outback-rv-superwash-tested/