Oceans RV Resort: A New Coastal Haven In North Carolina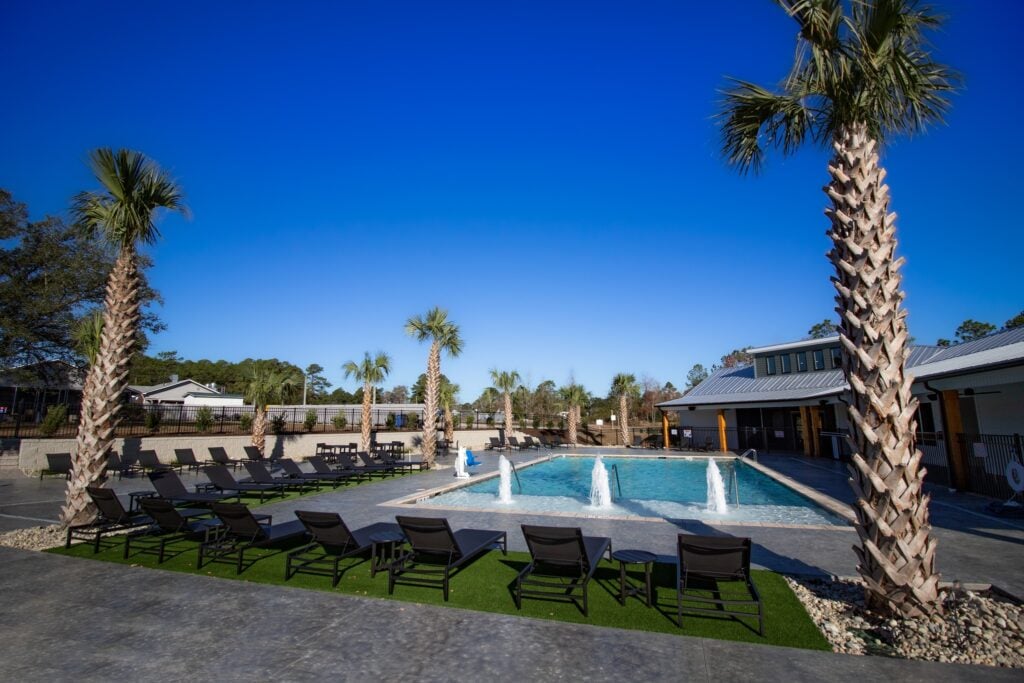 Plan Your Next Adventure at Oceans RV Resort in North Carolina
Oceans RV Resort is an excellent option for those who love the beach! It's located less than 10 minutes away from two beach towns, and it offers both comfort and convenience. Surrounded by picturesque views and nature, it's no surprise that visitors will want to come back to this serene and beautiful oasis.
Recently opened in January 2023, this resort prides itself on offering luxury RV living with a side of outdoor hospitality.
A new luxury RV resort in Holly Ridge
Currently, the resort is offering over 200 rental sites, with spacious options for rigs of all sizes. Full hookups are provided for power, water, and sewer. There are also RV park models available for rent.
Live music, children's activities, and food trucks may be available poolside on select Saturday and Sunday afternoons. As schedules vary, visitors will want to inquire about specific events when booking a stay.
Owners of fur babies will want to stop at the general store to buy some tail bangers, aka dog treats. Take advantage of the dog washing station and maybe be one of the first guests to use the dog park that recently opened.
The manager of the resort, Joel Beck, enjoys welcoming guests to the resort. He loves to share information about nearby businesses as well.
"I think it's great because it's close to local attractions, a lot of outdoor recreation, and the museums that Topsail Island has to offer," he said. "There's a lot of history out here and just beautiful scenery in the area."
Standard RV sites
The standard campsites at Oceans RV Resort include a cement patio, a fire pit, a picnic table, wireless internet, and a parking space.
All sites include electric, water, and sewer hookups. Some are back-in spaces with 30/50 AMP, while others provide an interior pull-thru with 30/50 AMP.
Deluxe RV sites
Created for large RVs, the deluxe sites include gravel pads, fire rings, and picnic tables. They differ from the standard sites in the extended parking space. They are back-in sites and come with 30/50 AMP.
Premium RV sites
Similar to the standard sites, the premium sites include gravel pads, picnic tables, and fire rings.
In addition, they are set up specifically for large RVs and include extended parking spaces and extended lawn areas. They also include electric, water, and sewer hookups.
Amenities
Oceans RV Resort offers a variety of amenities, with more coming soon. Currently, guests can enjoy the swimming pool, pickleball courts, fitness center, fire pits (perfect for s'mores), convenience store, and on-site laundry. There is also a three-hole putting green available. Amenities being added soon include a picnic and grill area.
Nearby attractions and activities
Surf City is located just five miles away from Ocean's RV Resort and is jam-packed full of activities. Shopping, restaurants, and plenty of outdoor attractions are available in this area. With a handful of parks and kids' playgrounds, public beach access points, and a variety of outdoor recreation centers, a day spent at Surf City is not to be missed!
Explore a bit further down the road, and you will find Topsail Beach. With an impressive 25-mile-long shoreline, Topsail Beach is another must-see town. Browse the gift shops, try the seafood at area restaurants, and of course, don't miss out on the main attraction: the beach! Relax in a beach chair as the roar of the ocean brushes away your cares. Splash in the surf, or try your luck at surfing. A day at the beach is good for the soul and an inexpensive outing for the day with the kids or the dogs.
Visit the Karen Beasley Sea Turtle Rescue & Rehabilitation Center
Topsail Island is one of the most northern nesting sites in the world and is also home to the state's only sea turtle hospital. The Karen Beasley Sea Turtle Rescue and Rehabilitation Center provides tours daily during the months of June and July and weekdays during August. Reservations are always required.
They have been rescuing, rehabilitating, and releasing loggerhead sea turtles since 1996. Their goal is to protect all types of aquatic turtles, both in the water and on the beach.
Parks and museums
Local parks that are nearby Oceans RV Resort include:
Museums that might be of interest include the EMA Touch Tank Aquarium, the Bermuda Island Coastal Reserve, and the Missiles & More Museum.
Local restaurants
No matter what style of food you might be craving, the area's restaurants have you covered. There's the Southern Roots Grille, Smoky Tony's BBQ, the Burrito Shak, Michaelangelo's Italian, Island Delights, and Hwy 55 Burgers, Shakes & Fries. Rick's Restaurant & Sports Bar is another place to unwind.
Learn more about Oceans RV Resort
Want to stay more than a week? Oceans RV Resort also offers monthly rates. Do keep in mind that monthly stays will be charged separately for electricity and you will be charged a monthly resort fee. Starting at $949 a month, the FHU RV sites can be your semi-permanent, home-away-from-home!
Be sure to check their social sites for coupons. The resort's Instagram account shares a coupon good through July 30, 2023. Use code "springfever" at the time of booking for one free day when you book two days. Please note the savings of buy two days, get one free is only for full hookup RV sites.
Visit their website to book your stay and learn more.
Find more resorts near you
For all of your camping and trip planning needs, look no further than RV LIFE Campgrounds and RV LIFE Trip Wizard. Campground Reviews is a trusted source of campground and RV park reviews offered by camping and RV enthusiasts just like you. With its accompanying RV LIFE App, RV Trip Wizard gets you to your camping destinations utilizing RV-friendly routes specific to your RV and travel preferences.
Been to a campground lately? Don't forget to leave a review! Reviews help other RVers like yourself, and they help the campground. Leave a campground review today!
Related articles:
The post Oceans RV Resort: A New Coastal Haven In North Carolina appeared first on RV LIFE.