Northern New Brunswick's Panoramic Diversity
Set your GPS to explore the untold beauty of four distinct regions of Canada's East Coast.
If you enjoy travelling roads less taken, then it may be time to visit northern New Brunswick. A diverse, natural wonderland encompassing everything from ocean vistas to pristine mountain wilderness, northern New Brunswick is considered the quintessential 'great Canadian escape.'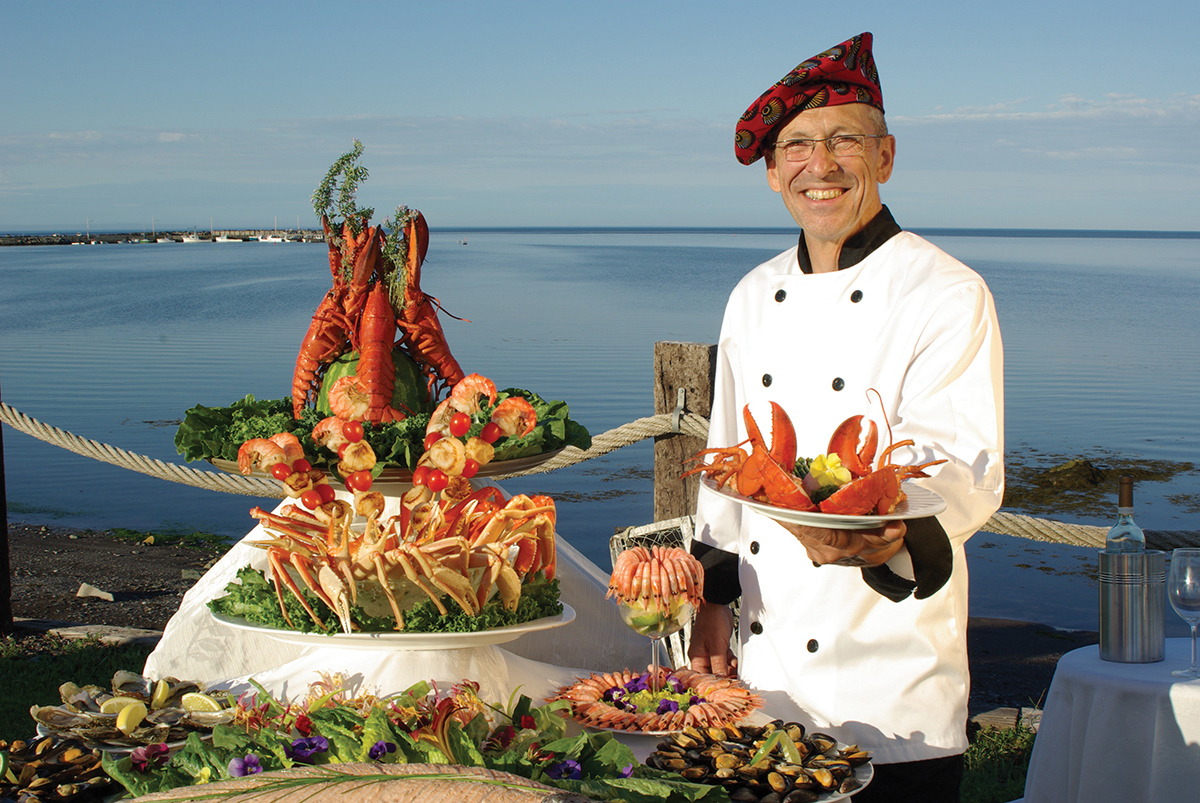 Seascapes, sandy beaches and picturesque fishing villages give way to rugged mountains, cascading waterfalls, pristine wilderness and world-famous salmon rivers. Experience the down-to-earth northern hospitality and diverse cultures of this heritage-rich region. Enjoy the wide offering of outdoor activities, ranging from salmon fishing and golf to mountain biking and canoeing. Browse artisan shops and galleries, sample local seafood, check out festivals and farmers markets, and even experience the ancient culture of the region's First Nations peoples. 
Planning Your Trip
You can complete your northern New Brunswick RV tour in about four days, but with everything this region has to offer, you could spend weeks exploring northern New Brunswick. 
Whether you're entering the province from Nova Scotia or Quebec, Maine or Prince Edward Island, it's easy to find one of New Brunswick's official 'Scenic Drives.' These are mapped out for you in the Official New Brunswick Touring Guide and Scenic Drive signs are clearly posted along provincial highways and exits. 
As you map your route, be sure to stop at each of the province's four northern-most cities including Miramichi, Bathurst, Campbellton and Edmundston. 
Miramichi
Famous for its world-class salmon fishing, northern New Brunswick's largest city offers year-round activities for outdoor enthusiasts, as well as a cultural kaleidoscope of festivals, food, music and history. You can enjoy a boat excursion on the Miramichi River, take a walking tour with historic characters, or cycle along the scenic trails. 
Around Town
Upon your arrival, your first stop should be at The Miramichi Visitor Information Centre located at 199 King St. (Route 11). There's a picnic area and pet trail and the town itself boasts two downtown districts with several malls and big box stores. For more discerning shoppers, specialty shops, boutiques, plus dining and entertainment, are found along the scenic Miramichi River.  
Other popular activities for RVers include strolling along the boardwalk at Ritchie Wharf or walking through the historic and popular Water Street District. You can also enjoy the local offerings of two nearby farmer's markets including the Newcastle Farmer's Market (open Fridays) and the Chatham Farmer's Market (open Saturdays).
Festivals & Events
From pond hockey to pumpkin flinging, Miramichi celebrates a plethora of festivals throughout the calendar year offering excitement for every member of your family. This year, the New Brunswick Festival of Tall Ships comes to Miramichi May 31 to June 2, allowing opportunities to experience an up-close look at the regal sailing ships from a by-gone era or see a ship set ablaze in a heart-stopping re-enactment from the War of 1812. Other festivals not to be missed include Canada's Irish Festival on the Miramichi, July 18 to 21, and the Atlantic Canada International Air Show, August 24 to 25. 
Outdoor Recreation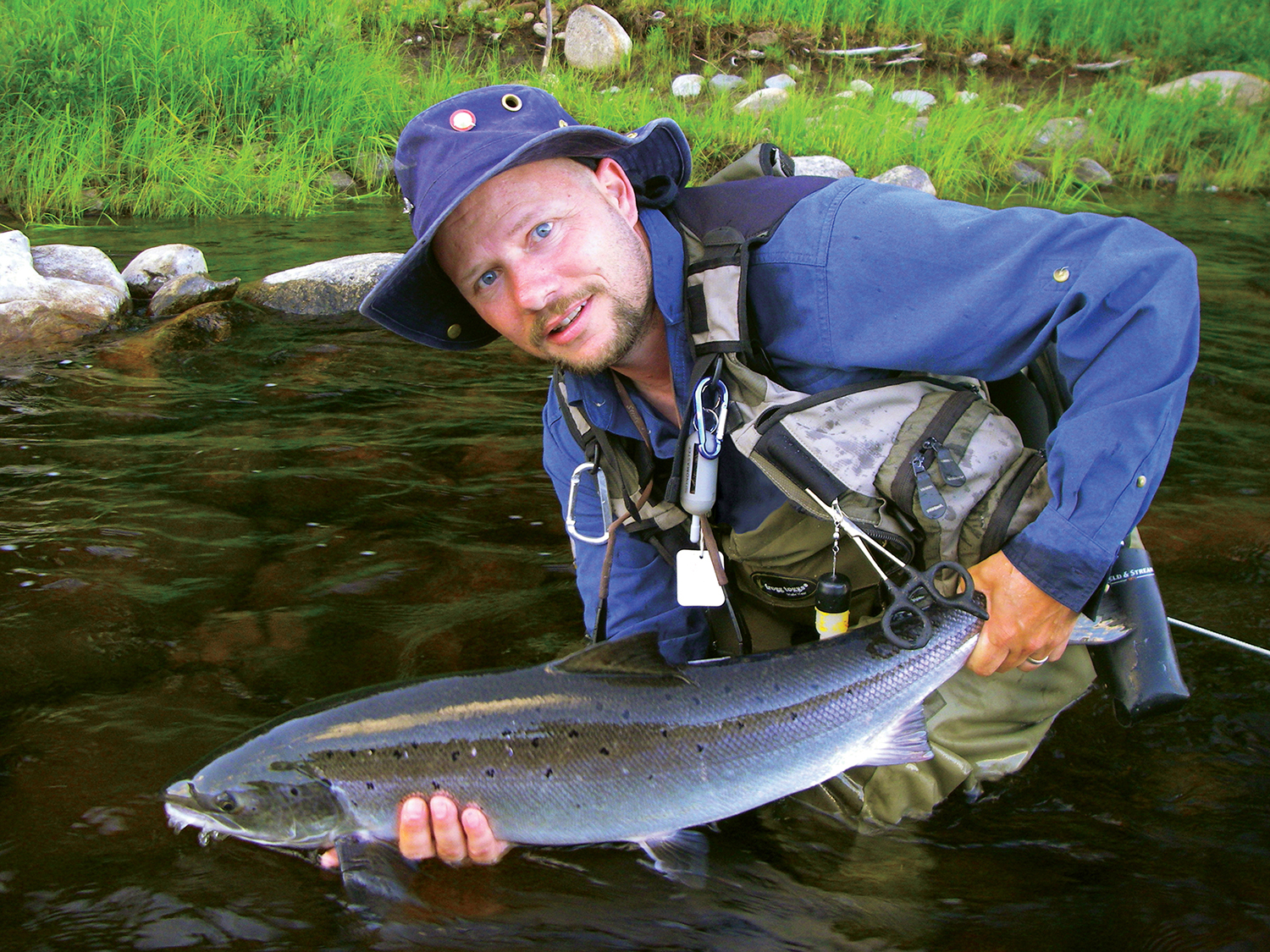 Salmon fishing, ATV-ing, river tubing, and canoeing are just a few of the exciting outdoor pursuits waiting for you in the Miramichi. Explore French Fort Cove Nature Park and hear the chilling legend of the Headless Nun; paddle a 'big canoe' in the tradition of the ancient voyageurs; experience Aboriginal culture at Metepenagiag Heritage Park; take a river boat tour, or enjoy a sample of some culinary seafood delights at the beach after exploring the fishing community of Escuminac. 
If you're looking for more family adventures, perhaps take a ferry-trip back in time to Beaubears Island and ride in a 10-passenger voyageur canoe and be greeted by a colourful cast of historical characters representing the Island's rich fur-trading and shipbuilding heritage.
Camping
RV-friendly campgrounds in the area include Sunrise Campground (Route 11), Escuminac Beach and Family Park (Route 117), Camping Miramichi (Route 11), Enclosure Campground (Route 8) and Family Land Campground (87 East Point Rd., Miramichi). There's also Kouchibouguac National Park (Route 117), which is only an hour's drive away. 
Bathurst
This lovely, bilingual city is located on the southern-most part of the Bay of Chaleur, which has been dubbed "one of the most beautiful bays in the world." A rich blend of English, Acadian and Mi'kmaq heritage, and a deep-rooted connection to the sea permeates the cultural charm of this vibrant northern community. 
Enjoy delicious lobster rolls for lunch at the Pabineau Seafood Market or get your seafood to go at McLean's Fish Shop or Arseneau's Fish Market in Nigadoo. They offer a wide selection and will even pack your purchases for travel. While you're here, don't forget to ask the locals about the story of the Phantom Ship!
Around Town
Park your RV at the Visitor Information Centre located at 86 Douglas Ave., just off of Route 134. It's centrally located on La Promenade Waterfront, one of the city's most popular visitor sites. This is where you'll find a quaint cluster of shops along with services, galleries and eateries.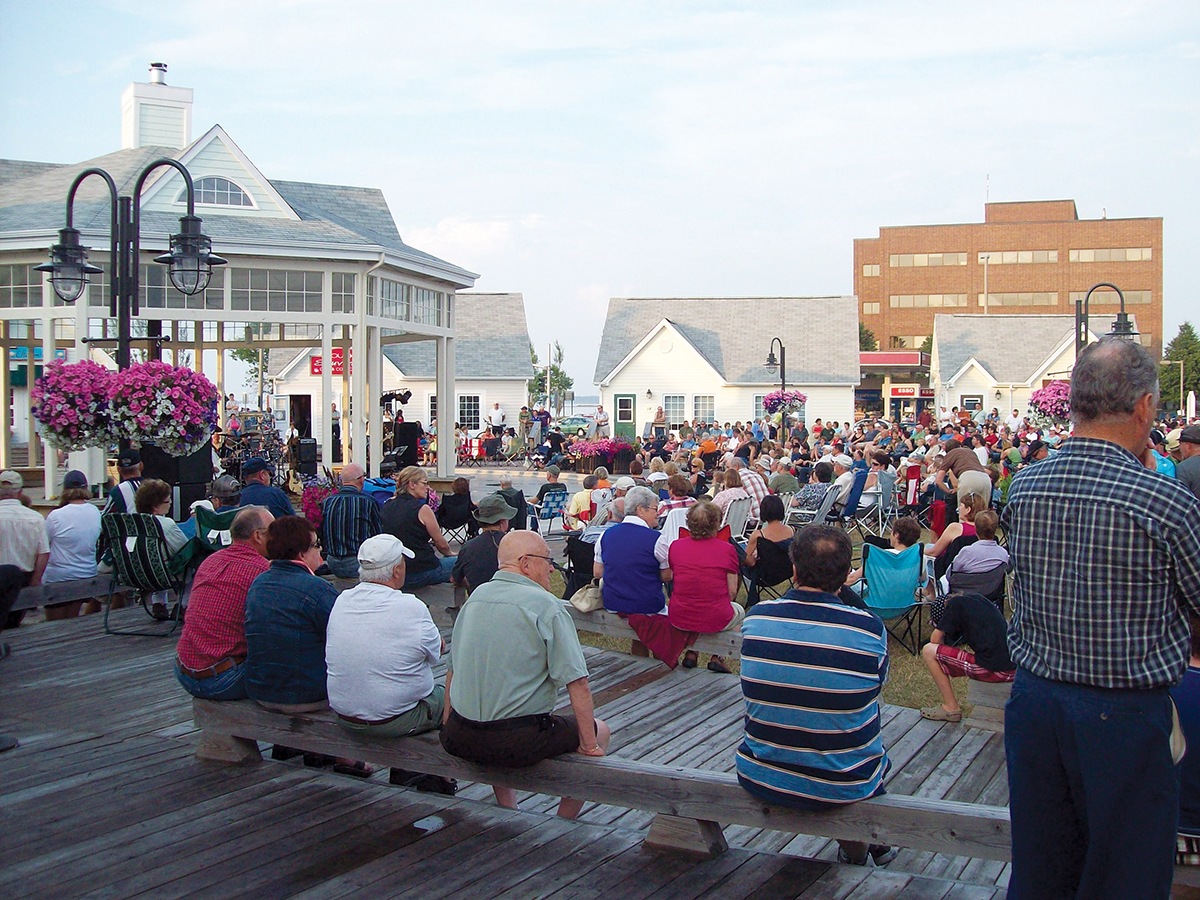 The downtown core is just a short stroll away. Other amenities available at the Visitor Centre include free parking with drive-through spaces, public washrooms, an observation tower and live entertainment at the outdoor pavilion through July and August. If you go downtown, be sure to visit the Bathurst Heritage Museum, and take their self-guided tour of the city. The Bathurst War Museum on St. Peter Avenue is also well worth a visit. Browse the fascinating exhibits and hear many interesting stories and insights from your war veteran tour guide.
Festivals & Events
A popular event is Bathurst's Hospitality Days, which takes place the third week of July with lots of family-oriented fun. On Saturdays, check out the local produce and home-cooked fare at the Bathurst Farmer's Market. Several activities over the course of the event include a golf tournament, a horse-pull competition, bingo, and several activities for children, including an SPCA animal day, a penny circus, and even a family day.
Evening entertainment is also provided in the festival tent that includes an entertainment night, a rock and roll night, an Acadian party plus a major closing concert.
There are even activities for seniors including a variety show, card party, bowling tournament, and horseshoe tournament. A social evening is also held and always draws a crowd. 
For additional information visit www.tourismnewbrunswick.ca
Outdoor Recreation
The Daly Point Nature Reserve is a bird-watcher's dream with more than 100 different species to add to your 'birder's diary.' Youghall Beach Park and Beresford Beach are both fully-serviced beaches and offer lots of saltwater fun. Golf and hiking opportunities are also nearby. Heed the call of the sea and climb aboard a real fishing boat for an 'Acadian Sea Adventure' with Captain Charles of Petit-Rocher. Or delve into Aboriginal culture at the beautifully scenic Pabineau Falls First Nations. Don't forget your camera as photo-ops abound!
If you like water activities, Atlas Park in nearby Pointe-Verte features a stunning artificial lake, which is 33 meters (108 feet) deep and carved from solid rock. Floating wharves, paddleboats, trout fishing, playgrounds, volleyball courts, walking trails, a snack bar and picnic areas are just some of the things this family-friendly park has to offer.
Camping
RVers visiting this region can stay right next to Youghall Beach at the RV Park Campground located at the Bathurst Marina. Enjoy the on-site restaurant and patio bar as well as many other amenities. Families with children will also enjoy staying at Malybel Campground and RV Park in nearby Beresford. This park, located only minutes from some of the Province's finest beaches, includes playgrounds, a swimming pool, waterslides, mini-golf as well as activities and live musical entertainment.
Campbellton
Located at the mouth of the mighty Restigouche River and surrounded by ancient Appalachian mountains, Campbellton is a diverse mixture of Mi'kmaq, French, Acadian and Scottish heritage. Encounter old-fashioned community festivals, outdoor entertainment, museums and galleries. If you're a history buff, be sure to visit the Battle of the Restigouche Historic Site. 
Around Town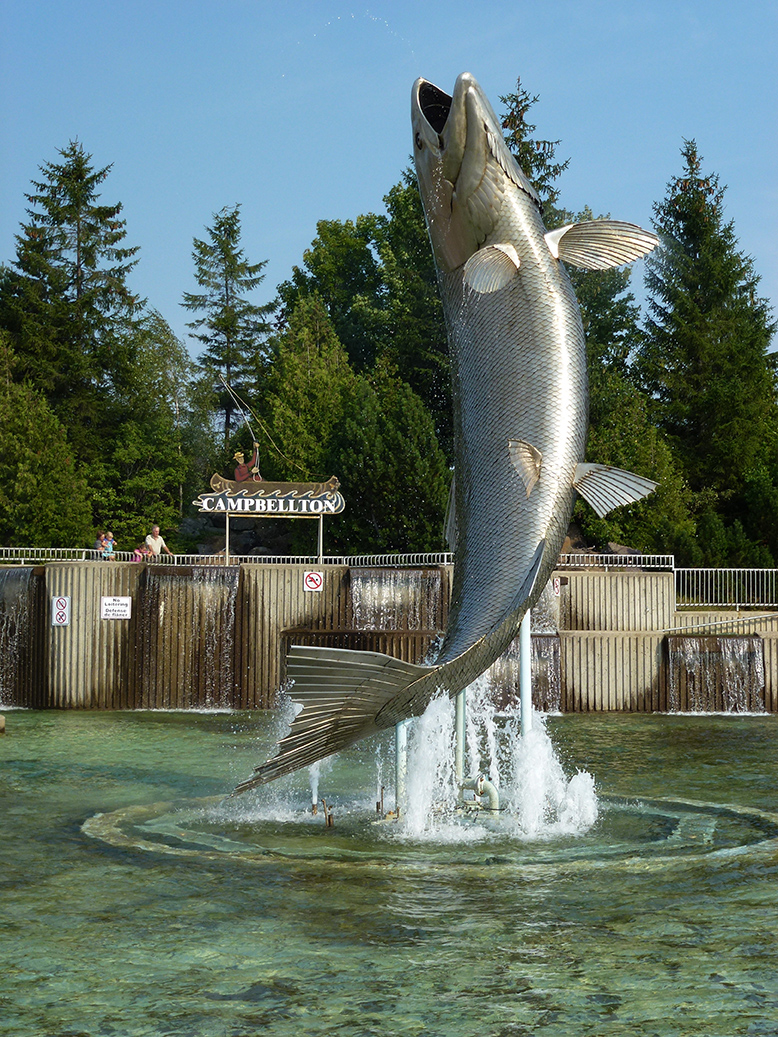 The Visitor Information Centre (56 Salmon Blvd.) is conveniently located next to the waterfront boardwalk with a great view of the renowned Bay of Chaleur. What's more is RV parking is free of charge and there's a newly-built dumping station located at the east end. Children will enjoy the splash-park and activity kiosks situated along the boardwalk. Don't forget to capture a family photo with 'Restigouche Sam,' the world's largest salmon! There are shopping and dining opportunities downtown, as well as the Civic Centre, which features two Olympic-sized ice surfaces, two pools, a water slide, fitness centre, and racquetball and squash courts. There's also an indoor soccer field.
Festivals & Events
The Campbellton Salmon Festival is a carnival-style celebration of the Restigouche Salmon and the event highlights pageants, fireworks, street parties, parades and of course, salmon dinners! 
If you really want to get your heart pumping, check out the annual Adrenaline Bike Festival. Held at the Sugarloaf Mountain Bike Park in mid-July, this extreme mountain biking event attracts more than 200 cyclists!
Outdoor Recreation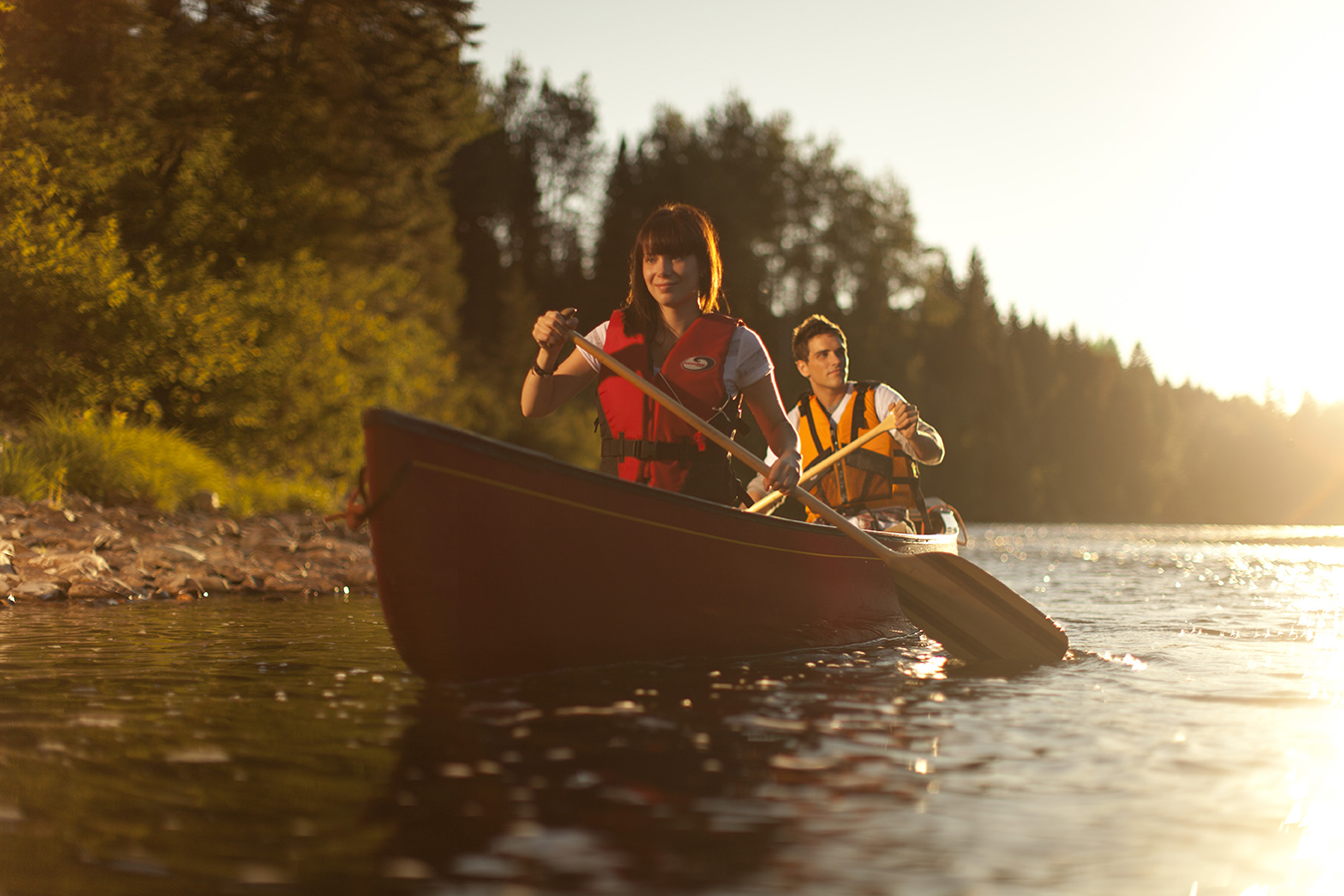 From relaxing canoe tours to extreme mountain biking, Campbellton is an outdoor enthusiast's dream. A premier ski destination in the winter, Sugarloaf Mountain also features Atlantic Canada's only lift-service mountain bike park. If careening down a mountain-side isn't really your speed, you can cast for salmon, canoe the world-class Kedgwick River, hike the tree-lined trails, go clam digging on Heron's Island, or relax beachside in Tide Head, the Fiddlehead Capital of the World. On Tuesday and Wednesday nights, the Restigouche Regional Museum invites you on a graveyard ghost walk that will set your spine tingling.
Camping
The Campbellton Esplanade (boardwalk) now connects to the new RV Park, giving RV travellers easy access to all of Campbellton's waterfront and downtown attractions. Other camping options include nearby Sugarloaf Provincial Park, only 2 km from Campbellton's city centre, and Blue Heron Camping, located 17 km away in Charlo, and Inch Arran Park, which is only 12 km away in Dalhousie.
Edmundston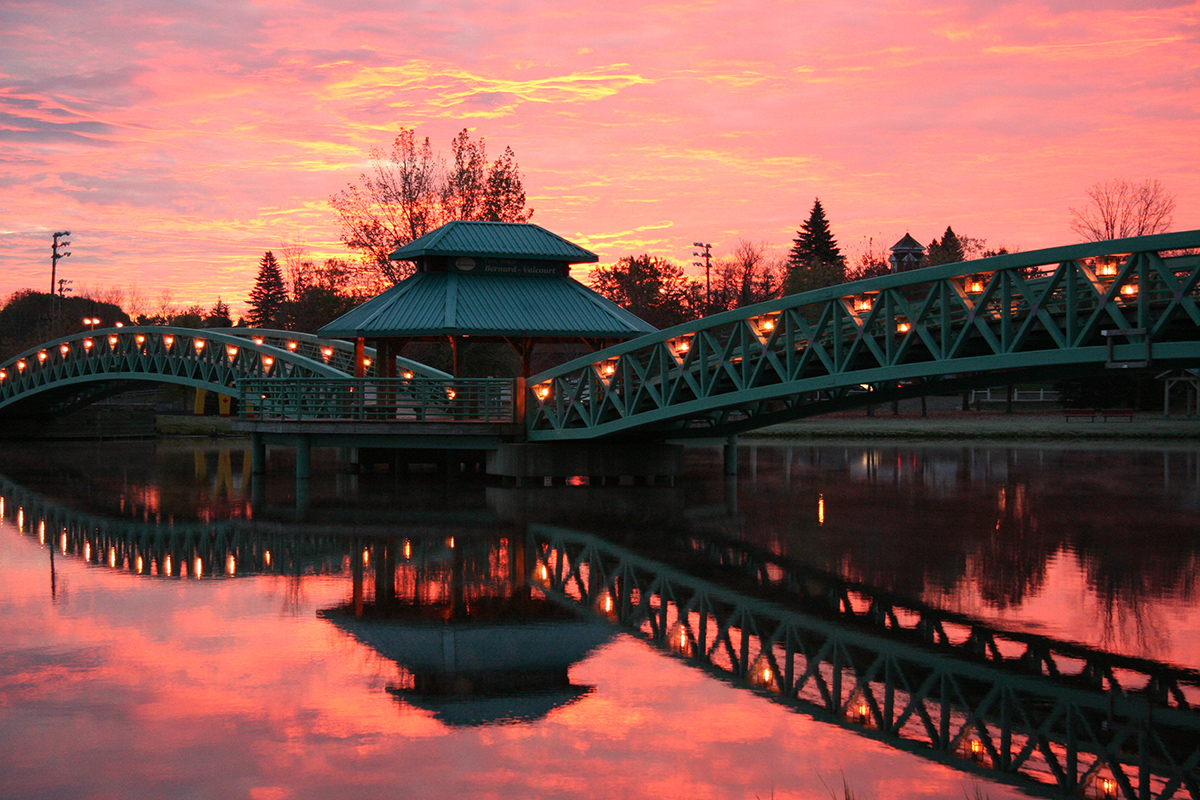 Nestled in a scenic valley at the junction of the Saint John and Madawaska Rivers, Edmundston is a predominantly francophone community. It's flavoured by a uniquely regional French-Canadian culture known as Brayon that is distinct from both the Acadian and Québécois traditions. Sample the area's famous 'ploye' pancakes—a Brayon specialty, or take a tour of the Petit-Sault Blockhouse, a historic fort with a panoramic view of Madawaska County.
Around Town
The Edmundston Visitor Centre, located at 121 Victoria St., is an attraction in itself, housed in a restored CP Railway Station, circa 1930. A 1920's caboose is also on-site, completing the historic ambience. If you feel like sight seeing, simply leave your RV there and take the pedestrian bridge over the scenic Madawaska River into the downtown core. Or you can drive downtown and park your RV at the Cathedral for the day, free of charge. Museum lovers will find lots to linger over at the Madawaska Historical Museum, the Railroad Interpretation Centre (with its elaborate miniature railway), and the Antique Automobile Museum. The New Brunswick Botanical Garden is also popular as its home to 12 themed gardens, an animal topiary, ponds, plus a circle of monoliths reminiscent of Stonehenge! 
Festivals & Events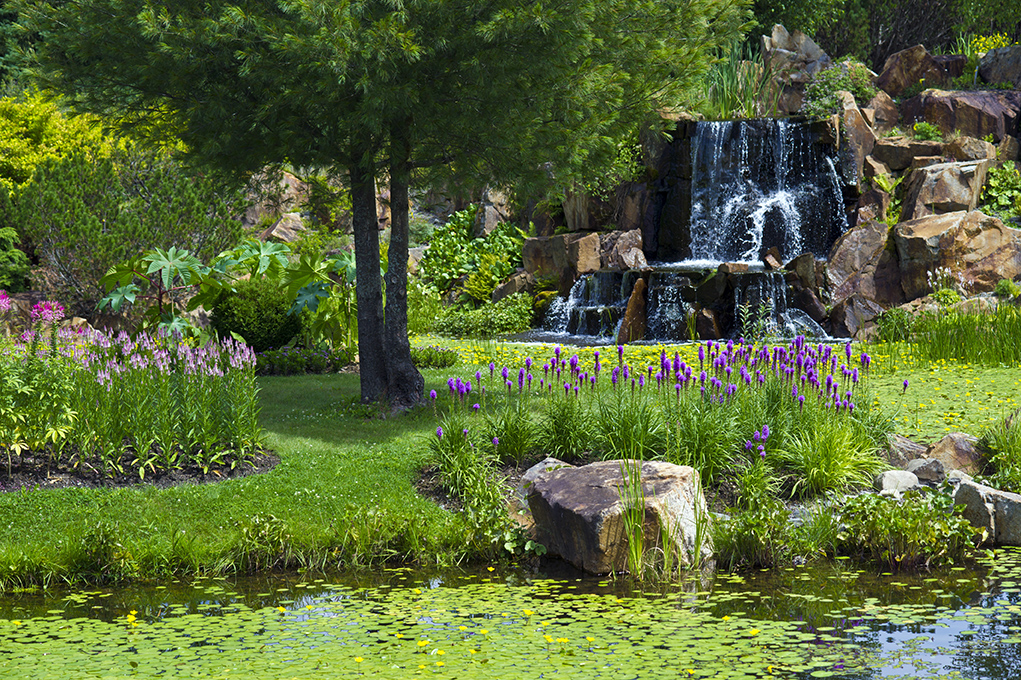 During the third week of June, the smooth strains of music fill the air during the Edmundston Jazz and Blues Festival in the city square. La Foire Brayonne Festival celebrates the region's Brayon heritage with concerts, children's activities, exhibits and more. In the fall, be sure to watch for the Pumpkin Festival at the New Brunswick Botanical Garden when 1,000 carved pumpkin-lanterns are lit and set afloat. 
Outdoor Recreation
Hiking, biking and wildlife viewing are all on the menu of outdoor activities in Edmundston. Immerse yourself in the natural beauty of the area's diverse forests, rivers, and mountain terrain. The Vélo Edmundston mountain bike trails are great for adventurous bikers and hikers who want to head deep into the Madawaska backcountry. If you didn't bring your bike, rentals are available at the visitor centre.
Camping
Riverside (Iroquois) RV Park located just off of Route 2, Exit 21, offers grassy sites, a sandy beach, a trout-filled river, and is just a five-minute drive from the Edmundston Golf Course. Free Wi-Fi is also included. Other nearby RV camping options includes de la Republique Provincial Park, the Rivière-Verte RiteStop Campground, Camping Panoramic and Camping Plein Air Lac Baker, which also offer water sports and recreation.
Get Ready To Roll!
Northern New Brunswick is a largely undiscovered treasure chest of natural playgrounds, exhilarating outdoor adventure, and rich cultural heritage… but we're willing to bet it won't remain a secret for long, so start planning your 2013 RV tour today! Find all the information you need to get rolling at www.tourismnewbrunswick.ca and at www.rvodysseynb.com. 
---
AT QUICK GLANCE
Planning your RV adventure for that perfect northern New Brunswick journey does require a little planning to make the most of your trip. Here are a few quick links to visit when planning your vacation:
CHOOSE YOUR CAMPGROUND
It's always wise to plan and book ahead, especially during the busy summer season. For a complete list of campgrounds in the region visit
www.tourismnewbrunswick.ca/campgrounds
CELEBRATION DAYS
Several exciting festivals and events take place throughout northern New Brunswick all year. Why not plan your RV journey in time to attend one or two and add that extra ounce of excitement to your trip! 
For information on the series of exciting events in northern New Brunswick visit www.tourismnewbrunswick.ca. You can also purchase a copy of the Miramichi, Acadie-Bathurst, the Edmundston Regional Tourism Guides, along with The Campbellton, City of Two Coasts Tourism Guide at www.tourismnewbrunswick.ca
To gain more insightful information also visit rvodysseynb.com
Source: https://www.rvlifemag.com/northern-new-brunswicks-panoramic-diversity/?utm_source=rss&utm_medium=rss&utm_campaign=northern-new-brunswicks-panoramic-diversity