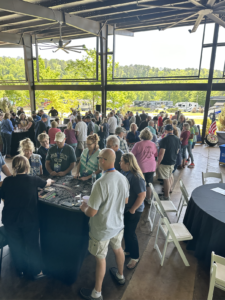 While it's unusual for a dealership group to host its own owner rallies, staging such programs are nothing new to the crew at National Indoor RV Centers (NIRVC) — they have been holding the annual affair since 2015.
As the dealership group has grown, however — it's now six locations strong, with dealerships in Ga., Tenn., Ariz., Nev., Texas and Washington, D.C. — the rally has likewise enlarged, to the point where last year's rally quickly sold all 175 available slots.
This year's Customer Appreciation Rally, however, was off the charts.
"We've moved the rally several times as it's grown," said NIRVC Director Chuck Lasley. "We started in Windstar, Oklahoma, then moved it to the Texas Motor Speedway several years back. For this year's rally, we moved again, to Catherine's Landing RV Resort in Hot Springs, Arkansas." Again, however, the rally quickly sold out — so NIRVC executives did the unusual: they booked a second rally, almost immediately following the first, to accommodate the dealership's customers.
The first rally was held April 12-15, while the second — with another 125 registrations — began April 17 and ends tomorrow (April 20).
Intended, said Lasley, as one more way of recognizing and "saying 'thank you'" to its customers, the rally features meals, seminars on technical and safety topics and a heavy evening social agenda where customers get to know NIRVC staff and one another. During Casino Night, for example, players were spotted to $1,000 in chips, then used their winnings at the end of the night to bid on prizes ranging from Yeti coolers and Apple watches to air fryers and camp chairs.
"We actually bring in an experienced auctioneer to run that part of the program," Lasley said, "so just like an auction, it's fast-paced and a lot of fun."
Other evenings were highlighted by a dinner and dance with a live band and a Kentucky Derby-themed get-together at the Oaklawn Park racing facility (thoroughbred racing has been staged in Hot Springs since 1904) featuring a magician/comedian.
Another staple of NIRVC is the raffling of a custom homemade quilt, with proceeds going to the Fisher House Foundation, a highly regarded organization supporting veterans.
"Last week, we raised $14,000," said Lasley. "We're hoping to beat that this week."
Source: https://rvbusiness.com/nirvc-doubles-up-on-customer-appreciation-rally/