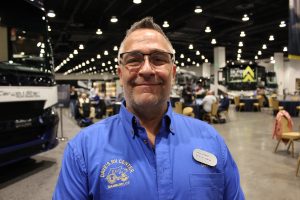 As the 2023 Newmar Dealer Meeting wraps up today at the Broadmoor Resort in Colorado Springs, the sentiment among the dealers in attendance was overwhelmingly positive – a sentiment shared with RVBusiness before many were recognized Thursday evening during the Newmar dealer awards ceremony.
Dealers said they were impressed with the 2024 model year lineup, and equally impressed with the event itself and what Newmar officials had to say, which included Wednesday presentations by President Casey Tubman and Vice President of Sales & Marketing John Sammut and, on Thursday, by Vice President of Operations Kevin Bogan and Marketing Manager Shannon Stover.
Bogan addressed Newmar's ongoing commitment to safety and quality, while Stover highlighted many of the manufacturer's customer-focused digital and print marketing initiatives.
Perhaps there's no bigger cheerleader for Newmar than David Simso, Jr., general manager of Dave's RV Center in Danbury, Conn. The family operated business, which carries every line from the Bay Star Sport to the Dutch Star, has been a Newmar exclusive dealer since 1993.
"I'm always impressed with this product," Simso told RVBusiness. "I walked through all my units, and what I'm seeing is there are a lot of new technology features, which is fantastic because that's what people are asking for. So, Newmar is delivering and they're meeting that demand."
Specifically, Simso appreciated the lithium battery upgrades Newmar has put in place for 2024 products. "That's what people are asking for. Newmar is great at meeting those asks. They're listening to their customers, which is huge as far as I'm concerned – huge," he said.
Likewise, Bobby Tackett, the director of inventory for National Indoor RV Centers, said the 2024 model year lineup is "probably one of the best product years that we've seen." While the interiors are "definitely on the mark," he said he most appreciated the new exterior graphics and color schemes.
"The exteriors, I think are coming around. We're finally getting away from the stale browns to a more colorful look with some silvers, some grays, some blues, some reds. And, finally, we're getting some linear stripes and not the whoops, whorls and swirls," Tackett said, adding that customers will also appreciate the simplified feature packages. "I think they're going to see that they don't have to customize as much to get the look that they're desiring," he pointed out.
The good vibes extended beyond the dealers in attendance.
River Park Inc. – which has been named a Top 10 supplier by Newmar for five of the last 10 years, and most recently was awarded the prestigious Virgil Miller Supplier of the Year award – was one of four invited vendors to participate in the Dealer Meeting.
Steve Bollero, president of the Elkhart, Ind.-based company, said RiverPark has partnered with Newmar for about 30 years. Currently River Park provides Newmar with Samsung televisions, Bose soundbars and the Xite Solutions, which is the dash infotainment system, which is complimented with a JBL premium audio system.
"We introduced a new dual nine-inch monitor under one piece of glass this year for the Dutch Star, and then Newmar upgraded the Canyon Star and Ventana from a six-inch monitor to dual nine-inch monitors," Bollero said. "So, I think Newmar really continues to push the envelope on bigger monitors and dual monitors. We're doing some really unique dash designs for packaging. It's starting to look really automotive."
He added that RiverPark appreciates participating in the Dealer meeting because it give him and his team an opportunity to "really expand our relationship with the dealers.
"We've got a great relationship with the Newmar team and, through Newmar, I've met so many key dealers on a first-name basis," he said. "Then I offer our services at River Park. If they ever have an issue and need support, I tell them all the time. I have the tech team that can handle anything you need. But at any opportunity, call me. I'd be glad to jump in and help you with whatever I can."
And, as mentioned, Thursday's event culminated with the annual dealer awards ceremony, at which the following dealerships were recognized:
TOP 10 DEALERS
Bish RV – Meridian, ID; Eugene, OR; Roca, NE; Bellevue, NE
Blue Compass RV – Albany, NY; W. Seneca, NY; Dover, FL; Des Moines, IA; Concord, NC; Duncan, SC; San Diego, CA; Palm Desert, CA; Liberty Lake, WA; Manteca, CA
General RV – Wixom, MI; North Canton, OH; Ashland, VA; Huntley, IL; Draper, UT
Independence RV Sales – Winter Garden, FL
Lazy Days RV – Mesa, AZ; Sturtevant, WI; Woodland, WA; Portland, OR
Midway Motor Homes – Grand Rapids, MI
National Indoor RV Centers – Lewisville, TX; Lawrenceville, GA; N. Las Vegas, NV; Nashville, TN
North Trail RV Center – Ft. Myers, FL
Steinbring Motorcoach – Garfield, MN
Transwest Truck Trailer & RV – Frederick, CO; Grand Junction, CO; Fountain, CO; Belton, MO
SERVICE AWARDS
Diamond Servicing Dealers
Independence RV – Winter Garden, FL
Midway Motorhomes – Grand Rapids, MI
Steinbring Motorcoach – Garfield, MN
Newmar Service Center – Nappanee, IN
Platinum Servicing Dealers
Ansley RV – Duncansville, PA
Berryland Campers – Ponchatoula, LA
Bish's RV – Junction City, OR
Freedom RV – Tucson, AZ
IWS Sales – Mountain Home, ID
North Trail RV – Fort Myers, FL
Transwest Truck, Trailer, RV – Fountain, CO
Wades RV Supercenter – Goldsby, OK
Gold Servicing Dealers
Bretz RV & Marine – Missoula, MT
Bucars RV Centre – Balzac, AB
Campers Inn RV of Louisville – Clarksville, IN
Carolina Adventure RV – Myrtle Beach, SC
DeMartini RV Sales – Grass Valley, CA
Mount Comfort RV – Greenfield, IN
National Indoor RV Centers – Lewisville, TX
RCD Sales – Etna, OH
The Hitch House – Oro-Medonte, ON
Transwest Truck, Trailer, RV – Belton, MO
Transwest Truck, Trailer, RV – Grand Junction, CO
VR ST-CYR – ST Mathieu De Beloeil, QC
VR ST-CYR – ST Nicolas, QC
Source: https://rvbusiness.com/newmar-honors-dealers-annual-meeting-wraps-up-today/