New Products – 6 RV Essentials
Lead photo: Surface Mate Patio Rugs from Prest-O-Fit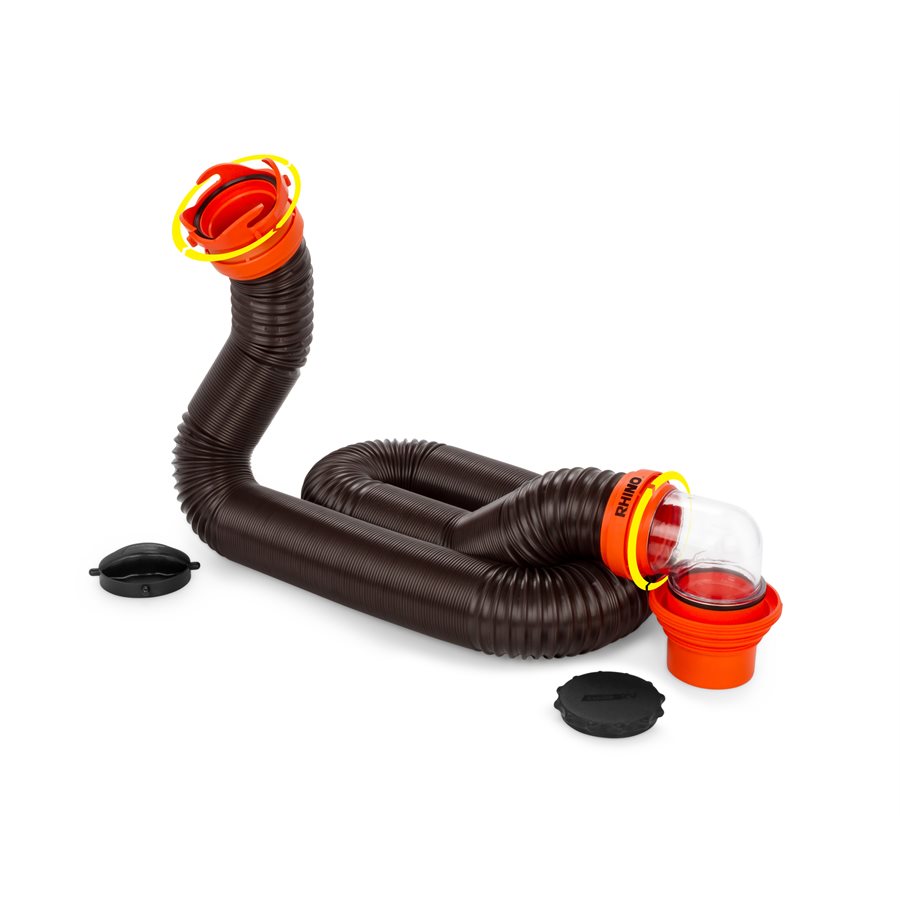 RhinoFLEX RV Sewer Hose Kit
Camco's RV RhinoFLEX 15′ Sewer Hose Kit with RhinoFlex Hose and Swivel Fittings features a super tough bayonet fitting with four prongs for a more secure fit. At the dump-station end we've added an easily detachable 4-in-1 translucent elbow adapter for fitting to 3″ slip or 3″, 3-1/2″ and 4″ threaded pipes. It's a ready-to-use kit made with 23 mils of the toughest hose you can buy. It includes a bayonet and elbow storage cap. The kit compresses to 56″ for storage and the removable 4-in-1 adapter allows you to store the hose in 4" square bumpers.
For more information, please visit your local RV dealer, or check out this product at https://www.camco.net/rhinoflex-rv-sewer-hose-kit-kit-15-39761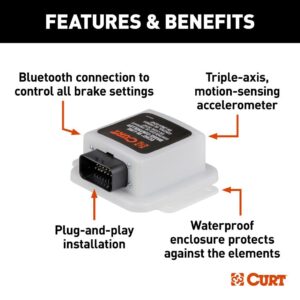 Echo In-Line Trailer Brake Controller, Bluetooth® Smartphone Connection #51200
The EchoSeries brake control from Curt features a Bluetooth connection to control all brake settings from your smartphone, using a custom-designed app that monitors brake activity and sends status updates.
The device plugs in behind your existing 7-way socket using USCAR connectors that provide waterproof enclosure seals to protect circuits against the elements.
The Echo series brake control has a triple-axis, motion-sensing accelerometer for highly responsive, smooth stops. It stores multiple trailer profiles, and operates 2-8 trailer brakes at a time (1-4 axles). A multi-colour LED indicator makes it ideal for easy setup and troubleshooting. There is a clear, in-app warning system for voltage recognition and no-brake situations.
The downloadable app is available for Apple iOS and Android OS smartphones, and has a sleep mode feature to reduce power drain. Automatic calibration reduces setup requirements, and the system allows incoming calls to be received while app is running.
The Echo brake control is compatible with low-volt, PWM, ABS, cruise control and electric over hydraulic brakes on your trailer. The brake control carries a limited lifetime warranty and is compatible with Echo manual override button #51189 (sold separately) for hands-free driving. If Bluetooth connection is lost, the brake controller will continue to function safely, using the most recently programmed settings.
For more information, please visit your local RV dealer, or check out this product at https://www.curtmfg.com/part/51200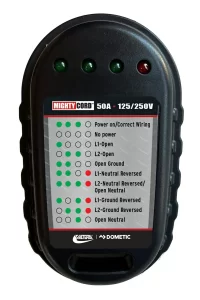 Mighty Cord 50A RV Circuit Tester
The Mighty Cord Circuit Tester from Valterra tests for faulty wiring in 4-wire receptacles. The device detects 9 wiring faults, providing an instant status reading by displaying LED lights that indicate circuit condition – there is a handy chart on the front of the device to let you see the status at a glance. This 50 amp, 125/250V model is designed for 4-prong plug outlets.
A 30A 125V model is available that tests for faulty wiring in 3-wire receptacles. The 30A unit detects 5 wiring faults.
For more information, please visit your local RV dealer, or check out this product at  https://www.valterra.com/product/50a-rv-circuit-tester-carded/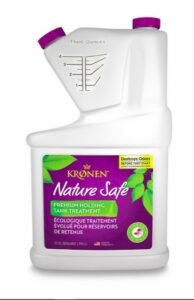 Kronen Nature Safe Holding Tank Treatments
Kronen Premium Holding Tank Treatments use a potent combination of naturally occurring microorganisms that are specifically engineered to break down and liquefy organic materials. Except for a subtle herbal fragrance, all you are left with is a completely odorless liquid. As the name suggests, Kronen's Nature Safe products are earth-friendly. They are perfect for both gray and black tanks!
For more information, please visit your local RV dealer, or check out this product at https://rvsbestcleaners.com/kronen-products/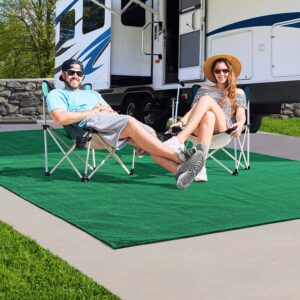 Prest-o-Fit Surface Mate Patio Rug
Surface Mate Patio Rugs from Prest-O-Fit attach to a variety of surfaces. Ideal for use at home, campsites, parks, and more, they can be temporarily attached to concrete, gravel, grass or dirt surfaces, and can be attached as a more permanent fixture to your back yard deck. Each Patio Rug features 4 hooked-fiber strips with snap sockets sewn into the back corners. Securely stake your rug into soft ground surfaces using the included ground stakes with washers and highly-durable stake-down straps, or firmly adhere your rug onto hard surfaces with the included adhesive-backed fastening discs.
These all-weather Patio Rugs are made of heavy-duty outdoor turf that features UV-protection and mold and mildew resistance. Each rug is finished on all edges to prevent fraying and is easy to clean. Available in a range of colors and sizes.
For more information, please visit your local RV dealer, or check out this product at https://www.prestofit.com/collections/rv-outdoor-rugs-and-mats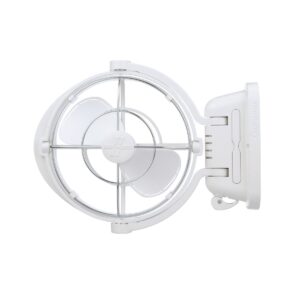 Sirocco II RV fan by Caframo
The Sirocco II is a powerful, class-leading fan designed for marine and RV use. The versatile 12V/24V (auto-sensing) Sirocco II features an innovative gimbaled design for 360° directional airflow across three-speed settings providing unmatched comfort. For peace of mind, the fan puts minimal strain on batteries, drawing just 0.35A on its highest 12V setting, and is ultra quiet, with four auto-off options (3, 6, 9,  and 12 hours) for a restful night's sleep. The fan stows flat at 3.8", and the 7" blades are FingerSafe

. New for 2023, the Sirocco II has an extended 3-Year warranty. Proudly made in Canada by Caframo.
For more information, please visit your local RV dealer, or check out this product at https://ecofan.caframobrands.ca/7010cawbx.html
Source: https://www.rvlifemag.com/new-products-6-rv-essentials/?utm_source=rss&utm_medium=rss&utm_campaign=new-products-6-rv-essentials