National ARVC's OHCE2023 Expo Bigger & Better than Ever – RVBusiness – Breaking RV Industry News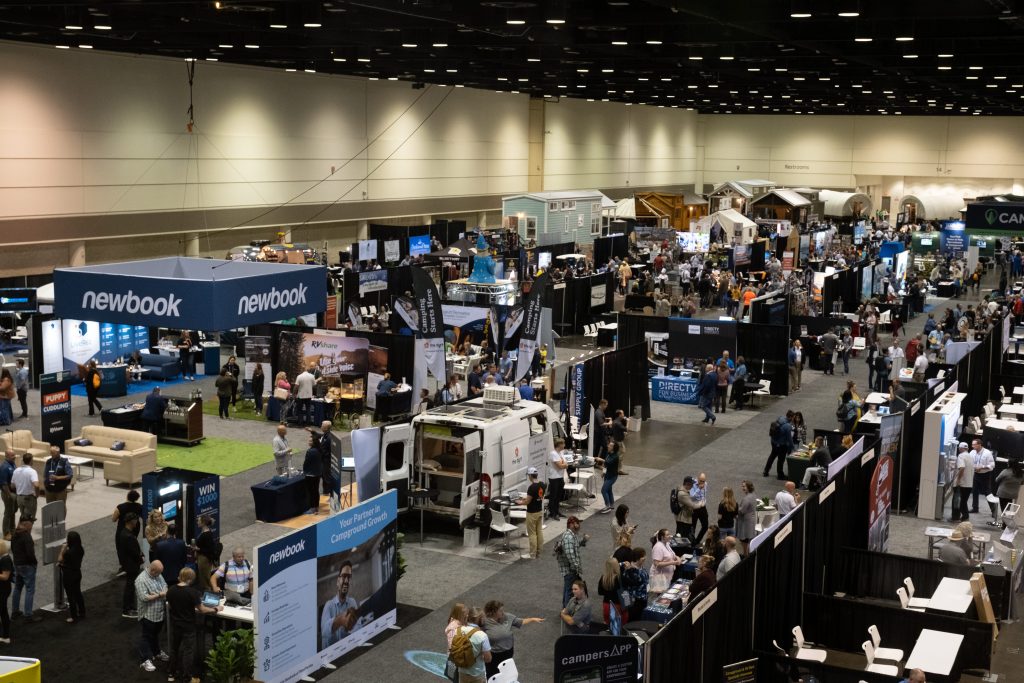 Largest Expo in OHCE History Will Feature Glamping Accommodations, Laundry, Retail Exhibitors
The 2023 Outdoor Hospitality Conference & Expo (OHCE) Expo is less than 40 days away, and it's going to be bigger and better than ever, according to a release.
This year the OHCE2023 Expo will showcase the most exhibitors in OHCE history, including a record number of park models and glamping accommodations (30), a laundry list of member-requested goods and services (including laundry services), and puppies on site again. This year's Expo will definitely exceed attendee expectations.
The OHCE Expo is an experience unlike any other in the industry—for the exhibitors and attendees—featuring networking, information sharing, and live demonstrations that create opportunities to build long-term business relationships.
"The energy will be contagious on the floor during the show. Booths will be busy, and deals will be happening everywhere you look," says National ARVC's Chief Strategy Officer David Basler. "We are thrilled at the quality and quantity returning and new exhibitors that will be joining us this year. Every year we listen to member feedback and aim to host an Expo that exceeds attendee expectations by showcasing the best suppliers in the industry. This year's Expo is going to blow people's minds."
The best business relationships come from face-to-face engagements at the Expo, but at OHCE they start even before the doors open with the industry's only Hosted Buyer Program. Starting on Tuesday Hosted Buyer attendees will have the unique chance to meet one-on-one with participating exhibitors—meetings that spill over onto the Expo floor every year. Hosted Buyer attendees enjoy VIP treatment and access throughout OHCE and pay only a penny (literally) for registration. If you're an owner/operator or a manager with decision-making power and you're planning on meeting with exhibitors anyway, check it out! You can apply to be a Hosted Buyer at arvc.org/hostedbuyer.
As the industry has evolved, the needs of outdoor hospitality businesses have as well. With increasing requests for laundry, retail, holiday accommodations, and crafting, ARVC has actively sought and vetted a variety of exhibitors to meet those needs—a testament to ARVC's commitment to meeting the evolving needs of OHCE attendees. The result is an expanded and more diverse Expo than ever.
So, mark your calendars and get ready to experience an OHCE that's shaping up to be the best one yet. With countless possibilities for networking, professional development, and discovery, it's an event that embodies the spirit of the outdoor hospitality industry at its finest. Experience OHCE2023 in Kansas City, MO, from Nov. 6-9, 2023. To register and book your hotel, visit arvc.org/ohce.
Exhibitor demand has been high and fewer than 15 booths and only two sponsorship opportunities are still available, so now is the time to secure a spot. If you are interested in one of the few booth spaces left, visit arvc.org/ohce2023sponsors or reach out to Jeremy Carr, National ARVC's Business Development Manager, at jeremy.carr@arvc.org or (941) 867-9551.
###
About National ARVC
National ARVC, a leader in the outdoor hospitality industry, is the only national association dedicated to representing the interests and needs of private RV parks and campgrounds in North America. We are deeply committed to providing our more than 3,000 members exclusive access to continuing education, networking, business and marketing tools, member-only benefits and discounts, and advocacy at the local, state and national levels. For more information about ARVC, visit our website at www.arvc.org.
The OHCE Expo is always an exciting place and highly anticipated by all who attend. For attendees, it's a chance to meet face to face with the best vendors in the business and prepare for the next season. For exhibitors, it's a chance to get in front of customers: the forward-thinking business savvy trend-setting innovators in the outdoor hospitality industry.
Source: https://rvbusiness.com/national-arvcs-ohce2023-expo-bigger-better-than-ever/