Murphy Heads Outback
You may remember the trip to Darwin I told you about earlier. Well, I decided to do the same trip again years later on my own. At least, I thought I was on my own but, as usual, Murphy came with me.
I was using the Hillman Hunter at the time and slept in the back on a rubber air-bed. In Darwin, I looked up Richard Creswick, an old friend from my Mornington Apex days. Richard was at this time a journalist with the ABC and invited me to spend the evening at their bush block in Howard Springs.
Richard and his wife were building a home on 10 acres of jungle but in the meantime were living in a caravan and large shed while the house was being built. We had a lovely evening reminiscing over past times and catching up with all that had happened in between and then I retired to my bed in the Hillman parked in their driveway.
The next morning, Richard enquired, "Did you have a good night?"
"A good night?" I asked. "Let me tell you about it. First of all, the heat and humidity, plus the rubber of the air-bed, made me sweat and toss and turn. 
"Then the blister on my foot, from walking around Tennant Creek the day before in sandals without socks, burst and the pain was intense. I had the sloping rear hatch open for a bit of air but then it started to pour with rain and I had to close it. I finally fell into an exhausted sleep but then your bloody cat came exploring along the roof of the car and when it reached the hatch, it slipped down it with an almighty yowl. No, Richard, I didn't have a good night!"
Despite old Murph, it was a great trip, and he behaved reasonably well. Camped one night in the bush on the way to Cape Crawford, NT, Murphy played a little trick but it wasn't serious and I just laughed. I was using the bladders of wine casks to carry water.­ They were ideal for this and fit into odd corners of the car. I was frying a huge steak I'd bought at the butcher shop in Katherine and held the bladder up to put water into the saucepan for a cup of coffee but Murph loosened the tap so that it came off and flooded the frying pan ­and steak with cold water.
In Brisbane, I stayed with our friends, Don and Anne Dunstan, and they took me water skiing. I had never skied before and Murphy made sure I didn't ski this day either. Although I persevered for ages, all I succeeded in doing was ingesting great quantities of what passes for water in the Brisbane River and strain every muscle plus a few I didn't know I had. Don further humiliated me by coming back down the river, showing his prowess by standing on his head facing backwards on a boogie board!
Our son, Chris, used to travel to Melbourne each day to work and usually came with me. He had been overseas and on the way to Melbourne on his first morning back at work I remarked about some changes to the road system in the city. "New since you've been here," I stated.
"Why is that?" he asked indignantly. 
"It just is," I replied. 
This went on for a little while until we worked out that what he had heard was, "Nuisance you being here." Apparently, he had thought, "What's got into the old man? I've only been back one day and he's going crook about something."
Murphy's good at mucking up communications.
BACK TO THE PRESENT
Before leaving Walkamin, Qld, I took a few more walks around the streets and of course had my phone with me to take a few more pictures. It was a bit sad saying bye to little Matilda or, as she is usually called, 'Tilly'.
I'd made an early booking with an Atherton motor business so was on the road before 7.30am.
With the differential oil checked and topped up, I was soon on my way to my first stop at a lovely farm stay at Perrerindi where the Australian Caravan Club's Rainforest Ramblers were holding a muster.
With a choice of powered and unpowered sites, a shop with lovely coffee and scones, plus walking tracks and Saturday evening pizza nights, this is a great place to stay for a few days. There are three walking tracks with lakes for exercise.
MY TRIP HOME
I was on the road early on Sunday morning, with my first stop a service station at The Lynd where the service station is self service at the weekends. There a list of how to use it by following the directions and then inserting your credit card.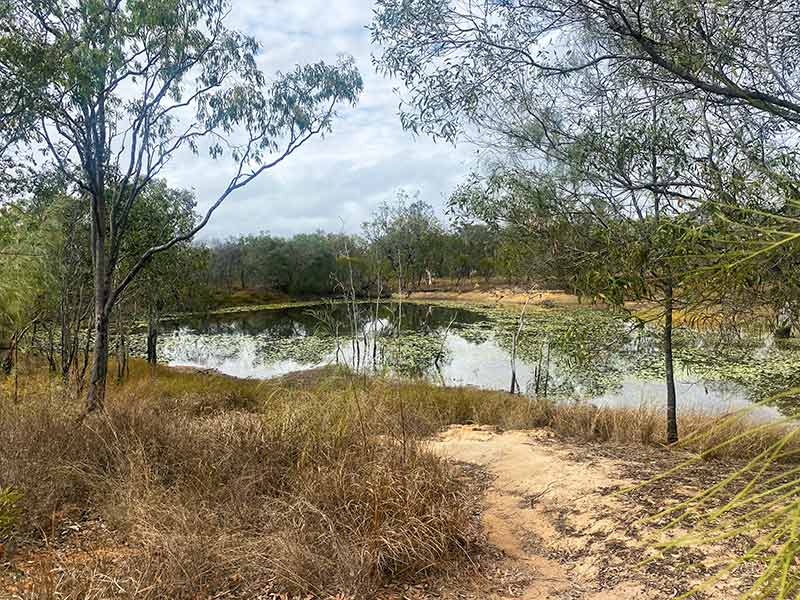 I tried several times without success but eventually managed to get $50 although I thought I'd put 50L.
I wasn't short of fuel so I headed on to Greenvale where everything was working normally.
My plan was to get off in the mornings and then find a bush camp in the afternoon.
This was okay for the first night but on the next night I was on a long, boring road with no place to spend the night except on the roadside. It wasn't a problem because there was very little traffic. There was also no phone or wi-fi coverage and when I saw the diff oil that had come out into a rear wheel I was a bit worried about topping up the oil.
When I found a motor repair business, I tried to book but the owner said, "Yes, but it will be a few hours." Not wanting spend time there I said thanks but no thanks.
I stopped just out of town and brewed a coffee. Sitting there thinking, I realised it was a silly move so I went back to book in. Unfortunately, the owner had gone away to the next town to tow in a breakdown and the girl at the desk didn't think they could do it. A little soft soap from me and she got a mechanic to check the oil and top it up. Phew! It showed no further leaks for the rest of the trip home.
My daughter told me I was doing too many kilometres and to slow down. I took her advice for a bit but after settling in a disused area and sipping a 3pm coffee, I began to wonder how I would spend the rest of the afternoon and evening. Would it be like the previous night with no phone or wi-fi?.
I changed my mind, repacked and hit the road again. With no phone coverage, I couldn't let my girls know until Swan Hill, Vic, but when I rang they were delighted and I arrived home before dark. There was rejoicing all round when Yemmy turned through the gateway.
I covered 2800km in the four days on the road. That wasn't a straight daily figure as it started less and was longer on the last day. I didn't work out the fuel cost but diesel was very dear in the outback.
Our next trip will be to the Australian Caravan Club's annual meeting and Yemmy hopes I'll get his leaks fixed before then!
The post Murphy Heads Outback appeared first on GoRV.