Love the Rockies? Check Out These Epic Photos of Rocky Mountain National Park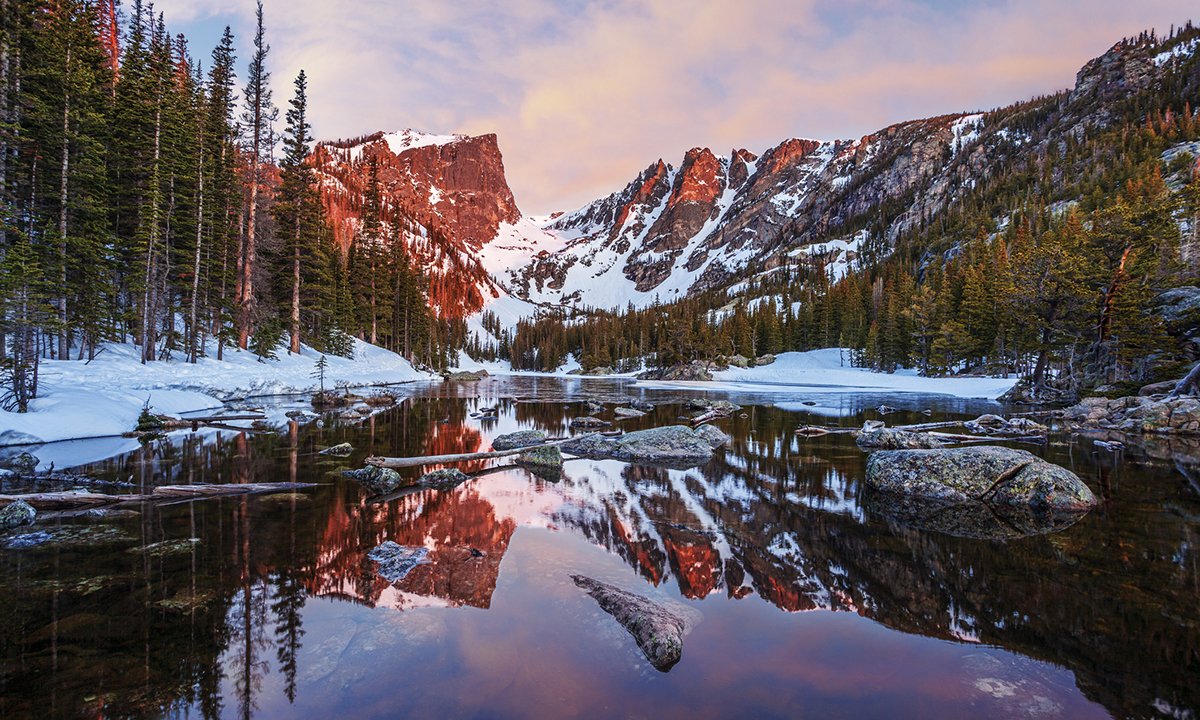 The dramatic landscape of Rocky Mountain National Park gives any artist a lifetime of inspiration. It's easy to see why this is one of the most popular national parks in the world. Whether portraying the varied landscape or capturing silent deer, photographers have a field day exploring and snapping through this nature-filled park. As green pastures transition to colorful forests, and then to quiet snow, the park's personality shines and sometimes looks even better in a photo.
Here are five incredible photos taken in Rocky Mountain National Park.
Fall Colors of Rocky Mountain by Tim Edmond
Tim Edmond chases fall leaves and mountains around the world. This photo showcases the vibrant, textured unique style Edmond brings to his photography, as it not only captures the "blue hour," but also the golden fall foliage of the aspen trees. The mountains tower behind, almost sparkling as the stars in the sky peek at the transition from day to night. This is an HDR 5 image taken with a Sony A7R3 on a Tamron 28-200mm, and Edmon used Lightroom as well as Photoshop to edit and create this image.
Faces of Rocky by Brandt Ryder
Colorado local and photographer Brandt Ryder, put together a collection of some of the most amazing photos taken in Rocky Mountain National Park. Ryder's photos range from mountains covered in delicate snow with the milky way as a backdrop, to swirling sunsets with a twisted branch in your eyeline as you gaze over the towering peaks. Ryder was Milky Way Photographer of the Year in 2021 and 2023, and shoots on a Sony Alpha A7iv & A7iii.
Rocky Mountain High by Saurav Kunnath
Rock Mountain National Park has gorgeous landscapes, but it is also home to a diverse range of incredible wildlife. There are over 360 species of animals in the park, and around 60 species are mammals. California-based Photographer Saurav Kunnath managed to capture a mule deer waiting to be discovered, a cluster of white spotted deer grazing, a mother elk with its baby, and even made eye contact with a single deer curious about where a sound came from.
Fall in Rocky Mountain National Park by Jess & Justin
Adventure travel couple and travel bloggers Jess and Justin of Instagram account @uprootedtraveler, expertly captured the grand massifs of Rocky Mountain National Park. Just a touch of snow is starting to decorate the beautiful rock outcrops above a peaceful alpine lake.
Home Is Where Haiyaha Is by Dempsey Hall
Blue water creeps around rocks leading to much higher peaks. Rubble piles at the bottom of a tricky hike up to the summit with snow barely appearing as the elevation rises. There's still green grass as the trees prepare for winter in this photo snapped by local Colorado landscape and portrait photographer, Dempsey Hall of Del Mundo Imagery.
Source: https://outdoors.com/rocky-mountain-national-park-photos/