Kampgrounds of America Inc. has released its 2023 North American Camping & Outdoor Hospitality Report, which continues to demonstrate the key role that camping and glamping play in the outdoor hospitality industry.
The report, conducted by Cairn Consulting Group, shows that 92 million U.S. households identify as campers and that 58 million households went camping in 2022, with camping and glamping accounting for 32% of all leisure trips taken in 2022.
Ten million households took a glamping trip in 2022.
The report's data was gathered from more than 20,000 households that were asked about their camping behavior in 2022 and their plans for 2023. The report's data wasn't collected just from KOA campers, but instead a full sample of the camping population in North America.
Throughout the report, KOA identifies why camping is a big part of the economy noting that campers spent $52 billion in local communities last year, an increase of $8 billion from 2021. Scott Bahr, who has worked on the report over its nine-year existence and is the president of Cairn Consulting Group, told Woodall's Campground Magazine (WCM) – a sister publication of RVBusiness – during a recent interview that this data was collected by KOA and doesn't represent the number from the Bureau of Economic Analysis (BEA).
"We didn't delve into the economic parts a whole lot in past years, but KOA really wanted to dig into that a little bit more with this edition," he explained. "It's really interesting to see how that all plays out and there are some campers who spend a lot of money in the local areas. It is a part of the local economies, aside from just the straight-up hospitality that's provided on-site at a campground or park. It bleeds over into the communities."
The report also noted that on average, campers spent an additional $19 per day on travel expenses year-over-year.
"Glampers, in particular, spend the most per day on expenditures in local areas and on-site," stated the release.
Numbers also show that the number of camping trips people want to take is going up with 48% indicating that they camped three times or more in 2022, 29% camped two times or more and 23% camped at least once.
Tent camping is still the most popular form of camping, but the number of people who tent camp has dropped from the 60% range down to 44% in 2022. While 24% said they utilize an RV.
"When tent camping peaked, it was during COVID, when all those people who hadn't camped before flooded in," Bahr said. "Tent camping is an easy point of entry for camping, not a huge financial investment. So, we saw that peak.
"What I see happening is we're gonna go back to pre-COVID levels of participation," he added, "in some respects. I think the glamping sector will continue to grow a little bit, but tent camping will always be popular with a certain segment of the population, especially new campers."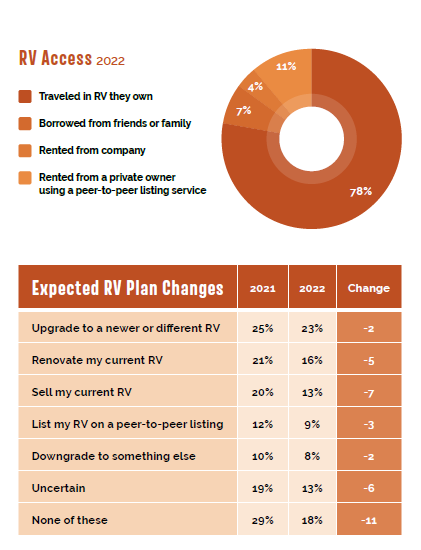 With the economy playing a large part in how consumers are spending many park owners are wondering how that may impact their parks, but the report continues to show that campers view camping as an affordable way to take a vacation.
"In fact, 38% say they will continue to camp and take fewer vacations of other types in the event the economy worsens," the report highlighted. "In total, 89% of campers share they will not sacrifice a camping trip for other travel options."
An economic downturn also bodes well for the RV industry, with RVers planning to use their rigs even more.
"Further bolstering the economic resiliency of outdoor hospitality, more than half (56%) of RVers will use their RV more (33%) or the same amount (23%) in the case of an economic downturn," stated the report. "With over 15 million households that prefer RVing and almost 12 million RV owners, the outlook for RV travel in 2023 will likely remain strong."
"It's quite resilient when you look at the participation intent of what people do when the economy is down," Bahr highlighted. "Everybody always worries, of course. If you're in the hospitality sector in any way, shape or form, the economy can hurt you. In some respects, camping benefits from the down economy because park owners will nab the leisure traveler who might have stayed at the resort, but instead will go camping. It is less expensive. You can cook your own food on-site and make it more of an experience."
The report also indicated that campers are hungry to try new things, with about 80% of campers trying a new form of camping they are unfamiliar with year-to-year.
"This desire to try new things, along with a breadth of ways to camp, glamp and connect with the outdoors, helps further connect leisure travelers to outdoor hospitality options," noted the report. "In 2023, 40% of campers want to travel to experience natural events like eclipses or meteor showers. A similar number (36%) say food tourism and seeking out culinary experiences are a priority for the year."
Other key data coming out of the report:
Camping helps campers stay emotionally healthy: "Campers and glampers are quick to note that outdoor hospitality has mental and familial benefits that are important to them. Those who travel and camp with their family members are more likely to say that camping is relaxing, provides an escape and helps them blow-off steam. Gen Z and the youngest campers especially indicate that spending time outdoors with their families is important and beneficial. In all, 56% of campers say it's important to introduce the next generation to camping and the outdoors and 54% state it contributes to their family's traditions."
Accessibility is an issue: "Nearly three-fourths of campers say there are impediments to camping in certain areas or cause them to camp less often. While many types of accessibility need to be considered in outdoor hospitality, 4-in-10 campers suggest they have at least some level of difficulty walking or climbing stairs. It is notable, however, that one-third of leisure travelers view camping as more accessible than other outdoor activities."
RVing still popular: This past year, 15 million households went RVing at some point, including almost 12 million RV owners. "Campers in 2022 were equally likely to RV compared to the past couple of years, with a minor though consistent increase in those who travel in an RV they personally own. Borrowing continues to drop, while rentals from a peer-to-peer listing continue to trend upward, even though only incrementally."
RVers planning a change: "Up from last year, among current RV owners, 8-in-10 plan to make some type of change to their RV or how they use it. However, these changes are less likely to include selling their RV. About one-fourth are planning to upgrade."
To read the full report go to the KOA Press Room at http://www.koapressroom.com/.
Source: https://rvbusiness.com/koa-releases-2023-report-58m-households-camped-in-22/