Jaeger-UniTek Introduces the 'StyleCap' Corner Seal Cover – RVBusiness – Breaking RV Industry News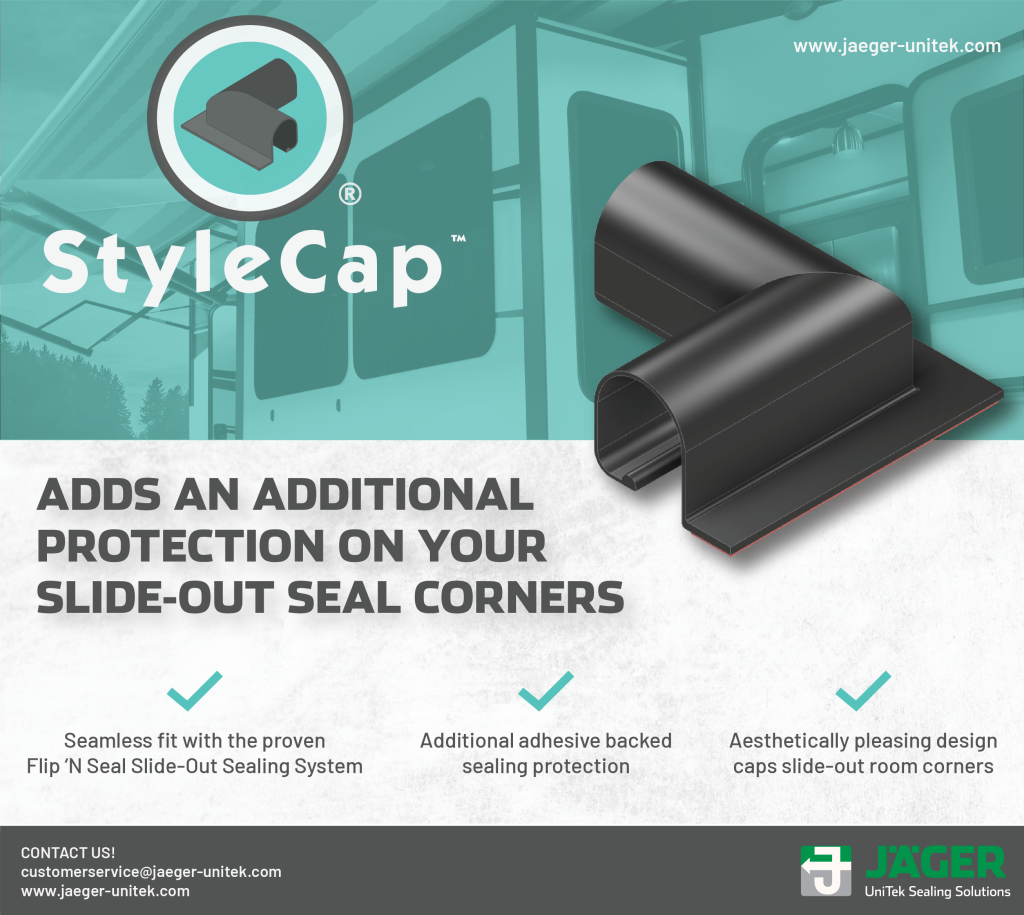 LA PORTE, Ind. – Jaeger-UniTek Sealing Solutions Inc. proudly announces the market introduction of the StyleCap, an innovative, adhesive-backed, corner seal cover, designed to precisely function in securely and repeatedly sealing recreational vehicle slide-out rooms from water, dust, and temperature intrusion.
According to company officials, StyleCap, the newest component of its' patented full-package Flip 'N Seal slide-out system, will be launched on new 2024 OEM models.
Colton Phelan, vice president of sales, shared that their success in developing and launching leading RV OEM platforms using the integrated one-component Flip 'N Seal sealing package, prompted Jaeger to create the StyleCap. This innovative addition combines a seamless, aesthetically pleasing finish with enhanced sealing at slide-out corners, meeting the demand for improved consumer styling and superior sealing performance, he said.
"It's common for OEMs to use silicone to seal where the top and side wipes meet. However, our StyleCap eliminates that need," Phelan said. "The StyleCap achieves this by securely adhering to the RV body while uniquely connecting to the Flip 'N Seal slide-out seal."
Kyle Upp, Jaeger-UniTek's RV market manager and a project leader for the StyleCap, explains, "Where your top wipe and side wipe meet in the corner, the StyleCap adheres and not only adds layer of protection but also creates a "finished-look" to your slide-out rooms."
Ray Young, chief technology officer, added, "We were fortunate to be challenged by the demanding sealing requirements in the automotive industry for decades. This allowed us to define potential water entry points, apply the best-in-class, proven, automotive polymers that can withstand thermal aging and ultraviolet light exposure, and ultimately create novel part geometries that eradicate water entry into the vehicle. We have incorporated our automotive sealing knowledge into our RV full package slide-out system and are very pleased to introduce the newest member of our Flip 'N Seal slide-out sealing inventions to our valued RV customers."
Jaeger-UniTek Lead Application Engineer Jason Cackley commented, "Our StyleCap is uniquely designed to "flip" or "tuck" into our originally patented Flip 'N Seal technology while providing a seamless showroom finish for consumer aesthetics. By utilizing proven automotive-grade materials, which have been extensively tested in both laboratory UV and thermal aging chambers and combining this with years of use in the most demanding locations within the U.S., we are confident that our Flip 'N Seal full package delivers our customers warranty-free slide-outs and the lowest total cost of ownership. The StyleCap enhances our system and the market response has been impressive."
Jaeger-UniTek Sealing Solutions, Inc. is an engineered rubber and thermoplastic profile extrusion manufacturer serving automotive, industrial, and recreational vehicle industries. Jaeger-UniTek is a member of the Jäger Group, a global organization, headquartered in Hannover, Germany, and is a fourth generation, privately held corporation.
Source: https://rvbusiness.com/jaeger-unitek-introduces-the-stylecap-corner-seal-cover/