Hoka Anacapa 2 Review: Pumped Up Comfort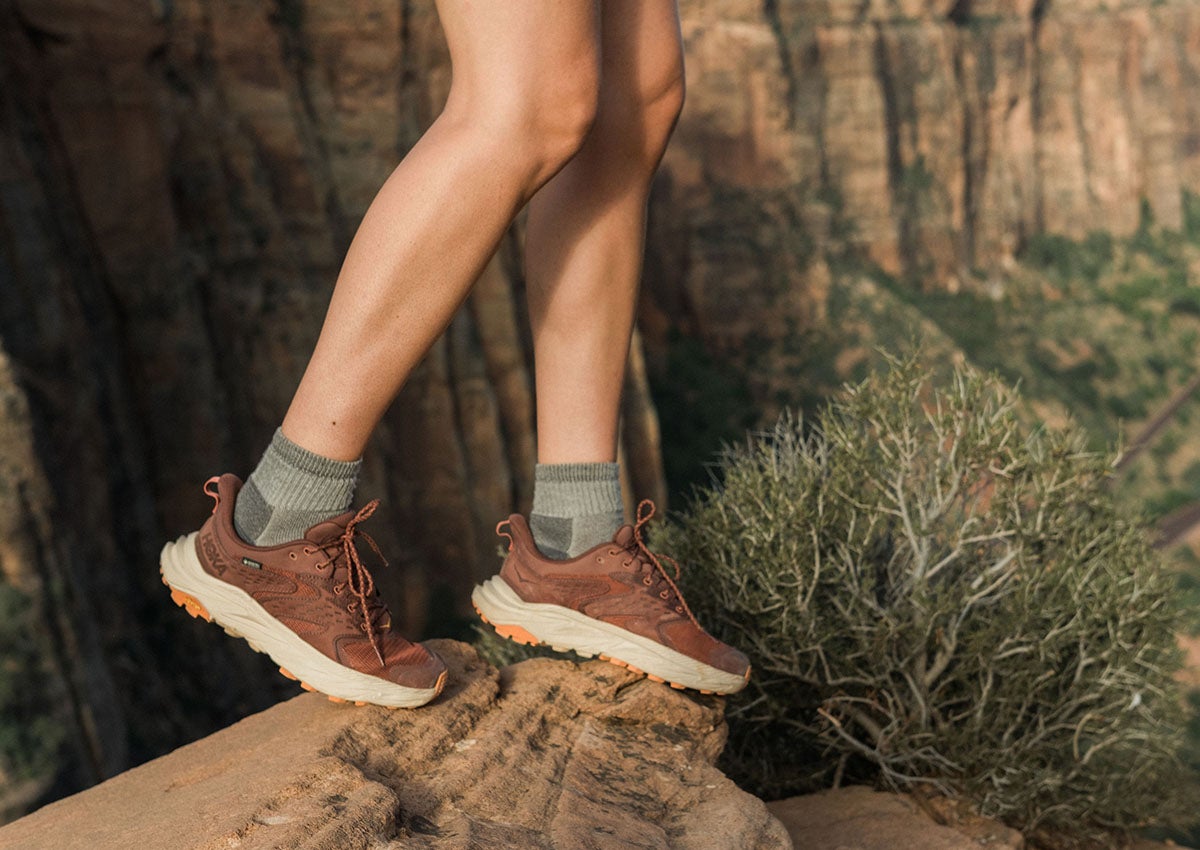 We may earn revenue from the products available on this page and participate in affiliate programs. Learn More ›
Hoka has become one of the most popular brands in hiking and trail running because they offer luxuriously comfy shoes. Their new Anacapa 2 stays on brand with an unmistakably thick, plush outsole. But can these easy riders handle real hiking on rugged terrain? I headed to Zion National Park with a group of other outdoor media on a three-day hiking trip to find out.
The updated design is available in low, mid, Gore-Tex, Breeze, and kids models. I tested the women's Anacapa 2 Low GTX. I hiked through sand, streams, and rain as well as scrambled over slickrock to put the Anacapa 2's improved features to the test.
Weight: 12.4 ounces
Drop: 7 mm
Stack Height: 22 mm (forefoot), 28 mm (heel)
Leather Working Group Gold-Rated waterproof nubuck leather
Gore-Tex Invisible Fit with 70 percent recycled polyester face fabric
Lightweight sugarcane EVA midsole
Abrasion resistant toe cap
100 percent recycled vamp and quarter mesh
Vibram Megagrip outsole
Achilles heel comfort build
50 percent soybean-based sockliner
Swallow tail heel
100 percent recycled polyester collar, external collar mesh, tongue lining mesh, and polyester laces
Invisible Fit Gore-Tex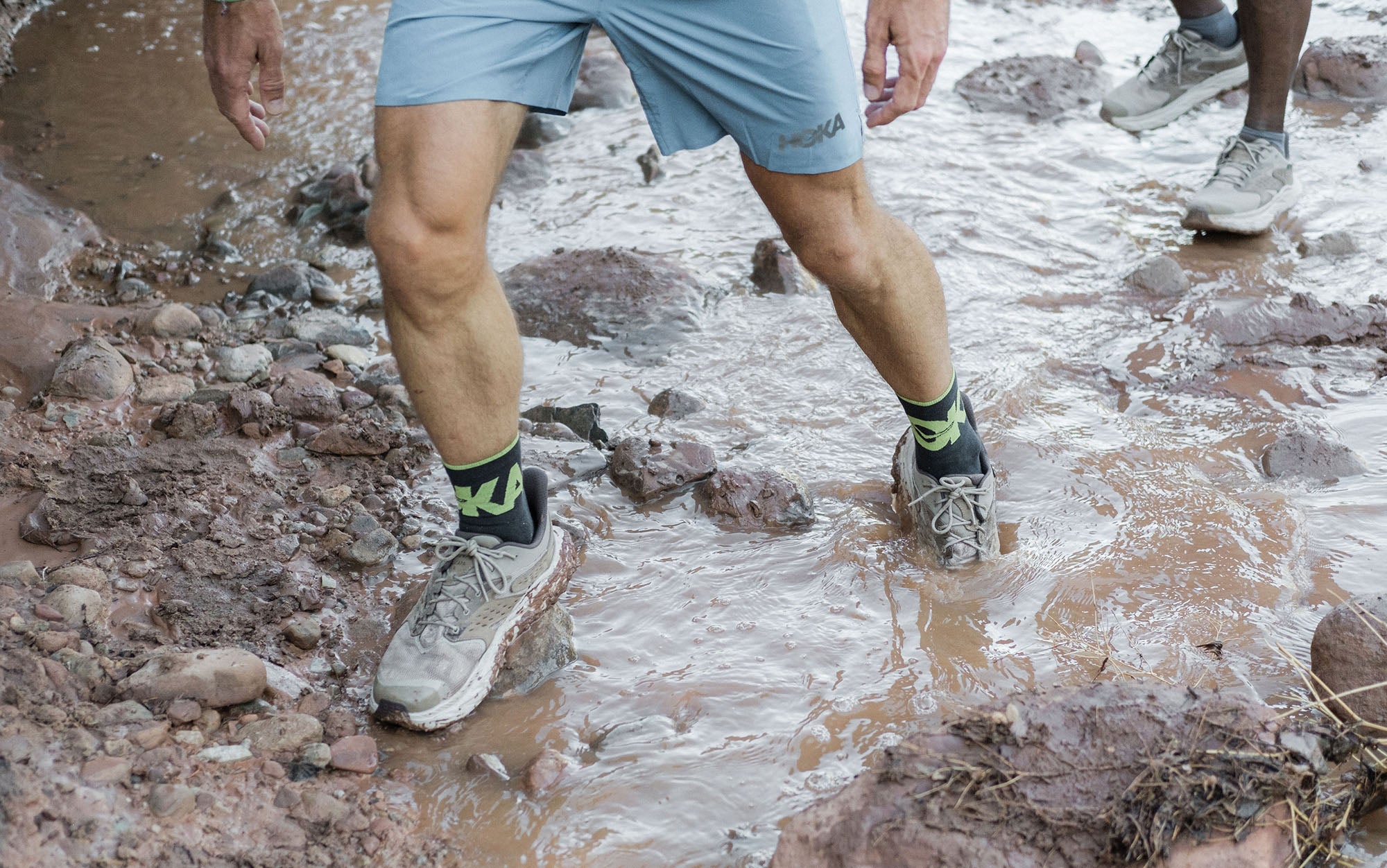 The low version of the Anacapa 2 features new tech called Invisible Fit Gore-Tex. Previously, Hoka's waterproof shoes were lined with a Gore-Tex bootie to make it waterproof. However this waterproof sock inside the layers of your shoe can sometimes trap water in between the bootie and outside material. This extra water makes the shoe heavier and takes longer to dry. With Invisible Fit Gore-Tex, the low Anacapa 2's waterproof membrane is laminated with the shoe. Moisture doesn't have to travel through multiple layers to dry, just one. This creates more ventilation for a more breathable waterproof shoe.
While this new tech helps, any waterproof shoe will take longer to dry than a non-waterproof one if water is trapped inside. The Anacapa 2 is also available in Breeze models that have more breathability, and no waterproofing.
Achilles Heel Comfort Build
Hoka found that the Achilles tendon can be agitated by shoes curving inward or applying too much pressure on the heel. So the Anacapa 2 Low has an achilles heel comfort build, meaning the back leans outward, away from your heel. The Anacapa 2 Mid includes a flexible heel counter to provide security and support without irritating your tendon. The back of the mid height heel also articulates away from your ankle, and has added foam to make it comfortable while still locking your foot in place.
Swallow Tail Heel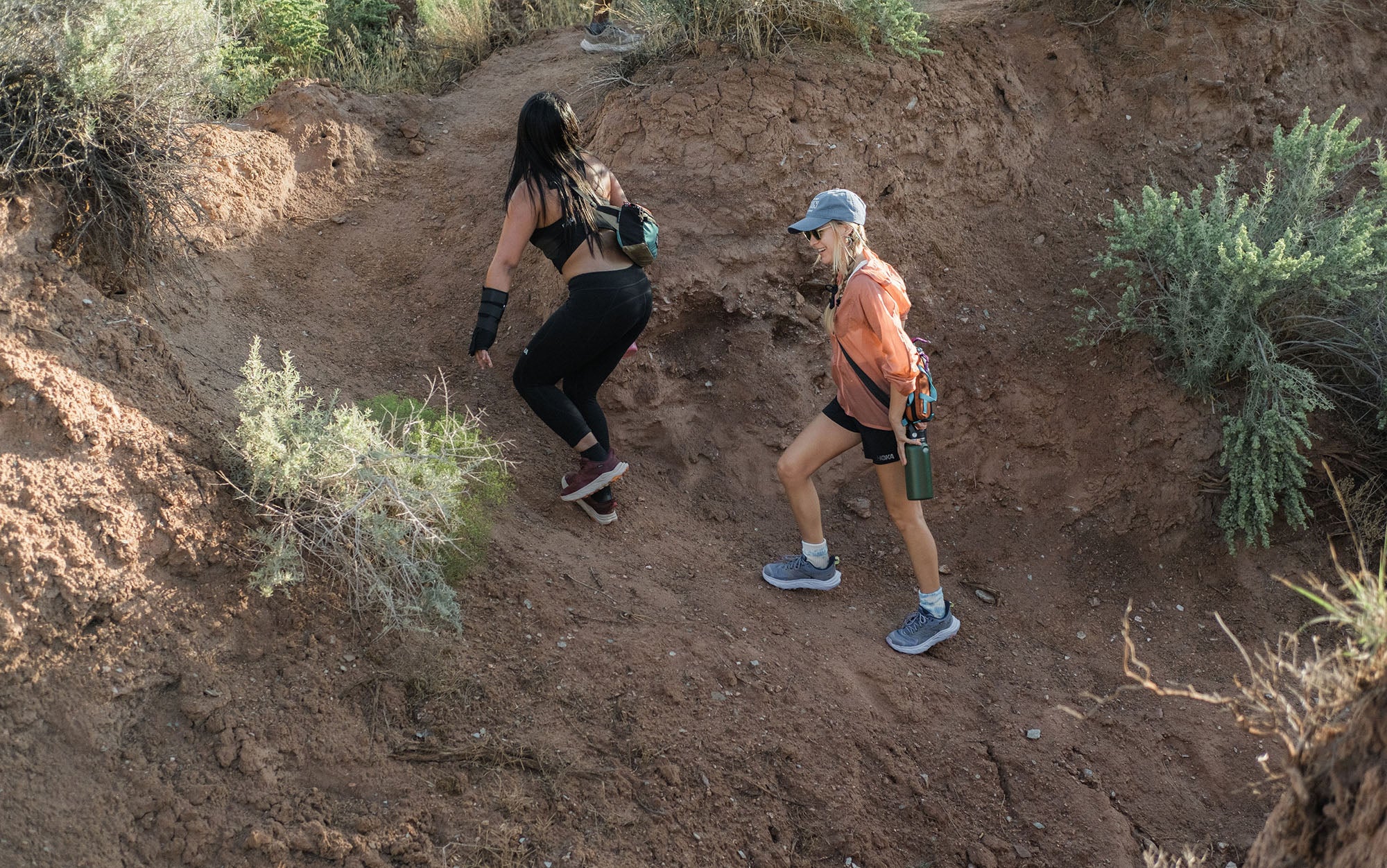 To achieve a more fluid heel impact, the Hoka Anacapa 2 has two pods on either side of the heel. They work independently to conform to rough terrain. This flexibility lessens heel impact and foot fatigue.
Testing the Anacapa Hoka 2 in the Field
Hoka is known for having plush cushion in their trail runners and hiking shoes. The Anacapa 2 has a sizable outsole of around 40 mm. However, your foot isn't sitting on top of all that foam; it's sitting inside it. As you can see in the photo below, your foot rides slightly inside the midsole (not on top of it) for added support.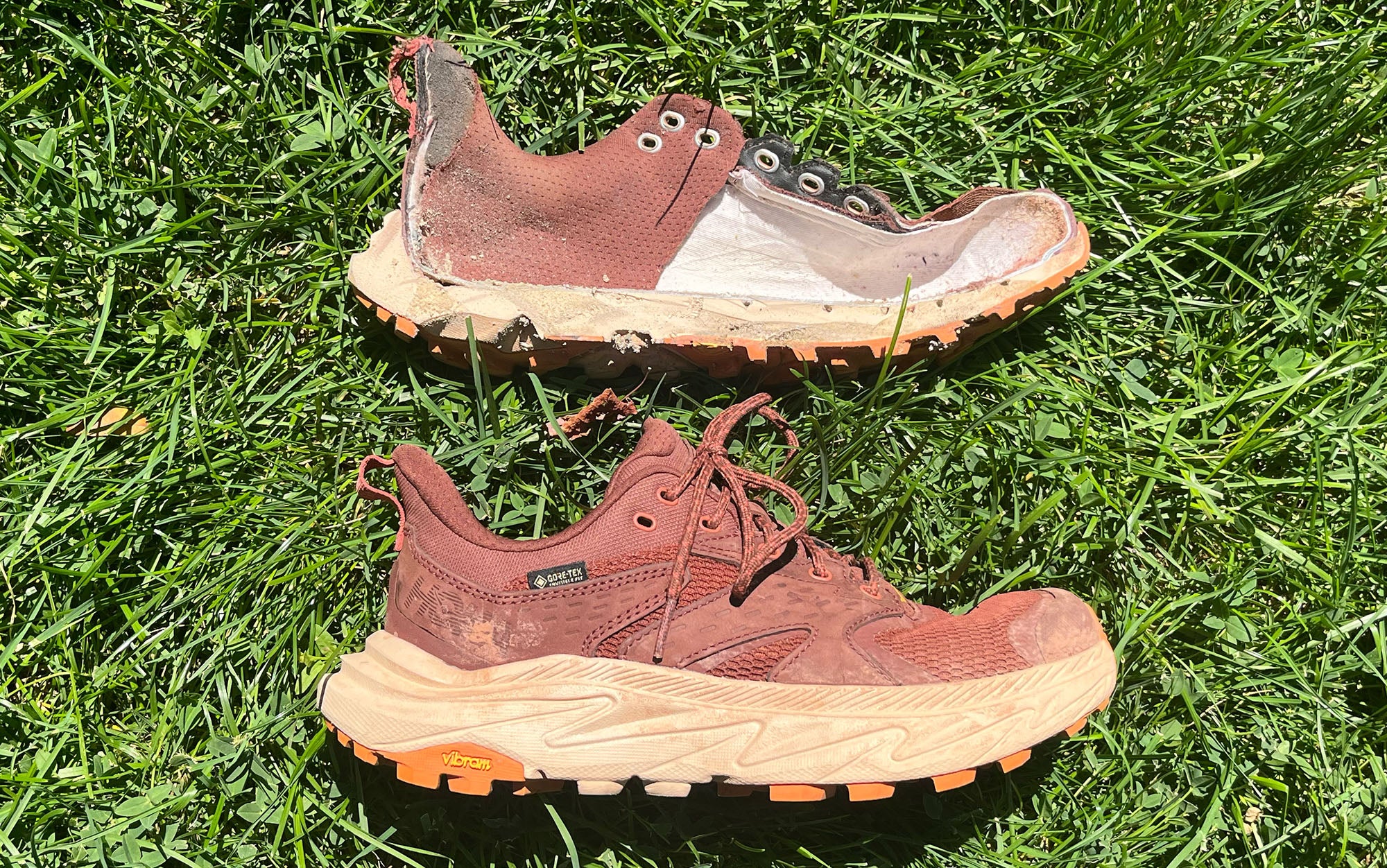 I was skeptical of this sit-in design, and the intimidating outsole, but when I actually started hiking in the Anacapas, I felt more stable and secure than I expected, even on slick and uneven terrain. To verify the alleged 22 mm forefoot and 28 mm heel stack heights myself, I cut the Anacapa 2 in half. When I measured from where your foot sits to the bottom of the shoe, sure enough, the specs were correct (except for the 1 mm discrepancy in drop height). While not a low stack height, it is less than I anticipated.
My original skepticism likely stems from the fact that you can't feel the ground underfoot in these shoes. That's by design. Hoka says that when you can feel the terrain under your feet, your foot makes micro adjustments that lead to foot fatigue. With the Anacapa 2, you only feel the bouncy foam underfoot. These shoes also feature Hoka's meta-rocker design which means the bottom of the shoe is curved to move through the gait cycle quickly and easily. This flow is clear when walking in the Anacapas.
What the Hoka Anacapa 2 Does Best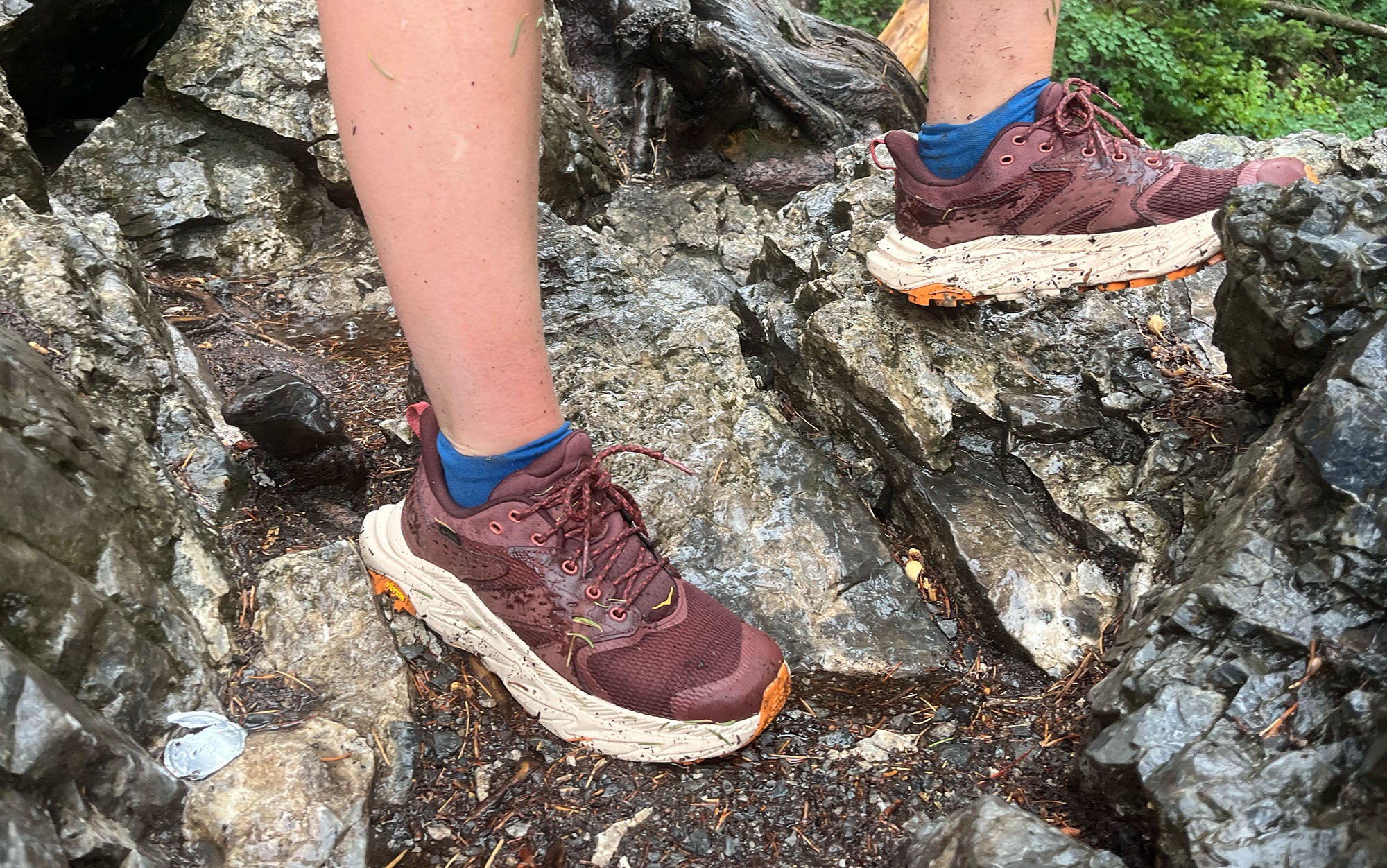 The Anacapa 2 has an increased surface area on the bottom of the shoe and a footbed that sits in the outsole for increased stability. It has a rocker style bottom that assists in creating a fluid gait cycle. If you have narrow to standard feet and you're looking for a comfortably cushioned and durable hiking shoe, the Anacapa is a great choice. The Vibram Megagrip outsole has a ton of traction, as expected. Hoka is also making more sustainable choices with the Anacapa like an increase in recycled materials, gold-rated responsibly and transparently sourced leather, and sugarcane EVA foam.
Where the Hoka Anacapa 2 Can Improve
I found the increased surface area to be cumbersome. The dramatic grooves in the outsole are designed to disperse debris from underfoot, but I thought they caught more mud and rocks than they dispersed. These shoes also have a significant 6 to 7 mm drop depending on the discrepancy in specs. This felt more exaggerated when wearing the shoes. The toe box is also a bit narrow which will pose an issue for anyone used to a wide toe box or with wide feet.
Read Next: Altra vs Hoka: Discover Which Shoe Is Right for You
Final Thoughts
Overall, I felt the Hoka Anacapa 2s are well suited for downhill hiking and provide a generous amount of cushion and traction. However, the increased surface area and narrow toe box caused issues for me uphill and scrambling. It was no easy feat to cut this shoe in half and it was in excellent shape even after abusing it in wet, rocky terrain. This gives me faith in its durability. If your feet are getting fatigued while hiking, try pumping up the comfort with the Hoka Anacapa 2.
The post Hoka Anacapa 2 Review: Pumped Up Comfort appeared first on Outdoor Life.
Articles may contain affiliate links which enable us to share in the revenue of any purchases made.
Source: https://www.outdoorlife.com/gear/hoka-anacapa-2-review/