Here's to the Hunters, Anglers, and Good Dogs with Killer Instincts

EARLIER THIS SUMMER I had the opportunity to fish with Dick Grzywinski. Better known as the Griz, the 82-year-old fishing guide is a larger-than-life legend in Midwestern fishing circles. But the Griz is also an aging legend.
He now needs a cane to walk down the boat ramp. His leg, which was injured in a motorcycle accident and nearly amputated, gives him grief. He has trouble recalling people's names (including mine), but he can remember every good fish he's caught on this stretch of the Mississippi River and the conditions in which each fish was caught. These days he won't drop a heavy anchor (he won't use Spot Lock technology either) when he's fishing alone.
And yet, he still fishes harder than men half his age and guides clients several days a week.
"Last year my old lady wanted me to quit [guiding]," the Griz says. "To hell with that. I'll quit when I'm dead."
This issue is dedicated to hunters and anglers just like the Griz. We've searched high and low for folks who have no choice but to hunt, because hunting and fishing make them who they are. They're like great white sharks that must keep swimming, must keep hunting, just to stay alive.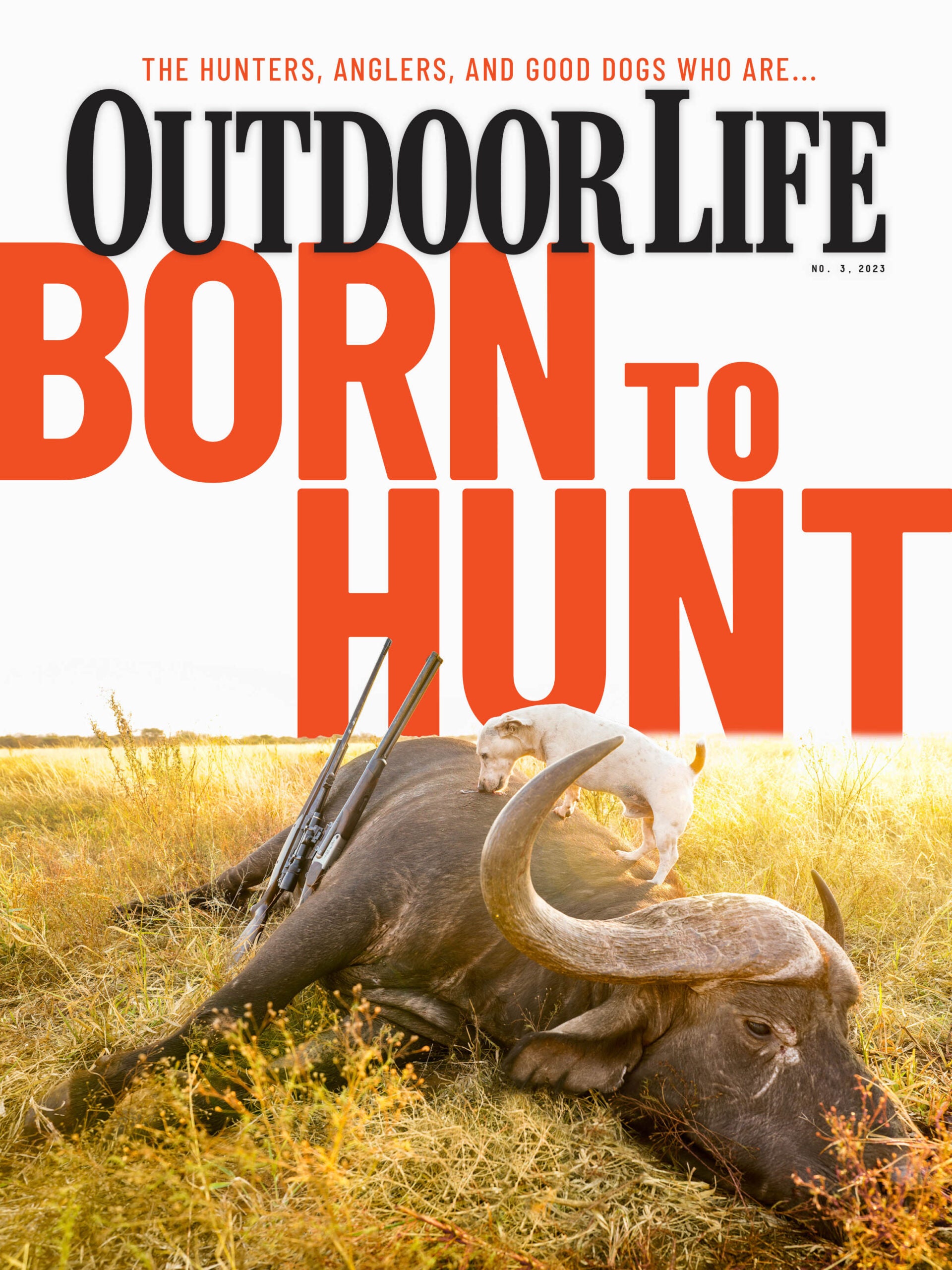 These folks don't have their own television shows and you might not be able to find them on social media. The Griz doesn't know what the phrase "doing it for the 'Gram" even means. There is no time for such trivialities when there are fish to be caught or deer to be killed.
This perspective is represented by hunters (and even their dogs) from a wide variety of backgrounds and experiences. There's the young-gun Western hunter—the last of a fading breed—who ranches and rides and treks deep into public land to track trophy mule deer ("A Son's First Solo Hunt, and a Father's Lesson in Letting Him Go"). We tag along with a pair of Southern fishermen who set lines for big river cats ("The Master Trotliners of the White River") and a California-born big bass fanatic ("California Dreaming"). Then there are the underestimated tracking terriers who aren't afraid to take on a charging Cape buffalo ("The Fearless Safari Dogs of South Africa") and the Eastern Shoshone men who are "puttin' buffalo back" so their children can hunt them as their ancestors once did ("The Buffalo Revivers").
People hunt and fish for all different reasons, and it's true almost all of them are good at what they do, but hunting simply because it is your natural instinct is the purest and best reason.
That August day on the river with the Griz was a long and hot one. With minimal breeze, no cloud cover, and temperatures creeping into the mid-90s, fishing was tough. However I was fishing with the Griz, so we still caught plenty of fish, including a few nice walleye and sauger in the mid-20-inch range. The Griz wanted to put a trophy fish in the boat. He wanted a 10-pounder.
By mid-afternoon I had all the information and photos I needed for the story, but the Griz showed no indication that he was done fishing despite the scorching heat and a few gentle hints from me. Eventually the breeze picked up a bit and clouds started to roll in. Maybe this would trigger a bite from a trophy fish?
We caught a few more but still no giants as thunder rumbled in the distance. Soon enough we could see dark thunderheads building over the treetops.
Then I felt a thump and set the hook into an impressively solid fish. It stayed deep and made a short, hard run. Was this the 10-pounder we had been hunting for? I slowly muscled it to the boat as the Griz readied the net. Through the murky Mississippi River water we still couldn't see what the heck it was.
Finally the fish tired and I cranked it to the surface. It was a massive, golden…carp. We took a picture for posterity and dumped it back into the river. Just then a clap of thunder echoed off the bluffs.
"I think we should probably call it, dontcha think?" I asked.
"All right, we can head back if you want," the Griz said and reluctantly put down his rod.
Not more than 15 minutes later a fierce thunderstorm rocked the river while we sat it out at the boat ramp. Had I not been there, I'm sure the Griz would have just kept fishing, lightning be damned. He'll quit when he's dead.
How to Read the Born to Hunt Issue
The post Here's to the Hunters, Anglers, and Good Dogs with Killer Instincts appeared first on Outdoor Life.
Articles may contain affiliate links which enable us to share in the revenue of any purchases made.
Source: https://www.outdoorlife.com/hunting/outdoor-life-2023-issue-born-to-hunt/