FRVTA's 43rd Annual State Convention is Officially Underway – RVBusiness – Breaking RV Industry News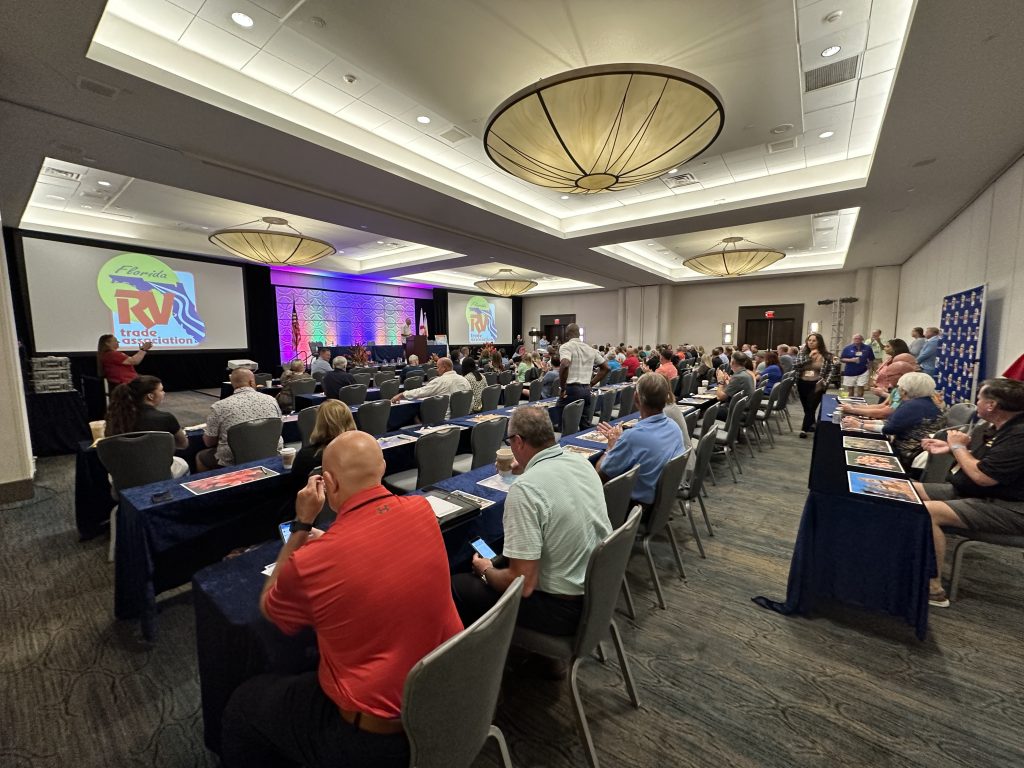 FORT LAUDERDALE, Fla. – Florida RV Trade Association (FRVTA) members enjoyed a rousing program Friday morning as its 43rd annual state convention got underway in the Aloha Room of the Marriott Harbor Beach Resort in Ft. Lauderdale.
The theme for this year's convention – which runs through Saturday – is "Ride the RV Pipeline to Success!" The theme goes with the tropical setting of the hotel and with the need to stay ahead of competition in tough times, according to information provided by the FRVTA.
"We've got lots of information to provide this year," said Dave Kelly, FRVTA executive director, before the event got underway this morning. "We really worked hard on our breakout sessions to bring in some more information. Not just for dealers but for all aspects of the industry, because we're a trade association."
Ken Lloyd, in the middle of a two-year term as FRVTA president, said he was excited about this year's event.
"I think this is going to be very entertaining and educational," said Loyd, who operates the 705-space Keystone Heights RV resort.
Kelly was particularly eager to see Harold Oehler's mock "Trial of the Century," in which the plaintiff "Lee King" sues "Mellen Campers RV" over problems with a "Colossal" motorhome. (Mellen Campers RV F&I manager's name is John Cougar, by the way, and Loyd played the role of judge during the trial.)
Oehler is a full-time federal- and Florida Supreme Court-certified mediator who serves on the executive council of the Florida Bar's Alternative Dispute Resolution Section and the Florida Bar's Consumer Protection Law Committee.
The mock trial is Oehler's entertaining way of educating dealers on how to employ best practices to prevent customer complaints from turning into lawsuits, recover customers and encourage manufacturers to help protect dealers from judgement.
"We're so excited to have him here," Kelly said.
Kelly said sentiment among dealers at the convention was upbeat.
"Things had cooled off, but I think they're starting to pick up again from what we're hearing," he said. "Our shows have been great. Attendance has been great, so the interest is still there. Things haven't really dried up. They're starting to see people come back on the lots and doing business, so I think we're in pretty good shape now."
Attendance at this year's convention was about the same as it has been in the past.
"You know in 2020, of course, everything was cancelled, so we've been building back up the last couple of years. We're getting our numbers back up close to where they used to be before COVID."
The FRVTA also is gearing up for what looks to be a well-attended 2024 RV SuperShow, planned for Jan. 17-21 at the Florida State Fairgrounds in Tampa.
"We've sold everything out," Kelly said of the Tampa Show. "We even created more space — about 80,000 square feet that we sold out at the draw. Everything is looking really good for the SuperShow."
Other Friday morning program events included presentations by RV Dealers Association (RVDA) President Phil Ingrassia, who provided an overview of the status of the RV market based on monthly dealer surveys. He also outlined the RVDA's strategic priorities including legislation, reducing repair event cycle time (RECT) and the availability of fixed operations training opportunities through the RVDA's Mike Molino RV Learning Center.
Michael Ochs, RV Industry Association (RVIA) vice president of government affairs, spoke about recent industry trends and economic indicators along with his organization's efforts to forge a stronger relationship with the campground industry. He also highlighted recent research and GoRVing demographics.
RV Technical Institute (RVTI) Executive Director Curt Hemmeler spoke about the recent launch of Level 3 in the RV technician career path, how the entire career path works and the 14,000-plus trainees who have logged in and been a part of the RVTI training experience.
"This is extra special," Hemmler said of the opportunity to speak at the convention. "The FRVTA really was the group when I came (to RVTI) that had taken the reins of education. They believe very highly in education. Really, the foundation of what RVTI is today is because of their good work and things they have done that we have been able to build upon. And with their partnership, we'll continue to get stronger and stronger as the years go by."
Ingrassia was eager to address the attendees at the convention because, he said, "Florida's got one of the premier state associations and this is always one of the highlights of the year on the industry calendar."
He noted that the industry is headed in a positive direction.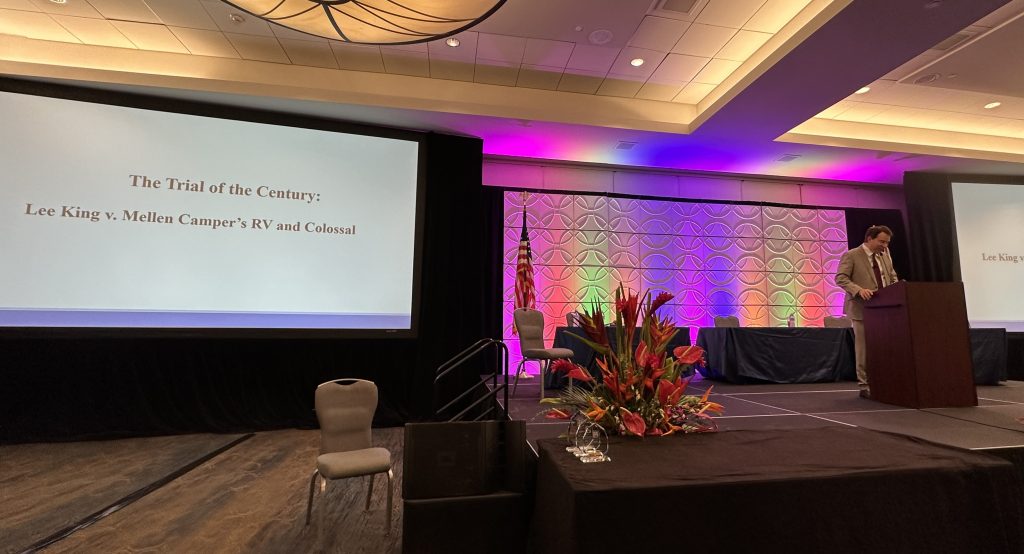 "We just got the recent Baird numbers, which I'm going to talk a little bit about today, and retail's holding up better than some people thought," he said. "We're going to finish retail between 360,000 and 380,000 units, which is a little bit better than some of the early projections in the spring. Dealers' near-term outlook is improving in the dealer survey this month and long-term outlook is strong as well."
While some obvious economic headwinds are still affecting consumers, the RV market seems to be holding its own.
"On the lending side, sure, interest rates are higher, but the availability of retail credit is strong. So, the lending community is working with the industry to make sure consumers can finance units if they need to," Ingrassia said. "And wholesale lending is strong as well, so the availability is good there. Those are the two things that really impacted the industry negatively during the downturn in 2008, '09 and '10, and we don't have those issues now. So, that's all good."
He also observed that interest in the lifestyle remains high.
"GoRVing numbers are very strong as far as interest on the GoRVing website," he said. "Dealers are telling me that they're getting a lot of activity on their websites. Third-party sites like RV Trader have very strong traffic. People are looking. They're having a little bit more of a difficult time pulling the trigger, and a lot of that is due to larger economic factors."
Kelly kicked off Friday's events with an overview of the planned program and recognition of sponsors, including:
Platinum sponsors — Bank of America, Forest River and FRVTA Region 6
Gold sponsors — Brown & Brown Insurance, Fantasy RV Tours, FRVTA Region 7, Grand Design, Jayco, New Frontier Products, NTP-Stagg and Wells Fargo
Silver sponsors — FRVTA Region 3, M&T Bank and Newmar
Bronze sponsors — Airstream RVTA Region 1, KMS Keller Marine & RV, Lazydays RV, Oseman Insurance Agency, THOR Motor Coach and Williams and Stazzone Insurance Agency Inc.
In addition to a wealth of information, the FRVTA convention allows for plenty of fun activities, including deep sea fishing and a visit to Top Golf. A "Shake Your Coconuts" dinner party tonight will feature beautiful Hawaiian shirts and dresses and a great dinner buffet. Also, a "Big Kahuna" game show luncheon featuring games, prizes, cash and loads of surprises is also on the schedule.
Breakout sessions on Saturday will include:
A Dealers Guide to Repair Event Cycle Time (RECT)
Cyber Security for Business
Consumer Demand letters – How to handle the gauntlet of customer complaints
The Nuts & Bolts of Florida Tax
Passing the Keys (Succession Planning is Critical)
Source: https://rvbusiness.com/frvtas-43rd-annual-state-convention-is-officially-underway/