Fat Bear Week Kicks Off Today, Here Are The Bears You Can Vote For

Fat Bear Week officially starts today. The October event has become a staple of the outdoors as some of the largest brown bears prepare to hibernate. As the bears bulk up, more than a million people worldwide get to vote on which bears they think will top the scales to be named the Fat Bear of the Year.
Videos by Outdoors
The event centers around grizzlies at the Brooks River in Katmai National Park in Alaska. That's where Explore.org has a live stream set up to watch brown bears in the area.
National Park Service officials say Fat Bear Week is also about body positivity and "A celebration of success and survival. It is a way to celebrate the resilience, adaptability, and strength of Katmai's brown bears."
Voting happens daily, starting at noon Eastern time. Here is a look at this week's matchups: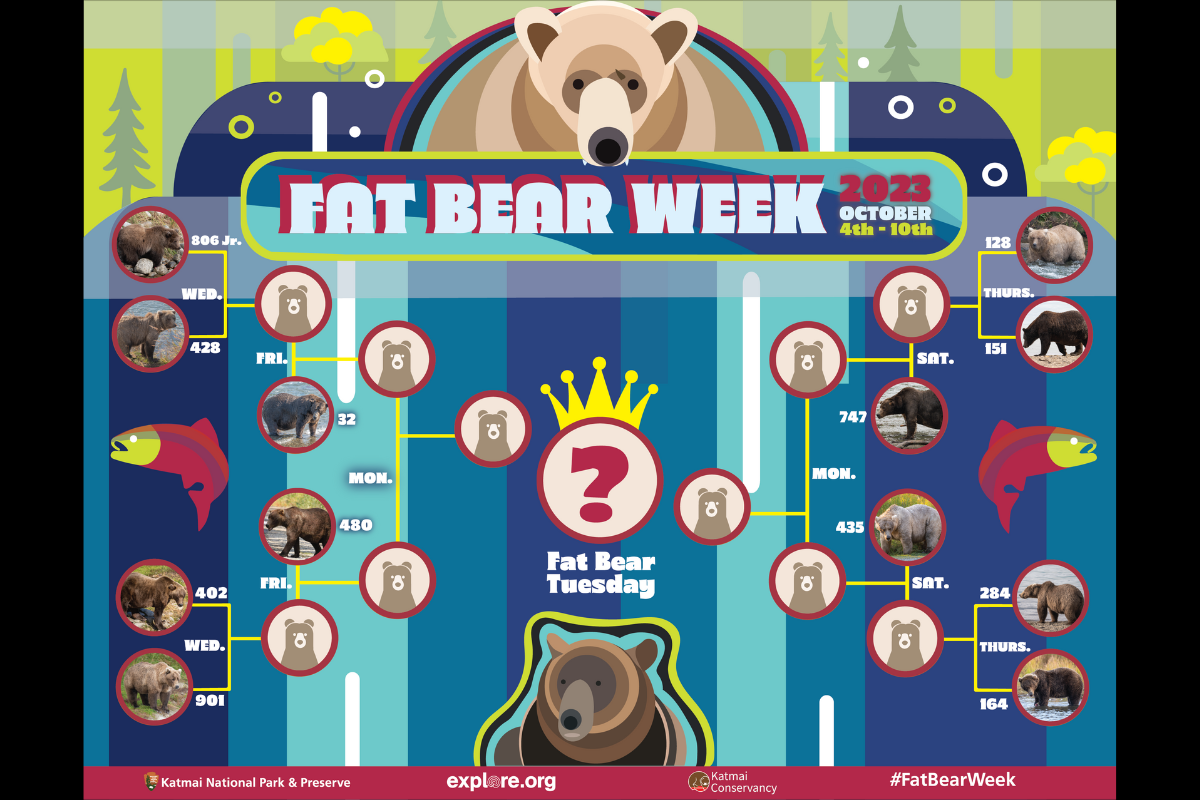 Today's voting includes:
428 vs. 806 Spring Cub
Bear 428 is a three-and-a-half-year-old bear. She and her sister can be found each year at the Brooks River learning to fish with their mother, 128 Grazer, who's also a Fat Beer Week contestant. This year is the first time 428 has navigated the river without her mother's constant presence. Meanwhile, 806 Spring Cub is this year's Fat Bear Week Jr. winner, which just wrapped up. People viewing the livestream learned about 806 after his mother fell over the waterfall, briefly leaving 806 alone. A nearby adult male bear then tried to attack 806. Fortunately, 806's mother rescued the bear cub.
402 vs. 901
Today's other matchup includes Bear 402, a long-time presence in the national park and has had at least eight litters over the last few years. Bear 402 even had two litters of four bears each. 402 is still caring for a single cub at the moment. Bear 901 was a finalist in Bear Week 2022. Last year, many wondered if she was possibly preparing for a litter of cubs based on her size. This past summer, she returned to the Brooks River with three cubs. Brown bears give birth mid-winter during hibernation.
Who are you voting for on the first day of Fat Bear Week?
Source: https://outdoors.com/fat-bear-week-kicks-off-today-here-are-the-bears-you-can-vote-for/