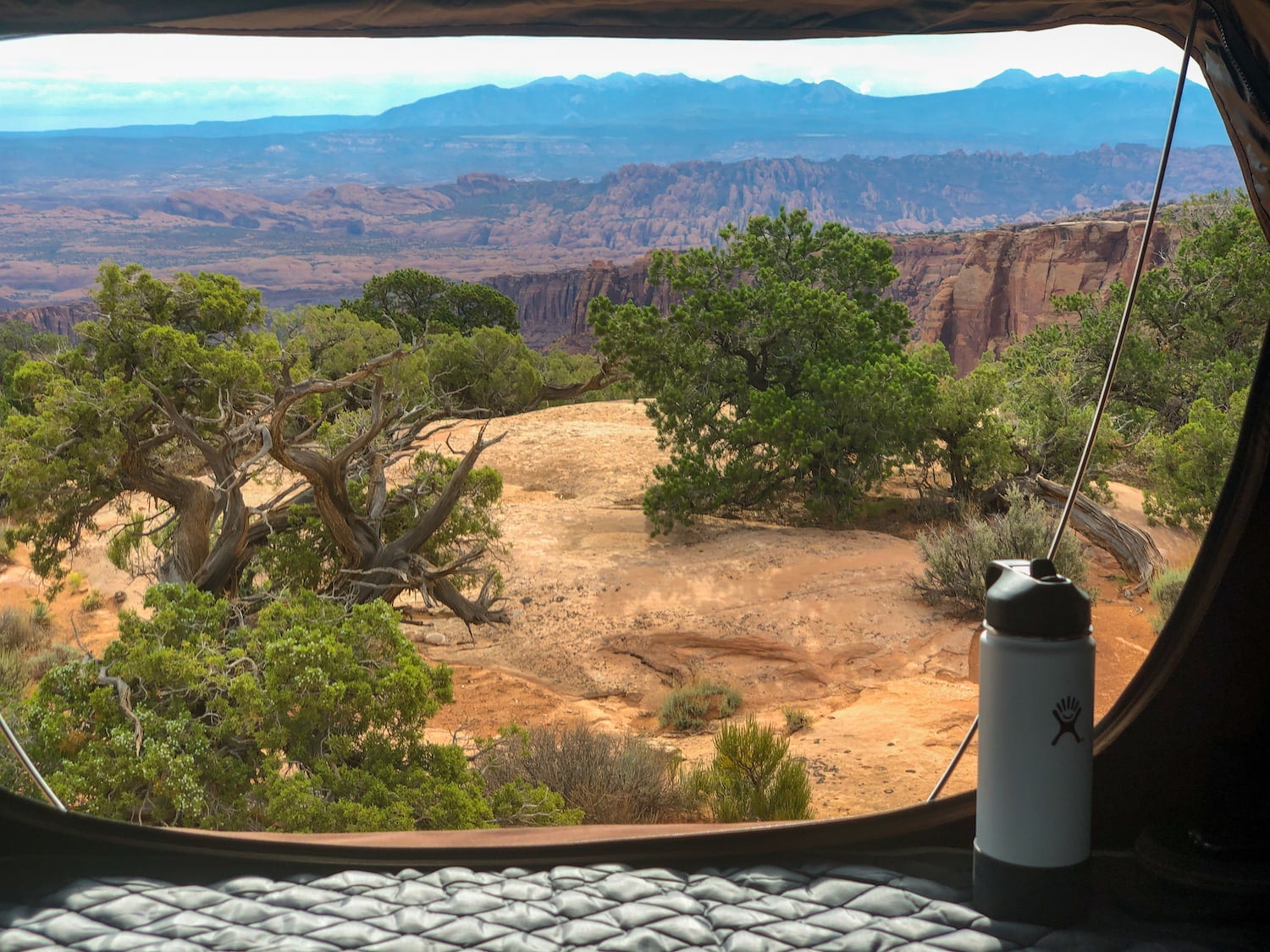 Renting an overland rig and exploring dispersed camping near Moab, Utah, is an exciting way to experience the outdoors. Salt Lake City is an ideal starting point for this adventure, as it is a major transportation hub (SLC International airport) and has several rental companies nearby that offer overland vehicle rentals. Stock up your fridge or cooler and hit the road to southern Utah!
---
What to know beforehand: Dispersed Camping 101
Before embarking on this journey, it is essential to understand what dispersed camping is and what to expect.
Dispersed camping refers to camping in an undeveloped area outside of a designated campground. It is also known as primitive camping, backcountry camping, or boondocking.
Dispersed camping offers more freedom than traditional camping, as there are no designated campsites or facilities. However, it also requires more preparation and self-sufficiency, as you will need to bring everything you need, including water, food, and a portable toilet (yes, pack it out too!).
So be sure your overland rig rental includes all the gear to make your trip a success.
---
Moab Dispersed Camping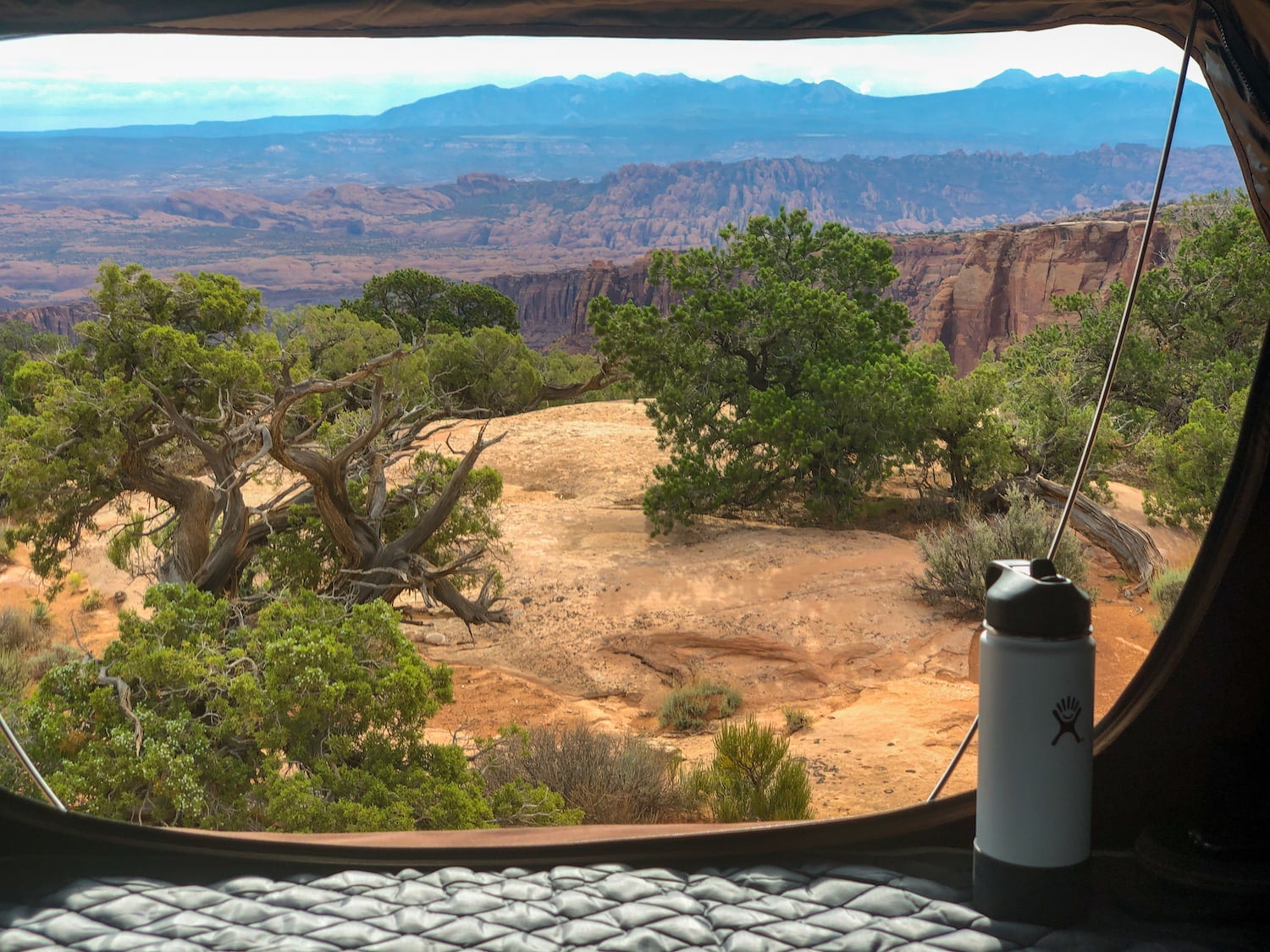 One of the advantages of dispersed camping is that it allows you to camp in remote areas and away from the crowds. This is especially true in Moab, Utah, where the demand for campsites often exceeds supply, particularly during peak season. Dispersed camping also provides more opportunities for solitude and privacy, as you can camp far away from other campers.
Moab, Utah, is a popular destination for outdoor enthusiasts and is known for its stunning landscapes, which include towering red rock formations, deep canyons, and the Colorado River. There are several areas around Moab where you can go dispersed camping, including Pucker Pass Dispersed BLM, Long Canyon Dispersed BLM, and Bride Canyon BLM off of Gemini Bridges trail.
Both Pucker Pass and Long Canyon Dispersed BLM campsites can be found on your way toward Canyonlands National Park, Island in the Sky district. These are excellent starting points for any Canyonlands trip bringing you out to the grand viewpoint. Located approximately 11.4 miles northeast of the visitor center. You turn east off of Island in the Sky Road onto Utah 313. Look for the intersection for Long Canyon Road and continue east.
---
3 Great Dispersed Camping Destinations
Pucker Pass Dispersed BLM offers excellent opportunities for dispersed camping right on the ledges and stunning views of the surrounding canyon. There are several primitive campsites located along the road, which is accessible by four-wheel-drive vehicles. The road can be rough and bumpy, so it is essential to have a reliable overland vehicle.
Long Canyon Dispersed BLM located just north of the aforementioned along Day Canyon Point Jeep Trail. There are several campsites along this trail. Be sure to head back to Long Canyon Road for a moderate trail ride that spits you back out onto Utah highway 279 right along the Colorado River.
Bride Canyon BLM off of Gemini Bridges trail is a unique area especially when rolling into the area a bit later in the afternoon. With the busy crowds of Moab and other popular BLM campsites like; Grandstaff, Goose Island, and Williams Bottom being full, this is an excellent option for dispersed camping. As these other sites are right along the highway, are paid, and tend to get crowded. Continuing the trail the next day for stunning views of the surrounding landscape and the Gemini Bridges, which are natural rock formations that span two canyons. There are several primitive campsites located along the Bride Canyon Road, which is accessible by four-wheel-drive vehicles. The road can be steep and rocky, so it is essential to have a reliable overland vehicle and good driving skills.
---
Overlanding in Moab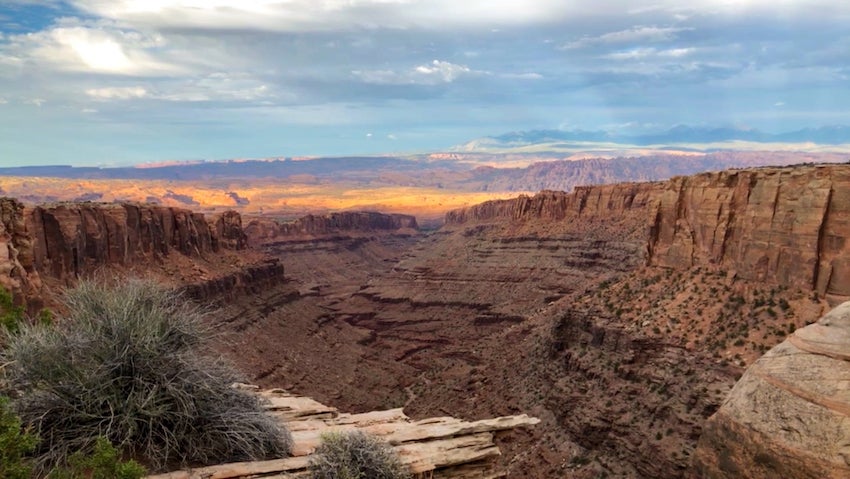 When planning an overland trip to Moab, Utah, it is essential to consider the best time of year to go. The peak season for camping in Moab is typically from March through October when the weather is mild and pleasant. However, this also means that campsites can be crowded, and the demand for campsites exceeds supply. The best time of year to go dispersed camping is during the off-peak season, which is from November through February. During this time, there are fewer crowds, and campsites are more readily available. However, it is essential to be prepared for colder weather, as temperatures can drop below freezing at night.
Another advantage of off-peak season camping is that the scenery can be even more stunning, with the changing colors of fall and the snow-capped mountains in the winter. Or plan to go several times in different seasons to experience the area in all of its amazing glory.
The post Explore Dispersed Camping Near Moab: Paradise for Overlanding Renters appeared first on The Dyrt Magazine.
Source: https://thedyrt.com/magazine/local/dispersed-camping-near-moab-paradise-for-overlanding-renters/