Escondido RV Resort: The Perfect Vacation Starts Here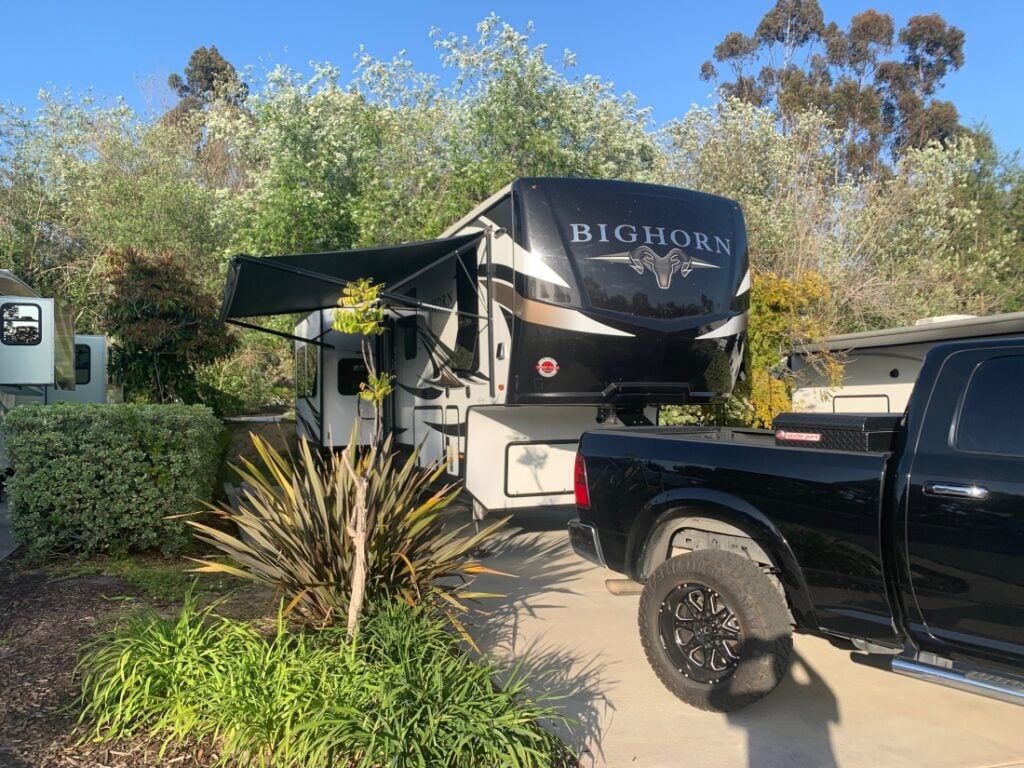 RV Trip Ideas: Visit Escondido RV Resort Near San Diego
Looking for a memorable RV resort near San Diego? Escondido RV Resort is your answer. It's got all the amenities for a perfect getaway.
You may be wondering what to expect from your stay at Escondido RV Resort. If so, you've come to the right place. Below, we outline all of the wonderful things about this resort so you can book with confidence, knowing you made the right choice.
Top features
Let's start by talking about the things we adore about the resort itself. When it comes to RV parks, every little detail matters—and when all the details are just right, the result is an incredible park that gives visitors a relaxing and fun experience. That's exactly what we found at Escondido RV Resort.
Friendly and welcoming
The first thing you'll notice when contacting Escondido RV Resort is the friendly, helpful, and welcoming staff. These folks are happy to do whatever they can to help make your vacation an awesome one, and this attitude carries over from the reservation process to check-in and all the way through check-out.
When you arrive, you will be greeted and welcomed. The staff is quick to answer questions and address concerns, and the other campers are typically equally welcoming.
Clean and well maintained
As soon as you arrive at Escondido RV Resort, the love and care put into the park becomes apparent. The grounds at this park are meticulously maintained, creating a lovely setting for taking a walk, hanging out in your campsite, or playing outside as a family.
In addition to well-maintained grounds, the park restrooms, pool, and hot tub are also well taken care of, so you can take advantage of all those wondrous amenities without dealing with gross messes. Honestly, this should be a given at every RV resort out there, but unfortunately, that isn't the case, so we appreciate the extra clean amenities at Escondido RV Resort.
Park amenities
Speaking of amenities, Escondido RV Resort has some pretty great ones. The pool and hot tub are perfect for relaxing in after a long day, and the clean restrooms with showers are lovely if you don't want to use the restroom or shower in your rig.
We also love the onsite playground that is perfect for young children, as well as the dog park for the traveling pups that happen to visit. The campground is right next to a city park, and gated access allows easy entry to the park for guests while keeping non-campers out. The RV park will sometimes host events and organized activities, which makes the experience of staying here even more exciting.
Of course, we must also mention the gorgeous campsites in the park. These sites are paved, level, and long enough for any rig. Each site includes 30/50-amp electricity as well as sewer and water hookups.
Park location
In our opinion, the most important thing about any RV park is the location. After all, you are likely traveling to see and do things, and staying at a park that is far away from everything makes it a lot harder to go out sightseeing.
Escondido RV Resort is conveniently located near numerous attractions, offering an abundance of nearby activities and sights.
This park is set in Escondido, which is home to a few great attractions. On top of that, Escondido is just a short drive away from San Diego where you will find all kinds of world-famous sights and attractions.
Excellent reviews
Escondido RV Resort has been making waves among the RV community, especially on the trusted RV LIFE Campgrounds platform. Garnering an impressive average rating of 8.2/10 from 89 reviews, it's evident that visitors are more than satisfied with their stays. The feedback speaks to the quality and experience that the resort consistently delivers to its guests.
According to a recent review,
"Great spots, clean. Great customer service in the front office! Nice little pool. Lots of kids good for my kids to play with. There is a city park with a gated entry back into the resort to keep out random people. Lots of doggos. Good hill climb for exercise! Will be here a while! We camped at Escondido RV Resort in a Motorhome."

– via CaliRadoKid
What to do near Escondido RV Resort
Wondering what to see and do near Escondido RV Resort? We've listed some of our favorites below so you can start deciding which things you want to see now.
San Diego Zoo
Easily the most popular (and possibly the most fun) attraction in San Diego, the San Diego Zoo is a must-see for people of all ages. This zoo is located in the lovely Balboa Park and was one of the first zoos to create open-air natural animal habitats.
These days, the zoo is home to a huge variety of animals in some of the most beautiful habitats in the zoo world. It's also an accredited botanical garden, housing some 700,000 exotic plants and adding to the park-like atmosphere of the zoo.
Balboa Park
Obviously, you will want to visit the San Diego Zoo in Balboa Park. That said, we also believe every visitor should make time to explore the park itself as well. Besides the zoo, you'll find a carousel and mini railroad, a whole host of museums, gardens that are perfect for wandering, playgrounds, dining options, and more.
One could easily spend several days in this enormous and gorgeous park and still not see and do everything there.
San Diego Zoo Safari Park
An extension of the San Diego Zoo, the San Diego Zoo Safari Park is located in Escondido, very close to Escondido RV Resort. This park is unique in that guests board a safari tram and ride through the animal habitats for up-close views. These habitats house different types of animals together, allowing the animals to wander freely and mingle as they would in the wild.
Other experiences available at the safari park include zip-lining and rides in a tethered hot air balloon.
USS Midway Museum
Another unique and fun thing to do in San Diego is the USS Midway Museum. Here you can wander through an authentic US naval aircraft carrier while exploring exhibits that feature various aircraft, recreated scenes of life on the aircraft carriers, and tons of awesome history lessons.
For an extra fun time, be sure to chat with the knowledgeable docents. You can also try out a flight simulator, watch the "Voices of Midway" movie in the Battle of Midway Theater, and let your young travelers "earn their wings" by completing kid-friendly educational activities.
La Jolla Cove
We also highly recommend visiting La Jolla Cove. This is a cove with a small sandy beach. That said, the main attraction here is not the beach (we think there are much better swimming and sunbathing opportunities in the San Diego area). Instead, you'll want to head to La Jolla Cove to visit the sea lions!
You see, this particular cove is a favorite hangout of these marine mammals, and visitors can often see dozens of them swimming in the waters and hanging out on rocks on any given day. It's tons of fun to watch them splash and play, and you can take wonderful photos of their antics. That said, make sure to give the sea lions their space and heed any warnings, as the animals can be aggressive.
Coronado Beach 
Just across the iconic Coronado Bridge, this golden-sand beach is renowned for its sparkling waters, dramatic sunsets, and the historic Hotel del Coronado. Visitors can stroll the picturesque beach, soak up the sun, or explore the charming town of Coronado.
Old Town San Diego State Historic Park
As the "birthplace" of California, Old Town gives visitors a glimpse into the region's early days with preserved historic buildings, authentic Mexican eateries, and lively mariachi performances. The park is perfect for those interested in history or just looking for a unique dining experience.
Torrey Pines State Natural Reserve
For outdoor enthusiasts, this coastal state park offers breathtaking views of the Pacific from its rugged cliffs. Home to the rare Torrey Pine tree and a network of trails, it's a haven for hikers, birdwatchers, and nature lovers.
Gaslamp Quarter
A lively downtown neighborhood, the Gaslamp Quarter is famous for its historic 19th-century buildings, now housing a variety of restaurants, bars, shops, and nightclubs. It's the go-to place for nightlife and entertainment.
Cabrillo National Monument
Set on the tip of Point Loma, this national monument commemorates the landing of Juan Rodriguez Cabrillo, the first European to step onto the West Coast of the US. Visitors can enjoy panoramic views of San Diego's skyline, the Pacific Ocean, and Tijuana, Mexico. The area also offers tide pool exploration, a historic lighthouse, and nature trails.
Get RV-safe directions 
As you can see, Escondido RV Resort is a wonderful place to vacation. That said, it's such an excellent RV resort that it does book up quickly. Therefore, you'll want to make sure to book as soon as possible for your upcoming adventure. From there, you can start packing the RV and get ready to have an amazing time in SoCal! 
For all of your camping and trip planning needs, look no further than RV LIFE Campgrounds and RV LIFE Trip Wizard. Campground Reviews is a trusted source of campground and RV park reviews offered by camping and RV enthusiasts just like you. With its accompanying RV LIFE App, RV Trip Wizard gets you to your camping destinations utilizing RV-friendly routes specific to your RV and travel preferences.
The post Escondido RV Resort: The Perfect Vacation Starts Here appeared first on RV LIFE.