Entegra Shows '24 Models at Well-Attended 'Homecoming'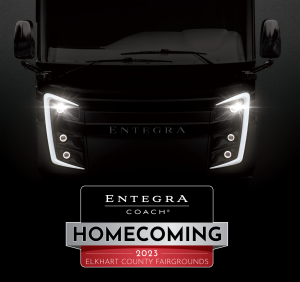 GOSHEN, Ind. – All the coaches the Elkhart County Fairgrounds can accommodate are on hand through Friday this week for the 2023 Entegra Homecoming, where owners of the company's luxury Class A motorhomes gather for camaraderie, educational seminars, entertainment and a peek at what's new for 2024.
Middlebury, Ind.-based Entegra Coach has been a member of THOR Industries Inc. unit Jayco since 2008, and Jayco President Ken Walters was on hand Tuesday at the rally to meet with owners and hear their questions, comments and concerns.
"We keep the same time each year," he said of the rally. "We get past Mother's Day. We typically set up over Mother's Day weekend. … It's an awesome week of education. A ton of classes and we get to break bread with them (owners)."
About 250 coaches and 500 people were on hand at the event, with another 100 coaches on a waiting list because of space constraints.
"It's a big week here for us," Walters said. "It's our one opportunity to engage with these consumers. We always have a get-together in Tampa and usually have three or four hundred people there. But this is a big week for us in the Entegra world."
A big part of what happens at the Entegra Homecoming is the display of new models. And while there were new features and improvements throughout the product lineup, a prototype of an all-new unit was on display – the 37K, the first non-tag-axle Anthem floorplan checking in at a svelte 38 feet, 3 inches. MSRP was to be determined.
"What's really exciting about it is that it has all the same specs as an Anthem," said Ryan Eash, general manager of Jayco's motorized group. "It's still 450 horsepower, still the side radiator, still the bigger tires. Everything that makes an Anthem an Anthem is still there, we just shrunk it down a little bit to offer something that's under 40 feet."
Walters said the downsized 37K is the company's first shorter luxury model.
"We've built 37-foot diesel motorhomes before, but more of the entry-level, price-sensitive stuff," he said. "This is our first entry into the high-end market. I think Pat (Carroll, Jayco vice president of product development) nailed it."
He said that while the luxury Class A segment is not a growing segment, there was need for a smaller coach.
"It's a segment that's pretty flat, but we do get people who – a 45 and you're dragging a car – that's just more than they want to do at this phase of life, so we're downsizing," Walters said.
RVBusiness caught up with Walters shortly after a "What's New" session hosted by Carroll.
"You get Pat, who has 40 years' experience developing diesel stuff. He's got a unique perspective," Walters said. "He's the best diesel development guy in the business. It's not close. He's been such a big part of what we do."
Trey Miller, Jayco vice president of marketing also spoke highly of Carroll's role – and his enthusiasm.
"The '24 models are very much based on customer feedback," he said. "All the new enhancements and changes have come from customers, where he (Carroll) does a customer listening session here on Fridays. He also does it at Quartzsite, Tampa, the FMCA rallies, et cetera, where he really listens to what the customers say. There are pictures I've seen of him sitting with four people for like an hour, just listening to what they like and don't like. … It's amazing that somebody who has been in the business 40 years is still listening. He's still perfecting and still tweaking, and these coaches really show that. Our coaches keep getting better and better and better and that's a tribute to him."
Carroll opened his remarks with a recognition of Entegra and its owners.
"We all have a mutual bond, a love of seeing America the beautiful – Canada too – in the quietest riding, best handling motor coach on the market today. Period. The definition of Entegra Coach Homecoming is when our coach owners return to their coach's birthplace. It's an annual celebration of owning the best motor coach built today. We are going to learn a lot, eat a lot, drink a lot and reacquaint with old friends. We will also make many new friends. We will leave here with many new memories and stories to tell," he said.
Early in the presentation, Carroll outlined some state-of-the-market stats, including the fact that in the 605 H.P. engine category sales for 2023, the Entegra Cornerstone led the market with 106 sales, outpacing three Newmar models and an American Eagle in the top five spots.
Before discussing what was new for 2024, he echoed Miller's remarks, noting that, "our owner suggestion sessions are Entegra Coach's 'secret sauce' an integral part of the design process."
New features for 2024 across the model lineup include a hot and cold-water hook-up behind front cap, filtered water dispenser located by kitchen sink, gray-tank flush by simply flipping a switch, updated LED headlights, generator guide pins, user-friendly locking screen on entry door, a change to user-friendly Cotek inverters, Stonewall matte gray cabinetry, Starlink RV satellite Internet and a black-out front shade.
Reatta XL and Reatta models get a larger 15-inch front dash, automatic headlights with photo-electric sensors, automatic windshield wipers, rear-cap badging and Equalizer smart leveling.
In addition, rear bed clearances between the side window valance and mattress have been redesigned and the valance now has a wall-hugging aluminum frame with a pleated shade, making the operation and functionality of the powered tilt bed much more user-friendly.
Cornerstone, Anthem and Aspire models receive electronic air valves, tilting feature in air leveling, pullout pantry doors, new leather-wrapped assist handles, cooktop cutting board, redesigned dinette chairs, keyed ignition switch (changed from push button), rear wardrobe light bar, added kitchen storage in redesigned "D" floorplan, wood headboard, new paint colors, optional dishwasher deletion and Instant Comfort air mattresses.
Toward the end of his presentation, Carroll congratulated Joyce Skinner, Jayco director of customer service, on her retirement after 32 years' service.
"Joyce, it has been privilege working with you, and now it's an honor helping you celebrate your retirement," Carroll said. "What I will miss most is your big heart, which carries the love for all of the 6,400 Entegra Coach customers."
Walters also noted Entegra was honoring Skinner.
"She's been running the Entegra customer service department basically since inception. A huge part of what we do," he said. "These customers know and love her. She handles that really well."
Source: https://rvbusiness.com/entegra-shows-24-models-at-well-attended-homecoming/