EBL Portable Power Station 500: Your Power Solution On The Go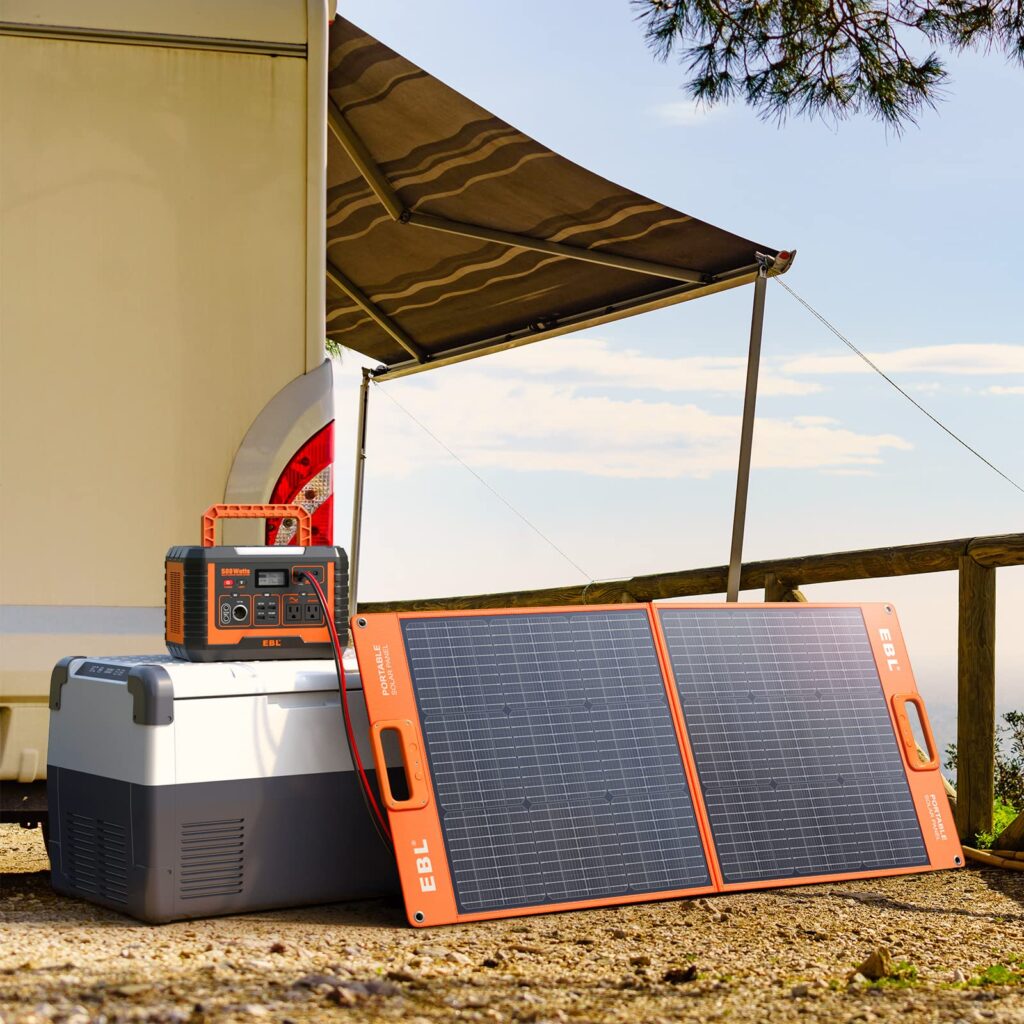 Sponsored by EBL
EBL Portable Power Station 500 Review: Power Up Anywhere
Having reviewed several portable power stations previously, I found this EBL 500 Portable Power Station to be the smallest one I have worked with, but it has some really big features.
Designed to compete in the same space as other popular 500W units, the EBL even adopts the familiar orange color scheme. It also beats out its competitors in a few interesting ways. 
EBL Power Station: Top features
Flat, magnetic charger top
The EBL 500 has a few sensible changes to what has become the "orange standard" for any power station. Instead of a fixed handle, the EBL 500 handle folds flat out of the way. The mechanism is solid and doesn't feel flimsy. Rather than just revealing a useful flat surface on top, that flat surface doubles as a mag charger for your phone or tablet. To ensure that the charger doesn't try to impose its will on anything that happens to land on that flat surface, you must turn the power on and the USB switch to activate the mag charger.
As simple and obvious as this feature is, it's amazing how handy it is. There is one less cord to use and a dedicated and spill-proof place for your phone, all in one. I typically use a power station like this on a picnic table outside or perhaps in another space in my RV. This flat top magnetic charger makes so much sense.

The built-in light
Including a light on a portable power station like this is now common practice. EBL takes it to eleven with a larger and brighter light that I have seen on other units I've tested.
The EBL has an override function that allows the light to be turned on quickly by pressing the light button, which also activates the power, unlike the other power functions that require the power button to be turned on first. This feature is useful for better resource management. Since we usually need light immediately, having to press multiple buttons can be avoided.
The perfect shape
The EBL 500 power station is basically a rectangular shape, not quite square, but with the corners removed. No sharp edges and a sturdy, aesthetically pleasing shell give the EBL 500 a functional appearance without appearing utilitarian. All of the controls and power connections on the front are easy to find and see. Despite its small size, this power station has a Pure Sine Wave port, which is clearly labeled.
How heavy is it?
For RVers looking for portable power rather than additional or supplemental power, the 500-watt platform is perfect. Most of us have all the power we need from the RV or the campground pedestal.
What we don't want to do is drag an extension cord out every time we want to use power in and around the RV when available outlets are full, or simply not present. Neither do we want to lug a 25 lb "portable" power station up and down the camper stairs. Toting this lightweight power station around was no effort at all, and with the ergonomic handle, it doesn't feel anywhere near the 13 lbs my scale revealed.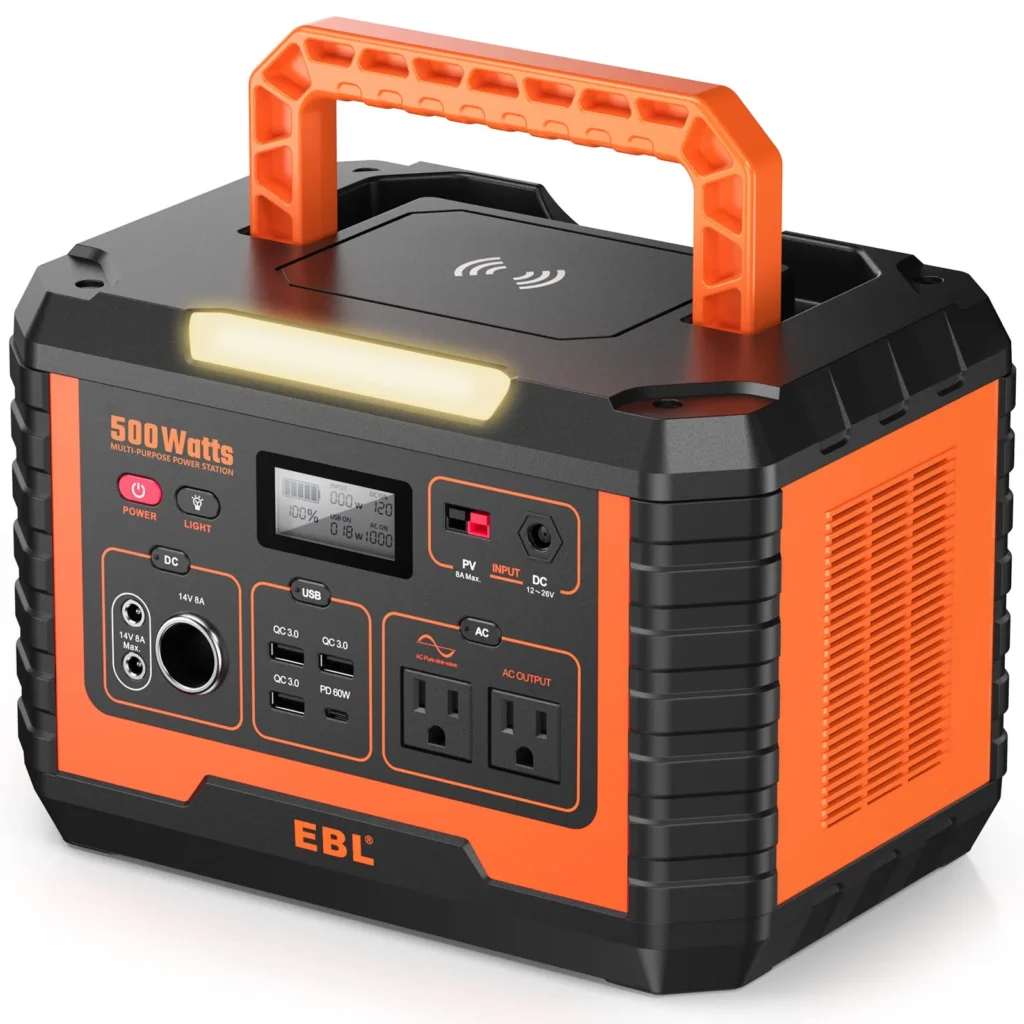 Power comparable with other brands
Within the portable power station space, the differences often come down to some of the little things we mentioned above. For the most part, they all have the same capabilities within their respective power ranges, and the EBL 500 is no different. Here are a few runtime examples for a 500W unit of this size.
Run a typical 60W TV for 7 hours.
Charge a smartphone 44 times.
Run a 30W fan for 12 hours.
Run an air pump for 10 hours.
Charge a GoPro 74 times.
Charge a laptop 10 times.
Other notable features
High capacity battery: The EBL Portable Power Station 500 comes with a high capacity 500Wh lithium-ion battery that can power a variety of devices such as smartphones, laptops, tablets, cameras, and small appliances.
Multiple charging options: The power station has multiple charging options, including solar panels, car chargers, and wall outlets. This makes it a convenient and flexible option for RVers who are always on the move.
Multiple ports: The EBL Portable Power Station 500 features a variety of ports, including 2 AC outlets, 4 USB ports (type A & C), 1 DC carport, and 1 cigarette lighter port. This allows you to charge multiple devices at once, making it an excellent option for families or groups.
LED Display: The LED display on the front of the power station provides real-time information about battery capacity, input/output voltage, and power status.
Benefits of portable power
Clean and quiet power: Unlike gas generators, the EBL Portable Power Station 500 runs on a lithium-ion battery, making it a clean and quiet power source. This is especially important for RVers who want to enjoy the peaceful surroundings without the noise and fumes of a gas generator.
Portable and lightweight: The EBL Portable Power Station 500 is compact and lightweight, making it easy to transport and store. It's an excellent option for RVers who want to keep their setup minimal and efficient.
Cost-effective: The EBL Portable Power Station 500 is a cost-effective option for RVers who want to save money on gas and maintenance costs associated with gas generators. The EBL 500 hovers around that popular $400 price range, plus or minus $50 depending on special offers that might be available.
Environmentally friendly: When used with solar panels, the EBL Portable Power Station 500 is an environmentally friendly option. It's an excellent choice for RVers who want to reduce their carbon footprint while still enjoying the conveniences of power.
Handy power station accessories
EBL offers a few handy accessories for the Power Station 500. In addition to the fireproof and waterproof bag shown below, EBL offers a tactical flashlight.
Of course, to use solar power you have to have solar panels, and EBL offers both a 100W and a 200W solar panel. Both panels include the necessary cabling to help you harvest the sun's rays. I found the case to be extra handy for wrangling the various cords and adapters that came with the EBL 500. The Velcro closure at the top is accompanied by a zipper. Being a multi-use bag, if the fit is too snug for the zipper, the Velcro and handles are strong enough to keep your goods organized and portable.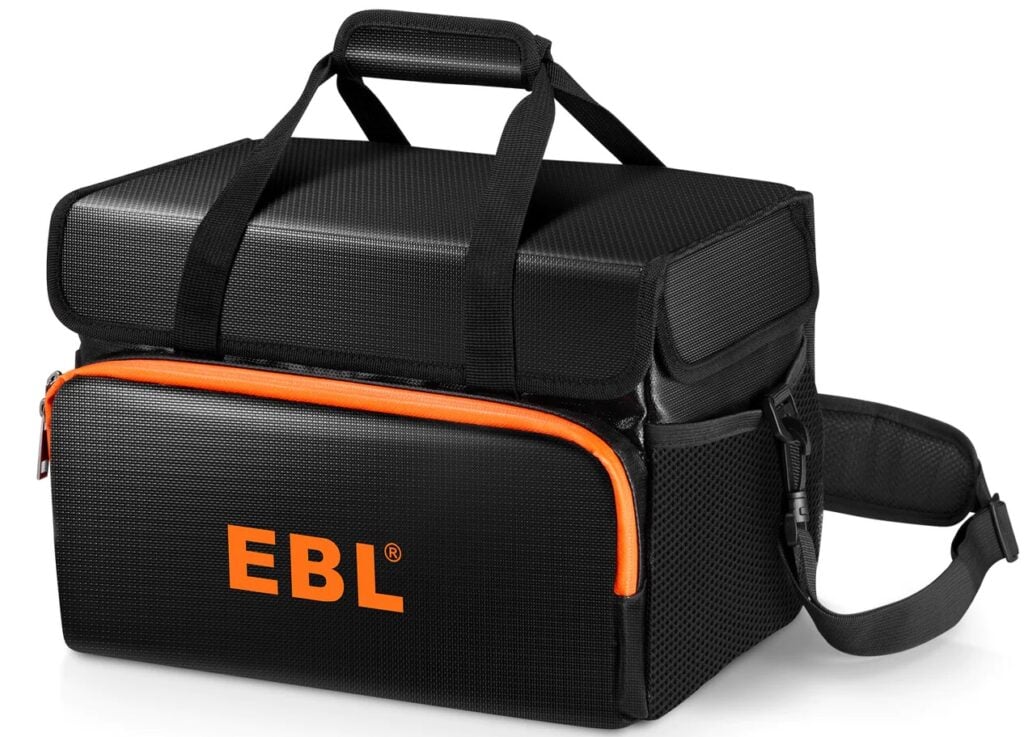 A great option for portable power
The EBL Portable Power Station 500 is an excellent option for RVers who want a small, easy-to-move, and quiet power source while camping or RVing. With its high-capacity battery, multiple charging options, and multiple ports, it's a versatile and convenient option for any family.
EBL Portable Power Station 500 is a reliable and versatile portable power station that can provide power for RVers while on the road. Whether you're camping, boondocking, or tailgating, this power station can provide you with clean and quiet power wherever you go.
Visit the EBL website or Amazon to purchase one for your next RV trip.
The post EBL Portable Power Station 500: Your Power Solution On The Go appeared first on RV LIFE.