Dutch Oven Sausage And Pancake Bake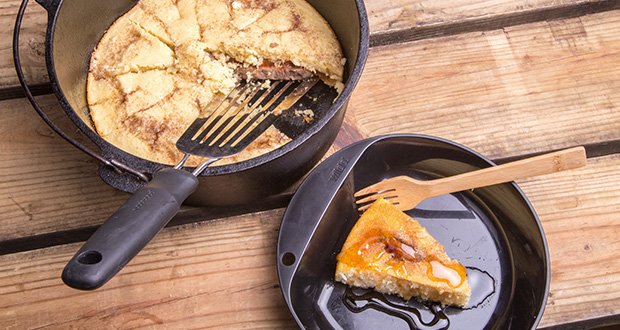 Johnsonville makes more than just brats. Their breakfast sausages are a camping staple. This is an awesome sweet breakfast treat. It bakes up quickly in a Dutch oven, so check on it often to make sure it doesn't get overdone.
Dutch Oven Sausage And Pancake Bake
1 12 oz. package Johnsonville Vermont Maple Syrup Breakfast Sausage Links
1 ¼ cups pancake mix (Use a mix that requires eggs, milk, and oil – like Bisquick. Do not use a "complete" pancake mix that only requires water.)
½ cup milk
2 Tbsp. maple syrup
2 Tbsp. canola oil
2 eggs
Cinnamon sugar
Additional maple syrup
Instructions
Open package and scatter sausages evenly in the bottom of a 12-inch Dutch oven.
Place lid on Dutch oven and put 17 gray charcoal briquettes on top and 8 underneath. Cook for 15 minutes, stirring once to turn sausages over.
While sausage is cooking, mix together pancake mix, milk, oil, eggs, and maple syrup in large bowl. Stir together until wet batter forms.
Remove Dutch oven from fire and take out the sausages. Place on paper towel to drain and cool a bit.
Allow Dutch oven to cool enough to touch, then wipe out inside with paper towel and spray lightly with cooking spray.
Pour batter into bottom of Dutch oven and allow to distribute evenly.
Carefully place sausages into batter so that when you cut the "cake" each piece will have at least one piece of sausage in it.
Sprinkle top of batter with cinnamon sugar.
Place lid back on Dutch oven and position fresh briquettes – 17 on top and 8 underneath.
Cook for 12-15 minutes until toothpick inserted into "cake" comes out clean.
Allow to cool in Dutch oven for 5-10 minutes.
Slice and invert the pieces on the plates to serve. It puts the golden brown crust on top and lets the sausages peek through.
Serve with maple syrup and cinnamon sugar.
3.5.3251
Source: https://outdoors.com/dutch-oven-sausage-and-pancake-bake/