Dreaming of Yellowstone? These Amazing Photos Will Tempt You to Visit Now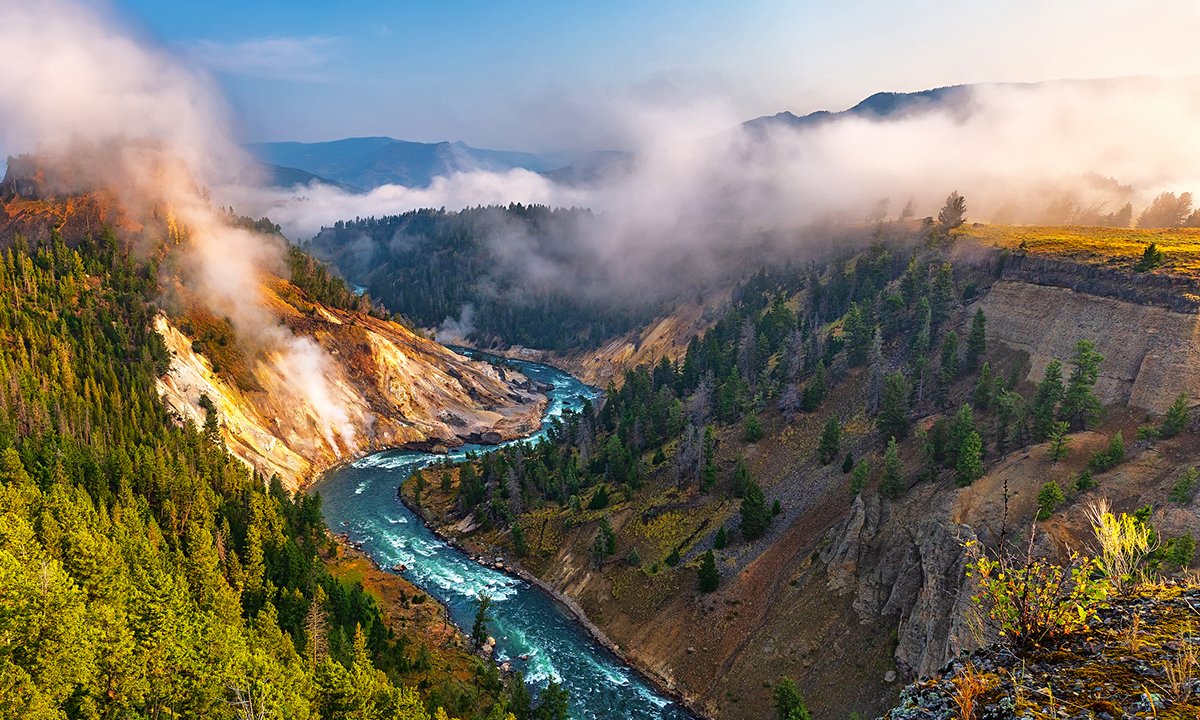 Yellowstone National Park, the world's first national park, has attracted photographers for many years. The majority of its 2.2 million acres is found in Wyoming, but the park also covers parts of Montana and Idaho. With its thermal features, mountain ranges, and geological wonders, there's an abundance of natural beauty to capture on camera in this part of the United States.
Here are six amazing photos taken in the park that'll make you want to head there right now.
Northern Lights by Jack Stone
Catching a glimpse of the aurora borealis in Yellowstone is a rare coincidence, but photographer Jack Stone had a lucky moment whilst he was out stargazing. He caught this vivid shot from Gull Point Drive looking north using a Nikon D-850 camera with a 14-24mm lens and 30-second exposure. He shared in his post that the aurora appeared as white streaks in the sky to the naked eye, but his camera managed to bring the colors to life.
Mountains by Jacob W. Frank
Jacob Frank recently returned from a 79-mile hike into Yellowstone's Thorofare Valley. This photo shows the sheer height and scale of the Grand Teton Mountain range from Big Game Ridge. His hiking trip lasted six days, and he shared several incredible photos on his Instagram account.
Bison by Jacob W. Frank
Jacob also encountered a bison during his travels, and he shared this lovely shot of him. In Yellowstone, you'll see one of the oldest natural habitats for wild bison in the U.S. The Yellowstone bison have roamed freely in this area since prehistoric times. They are hardy beasts with survival skills that keep them going through the harsh winters.
Geyser by Taylor Cramer
Yellowstone is famous for its geysers. This photograph by Taylor Cramer depicts the colors of a 160°F thermal hot spring called the Morning Glory Pool. The colors come from thermophiles that live in the springs. It used to be mostly blue, but over time, the colors around the edge have become orange and yellow. This is partly due to a natural process, but also sadly because of debris and coins thrown into the water by people visiting the pool over the years.
Waterfall by Kevin League
Kevin League captured a fleeting moment as a rainbow magically appeared through the Lower Falls of the Yellowstone River in the Grand Canyon of the Yellowstone. The waterfall stands at over 300 feet and drops thousands of gallons of water from this great height every day, causing a mist to appear above the surface.
Hot Springs by Rob Phillips
Rob Phillips' Instagram grid is home to some incredible national park photography. This stunning capture of the hot springs from a trip to Yellowstone is particularly special. Taken at sunrise, the water reflects warm pink tones from the sky. The colors are magnificent.
Source: https://outdoors.com/amazing-yellowstone-photos-to-visit/