Channel the Flannel at RVC Outdoor Autumn Destinations

Channel the Flannel at RVC Outdoor Destinations' Leaf Peeping Locations
Here's a selection of Autumn RV Resorts from our friends at RVC Outdoor Destinations…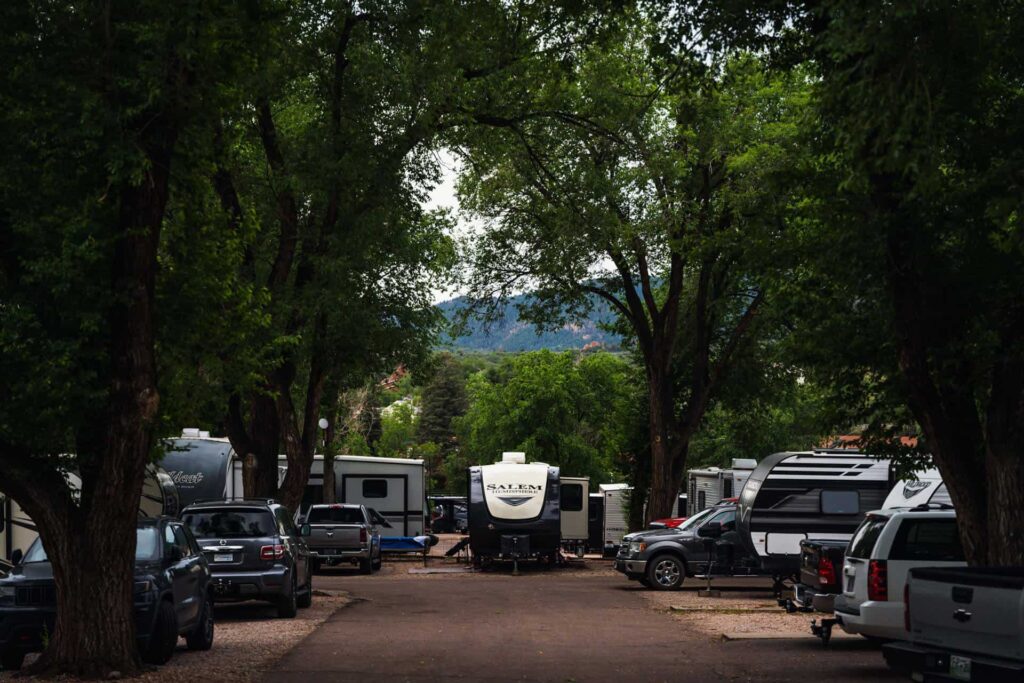 Garden of the Gods RV Resort (Colorado Springs, Colorado featuring Aspen trees)
Why Fall? – Fall is a magical time in the Pikes Peak region. Crisp, autumn air welcomes visitors and locals alike set out into the wilderness to experience the beauty and serenity that come with the changing aspen leaves. At Garden of the Gods RV Resort, guests can enjoy these spectacular views of Pikes Peak, "America's Mountain."
Garden of the Gods RV Resort is nestled amongst some of Colorado's picturesque mountain towns including Manitou Springs and Old Colorado City. The pet and kid-friendly property features two heated swimming pools, an arcade room, children's playground and Wi-Fi throughout the scenic property. Additionally, its location at the foothills of Pikes Peak gives the property easy access to some of the best attractions for sightseeing, hiking, dining, and more.

Here's a short video on Old Colorado City…https://youtu.be/r_MQeiVe10Q?si=8XV2rNRl3m6k80G6
---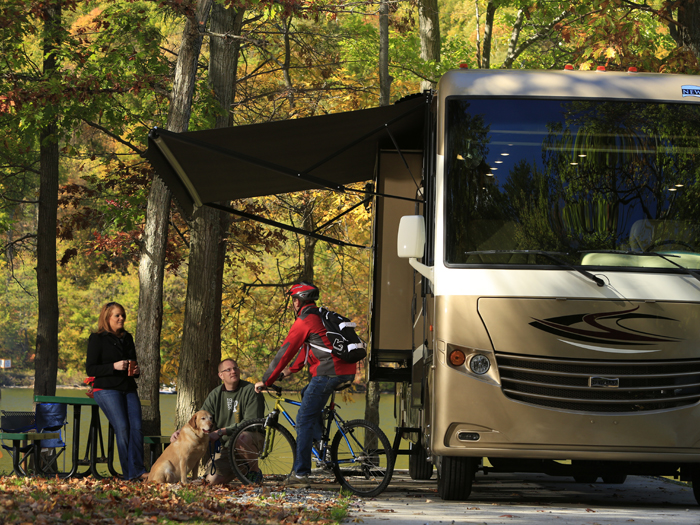 Lake Raystown Resort (Entriken, Pennsylvania featuring Red Maple and Northern Red Oak trees)
Why Fall? – Savour the changing of the seasons in Pennsylvania as the landscape shifts to a breathtaking display of red, yellow, and purple best taken in by road tripping around the state's Allegheny National Forest and Rothrock State Forest.
Lake Raystown Resort is set on an expansive 400 acres of waterfront property in Pennsylvania, Lake Raystown Resort features an array of RV and tent sites, villas and bungalows, cabins and cottages, yurts, as well as a 52-room Lodge.


WildRiver Waterpark – photo courtesy Lake Raystown Resort

The pet and kid-friendly property features a wide array of onsite amenities including the WildRiver Waterpark and the Proud Mary Showboat, as well as miles of hiking and biking trails, scenic shoreline, geocaching and acres of pristine woodlands, streams and beaches.

---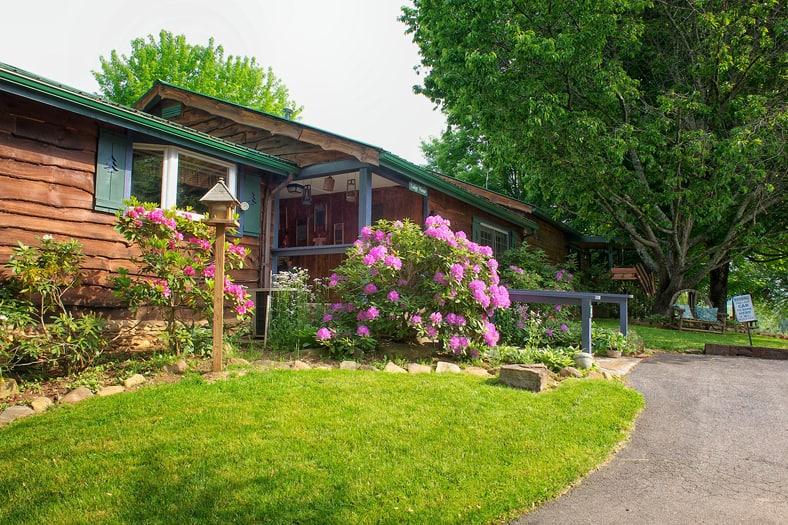 Mountain Spring Cabins (Asheville, North Carolina featuring Sourwoods, Maples, Red and Scarlet oaks, Dogwoods, Tulip Poplars, Birches, Beeches and Chestnuts, Sassafras and Fraser Magnolia)
Why Fall? – Asheville boasts one of the country's most breathtaking leaf seasons due to the Blue Ridge Mountains benefiting from extreme elevations that house more than 100 species of deciduous trees. Travellers can stay up to date by checking out Explore Asheville's weekly fall colour report.
Mountain Spring Cabins just outside of Asheville features an array of cabins, cottages, tiny houses and yurts set on 50 beautiful acres. Its location in the foothills of the Smoky Mountains gives the property access to the Blue Ridge Parkway and some of the best options for sightseeing, hiking and dining in the area.
---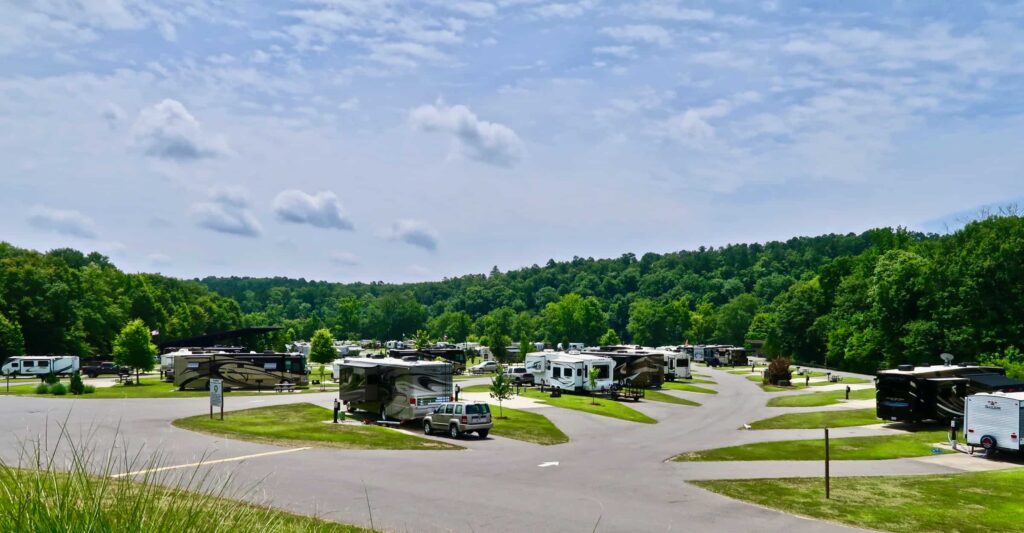 Catherine's Landing (Near Hot Springs National Park, Arkansas featuring Oak and Maple Trees)
Why Fall? – The Natural State is famous for its forests and abundant wilderness areas. Hit "peak season" October 19 – November 4 with a joyride along State Hwy 7, which goes directly through downtown Hot Springs. It travels down the famous "Bathhouse Row," past Hot Springs National Park and directly into the Ouachita National Forest.Catherine's Landingspans 400 pastoral acres and is surrounded by one mile of water frontage on beautiful Lake Catherine with  an array of RV and tent camping sites, cottages and yurts. Located just five minutes outside of historic Hot Springs, Arkansas, Catherine's Landing is a great place to escape the hustle and bustle of city life and get an up-close view of the fall foliage.

---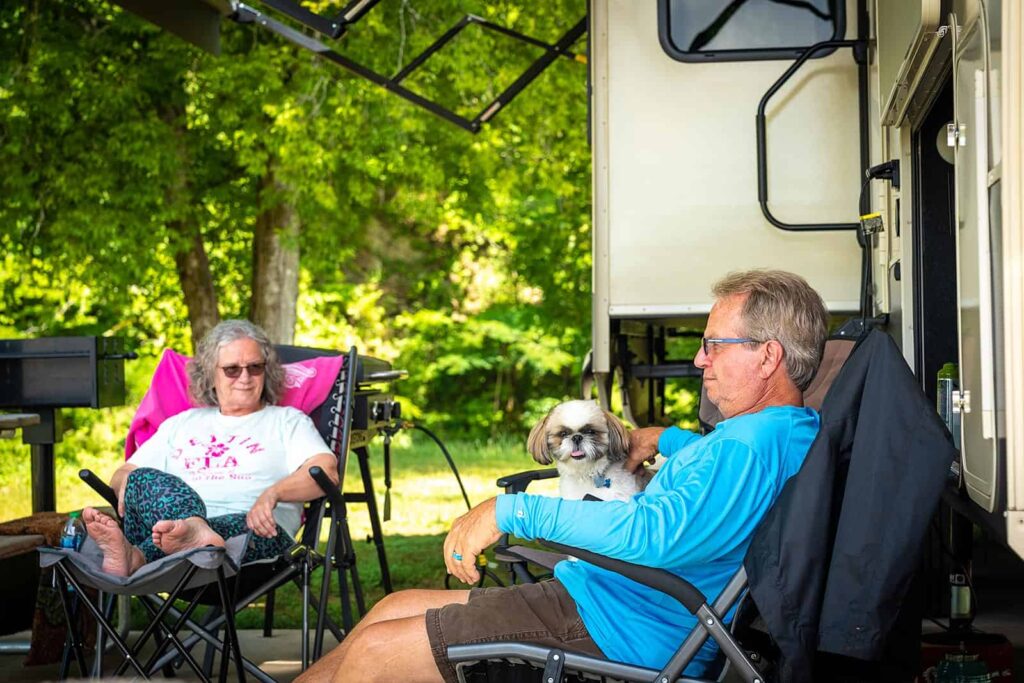 Pigeon Forge Landing RV Resort (Sevierville, TN featuring Sugar Maple, Scarlet Oak, Sweetgum, red maple, and Hickory Trees)
Eastern Tennessee is counted by many as a leaf-peeping must between its lush forests and iconic rolling landscapes of mountains and valleys. The Great Smoky Mountains National Park beckons travellers with cooler fall temperatures and warm colours courtesy of the 100 plus native tree species in the Great Smoky Mountains.
Pigeon Forge Landing RV Resort is the destination's newest and most high-end outdoor RV resort and campground touting 37 acres in the heart of the Smoky Mountains with a mile of riverfront along the Little Pigeon River and a view of Mount LeConte. The resort is big-rig friendly offering Premium and Executive pull-through spaces as well as Waterfront Back-in spaces. All sites include full hookups with 30/50 amp including water, sewer, Wi-Fi, and cable TV.
---
Pine Mountain RV Resort (Pine Mountain, Georgia featuring Cypress and Tulip Poplar trees)
Nestled in the beautiful Georgia pines, guests will find the state's stunning landscape transformed into a palette of rich fall colors in October and November. Perhaps the most underrated state for Autumn foliage, Georgia is packed with scenic drives, a large variety of trees, and wide-open spaces. South of Atlanta, you will find rolling mountains and hardwood forests. The F. D. Roosevelt State Park near Pine Mountain features a 6.7-mile-long Wolf Den loop that is a favourite.
Pine Mountain RV Resort features an array of RV sites, cabins, yurts and tent camping sites. The pet and kid-friendly property features a lounge, large swimming pool, hot tub, steam showers, children's playground, on-call concierge and Wi-Fi throughout the scenic property.
Source: https://www.rvlifemag.com/channel-the-flannel-at-rvc-outdoor-autumn-destinations/?utm_source=rss&utm_medium=rss&utm_campaign=channel-the-flannel-at-rvc-outdoor-autumn-destinations