Wonder Roo has been operating for a few years now. It is one of the quiet achievers of the Victorian caravan manufacturing industry, having steadily built a good reputation and loyal customer base.
The company has a decent range of vans on offer, from offroaders for couples to family vans suitable for five people. Custom builds are available, too. 
At the height of summer, we picked up the Pearl XX3 Silver+ Couple's Offroader from Wonder Roo's manufacturing HQ in Campbellfield, Vic, to take it for a test tow.
'XX3' refers to the year in which it was built – 2023 – while 'Silver+' refers to the package option with which it was built.
Each Wonder Roo is available in four different package options: Bronze, Silver, Silver+, and Gold. While each package offers different inclusions and upgrades, the main difference is in how the van is framed. It starts with meranti timber for Bronze vans, while the top-end Gold vans are framed in 25mm TIG-welded aluminium with 25mm-thick XPS foam insulation and an internal skin of fibreglass.
WONDER ROO CONSTRUCTION
In the Silver+ package, our van was built atop a 6in hot-dipped-galvanised chassis with engineered cross-members and a 6in drawbar. The framing and insulation for this van is the same as vans in the Gold package; however, instead of an internal layer of fibreglass, it's 3mm laminated ply.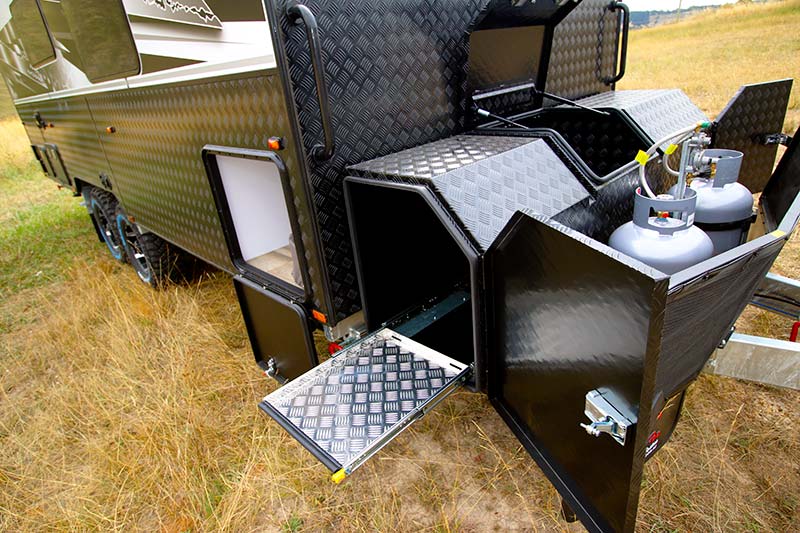 The floor is a 17mm honeycomb plastic structure that won't rot, while the roof is one-piece fibreglass liner – aside from the internal ply, there is no timber in the structure of this van.
It rides on Al-Ko's top-end offroad suspension system, Enduro X, with 16in alloy wheels shod in Mickey Thompson MTZ tyres.
The external storage of this van is covered by a surprisingly large and spacious tunnel boot, along with an excellent checkerplate storage box mounted to the drawbar. I liked the central storage compartment in particular, though there are also slide-out trays either side to suit a small generator, portable fridge or barbecue. The two 9kg gas cylinders are nicely protected by a mesh stoneguard.
The offside of the van features a full-length roll-out awning, three amber anti-insect LED lights, a picnic table, a couple of marine speakers, a gas bayonet, a 12V point, and a drop-down step. Combined with the smooth composite aluminium cladding, the high black checkerplate lends the van an aggressive offroad look.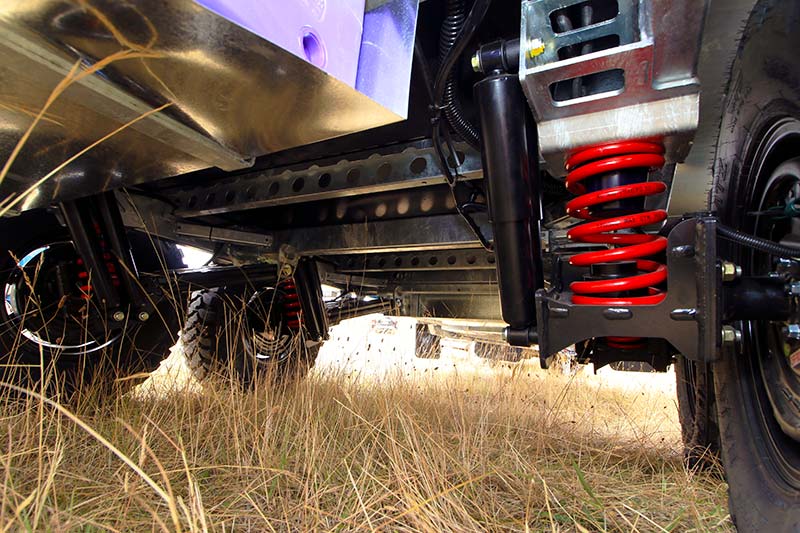 Beneath, you'll find two 110L water tanks along with one 110L grey water tank – that's a decent water storage capacity that should keep you going for a few days when camping off-grid.
In terms of 12V power, the Pear XX3 Silver+ is fitted with one 200Ah lithium battery, BMPRO battery management system, and two 210W solar panels – an excellent setup for off-grid camping.
Our review van weighed in at 2606kg Tare, which I felt was very fair considering the size of the van and all that it offered. I had no issues when towing and, as always, I was pleased to note that sway control was included. In this case, it was the BMPRO unit. When towing the van, I did not use any load-levelling equipment, but it sat very nicely behind my MU-X without a hint of sway.
RECLINING IN STYLE
As appealing as the exterior of the Pear XX3 Silver+ is, the interior is particularly attention-grabbing. First, the choice to fit recliners rather than a traditional dinette is a winner. This is a couple's van, after all, and what could be more comfortable than these chairs? There is still a fold-out table for meals, and the storage system afforded by the absence of a traditional dinette is brilliant. In any event, the recliners are absolutely brilliant.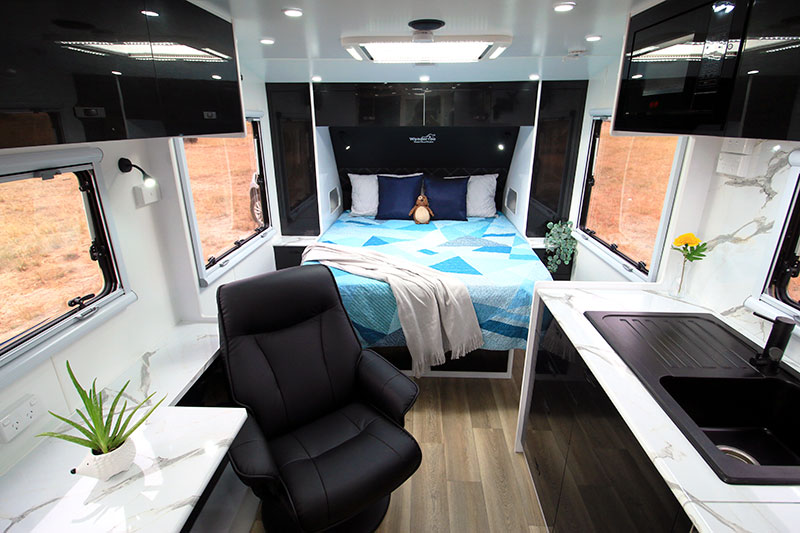 While the kitchen doesn't offer loads of bench space, it contains all the gear you'll need, from a sink with filtered drinking water, to a full cooktop, griller and oven, an under-bench pull-out pantry, a 175L Thetford compressor fridge/freezer, and a 23L microwave. There's even a swing-arm bracket mounted at the leading edge of the overhead cabinetry to support a TV, which would be viewed from either the bed or the recliners.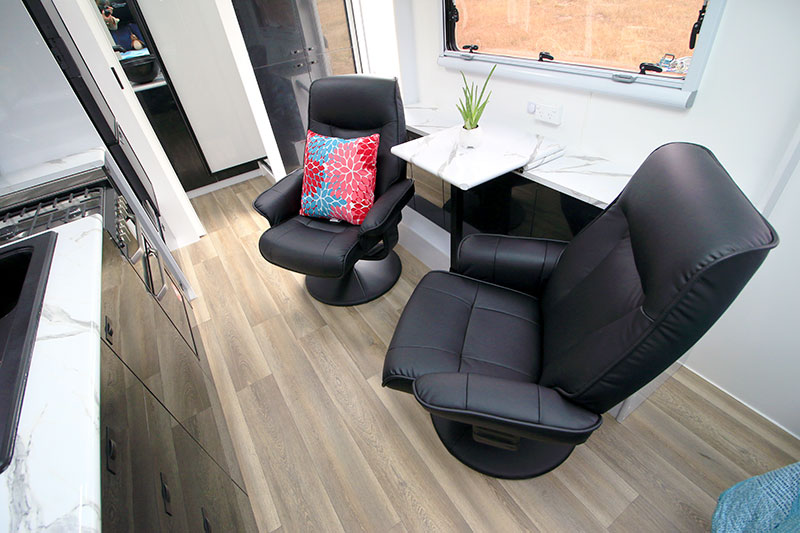 The bedroom gets a couple of Sirocco II fans, surprisingly large bedside wardrobes with plenty of space for hanging clothes, niches complete with 12V and 240V powerpoints, and a particularly neat storage solution under the bed. This space, while partially occupied by the housing for the tunnel boot, is divided into two sections: the forward section is completely free for gear, while the rear section contains two drawers along with an upper section. It is all neatly edge-banded and, honestly, I think it is a much better use of space than the plain empty space you'll find under the bed of most similar caravans.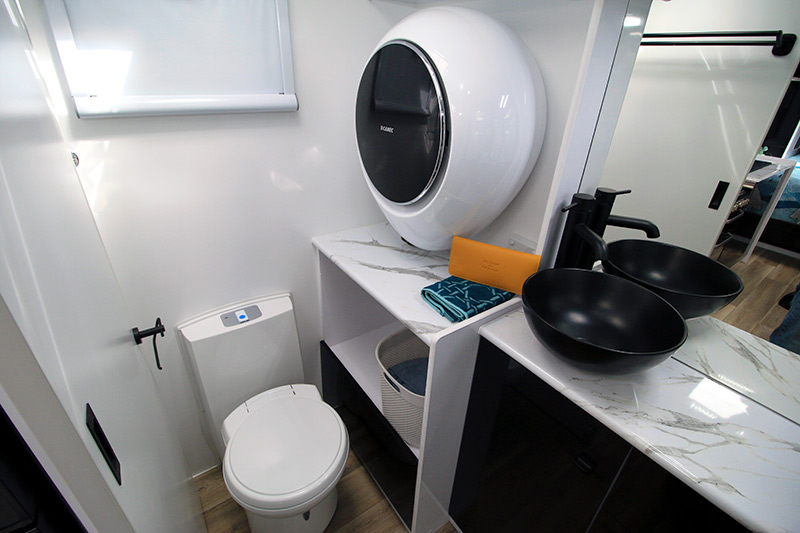 The bathroom is an excellent use of space, too. It is complete with a 2.5kg 'teardrop-style' Camec wall-mounted washing machine, an offside cassette toilet, a nearside shower, and a vanity across the rear wall. Interestingly Wonder Roo has offset the black washbasin and tap to the offside, leaving a good amount of usable bench space between it and the shower stall. I quite liked that.
The overall fit and finish is clearly done to a high standard, too. I didn't note any poor or rushed workmanship, nor did anything feel out of place. There's a smattering of 12V charging points throughout the van, and a decent amount of features. These also include things like a pressure hatch, a 24in smart TV, a bin fitted to the entry door, a sound system, and a Houghton reverse-cycle air-conditioner with a generator 3.4kW capacity.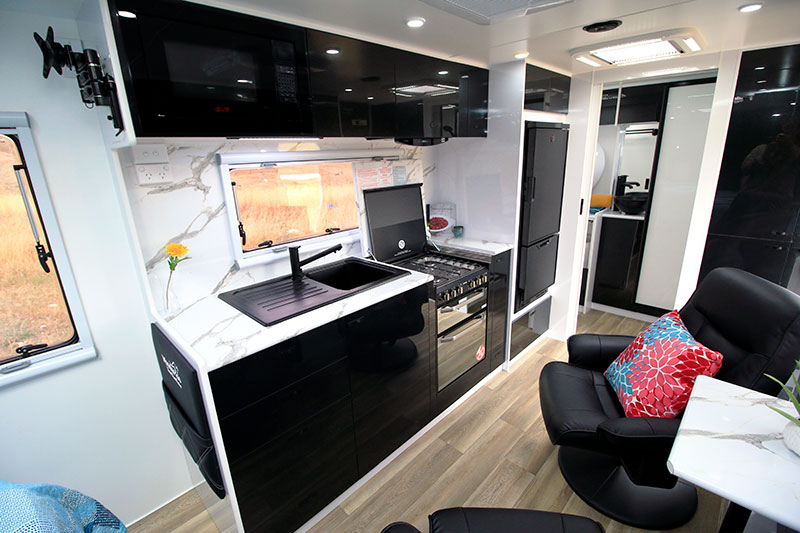 It all adds up to a very attractive package, built by a company that appears to be making genuine inroads. 
GORV'S VERDICT
While not a lightweight, the Wonder Roo Pearl XX3 Silver + with recliners is not inordinately heavy, either. Offering a generous payload capacity of 894kg, it is more than capable of the big lap with scope to pack heavy items, such as a generator and portable fridge.
It certainly appears to be built to a high standard, too – during my time with this van, it became clear why Wonder Roo has developed such loyal customers.
THE SCORE
FIT AND FINISH –

LAYOUT –

INNOVATION –

HITS & MISSES
The post Caravan Review: Wonder Roo Pearl XX3 Silver+ appeared first on GoRV.
Source: https://www.gorv.com.au/caravan-review-wonder-roo-pearl-xx3-silver/