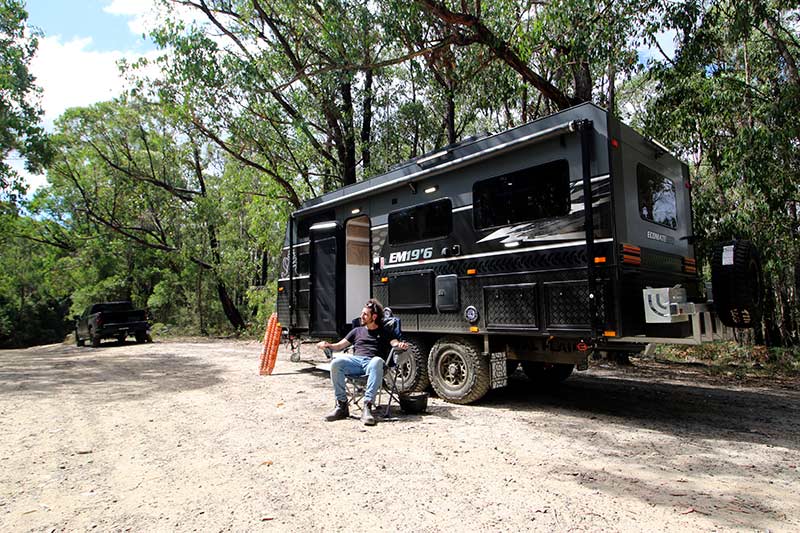 Royal Flair has been one of Australia's premier caravan manufacturers for 30 years. The company's vans are a staple of our roads, without question. From the Van Royce to the aggressive offroader known as the Raptor, Royal Flair has never been afraid to innovate. Perhaps this is the secret to the manufacturer's longevity. While some companies rest on their laurels, Royal Flair has adopted new technology and new layouts – the Piazza, with its Sky Deck that sits above the A-frame, is a case in point.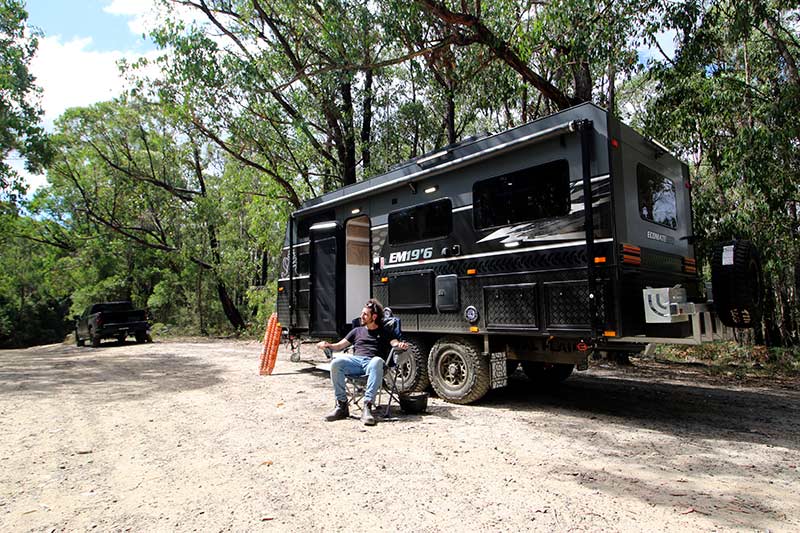 The Royal Flair EcoMate is another case in point. It's a caravan designed for off-grid living and it benefits from the lateral thinking that has long been a hallmark of how Royal Flair does things. I'm talking about slide-out solar panels and a bed that lowers electrically from the ceiling. Intrigued? Read on…
ROYAL FLAIR ECOMATE EXTERIOR
Let's start with the outside. Our review van was the 19ft 6in bunk Royal Flair EcoMate, and the first thing I'd like to draw your attention to is the solar panel setup. This van comes with four 210W solar panels – with a difference. Instead of these four panels being spread around the roof, taking up space, they are 'stacked' in two separate sections. The upper panel of each is on an electric slide-out.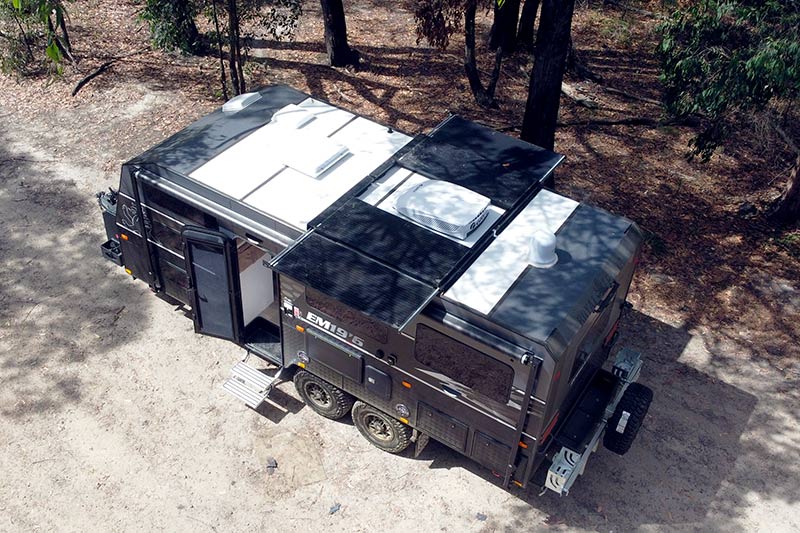 Push a button inside and each upper panel will slide out over both sides of the van, meaning all four panels are then exposed to the sun. It's rather ingenious, really, as it means there is more roof space to allow the owner to add more panels down the track.
The Royal Flair EcoMate rides on Control Rider S independent coil suspension. It has a 6in SupaGal chassis with a completely flat floor (no wheel arch intrusions), and a 6in A-frame. Now, the chassis and all external black checkerplate has been finished with a rubberised compound known as X-Guard, which provides additional protection to your pride and joy – brilliant.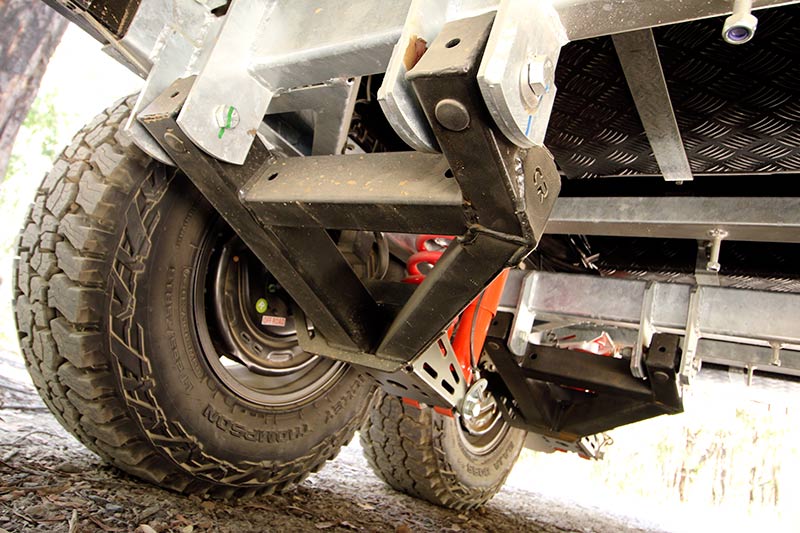 Royal Flair frames its vans using one-piece 18mm ply, which is CNC-routed to accommodate wiring and the like, and the van is clad in composite aluminium, while the floor is a one-piece 'honeycomb' structure. It's certainly a strong way to build a caravan.
Among the external features, the 19ft 6in Royal Flair EcoMate is equipped with a front storage box  that houses dual 9kg gas cylinders on a nearside slide-out tray. Meanwhile, a Swift barbecue has been fitted to a slide-out towards the rear.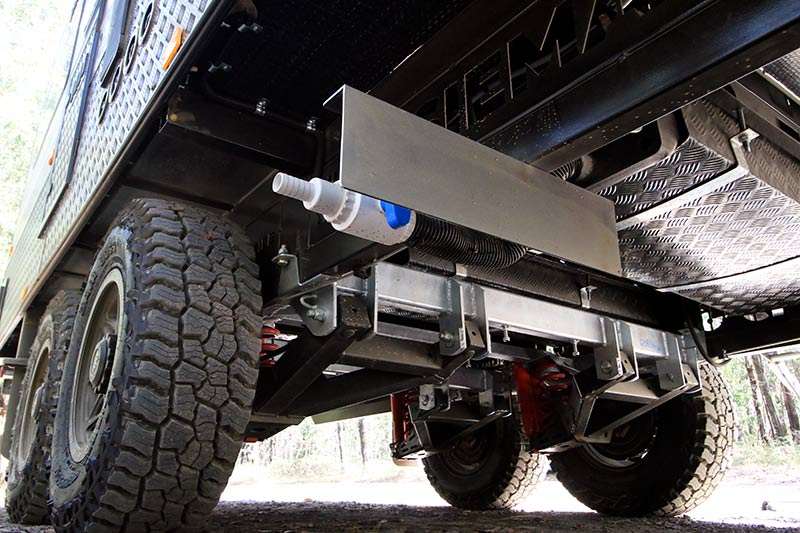 There's a generous amount of storage available, too, and this extends to a steel compartment on the rear bumper that would be mainly used for collecting firewood on the way to camp, I'd imagine.
A point of difference: the management systems for the van's 12V system are housed in a vented offside compartment with rubber seals, and easily accessible. The EcoMate is equipped with two 300Ah Enerdrive B-Tec lithium batteries (inside the van), along with a 2600W inverter, an Enerdrive battery management system, MPPT solar controller, a 60A AC charger and a 40A DC-DC charger. It's an impressive setup, to say the least. All 12V fuses are neatly labelled – a small point, but it's important.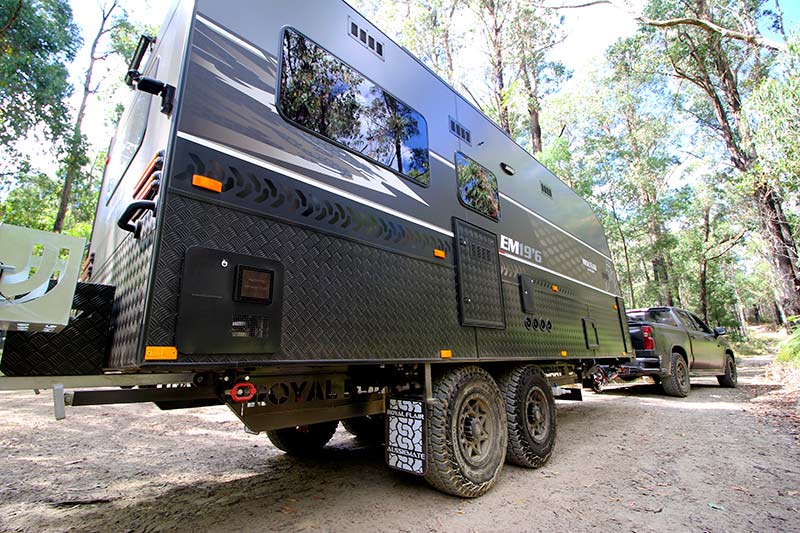 This van only gets a 50L grey water tank, but the fresh water supply is comprised of two 95L tanks and a separate 50L tank dedicated for drinking water – this tank has its own water pump, too. A water filtration system comes as standard.
What else? There's a reversing camera, LED light bars where you need them, jerry can holders… the list goes on. It's a very well setup caravan.
WOW FACTOR!
Inside, this van has wow factor in spades and, to be honest, it's difficult to describe all of its features and functions in a short article such as this. But I'll try. First, you'll notice the bed. It is hoisted above the rear – and very large – club lounge. Press a button inside an overhead locker and the bed will electrically lower to any position you desire. Should you wish to convert the dinette into a bed too, then you'd lower the main bed to, say, half way.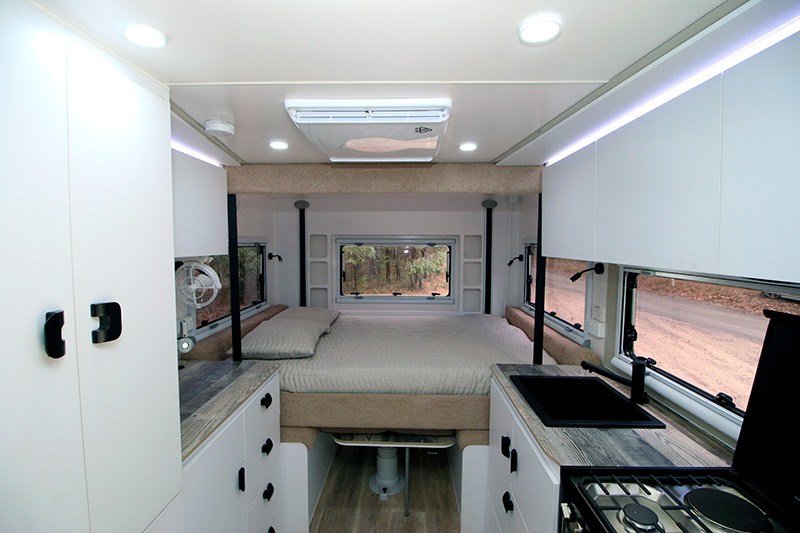 Royal Flair has been offering this sort of setup for a few years now, and it continues to impress me. Yes, it involves mechanical components that will require servicing over time; however, the space-saving nature of this setup is brilliant.
It has allowed Royal Flair to offer layout features such as the three largest bunk beds I have ever seen in a caravan (each with their own 12V fan, light and charging points), a front-corner bathroom complete with a separate shower (no combo bathroom in this van!), a decent kitchen with massive drawers, black sink, cooktop and griller, and much more.
The offside wall contains a separate wardrobe system, since the format of the main bed doesn't allow for traditional bedside robes (though there are some storage nooks), along with a bench, yet more storage space and even a swing-arm for the supplied 24in smart TV.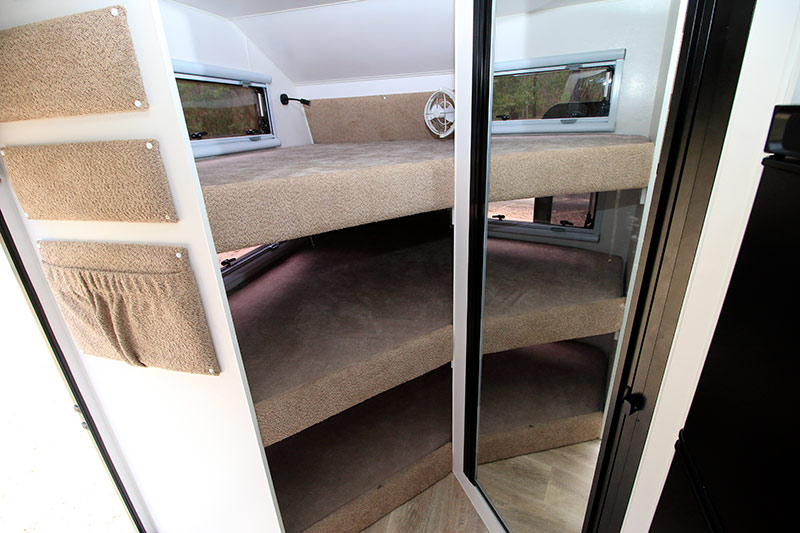 A CaraFan dust reduction system is supplied as well, not to mention 274L compressor fridge, microwave, NCE wi-fi hotspot, a Fusion entertainment system with speakers that change colour… honestly, if you like your features and comforts, this van truly has you covered.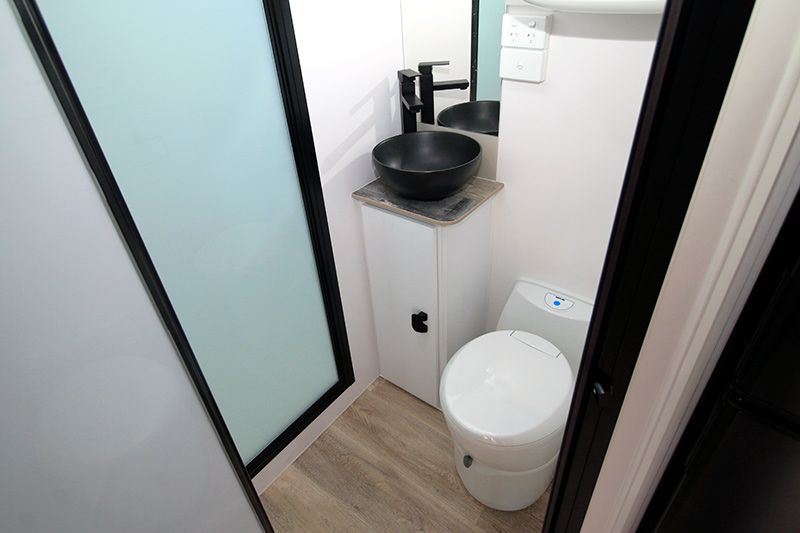 The LED light strips throughout, though not unique, are a classy touch, while the exacting joinery throughout is pure Royal Flair. And yes, there's even a washing machine, which you'll find under the offside bench. Speaking of this bench, Royal Flair has given it a wireless phone charging point. The inclusions don't seem to end…
Now, the 19ft 6in EcoMate is a substantial van, in case that's not clear. However, it all adds to its weight. It's fair to say that it's heavier than your typical 19-footer, at 3008kg Tare. It's ATM is 3608kg and unladen ball weight is 281kg. This means you'll need an equally substantial tow vehicle – we used a Silverado, which made easy work of things.
GORV'S VERDICT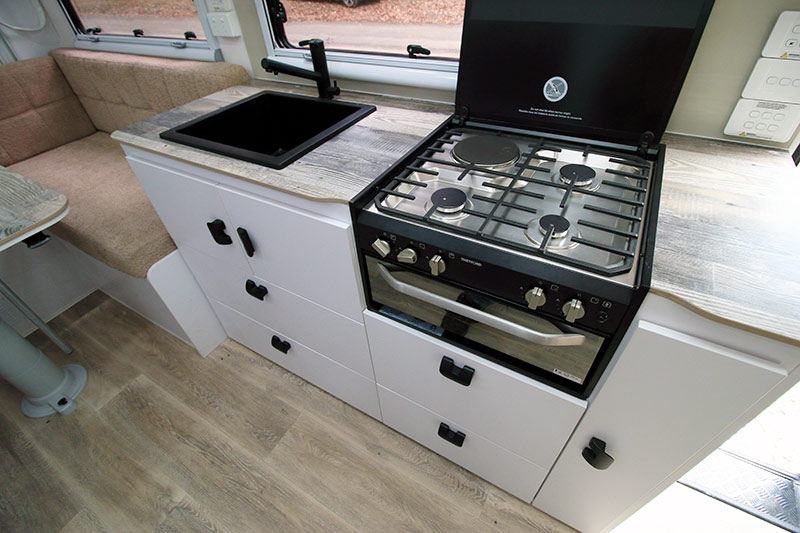 I don't say this often, but wow, this truly is a caravan to check out for yourself. The lateral thinking involved, from the solar panels to the bed and everything in between is a testament to Royal Flair's commitment to innovation.
If you're seeking a true family van, with every conceivable feature and function on board, all presented in a logical way, be sure to put the 19ft 6in Royal Flair EcoMate on your list.
THE SCORE
FIT AND FINISH –
LAYOUT –
INNOVATION –
HITS & MISSES
The post Caravan Review: Royal Flair EcoMate 19ft 6in appeared first on GoRV.
Source: https://www.gorv.com.au/caravan-review-royal-flair-ecomate-19ft-6in/