Caravan Review: Lotus Caravans 17ft Freelander

Of Australia's many offroad caravan manufacturers, few match the reputation and and experience of Lotus Caravans. A few come to mind, but Lotus Caravans would surely make any top five list concerning offroad caravans.
The company started in 2004 and has never been afraid to push expectations in terms of what an offroad caravan could be, or how it could be built.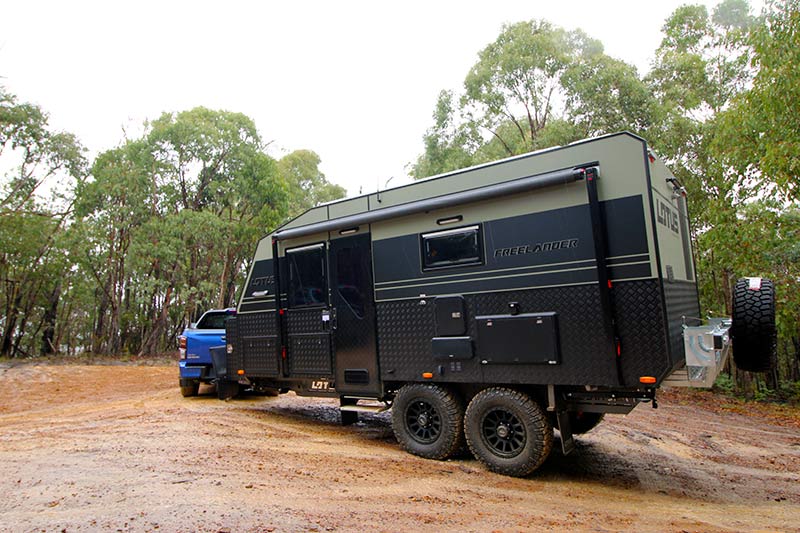 While the Trooper or perhaps the Off Grid carry more name recognition among the Lotus Caravans range, the tandem-axle Freelander appears more than worthy of carrying the Lotus badge.
The Freelander comes in 11 different sizes and layouts, from 17ft all the way to 22ft 6in. Our van was a 17ft unit with a new layout for 2023. When we arrived to pick it up, it stood tall and proud among a sea of other caravans. Using a borrowed DO45 pin to match the coupling on this van, we hitched up in the cold and wet, and hit the road…
LOTUS CARAVANS' HYBRID FRAME
Rather than using a full timber or aluminium frame for its vans, Lotus employs what it calls a 'hybrid' frame utilising aluminium for the front, rear and roof, while meranti timber is used for the walls. The vans are then clad with marine-grade composite aluminium panels from Germany, with a range of colours available. The floor, meanwhile, is a one-piece structural ply with a laminate finish inside.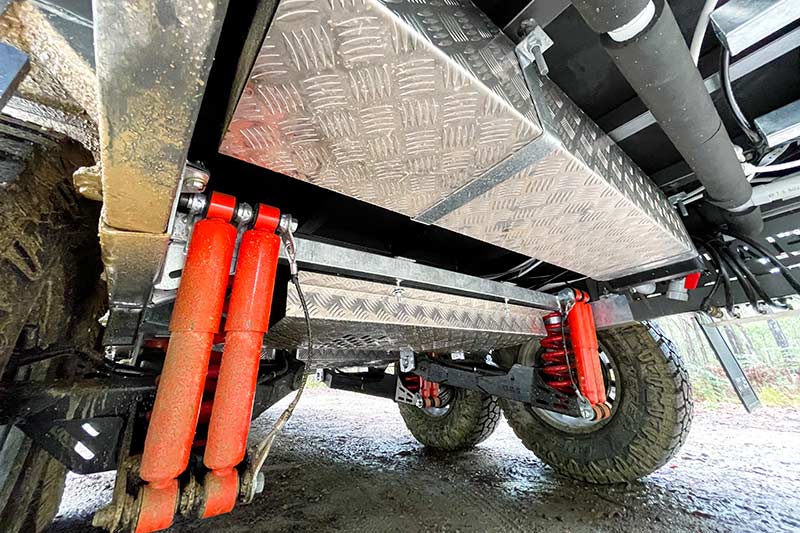 I towed the 17ft Freelander along a range of bush tracks. A constant drizzle was slowly turning the gravel to soup, and I proceeded very cautiously in 4H, expecting the D-MAX and Freelander combo to start sliding. The van, however, remained sure-footed on its G&S Control Rider twin shock independent suspension, while the vehicle maintained its forward momentum.
Being a tandem-axle Freelander, it sported Lotus Caravans' special truss chassis, with the name of the company etched into the 6in SupaGal steel main members.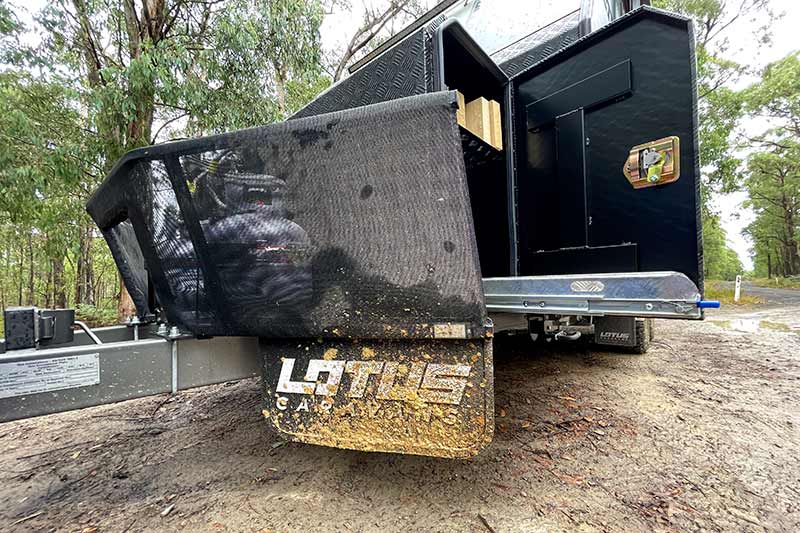 The A-frame comes with a large checkerplate storage box complete with optional slide-out tray with nearby Anderson plug to suit a portable fridge. The tank for the optional onboard diesel heater is mounted to the box, and dual 9kg gas cylinders sit to the front, protected by a mesh stoneguard.
The storage space on this van is excellent. Aside from this storage box, there's a large gal-lined tunnel boot, another storage locker on the offside, one on the nearside, and even a firewood carrier complete with jerry can holders at the rear, forward of the spare wheel.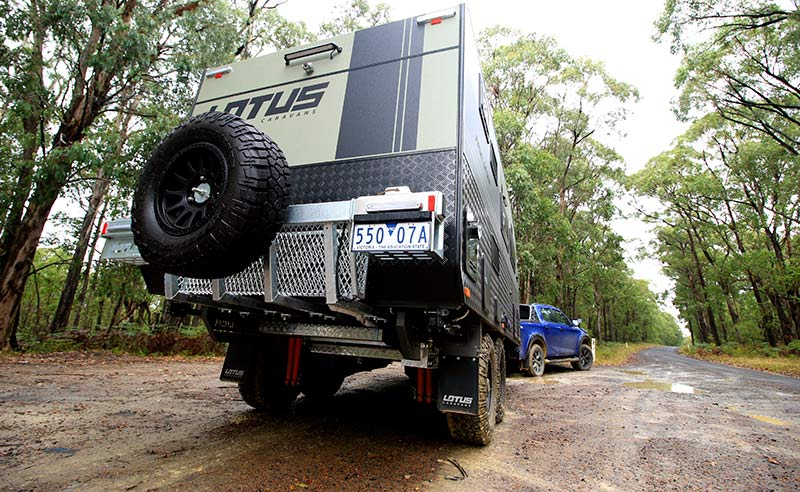 As standard, the van comes with two 95L water tanks and one grey water tank (not to mention an on-demand hot water service). However, our review van had been loaded up with optional equipment – including an additional two 62L water tanks. And if you peak underneath, everything looks well protected – this van is, after all, intended to go wherever your 4WD could reasonably take it.
With its 17in alloy wheels, our Freelander had a purposeful stance on the road. It's not inordinately heavy at Tare when you consider all that this van offers, in particular all of the optional extras on this rig. It tips the scales at 2640kg, has an ATM of 3495kg, and an unladen ball weight of 255kg. A DO45 coupling is standard on this van.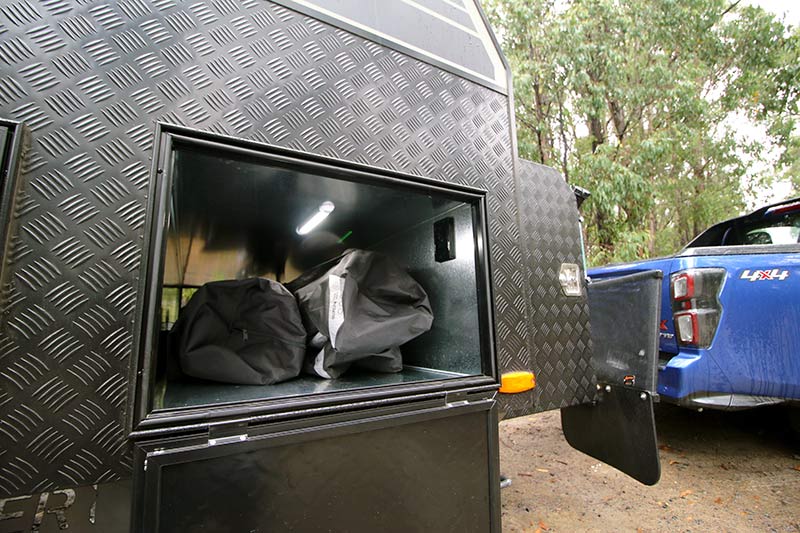 The nearside is equipped with a fold-out picnic table (no key necessary!) along with an 'entertainment locker' equipped with an antenna and powerpoint for a TV, as well as a large Fusion speaker, a couple of LED awning lights, and a fold-out step at the door. Given the impressive ride height, with the van above the wheels (no wheel arches intrude into the layout), that fold-out step is a welcome inclusion. You'll also find an LED light bar at the front and rear of the van, along with one above the nearside tunnel boot door.
It adds up to an appealing, go-anywhere caravan that should outlast your 4WD. But what about the interior? Let's step inside.
CLEVER INTERIOR
The first thing I noticed about this layout was the bed. It won't be for everyone, but I quite liked how it was tucked into the offside front corner, as it made room for a bench seat on the nearside, and there's still a double wardrobe and overhead lockers. Simply by offsetting the bed, Lotus Caravans created a usable space on the nearside for a seat that you wouldn't otherwise have.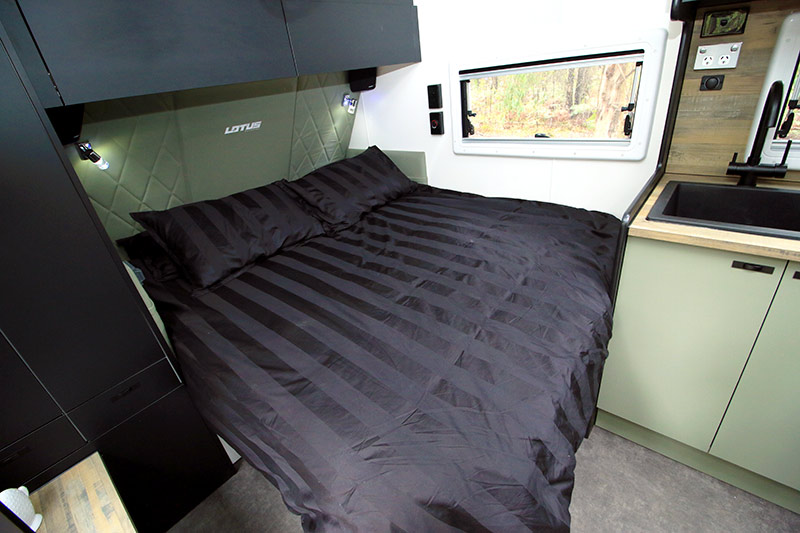 I also liked that the control for the diesel heater was by the bed, so you can warm up the van in the morning before getting up! Lotus Caravans also positioned the Fusion sound system by the bed, surrounded by padded upholstery – a unique, but welcome, idea.
The space beneath the bed is segmented, with some properly laminated, removable panels acting as a false bottom – a great idea.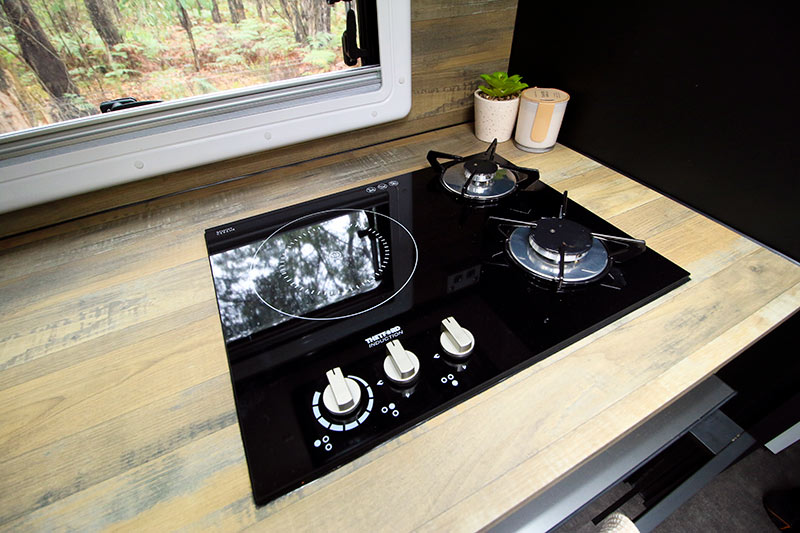 The offside kitchen is home to a black sink with matching tapware – including a filtered tap – along with optional Thetford induction cooktop. One element is electric, while two are gas. As lithium battery technology improves, we are seeing more and more induction cooktops appear in Aussie vans. The Freelander is no different. Lotus Caravans has also given this van an optional Panasonic convection oven in place of a microwave. In standard format though, with a conventional oven, a microwave is included.
The powerpoint above the benchtop was strategically placed on the idea that you could plug in a portable cooker for those times you don't want to cook on the camp fire. Besides, not fitting a microwave does reduce the weight of the van a little, too.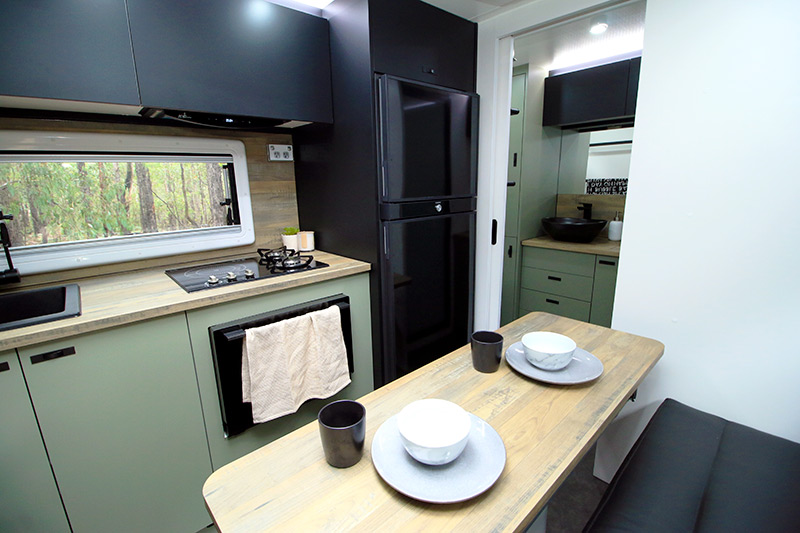 All Freelander models are built for two people (with the Trooper and Off Grid offering family layouts). The dinette is neither L-shaped nor cafe-style. Instead, it's a leather-upholstered bench seat with a swivel table.
The electric specs on our Freelander were also upgraded. It's basically an upgrade to the 12V specs of the Lotus Caravans Trooper. There's 400Ah worth of Enerdrive B-TEC lithium batteries, a Redarc battery management system, and a 2600W inverter, while 800W worth of solar is standard. Given this sort of 12V power, the 224L compressor fridge is a great choice.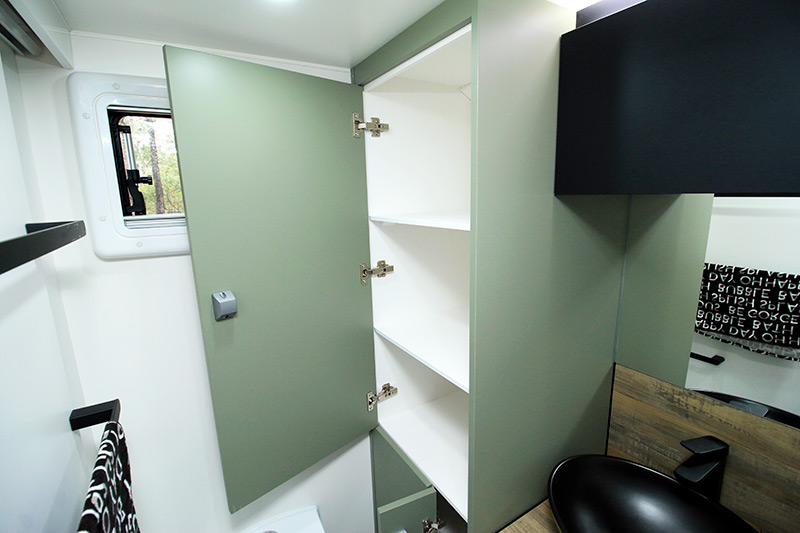 The highlight of the bathroom, for me, was the inclusion of a large linen cupboard. Naturally, the bathroom contains all the other expected features, from a cassette toilet to a separate moulded-fibreglass shower, but that linen storage is bound to prove useful.
There's a certain X factor to this van's interior. The fit and finish is obviously excellent, which was to be expected. Small things, such as the kickboard in the kitchen, which can be opened to reveal quality joinery, left me with the lasting impression that the 19ft 6in Lotus Caravans Freelander was a rig to be reckoned with.
GORV'S VERDICT
Tough. Strong. Durable. Choose your adjective. The Lotus Freelander is built for offroad touring and it shows. Even in standard format, minus the options seen here, it has a lot to offer in terms of getting to your destination and keeping you comfortable while you're there.
Paired with the right 4WD and an owner with an adventurous spirit, the Lotus Caravans Freelander would make an excellent companion for full-time touring.
THE SCORE
FIT AND FINISH –

LAYOUT –

INNOVATION –

HITS & MISSES
The post Caravan Review: Lotus Caravans 17ft Freelander appeared first on GoRV.
Source: https://www.gorv.com.au/caravan-review-lotus-caravans-17ft-freelander/