'Campground & RV Park E-News' Magazine Put Up for Sale – RVBusiness – Breaking RV Industry News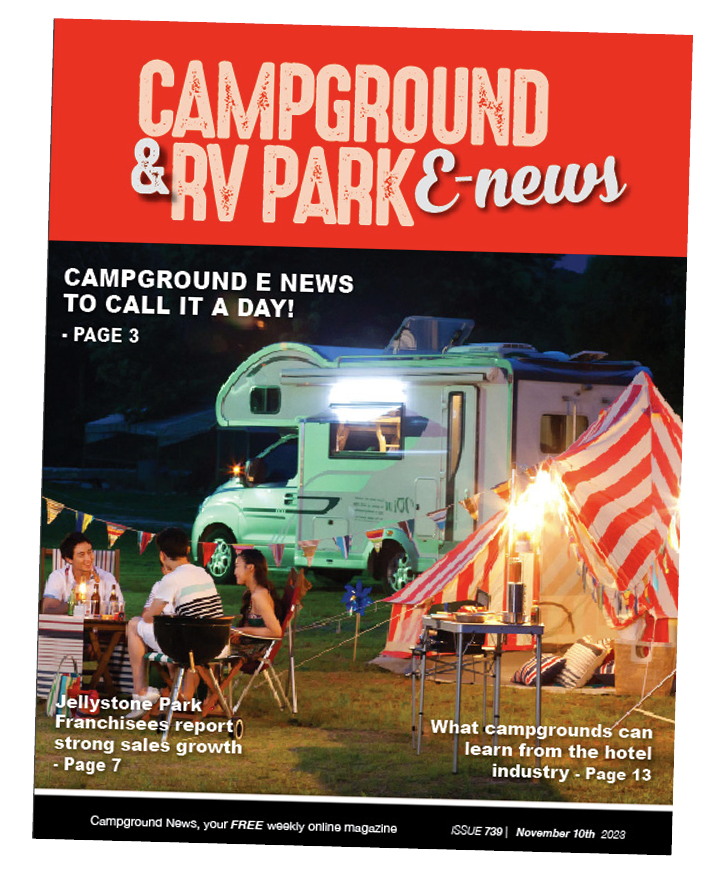 Noting that by the end of this year the company will have published 744 issues over its 15 years of existence, Industry E News announced recently that it is currently soliciting buyers for its weekly "Campground & RV Park E-News" digital magazine.
The announcement, in part, reads as follows:
"The success (of the magazine) is an obvious one, driven solely by advertising revenue our vendors have contributed their hard-earned dollars to market their products within the pages of the e news. Some have chosen this to not only promote their products but do so having seen the benefits of providing up to date weekly information as a service to the industry. Online magazines have come a long way over the last 20 years, our company, Industry E News has survived and remained focused on providing a service. …
"I was taught many years ago that in business you had to diversify and not have all your eggs in one basket. That principle allowed me to start and promote another business within the pages of the e news. It should be no surprise that the Jump Pad was the business embarked on which has gone on to become a major player for providing entertainment to the patrons of the industry.
"In January this year the Jump Pad company was sold, and the new owners have continued to supply the product nationally and internationally. Due to some health issues, along with the sale of the Jump Pad business it has been decided to seek interested parties to take over the e news business from the start of 2024.The E News would suit either a retired person having been involved in the campground industry or a business currently involved in the industry whereby they could promote their product in the magazine. Expressions of interest can be forwarded by email only to dennis@industrye-news.com.
"Many thanks to all who have supported and helped make the campground e news what it is today."
Source: https://rvbusiness.com/campground-rv-park-e-news-magazine-put-up-for-sale/