Blue Compass RV Staffers Visiting Elkhart, Ind., OEMs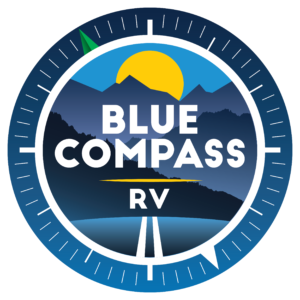 ELKHART, Ind. – A contingent of Blue Compass RV team members from across the U.S. — including senior leadership — visited several OEMs here this week, undertaking training sessions and plant tours to learn more about the various brands they sell.
"We've got a hundred sales associates there for factory product and sales training with our manufacturer partners," said CEO Jon Ferrando, adding that his staff from around the country had visited THOR Industries Inc. divisions, including Thor Motor Coach and Jayco, several Forest River divisions, Alliance RV, Grand Design RV, Brinkley RV and REV Recreation Group's American Coach facilities this week. "We've done it in the past and now we're elevating it and bringing in all of Blue Compass to the factories."
He deemed the visits a success.
"It went great," added Ferrando, whose Jacksonville, Fla.-based dealership group — the second largest in the U.S. — currently comprises more than 100 stores. "It was phenomenal. Our partners are amazing, and it's very important to know the features and benefits of the products. There's nothing like bringing our associates into northern Indiana to visit the plants and really understand the products. For many of them, it's their first visit — and that could be a new sales associate or a veteran that's been in the industry for ten or 20 years."
Jayco hosted 80 total guests from Blue Compass to participate in a "Masters" event which included plant tours, on-site sales training and "learning about the Jayco Difference," said Ken Walters, Jayco CEO.
"We had a giant group on Wedenesday, another giant group yesterday and a smaller group today," he said. "They've spent two full days and now a half day today."
At Alliance RV, Co-Founder and CEO Coley Brady said Blue Compass team members were on hand last week for the Delta travel trailer product launch.
"They were in town for that and we did some trainings with them as well," Brady said, who noted that 65 Blue Compass employees visited the Alliance campus. "Some of these people hadn't been to our facilities before, so we basically went through all of our buildings," he said. "We did factory tours. We went through our lamination building and then we had a display of products for them to go through, as well, where we talked through all the features and benefits of each of our brands."
On Wednesday at Jayco, Blue Compass guests split into three groups that were taken on plant tours of the White Hawk, Jay Flight, Bungalow, Eagle and luxury fifth-wheel lines. After lunch was served at the Jayco Visitor's Center, the day finished up with more plant tours.
Thursday repeated a similar schedule, with 21 people split into 2 groups that experienced plant tours and more exposure to the motorized models until the day concluded with lunch. Today, 23 Blue Compass team members were to tour motorized lines and wrap up with a product display before lunch.
Walters, who had dinner with the group Thursday evening, said the visit was much like the Masters event Jayco hosts each December, where hundreds of dealer partner team members visit Jayco to gain similar product and culture knowledge.
"I would say we have done a full-blown Masters program for them," Walters said. "We staffed it, provided resources — time, energy, effort, plant tours, swag — all the stuff as if we would have been hosting our normal Masters."
Walters described the Masters as a "really comprehensive, all-things-Jayco training: culture, product, production, quality. It's the most comprehensive training in our industry in regard to manufacturers' training. It's a Jayco DNA thing that's been around for a really long time."
Jayco's event included printed and bound material regarding product training and product comparison information and a detailed itinerary with classroom and sessions and factory tours, Walters said. He added that Jayco's level of preparation and level of participation for the event included the entire team, from him to operations, product directors, general managers and operations.
"It was 'all hands on deck' for everyone and the material was prepared and extensive," he said. "I'm really proud of our group."
Source: https://rvbusiness.com/blue-compass-rv-staffers-visiting-elkhart-ind-oems/