Best Crossbows for the Money of 2023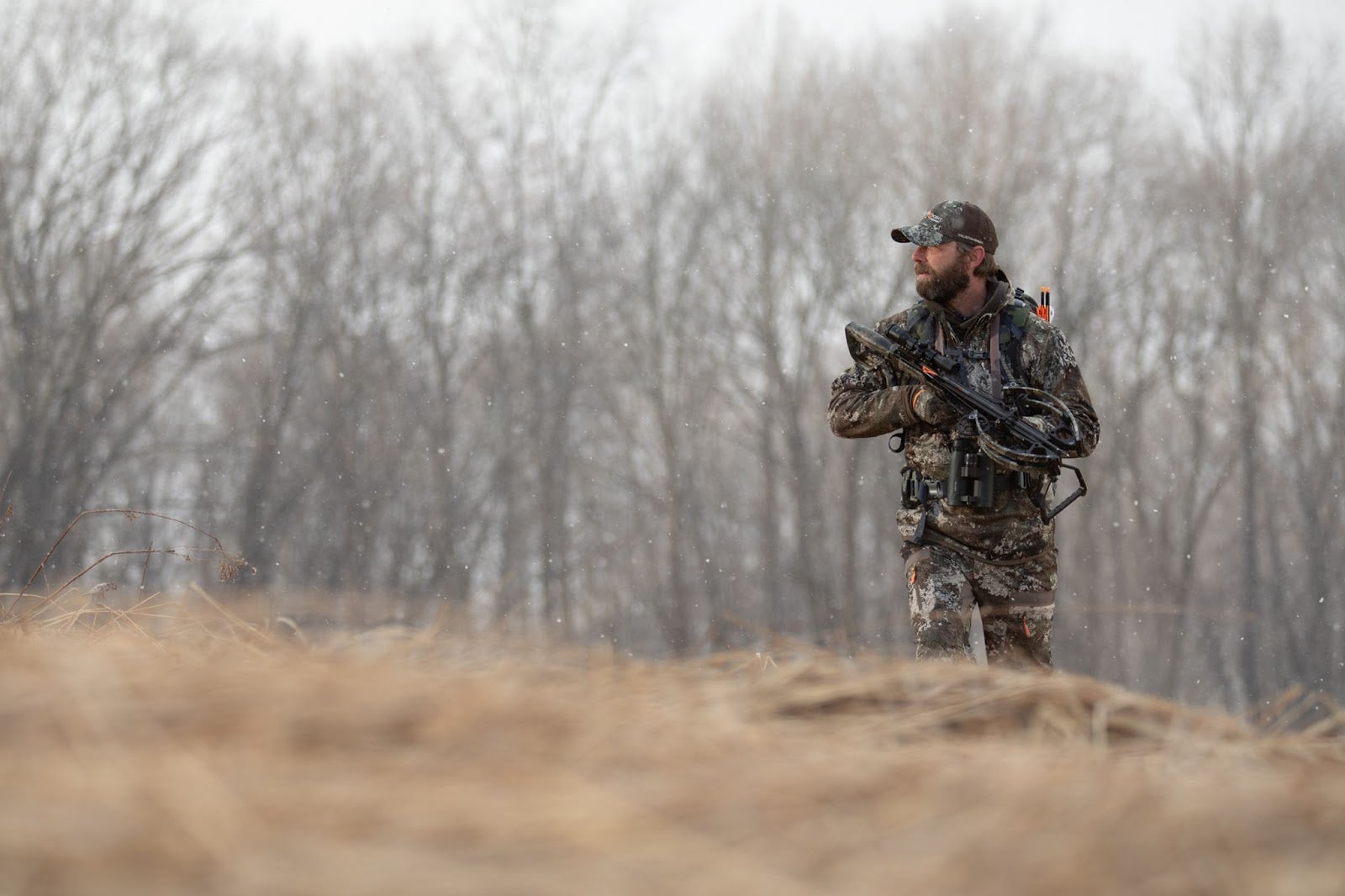 We may earn revenue from the products available on this page and participate in affiliate programs. Learn More ›
Crossbow use has risen exponentially over the past decade, and crossbow technology has rocketed forward as well. Know what else has skyrocketed? Crossbow prices. It's standard to see prices pushing $2,000 (or more) for top-end flagship models with all the bells, whistles, and mechanical cocking devices. The good news is it's never been easier to get a ton of performance for you money. Hunters looking for the best crossbow for their money will be pleased to find many great options.
We've identified the best value-laden models in the crossbow world. Fortunately, there is no shortage of the best budget crossbows available. But how do you whittle down a list to the "best of the best?" Well, you start by shooting a lot of crossbows, and we've done that at the 2023 Outdoor Life Crossbow Test and past tests. Through that testing we've learned what makes for a great budget crossbow and about the companies that build them.
Every model featured here comes from a manufacturer that either currently offers or has previously produced bows that are "top end" models. This is important because their budget models often share technologies or production processes with those top models. This creates a bow that, while lower in price, shares some measure of performance and research time. The result is a better bow at a bargain price.
Each model also includes accessories in the price, which saves you money by not purchasing additional accessories to get hunting.
The Best Crossbows for the Money: Reviews and Recommendations
Key Features
Length: 31.5 inches
Width Uncocked: 19 inches
Width Cocked: 15 inches
Weight With Scope: 6.8 pounds
Bolt Weight: 409.4
Price: $750
Test Results
50-Yard Group Average: 3.5 inches
Speed: 378 fps
Momentum: 0.686 slugs
Pros
Light
Very adjustable length of pull
Easy to cock and de-cock with a rope cocker
Cons
Heavy trigger
A lot of post-shot vibration
First impressions are worth a lot, and my first impressions of the Wicked Ridge Raider were that it's very light, easy to cock—and I was surprised when my first shot hit right where I was aiming. I continued to be pleasantly surprised by the Raider throughout testing.
I've tested a lot of crossbows, and there are only a handful that are easy for anyone to cock and decock with a rope cocker while in a treestand. I think the Wicked Ridge Raider is in that rarified air.
The trigger is a stiff 4.5 pounds but doesn't have any creep, and it breaks clean. Just keep squeezing the trigger straight back, and you'll hit the spot. In the 50-yard accuracy testing, the group sizes averaged 3.5 inches. The vertical consistency was excellent, and I saw mostly left or right inconsistency, likely due to the trigger.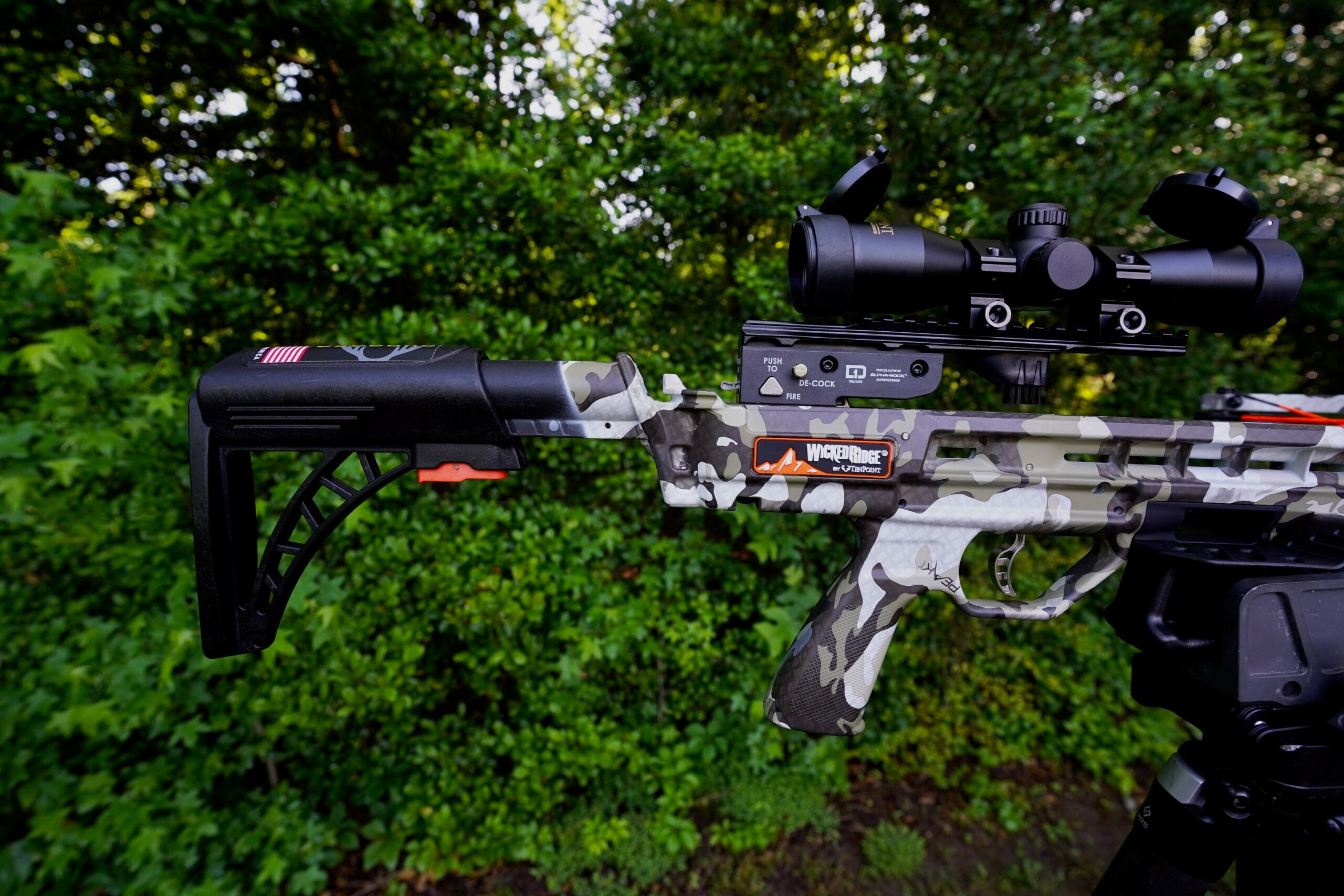 The stock is adjustable for the length of pull from 13.25 inches to 16.25 inches, which is plenty of adjustment range to fit most shooters. In fact, the longest setting was even too long for my 6-foot 6-inch frame.
The one thing I didn't like about shooting the Raider was the post-shot vibration. It's a louder-than-average crossbow, with a stinging vibration after the shot. But I recognize most crossbow owners use their bows for hunting tools rather than recreational shooting. The Raider certainly is a great hunting tool and meets the needs of hunters looking for the best crossbow for the money.
Key Features
Speed: 408 fps
Bolt weight: 400 grains
Momentum: .725 slug fps
Weight: 8.3 pounds
Uncocked width: 13 inches
Price: $800
Pros
Compact
Balances well for offhand shooting
Fast
Cons
Cocking mechanism gets stuck on stock
Centerpoint Wrath 430 Review
Centerpoint and Ravin are sister companies, and you'll see a lot of Ravin technology in Centerpoints. The Wrath 430 is at the upper end of what I'd call a budget bow at an $800 MSRP—Cabela's sells it for $680.
This bullpup-style crossbow is the most compact in the Centerpoint lineup. The polymer stock gives the crossbow a cheap feel, but it doesn't affect performance. The trigger pull felt heavy, but it was still the fourth-most accurate crossbow we tested at the 2022 Outdoor Life Crossbow Test. We shot a 3.27-inch group average at 50 yards, and it produced speeds of 408 fps with a 400-grain bolt. The Wrath 430 has an advertised speed of up to 430 fps, but Centerpoint doesn't provide a bolt weight to achieve that speed. So we won't say it can't hit its spec because a lighter bolt could reach that 430 fps mark, but we weren't able to achieve those speeds in our test.
We liked that the forward grip keeps your support hand low and safely away from the string. The crank is quiet, but the crank handle inserts into a hole in the back of the stock and can get wedged in place. For hunting, we would prefer to use a cocking rope but found that because of the long powerstroke, it was difficult to use with the rope cocker.
Key Features
Speed: 407 fps
Bolt Weight: 400 grains
Momentum: .723 slug fps
Weight: 7.9 pounds
Uncocked width: 13.75 inches
Price: $600
Why It Made the Cut
This crossbow uses small diameter bolts with less wind drift, which can improve penetration.
Pros
Good trigger
Shoots unique, micro-diameter bolts
Cons
Only comes with two arrows
Can't be decocked without firing
Barnett Hyper XP 405 Review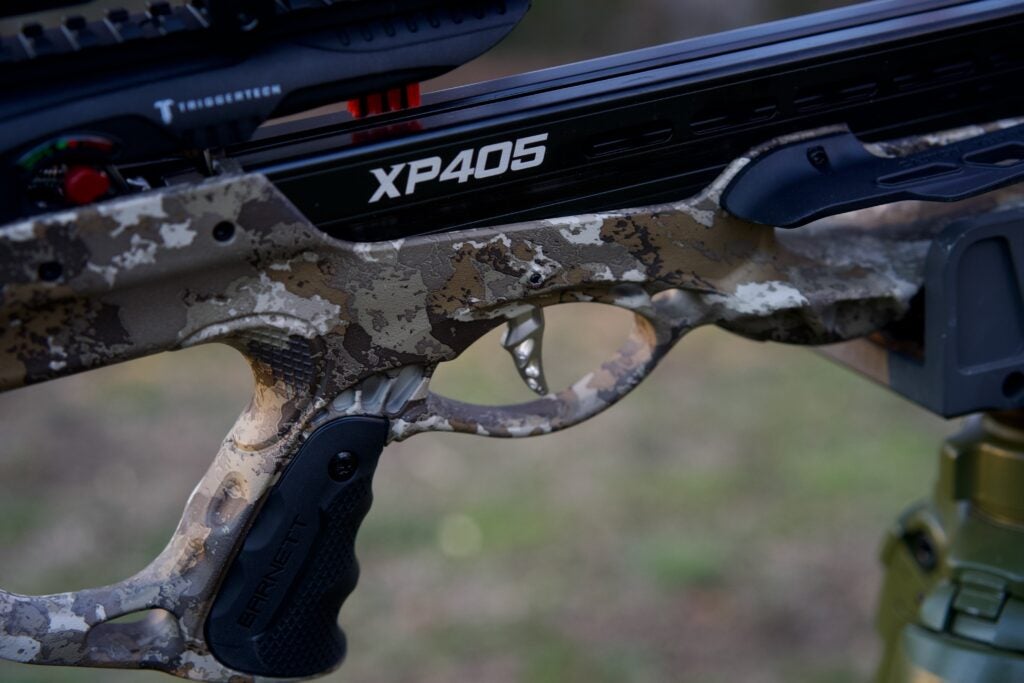 The Barnett Hyper XP 405 gives crossbow hunters a lot of value for the price. It has some cool features, like that it shoots micro-diameter bolts, and it has a TriggerTech trigger. The collapsable stock is excellent for fitting the crossbow to the shooter and reducing its size for transportation. The stock is also ergonomic and features rubber over-molding around the grip for additional comfort. The trigger is insanely good for a crossbow in this price range. It also shoots a respectable 407 fps. It printed 3.5-inch groups at 50 yards.
The downside is that the Hyper XP 405 only comes with two bolts, and it doesn't include a crank. But, you can buy a crank for an extra $150. We recommend that upgrade because using the included rope cocker is difficult due to the Hyper XP 405's long powerstroke. The last few inches of cocking the crossbow are especially difficult. It also can't be decocked without firing. Another con is that the bolts are expensive; they'll run you $90 for five.
If you're looking for a crossbow for around $600, it's going to be hard to beat the features you get from the Hyper XP 405.
More Great Crossbows for the Money
Key Features
Speed: 401 fps
Bolt weight: 404 grains
Momentum: .71 slug fps
Weight: 7.2 pounds
Uncocked width: 16 inches
Price: $600
Pros
Nice features for the price
Good trigger
Comfortable stock
Cons
The Whitetail 400 XTR has many of the same features we like about the Hyper XP 405, like the TriggerTech trigger. The big difference between the two is the Whitetail Hunter shoots standard-diameter bolts. That feature will appeal to many crossbow hunters because the standard bolts are about half the price of the small-diameter ones.
The stock is ergonomic and well-balanced. The balance makes for steady shooting from field positions, and it feels much lighter than its 7.2 pounds. Barnett added nice touches like rubber over-molding on the cheek rest, grip, and stirrup. That coating adds comfort, and deadens any noise caused by knocking the stirrup into stands or bow hangers.
It is a long crossbow at 36 inches, including the stirrup. It's a beast to cock without a crank. You can buy a crank for the crossbow ($150), though, and it would be a wise investment.
It has a very nice TriggerTech trigger and shot a respectable average of 3.58-inch groups at 50 yards. We clocked it at its specified 400 fps, giving it .71 slug fps of momentum. That's really good performance for a crossbow in this price range. 
Bear Archery has been a bowhunting staple for as long as bowhunting has been a thing. It only makes sense that the pioneer of compound bows would build a pretty solid crossbow for the money. The Constrictor CDX is a value-packed offering that delivers speeds over 400 fps and is one of the more compact bows in the lineup, measuring just 10 inches across when cocked. It features dual string suppressors, which make the bow quiet and reduces vibration at the shot. It comes in two camo options: Veil Stoke and TrueTimber Strata. This is a "ready-to-hunt" package as well that includes three arrows, an illuminated scope, cocking rope, and rail lube. It sells for about $550.
Barnett has carved out a solid niche in the crossbow market with a lineup of dependable bows at attractive prices. The Whitetail Hunter is one of the top sellers, and it's not a mystery as to why. Delivering speeds of 375 fps and weighing in under seven pounds, the step-through riser (hence the STR designation) model does many things right. This riser design allows for the traditional foot stirrup for cocking with a reduced overall length. The bow uses a TriggerTech trigger for crisp performance, and it's also a ready-to-hunt package with scope, quiver, arrows, and cocking device. It sells for $450.
The Ravin R10 is easily the most expensive bow on this list. However, it still earns "budget-friendly" status given that it is the lowest-priced model in the Ravin line and is the most affordable entry into the superbow category. The R10 features Ravin's HeliCoil system that allows the bow to measure just six inches in width when cocked. It takes just 12 pounds of effort to cock, thanks to Ravin's efficient crank system. It rockets arrows at speeds of 400 fps, and the accuracy is legendary. This is a true long-range weapon that's a ton of fun to shoot. The package runs $1325 and includes the crank handle, scope with a 100-yard aiming system, three arrows, and a quiver.
FAQs
Q: What is the best crossbow for under $400?
The Killer Instinct Fierce 405 is an excellent option for hunters with a budget of $400. The Fierce 405 is $300, and it shoots 400 fps. It comes in a kit that includes an illuminated scope, arrows, quiver, and cocking rope. Everything you need to hit the woods. The bow has a 3.5-pound trigger and is 14.5 inches wide when cocked, making it easy to handle and not the sort of bulky, unwieldy bow you might expect at this price point.
Q: How much should I spend on the best crossbow for the money?
It's not easy to find a quality crossbow for under $400. When you spend $600 or more on a crossbow, you'll get features like a better scope, faster speeds, and improved accuracy.
Q: What is the best crossbow for the money as a beginner?
New crossbow users should focus on safety features like anti-dry fire and finger guards, as well as cocking and decocking mechanisms. It's hard to beat Ravin crossbows for safety features and ease-of-use.
Final Thoughts on the Best Crossbow for the Money
Each year crossbows improve, and with that crossbow buyers get more performance for their money. A few years ago, it was hard to imagine a bow under $400 that shoots 400 fps and bows around $1,000, with similar features to bows costing twice as much. If you want to start hunting with the best crossbow this fall, any of the above models will serve you well. Choose one that best fits your budget and then spend plenty of time shooting it before the season starts.
The post Best Crossbows for the Money of 2023 appeared first on Outdoor Life.
Articles may contain affiliate links which enable us to share in the revenue of any purchases made.
Source: https://www.outdoorlife.com/gear/the-best-crossbows-for-the-money/