Best Battery Chainsaws of 2023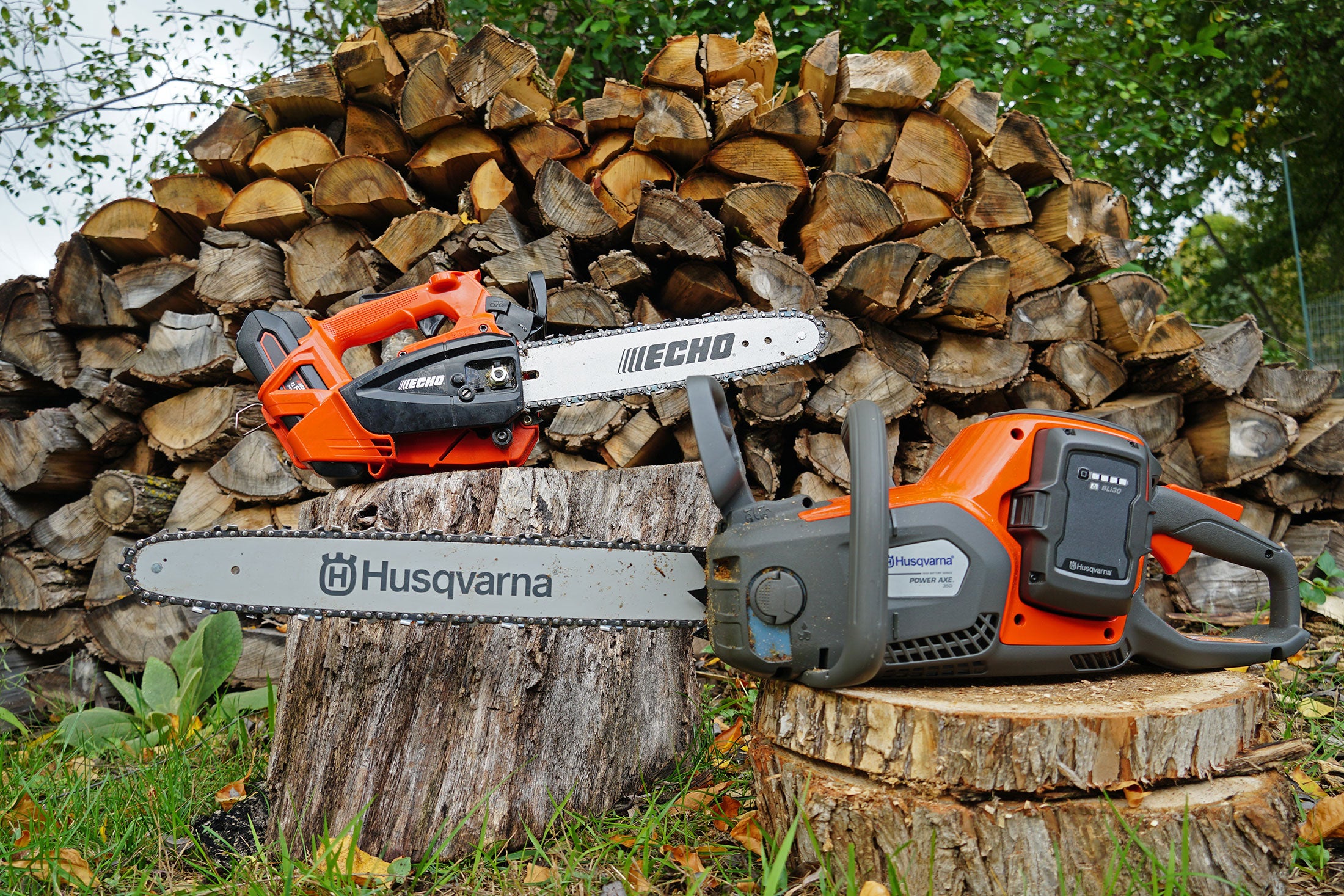 We may earn revenue from the products available on this page and participate in affiliate programs. Learn More ›
If you've been in a big hardware store recently you've certainly seen the increase in battery-powered power tools. Lawn mowers, weed trimmers, and yes, even chainsaws all run on batteries now. And while lithium ion battery technology seems to keep getting better, and the best battery chainsaws we have today are more powerful and will run longer than models from a few years ago. If you're in the market for a chainsaw to do light to moderate cutting work around the house, on the trail, or at deer camp, a battery powered chainsaw could be a good choice. There are solid options for cutting firewood, clearing trails, felling trees, and even light timber stand improvement.
But battery chainsaws are not exactly Tesla-like wonder machines. They are not as powerful as top-end gas models. Because the batteries are heavy, the larger models are not much lighter than comparable gas saws (sometimes they're even heavier). You should not get battery chainsaws wet (don't run them in the rain). Build quality varies greatly from brand to brand—most of the chainsaws in this review are made in China. And, of course, they can run out of batteries. Sure, you can buy extra batteries, but that gets expensive.
To find the limits of the best battery chainsaws out there, I put eight top models through a series of tests. These are the saws that made the cut.
Small-Size (10- to 12-inch bar)
Mid-Sized (14- to 16-inch bar)
Large-Size (18- to -20-inch bar)
How I Tested the Best Battery Chainsaws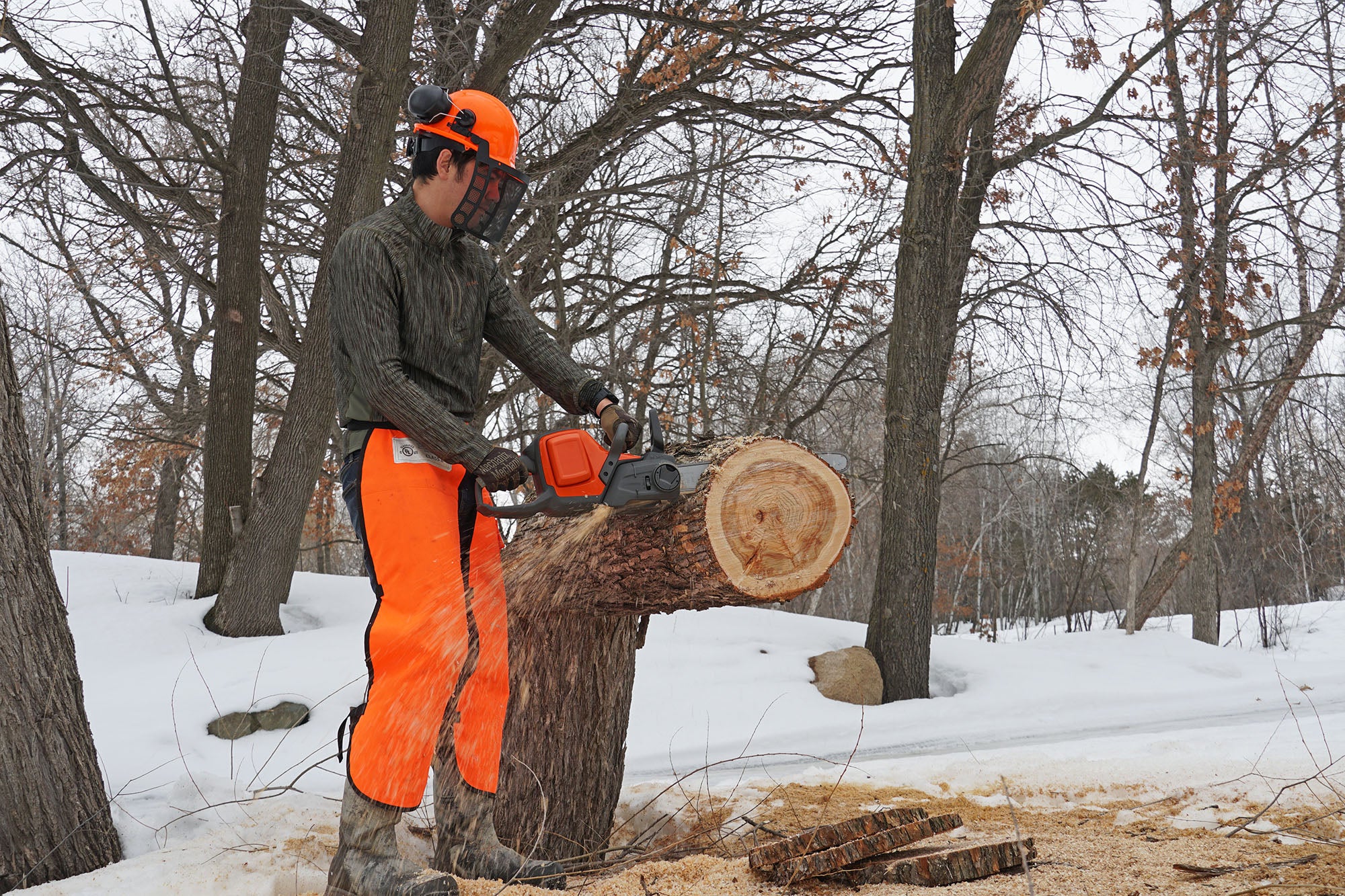 There are a surprising amount of battery powered chainsaws out there. To narrow the sprawling field, I selected models from companies with trusted names either in the chainsaw or power tool world. I went with mid-priced to top-end chainsaws, at the consumer-grade level. In my experience, cheap chainsaws, whether they're gas or electric, are not worth the trouble.
From there, I tested each chainsaw for battery life and cutting speed. To do this fairly, broke the field into three different categories based on bar length. For the large saws (18- to 20-inch bars) I used a 14-inch diameter black willow log. I timed how fast each model could saw through the log (averaging three times). For a control, I also ran my gas powered Stihl chainsaw with an 18-inch bar through the log.
After speed testing, I ran each saw through the log, cutting disk after disk, to see how many total disks (or cookies) it could cut before running out of battery. This test was designed to push the saw, with no break to cool down between cuts.
For mid-sized saws (14- to 16-inch bars) I conducted the same test on a 12-inch diameter log. For the small saws (10- to 12-inch bar), I used a 6-inch diameter log.
If any of the saws showed battery life but could no longer make it through the log, I stopped cutting. If it showed battery life but seemed to overheat, I stopped cutting. The final stats for each saw will be shown in the key features section and in the chart below. I also weighed each chainsaw (including battery and bar oil) on a postal scale.

After that, I took top performing chainsaws to my deer hunting property in Wisconsin. I used them to clear trails, fell trees, limb trees, buck logs for firewood, and girdle trees for timber stand improvement. This practical use portion of testing gave me a good idea how each saw would handle in the woods and stand up to real-world use.
The Best Battery Chainsaws: The Winners
Editor's Choice, Best Small-Size: Echo DCS-2500T
Key Features
Bar Length: 12 inches
Voltage: 50.4v
Amp Hours: 2.5ah
Cut Time: 5.7 inches (6-inch diameter log)
Number of Cuts: 65
Weight: 7 pounds, 7 ounces (measured)
Price: $570
Made in Japan
Pros
Incredibly handy
Powerful for size
Fast cutting and long battery life
Cons
For smaller trees only
Top handle saw designed for pros
Echo's battery powered top handle saw, the DCS-2500T was pound-for-pound the most impressive chainsaw in the test. For its small size, the Echo is surprisingly fast and powerful combining 50-plus volts with a 12-inch bar. That's more voltage than some of the large-sized saws offer. It's also light (just over 7 pounds), and with its top handle design it can be run with one hand. Its cutting speed and the number of cuts it produced in the test were very impressive—it sliced through the 6-inch diameter log like it was butter.
Before we get too much further, it's important to note that this saw was designed for professional arborists. Those are the folks who scale trees and cut limbs or fell trees that are too dangerous for the average joe to take on. Top handle saws are more difficult to control and are meant to be used at height—not sawing logs on the ground. I am certainly not a professional arborist, and if you're reading this story, you're probably not either. So why might a non-professional want a saw that's designed for pros? Because it can do everything your typical medium-sized gas powered saw can't.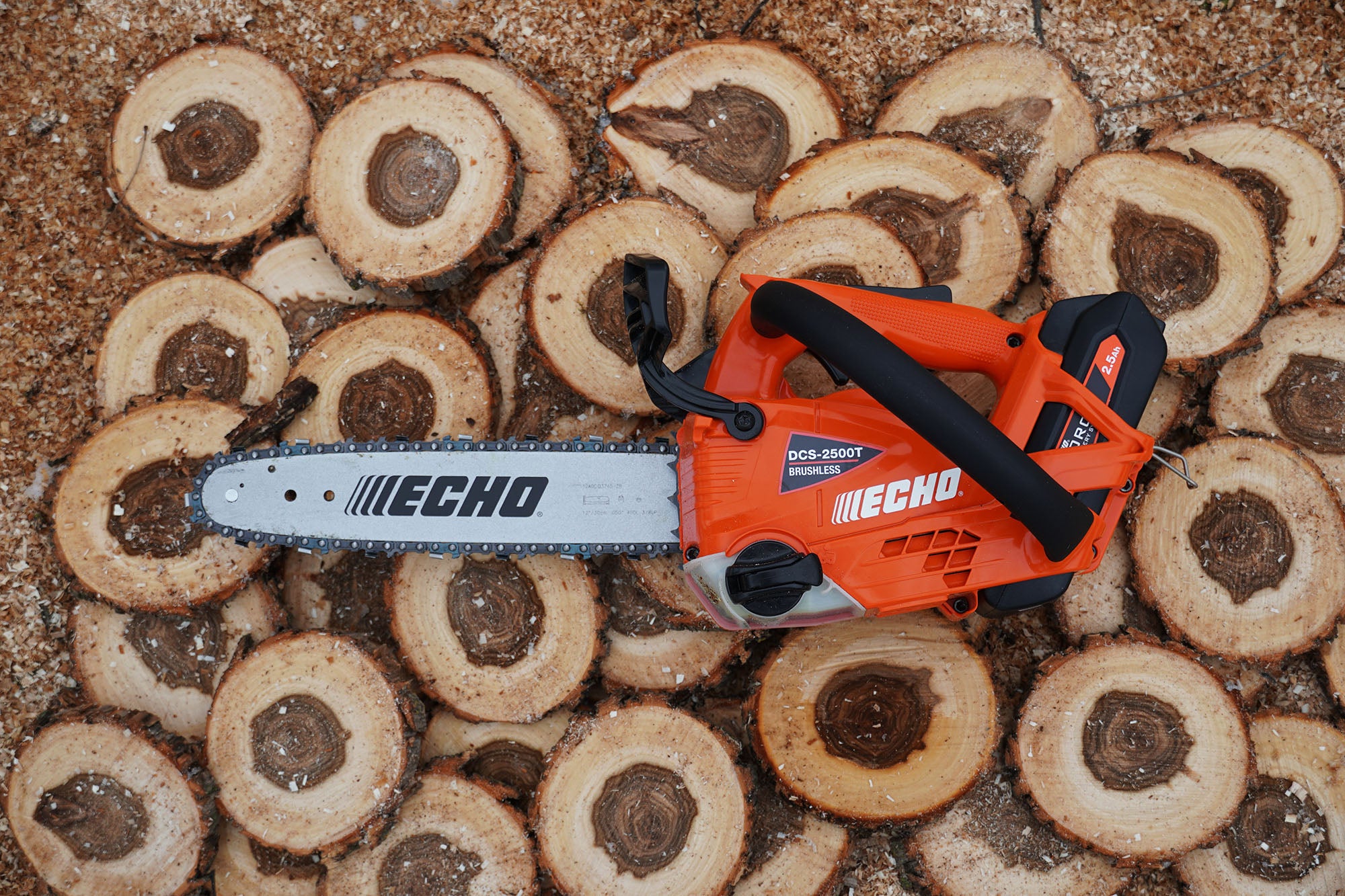 This would be a perfect saw for throwing in your side-by-side, canoe, or on a horse for a backcountry camping trip. Maybe you need to cover a lot of ground on foot to clear the trail but don't want to haul a 14-pound saw with you. Or maybe you've got a bunch of shooting lanes to clear above waist height. The Echo will be your best buddy. Since the original test I used the Echo for a variety of small jobs on my hunting property in Wisconsin. It proved to be incredibly useful and reliable.
It's important to note that Echo now has a rear-handle model of the DCS 2500, but I wasn't able to get it for this review. Assuming it uses the same design as the top-handle version, I'd expect it to be an excellent saw.
It has the typical features you'd see on a gas powered saw: handguard/chain brake, bumper spike, and typical chain tensioning system. But it also has a nice on/off button (for safety and battery life) which many of the other battery powered chains saws don't. Most of the saws in this test were "on" if the battery was in.
If you're a novice chainsaw user who just wants a simple saw to do yardwork, a top handle design is not a good choice (smaller does not mean safer). But for experienced users who want a light, ultra-capable saw, this is an excellent option. If you expect a chainsaw to perform like a gas-powered saw, then just get a gas powered saw. If you're looking for a battery chainsaw to bring something new to your arsenal, then get the Echo DCS-2500T.
Key Features
Bar Length: 14 inches
Voltage: 36V
Amp Hours: 2.6ah
Cut Time: 22.3 (12-inch diameter log)
Number of Cuts: 16
Weight: 12 pounds, 3 ounces (measured)
Price: $410-$420
Made in Austria
Pros
Handy yet powerful enough
Well made
Cons
The Stihl MSA 220 C-B would make for a good mid-sized saw to take on light duty at home or around camp. It could buck a weekend's worth of firewood or clean up a few smaller trees without problem. However, don't expect a battery chainsaw of this size to take on bigger jobs.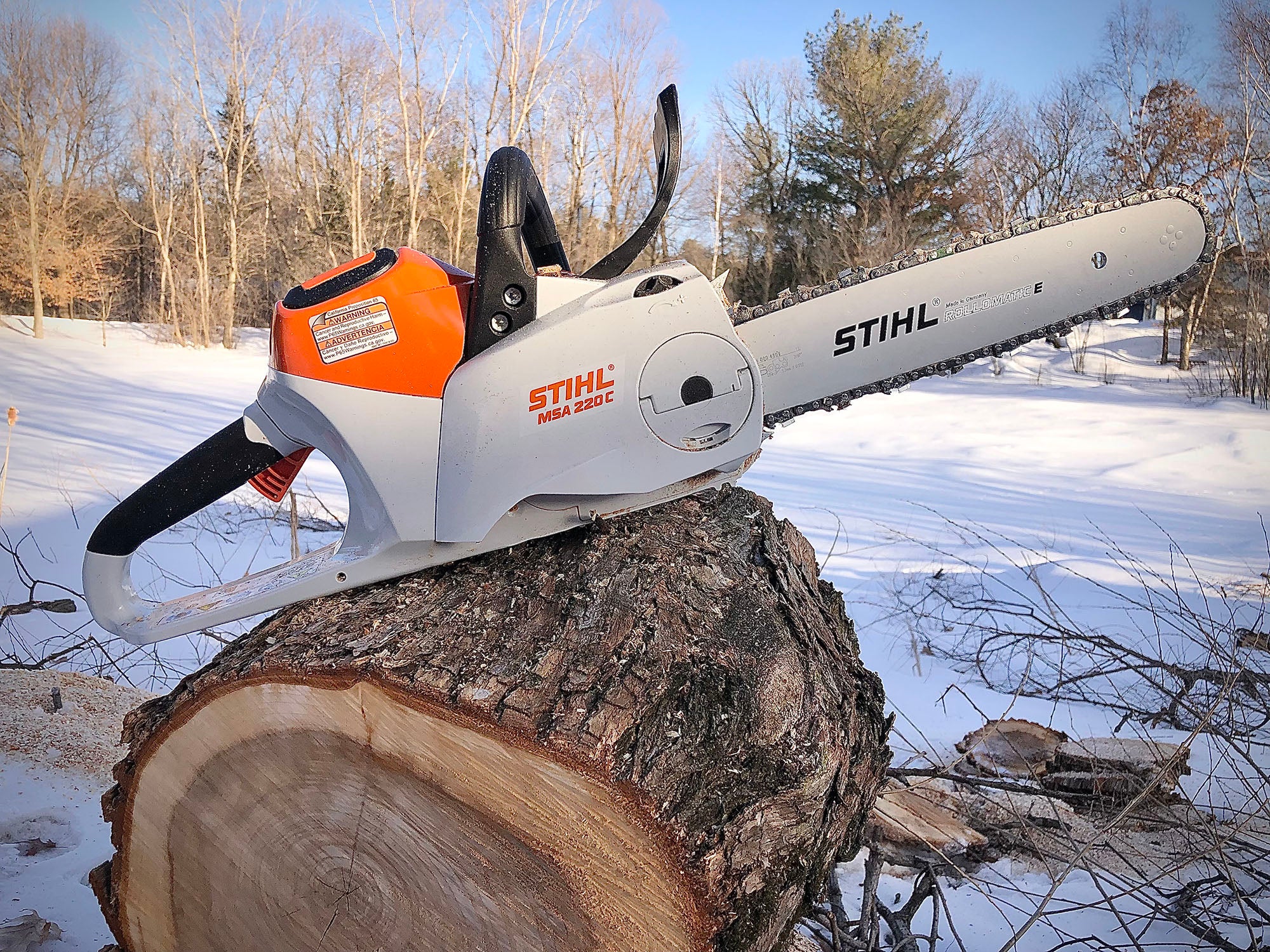 It performed admirably during the speed and battery test. It barely had enough usable bar to get through the 12-inch diameter tree on one cut, but still managed to slice more cookies than the Worx or Ryobi saws and it put up respectable speed scores, too. The Stihl also displayed a higher build quality than the other saws in its weight class. The pieces fit together tighter, more seamlessly. Notably, the saw is made in Austria, not China like many of the other chainsaws in this test.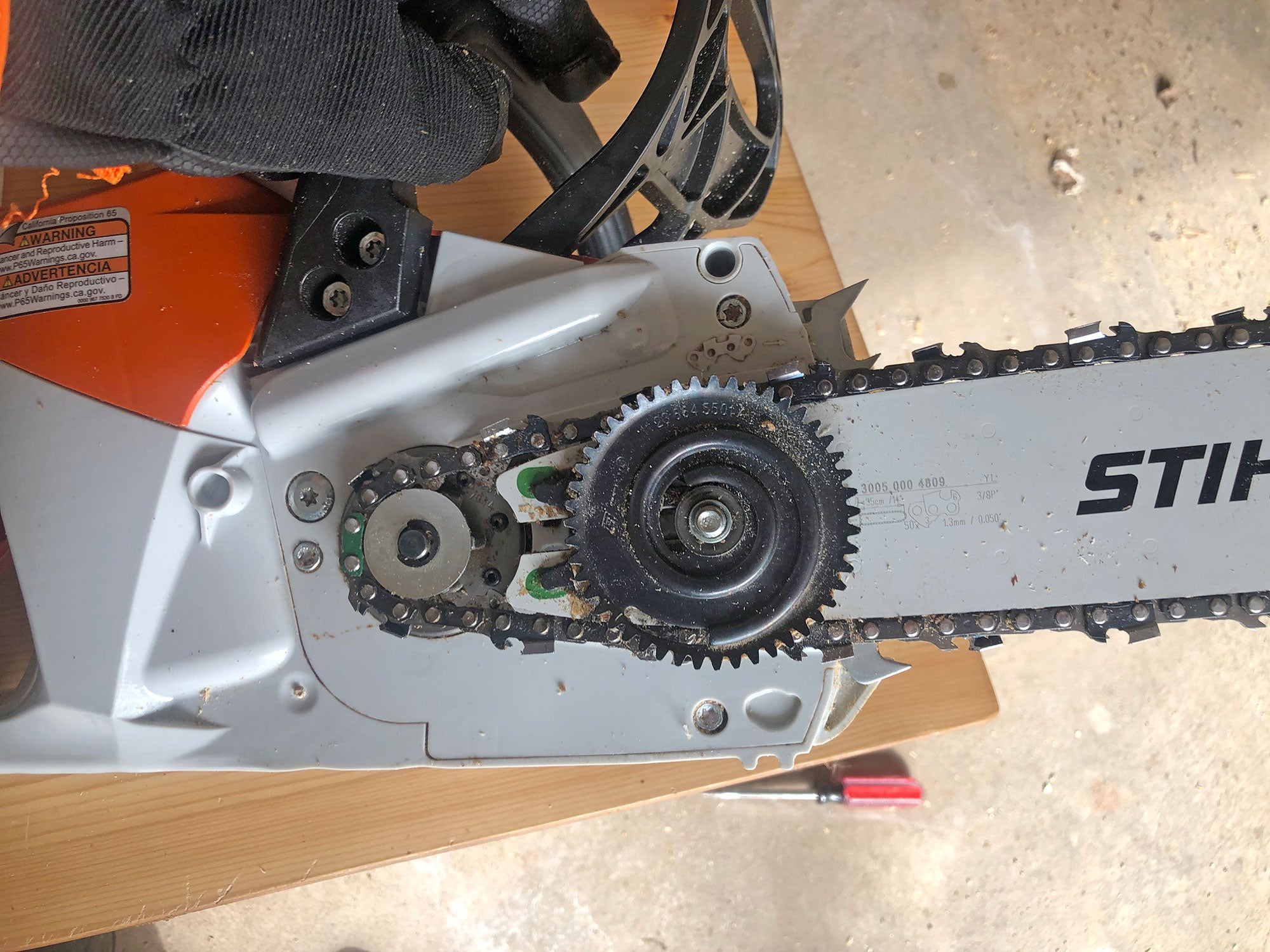 Like the Husky saw (below), the chain tensioning system did get gummed up at times, but not too badly. The only other ding I have on this chainsaw is that it's not quite big enough to tackle serious jobs, but it's also not quite small enough to be highly portable. The saw is also offered with a 16-inch bar, which I would recommend. You can cut smaller stuff with a bigger saw but you can't cut bigger stuff with a smaller saw.
Key Features
Bar Length: 18 inches
Voltage: 42V
Amp Hours: 7.5ah
Cut Time: 26.6 seconds (14-inch diameter log)
Number of Cuts: 24
Weight: 13 pounds, 15 ounces (measured)
Price: $450
Made in China
Pros
Fast cutting speed
Solid battery life
Nice features
Cons
Chain tensioner system got temporarily jammed
The Husqvarna Power Axe smoked the competition in the full-sized field. It was only three tenths of a second slower than the DeWalt, which is still impressive considering it has a shorter bar, but it cut twice as many disks and it never got bogged down while cutting. One of the performance features that impressed me about the Husqvarna is that it cut with full power until it ran out of battery—then it was dead. Other saws would begin to stall or not fully make it through a cut while still showing a quarter battery life. Even though those saws technically had battery power, they limped along but did not cut larger logs effectively. Not so with the Husky.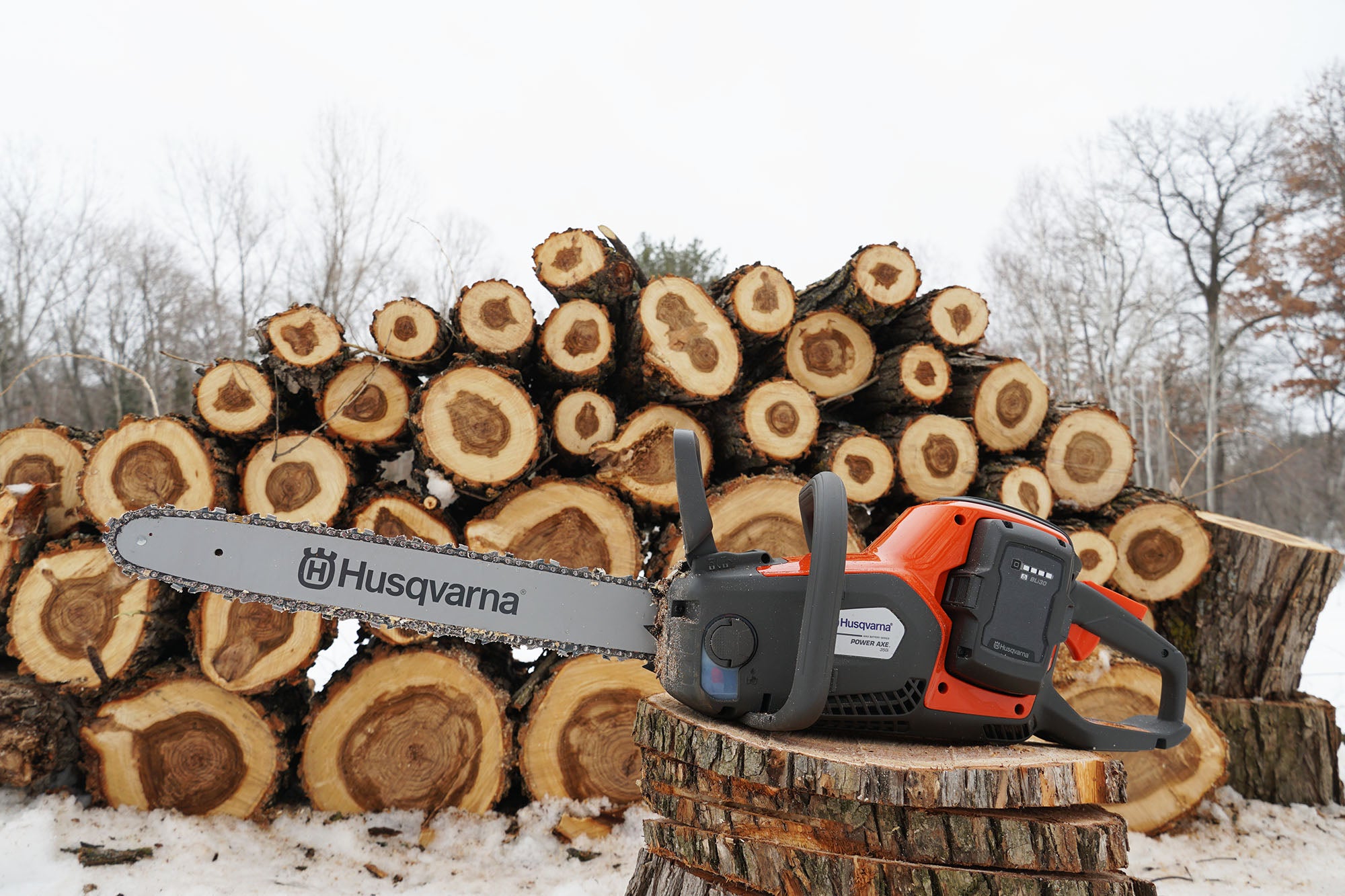 The saw has a nice on/off feature on the handle that lets the user know if the saw is turned on and if the chain brake is engaged. The Husky was the lightest large-sized saw in the test, and it felt well balanced and nimble when working in the woods. With its performance and ease of use, I think the Husky is the best battery chainsaw choice for most users. After the original test I used the Husky to buck a big pile of firewood and found that it cut through mid-sized oak logs with ease.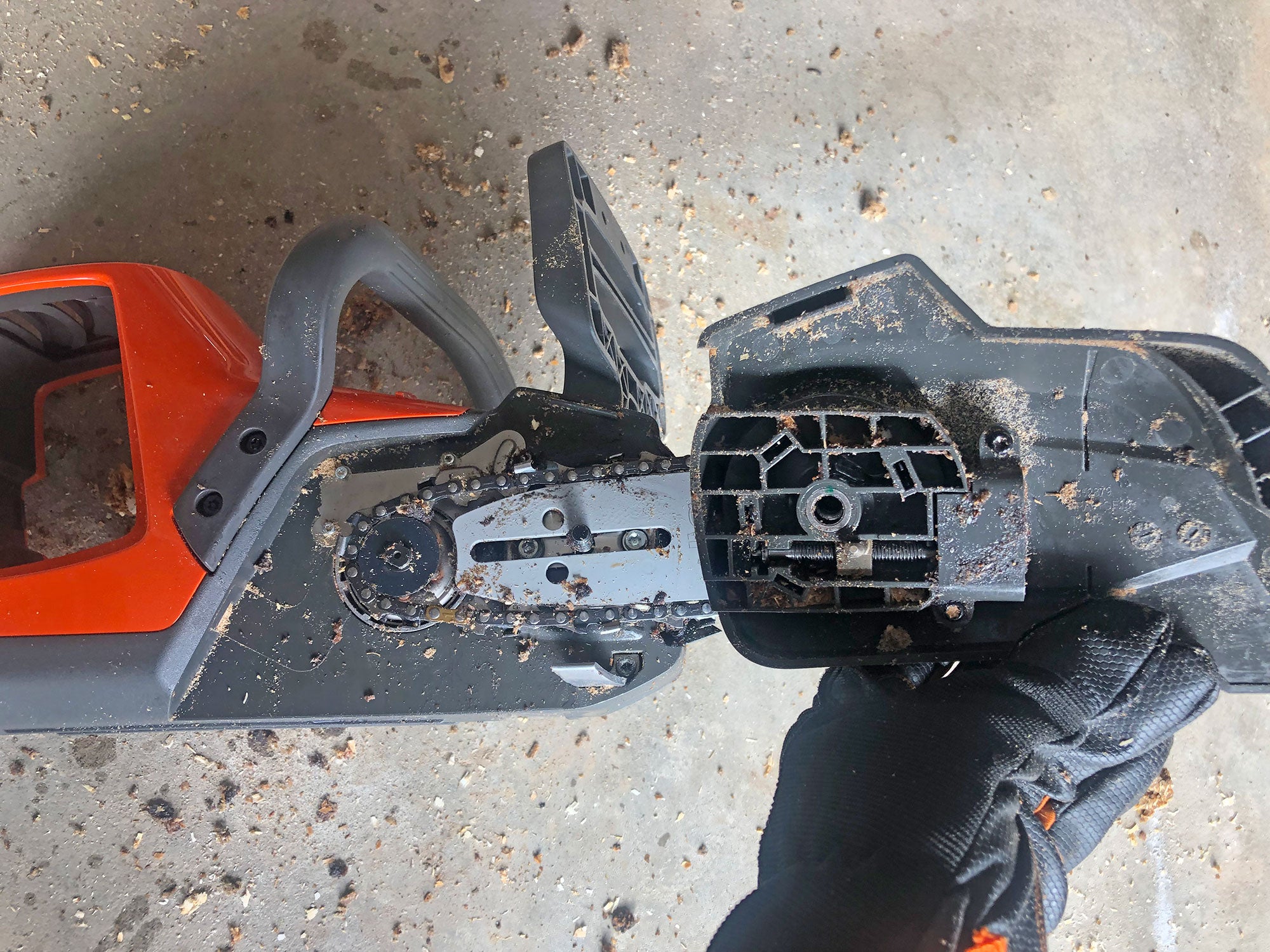 The only thing to ding the Husqvarna on was that its chain tensioning system got jammed up with saw dust and crud. A couple times I had to unscrew the plastic cap, clear the tensioner of debris and then screw it back on. This is a relatively small quibble, but I prefer the traditional tensioning systems that require scrench. It's a bit of a pain to keep the tool on hand, but that classic system seems to get gummed up less often. A few other saws in the test had issues with their "easy" tensioning systems, too.
Read Next: Best Chainsaw Chaps
Mid-Size Chainsaws
Key Features
Bar Length: 16 inches
Volts: 40v
Amp Hours: 4ah
Cut Time: 17.3 seconds (12-inch diameter log)
Number of Cuts: 13
Weight: 12 pounds, 6 ounces
Price: $319
Made in China
Pros
Cons
Threw chain
Got bogged down while cutting disks
Plastic bumper spikes
If you want an affordable chainsaw to cut down small jobs in the backyard or around camp, the Worx Nitro is a solid choice. Here's the bad news first: The saw got bogged down with sawdust during the disk cutting test. I had to keep banging the housing on the log to knock the blockage free (yes, the chainsaws were tested roughly). I'm not sure if ultimately the saw's batteries died or if it overheated, but either way, it only made 13 cuts through a 12-inch diameter log.
Here's the good news: While clearing trails and felling small trees (more practical uses), the Worx performed much better. It was able to handle everything I threw at it, and by the end of the day I was convinced the saw was a pretty damn good deal at just over $300. The one-dial tensioning system worked nicely at first but then gave in to the abuse and the saw ultimately threw the chain. Under regular working conditions—not a torture test—I would have stopped to take the saw apart to properly re-tighten the chain.
It runs on two 20v batteries which lock into both sides of the unit. These batteries can be found much more affordably than some of the other batteries required for saws in this test, which would give the Worx Nitro substantially longer run time.
Key Features
Bar Length: 14 inches
Volts: 40v
Amp Hours: 4ah
Cut Time: 24.7 seconds (12-inch diameter log)
Number of Cuts: 11
Weight: 11 pounds, 10 ounces
Price: $229
Made in Vietnam
Pros
Cons
Plastic bumper spikes
No chain brake
The Ryobi chainsaw has a handguard but no chain brake. In other words, when you press the safety and squeeze the trigger, the chain starts running. Experienced chainsaw users aren't going to love that feature. Besides that, the Ryobi did have trouble working through the willow log, recording only 11 full cuts on a 12-inch diameter log. It's worth noting the saw barely had enough usable bar to make it through the log in a single cut.
On the upside, this is one of the most affordable chainsaws in the test and it comes with a five-year limited warranty (three-year warranty on the battery). I liked the traditional and unsophisticated chain tensioning system and Ryobi includes a clever wrench holder in the handle of the saw. Plus, Ryobi has more than 85 products that run on a 40v battery. So if you're already using Ryobi products—and already have the battery—you can get the saw for only $189. That's a solid deal for a decent little saw.
Key Features
Bar Length: 10 inches
Volts: 20v
Amp Hours: 8ah
Cut time: 17.3 seconds (6-inch diameter log)
Number of Cuts: 18
Weight: 6 pounds, 11 ounces
Price: $150
Made in China
Pros
Cons
Plastic bumper spike
No chain brake
Lesser build quality
This is the little brother to the Worx Nitro, and it was the lightest chainsaw in the test. It runs on a single 20v battery. The Worx recorded significantly lower scores than the Echo chainsaw, but to be fair, it also costs about a quarter of the price. This saw is meant for very light work; you will not be bucking firewood with it. It has a similar chain tensioning system to the Nitro, but with a different knob. I'd recommend spending the extra money and stepping up to the Worx Nitro. Even if you only need a saw for light duty in the backyard, the Nitro will perform better for you.
Large-Size Chainsaws
Key Features
Bar Length: 20 inches
Voltage: 60v
Amp Hours: 5.0ah
Cut Time: 26.3
Number of Cuts: 12
Weight: 17 pounds, 4 ounces
Price: $549
Made in China
Pros
Cons
Ran out of battery quickly
Heavy
Think of this saw as the defensive end on a football team: hefty, strong, and fast, but he's going to tire out quickly running at full speed. This was the most capable all-around chainsaw of the test. With its longer bar length and fast cutting speed it's well suited for bigger jobs. It was the fastest large-sized saw in the test, though it still got through the 14-inch diameter log three seconds slower than my gas chainsaw.
The DeWalt has a double bumper spikes (one on both sides of the bar) with aggressive tines. It brings the most voltage of any saw in the test, and comes with sturdy carrying case, unlike many of the other saws.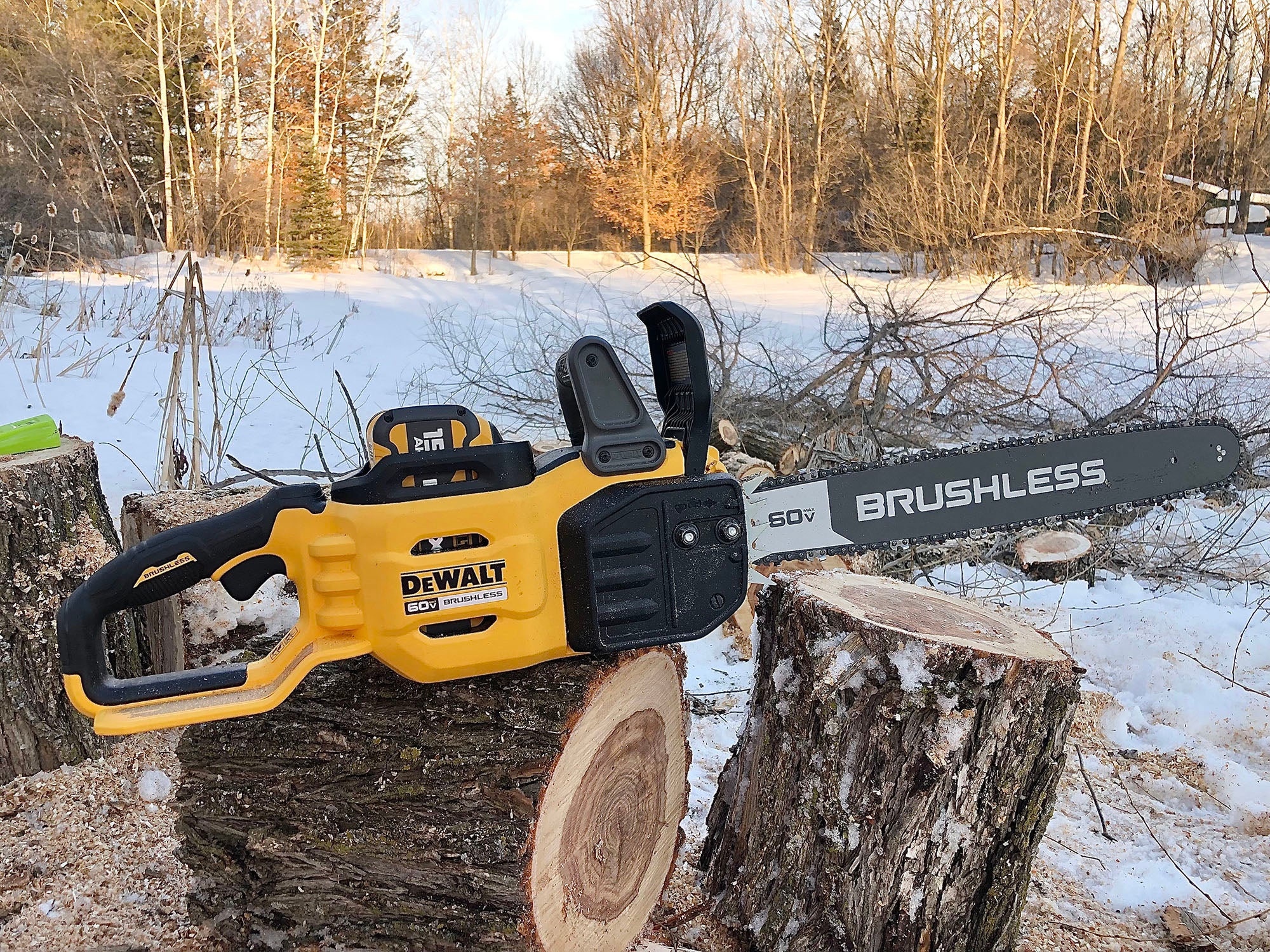 On the downside, this bad boy is heavy. It's a good 3 pounds heavier than my gas saw. The battery alone weighs 4 pounds. Plus, it ran out of juice relatively quickly. It got bogged down a few times going through the willow log at the tail end of its battery life. If you have your heart set on this saw for bigger projects, I'd recommend getting a second battery—unfortunately, they're spendy at about $360. The only other negative thing about this saw is that the battery housing is designed in a way that it's easy for saw dust and debris to fall into it (the battery slot faces upward). You'll have to keep checking to make sure it doesn't get gummed up.
Key Features
Bar Length: 18 inches
Volts: 56V
Amp Hours: 5ah
Cut Time: 31.3 seconds (14-inch diameter log)
Number of Cuts: 11
Weight: 14 pounds, 12 ounces
Price: $370
Made in China
Pros
Charges quickly
LED light is a cool feature
Cons
Ego makes a variety of battery-powered outdoor tools including trimmers, chainsaws, leaf blowers, and even a zero-turn riding lawn mower. Their 18-inch chainsaw offers some cool features, including a LED light so you can see what you're cutting in low light and a fast-charging 56v battery (most of the larger saws required four hours or more to charge, but the Ego charged in about half that time).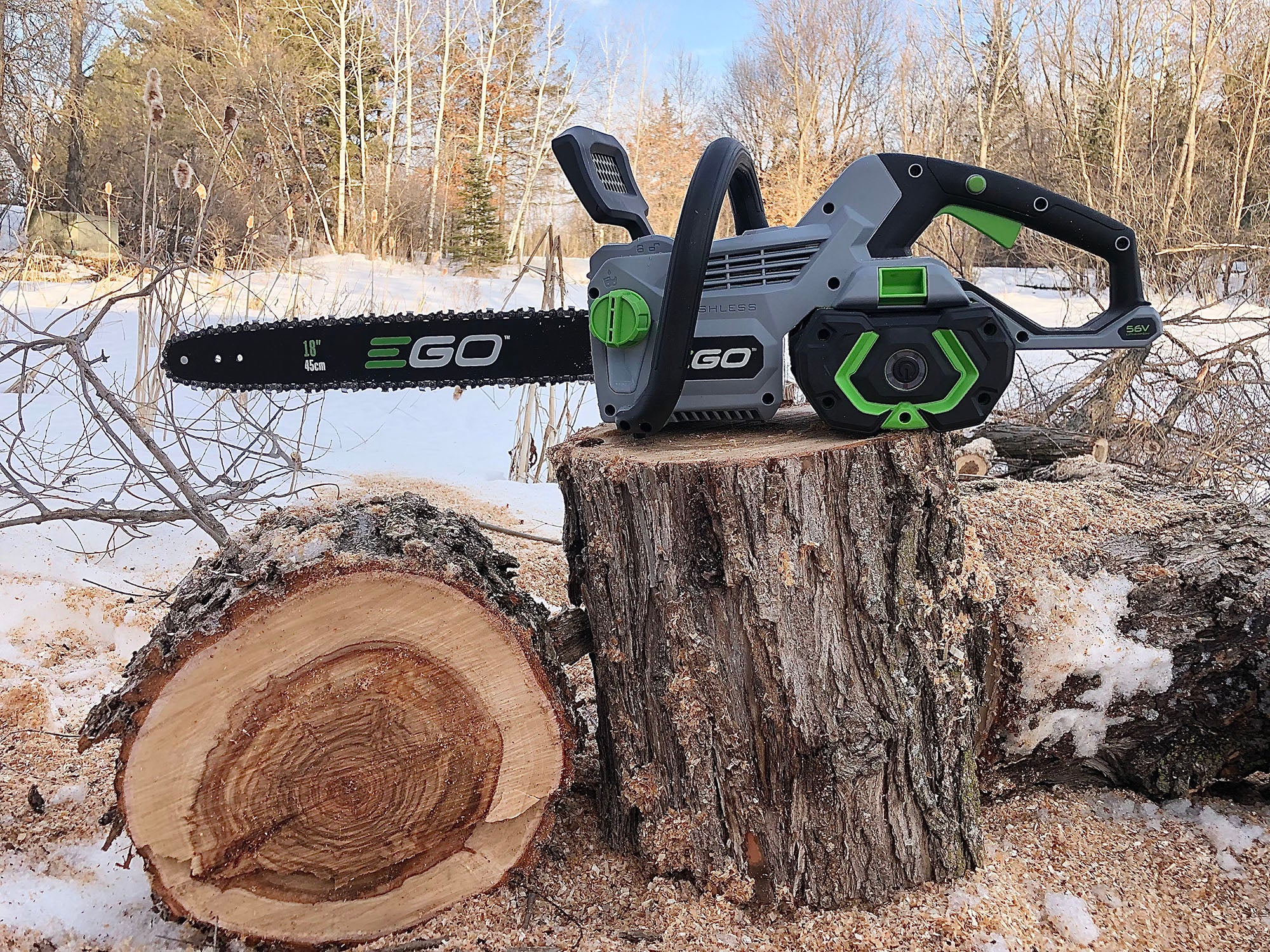 Unfortunately the battery drained relatively quickly too, as the Ego finished only 11 cuts through an 14-inch diameter log. The chain tensioning system is cool in theory: it's just one knob to tighten or loosen. But in the field it got gummed up and I had to take the saw apart to get it working. Extra batteries are still spendy, but you can find them online for substantially cheaper than DeWalt extra batteries.
More Battery Powered Chainsaws
There were a handful of battery chainsaws that I wasn't able to get in for testing. I plan to round those up later this year and add them to the review. These are the other saws to consider:
Echo DCS 2500 Rear Handle
What to Know Before Buying a Battery Chainsaw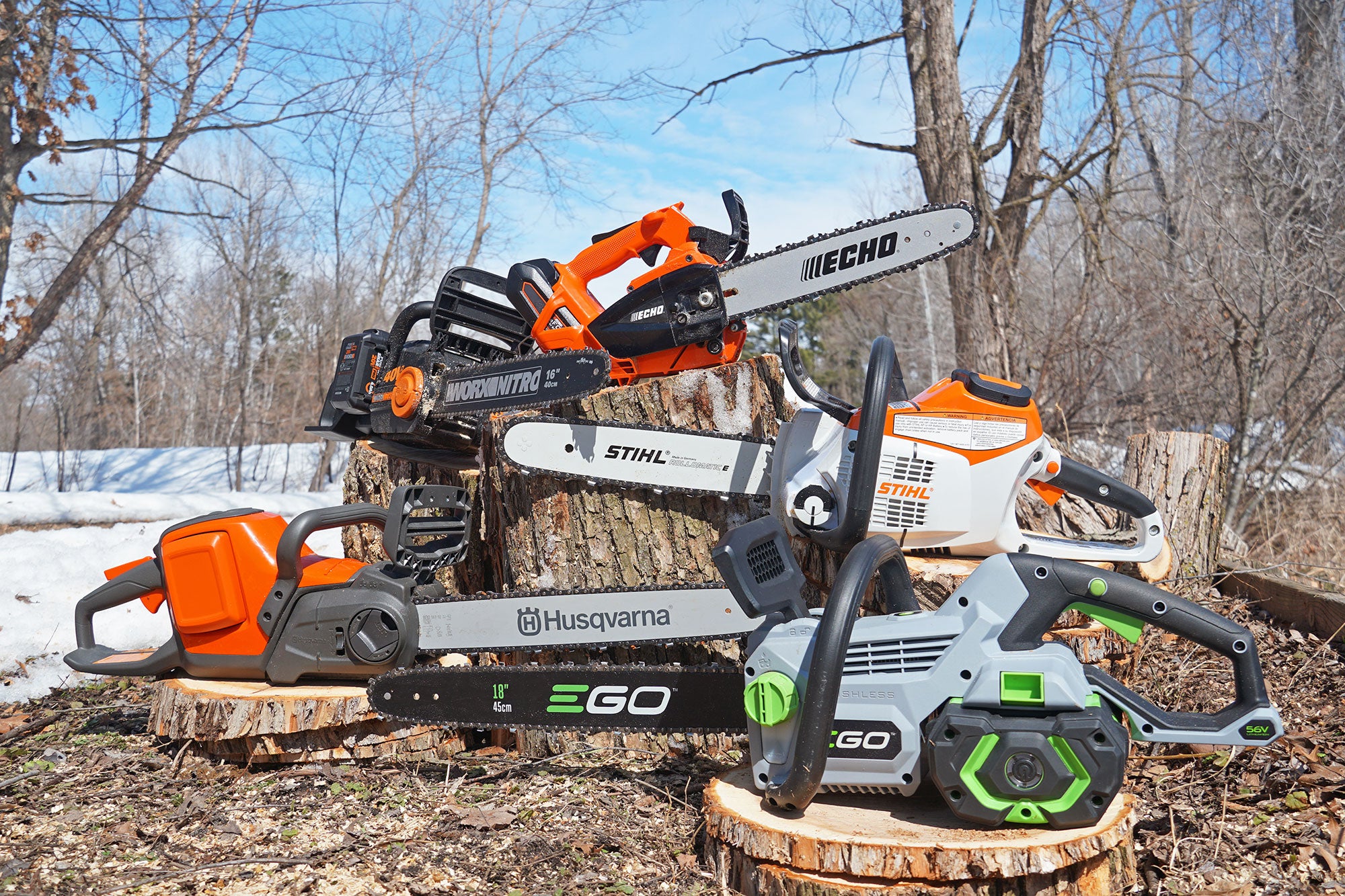 Generally speaking, battery chainsaws are not as powerful as comparably sized gas powered saws (regardless of what the marketing material says). But they are simpler to use and top-end models can saw through pretty much anything a casual user would want to tackle. Here's what to consider when picking the best battery chainsaw for you.
Bar Length
Saws with longer guide bars can take on bigger jobs, but they're heavier. As a general rule, you want your bar to be two inches longer than the maximum diameter of the log or tree you intend to cut. If your battery chainsaw is going to be your only chainsaw, go with a longer bar length of 18- to 20-inches. If the electric saw is a backup or for special projects (like a camping trip) then go with a mid-sized or shorter bar.
Voltage
The voltage advertised on a saw's battery is essentially a rating of its power capacity. Usually bigger saws have batteries with higher voltage, with the exception being the Echo, which boasts a 50v battery.
Amp Hours
The amp hours displayed on each battery is the amount charge that enables 1 ampere of current to flow for one hour. In other words, a higher AH should offer a longer run time. However, there are a lot of variables involved in how long a saw will run (how aggressively you're running it, type of wood, and size of logs to name a few).

Safety
Chainsaw work is inherently dangerous. Even the more affordable chainsaws commonly described as "beginner" saws can buzz off a finger or chew deep into your leg in the fraction of a second. Just because a saw is smaller-sized or more affordable does not mean that it is safer. Plus, the cheaper models tend to not have chain brakes and are more prone to operating issues, which can be dangerous. You must be extra careful when switching from a gas powered saw to an electric saw. With an electric saw there is no rumble of the motor to remind you that the saw is "on." Always remove the battery before checking and adjusting chain tension and refiling bar oil. Also, always wear safety gear. Note that some chainsaw chaps are not rated for electric saws. If you have no idea what you're doing with a chainsaw, take a safety course, online or in person.
FAQs
Q: Are battery chainsaws any good? 
Some of them are damn good. The Echo top handle saw is truly impressive, but should only be run by experienced users. The Husky and Stihl saws are capable and useful for medium-duty jobs that require a few hours of work. If you want a saw to run all day, get a gas powered model. 
Q: How to use a battery chainsaw?
Start by flipping through the owner's manual. No, seriously. Each saw has its own little quirks. Once you've got it assembled and figured out, charge up the battery. Fill the saw with bar oil, click in the charged battery and get to work. Easy. 
Q: What is the best battery chainsaw?
For my money, the best battery chainsaw out there is the Echo top handle model. But this is not an ideal design for many users. The Husqvarna Power Axe 350i is the best all-around battery chainsaw.  
Final Thoughts on the Best Battery Chainsaws
There's a wide range of battery chainsaws out there, and many of them are low quality. Just like cheap gas-powered saws, cheap electric chainsaws are more of a headache than they're worth. You're better off spending more money and getting one of the best battery chainsaws that will do the work you need it to.
Small-Size (10- to 12-inch bar)
Mid-Sized (14- to 16-inch bar)
Large-Size (18- to -20-inch bar)
The post Best Battery Chainsaws of 2023 appeared first on Outdoor Life.
Articles may contain affiliate links which enable us to share in the revenue of any purchases made.
Source: https://www.outdoorlife.com/gear/best-battery-chainsaw/