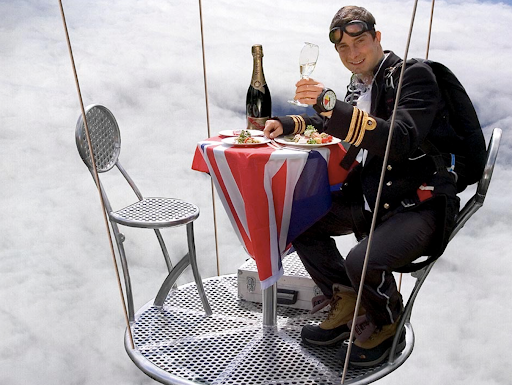 As well as spending three years in the British Special Forces and hosting numerous TV shows like Running Wild, our adventurer Bear Grylls has also broken numerous records on land, sea and in the air – and in 2009, he entered the Guinness Book of Records at age 34 as the youngest Chief Scout, a role he still holds today.
Here are five other record-breaking feats that he's taken on:
Mount Everest
On 16 May 1988 at the age of 23, Bear became one of the youngest British climbers ever to reach the summit of Mount Everest. What was more incredible about this is that 18 months before the climb, he broke three vertebrae in his back after a parachute accident.
It took Bear and his team 90 days to reach the summit – he later wrote a detailed account of everything from multiple journeys through the dangerous Khumbu Icefalls, to falling into a crevasse and nearly running out of oxygen in the Death Zone, in his book Facing Up.
Atlantic Crossing
For his next challenge, Bear took to the open sea. In August 2003, the former UK Special Forces member completed the first ever unassisted crossing of the North Atlantic in a small, open, single-engine RIB (Rigid Inflatable Boat). Bear's five-man team traveled south of the Arctic Circle, dodging icebergs and huge winds over 19 days, to raise money for charity the Prince's Trust.
It wasn't without its hairy moments. "There were more moments of jeopardy out there in those remote icy cold seas than I had ever anticipated, and in truth, if I had any idea of how frightened all of us would be at stages, I would have thought twice before I left everything – family and safety – for those northern waters," said Bear afterward.
Highest Formal Dinner Party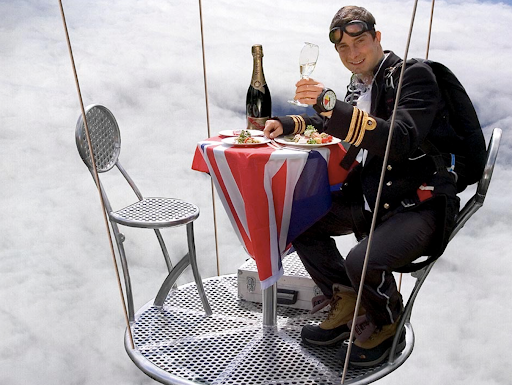 If anyone is going to float past your airplane window at 25,000 feet, wearing a tuxedo and oxygen mask and tucking into duck à l'orange, it's probably going to be Bear Grylls. On 11th May 2005, Bear, along with Lieutenant Commander Alan Veal from the Royal Navy Freefall Parachute Display Team, held the world's highest open-air formal dinner party. Their dining table was 25,000 feet in the air, hanging from a hot air balloon measuring 180,000 cubic feet, while they floated over Ston Easton Park in Somerset, England.
Bear made more than 200 parachute jumps to train for the event, and logistics on the day involved everything from getting flight permissions and checking the weather forecast, to setting up one of the world's largest balloons, attaching oxygen, rigging abseiling ropes, setting up radios – and of course preparing the delicious menu of asparagus tips, duck, and fruit terrine. The record raised money for charities The Duke of Edinburgh's Award and The Prince's Trust.
In 2007, Bear's next record attempt was to fly a parajet paramotor over Mount Everest. He took off from 14,500 ft, eight miles south of the mountain. The initial plan to cross over Everest was adjusted as the permission given was to only fly to the south of the mountain, but he reached 29,500 feet – higher than the previous record of 20,019 feet and higher than Everest's summit. As Bear soared over the Himalayas, temperatures plummeted to -76 °F and so did the levels in Bear's oxygen tank. The challenge was filmed for Discovery Channel and Channel 4 in the UK.
Longest Indoor Freefall
Just a year later, Bear went indoors for the next record, and on 25 July 2008, he set the Elite record for the Longest Indoor Freefall Flying by an Individual (Male). His freefall, which was done in a wind tunnel in Milton Keynes, in Buckinghamshire in the UK, lasted for an incredible 97 minutes (the previous record, by a US team, was 1 hour 36 minutes). He set the record along with the double amputee Al Hodgson and the Scotsman Freddy MacDonald, to raise money for the charity Global Angels.
Source: https://outdoors.com/five-records-held-by-bear-grylls/