Arrow Distributing Announces Dates for its 2024 Showcase
OMAHA, Neb. –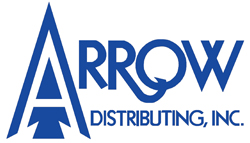 Arrow Distributing has announced in a press release its 2024 Exhibitors Showcase will be held Jan 16-17 at the Luxor in Las Vegas.
"Prepare for another deal-packed, aggressive show pricing event that will prepare dealers for a profitable 2024 season," the release stated. "The Luxor proved to be a great show venue in the past and they have only improved the facility since. We are happy to, once again, work with their friendly and accommodating staff to bring one of the best Distributor shows in the industry to RV Dealers."
The release continued, "Our family-owned distributorship understands how important show deals are to making dealer profitable and successful. That's why we are known for some of the lowest show pricing and best deals during show season. Dealers will be surprised at how low our pricing is and that doesn't include our Poker Run specials. These are hourly deals on key items dealers need going into the season. If you haven't been to an Arrow show, then it's a great time to see what we have to offer."
For information, visit Arrowdist.comemail info@arrowdist.com or call a local Arrow Distributing branch.
Source: https://rvbusiness.com/arrow-distributing-announces-dates-for-its-2024-showcase/