Airstream Trade Wind, 19X B-Van Premiere at Hershey Show – RVBusiness – Breaking RV Industry News


In response to the growing wanderlust of today's consumers, Airstream today introduces the Trade Wind travel trailer and the Interstate Touring Coach 19X campervan, both purposefully built to take RVers to places far off the beaten path.
Indeed, Airstream officials said the Trade Wind and 19X will help campers "go farther and stay longer."
Both are making their public premiere this week at America's Largest RV Show at the Giant Center in Hershey, Pa.
In noting that the surging popularity of camping has created a campsite availability challenge, Airstream President & CEO Bob Wheeler said RVers increasingly have turned to non-traditional campgrounds such as boondocking on federal and private lands.
"So, as a result of that, what are customers asking for? They want to get off grid, they want to boondock, they want to dry camp," Wheeler said. "What they need is more energy independence. They need more resource independence. They need more power. They need to understand how those resources are being used so that they can plan accordingly. They want the independence and flexibility that more power and resource independence give them in terms of choosing where they camp and how long they choose to stay."
The Trade Wind and 19X, Wheeler said, are "really focused on this particular challenge, allowing people to choose where and when they camp, how long they stay, giving them the information they need to have great experience – what we call an 'untethered experience.' You're not tied to any particular resource need, so it allows you to choose a much more flexible way in where you want to camp and where you want to stay."
Trade Wind
With inspiration drawn from the massive battery capacity and increased focus on solar power generation developed in Airstream's one-off eStream Concept Travel Trailer – Trade Wind delivers the largest battery bank, solar array, and power monitoring system in any Airstream travel trailer manufactured in the company's 92-year history.
In conjunction with a 3-inch suspension lift that provides more ground clearance as well as 16-inch Goodyear Wrangler workhorse tires, Trade Wind's powerful electrical system enables ultimate flexibility in choosing campsites – from traditional campgrounds with full hookups to off-grid boondocking far from the crowds.
Several of Trade Wind's key features are designed to support longer or more remote adventures. A three-inch lift kit for added off-road clearance is included as standard – a first-of-its-kind factory-installed feature for Airstream's traditional travel trailer lineup.
The built-in lift kit is combined with 29.3-inch Goodyear Wrangler Workhorse 225/75R16 tires to further support off-road access. Traditional kitchen amenities are also upgraded to withstand travel over rough terrain, with extra features to secure cabinetry doors during transit.
Other off-grid-enabling features include a recirculating water heater that helps conserve wasted water, a SmartPlug TV and Internet Inlet that allows for easy exterior coax cable and ethernet connectivity, and fully-inverted electrical outlets for keeping devices charged and running high-power appliances when not connected to shore power.
Positioned between the brand's International and Globetrotter model lines, the 25-foot Trade Wind is offered in one floorplan – the 25FB configuration, which is one of Airstream's most popular layouts – and two interior décor packages, Terracotta and Fieldstone.
With pricing starting at $129,400 MSRP, Trade Wind can be purchased from authorized Airstream dealers beginning Sept. 12, 2023.
Interstate 19X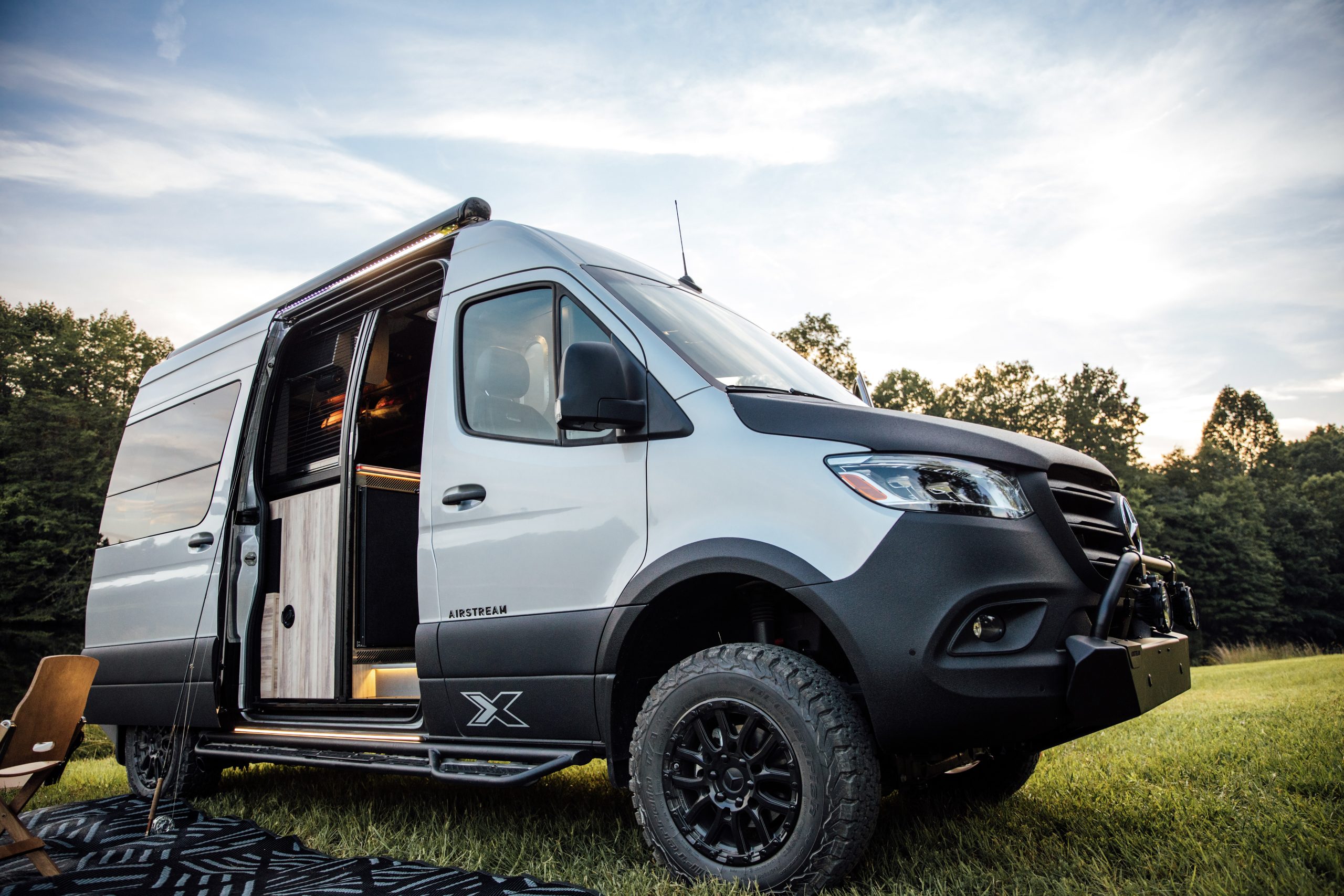 Built on the 19-foot Mercedes-Benz Sprinter van chassis, the highly maneuverable 19X – like much like its 24X big brother– is designed to equally handle highways and unpaved routes, off-grid boondocking and traditional camping, and the rigors of daily driving through parking lots, city streets, and neighborhoods.
The Interstate 19X comes standard with 4×4 capability, with all-wheel drive (AWD) available as an optional upgrade on the new Mercedes-Benz chassis.
Interstate 19X's exterior features a protective coating on the lower body and front hood protects against road debris and scratches, while a Tenzing brush guard with integrated lights offers even more style while traveling off-road.
The nimble little coach offers smart storage throughout, with drawers and cabinets that feature soft-close and positive locking components to keep things secure during transit. Larger gear can be quickly stowed in the flexible rear storage area, where an integrated L-track system on the floors, walls, and ceiling offers ultimate versatility.
Other interior amenities includes a wet bath, fully equipped galley with plenty of prep space, and a spacious convertible sleeping/living/dining area that can be set up as a queen bed or twin beds.
An onboard generator provides the power you need for off-grid adventures that maintain the comforts of home. Even far from shore power hookups, the Interstate 19X can run the air conditioner for ultimate comfort and relaxation.
Customers can also add the optional E1 Package that upgrades the Interstate 19X for even more power and performance, with a single-fuel-source system that draws fuel from the vehicle's tank for the water heater, furnace, and generator.
With pricing starting at $199,940 MSRP, Interstate 19X can be purchased from authorized Airstream dealers beginning Sept. 12, 2023.

Source: https://rvbusiness.com/airstream-trade-wind-19x-b-van-premiere-at-hershey-show/