6 Best Portable RV Garage And Shelter Kits

Thanks for your support! If you make a purchase using our links in this article, we may make a commission. And, as an Amazon Associate, I earn from qualifying purchases. See the full disclosure here.
A portable RV garage or shelter kit isn't something you probably considered when buying your RV. However, unlike a car, your RV can't be pulled into your home's garage for protection from the elements.
A dedicated RV-sized garage is a huge financial commitment and once it's built that's where it stays. Portable RV garages and shelter kits provide a cheaper alternative for RV owners to keep their rigs covered up.
Not only are they a cheaper option, but most can be moved if you have a change of address or if your storage location changes. RVs are large so having a structure to contain them isn't always easy.
Portable RV garages and shelter kits are a great answer for many RV owners. DIY kits are available and you could have a home for your RV in just one afternoon.
What Is a Portable RV Garage Or Shelter?
A portable RV camper garage is exactly what it sounds like, it is a portable garage for your RV. You can then park your RV inside the portable garage to protect it from storms and other elements that could be dangerous to your RV.
A portable garage, carport, or shelter is a temporary outdoor structure that usually consists of a steel frame and fabric cover. They provide reliable, low-maintenance storage for vehicles of multiple styles and sizes.
6 Best Portable RV Garage And Shelter Kits
Here are 6 of the best portable RV garages available to you. Depending on your RV and individual needs we feel there is a great option here for you.
1. ShelterLogic 28 x 20 x 20 Peak Garage

This 28′ wide 20′ deep 20′ high option from ShelterLogic is a wider unit allowing for side-by-side storage of multiple vehicles.
The all-metal frame features a DuPont thermoset baked on powder-coated finish which resists rust and corrosion. Additionally, it uses bolt-together hardware at every connection point to ensure maximum strength and durability.
It has a patent pending Shelter Lock stabilizer block at every rib connection that adds strength and stability to the frame. Universal foot plates make the ground anchors solid and easy to connect.
Furthermore, the garage is covered in commercial-grade polyethylene woven fabric that is UV-treated inside and out to withstand even the harshest elements. Easy glide technology makes sliding the fabric across the rails smooth and taught.
2. Arrow Shed 14 x 29 x 14 29-Gauge Metal RV Carport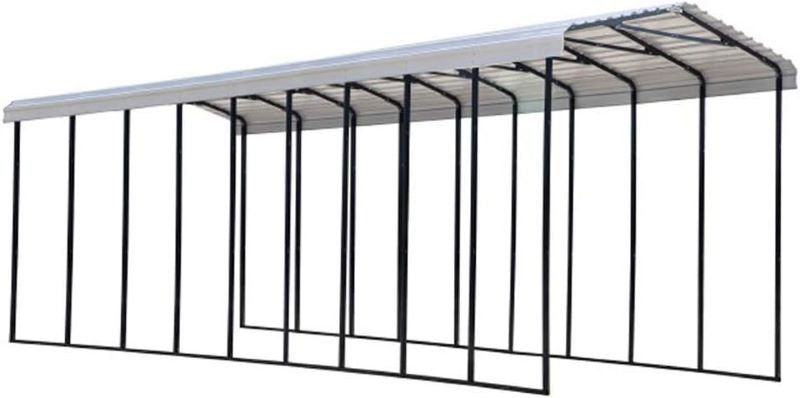 This Arrow Shed 14′ wide 20′ deep 14′ high shelter is a convenient, all-weather shade and shelter solution for your RV that is versatile and practical. The open-side design is convenient for some RV owners and can be closed in using appropriate materials if needed. Direct UV and snow protection for your RV's roof are the main focus.
It has a strong wind and snow rating despite its minimal coverage. It claims to be able to protect against 100-mile-per-hour winds and it has a 35 psf snow rating. Additionally, it protects your RV roof against harmful UV rays and other damaging weather.
It is durable and reliable thanks to its frame which is built from galvanized steel with a black powder-coated finish. The finish improves rust and corrosion resistance. As a result, you can expect this portable RV camper garage to last for many years.
You will also find that it is easy to assemble. The slip-fit connections and self-taping screws make the process much simple for RV owners.
3. Steel Factory Mfg Prefabricated Steel Arch Garage Kit 25 x 30 x 13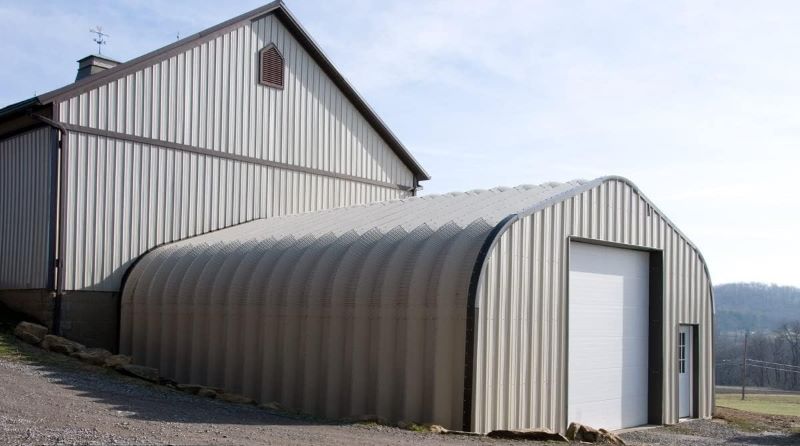 At first glance, This Steel Factory Mfg portable RV garage may look like a permanent structure. At 25 feet wide 30 feet long and 13 feet high it is actually a DIY kit that can be disassembled if needed.
All the necessary nuts, bolts, washers, and hardware are included in your purchase, and assembly isn't as tough as it might look. This model is a more sturdy option and can be made a permanent structure with a full concrete floor if desired.
The garage is built to withstand 41psf of snow, and 143 mph sustained winds. This is a significant step up from many of the previous options. Finally, you should note that the structure has a precut 8′ x 16′ opening, but the door is not included.
4. Portable Garage Depot 14 x 25 x 15 Round Top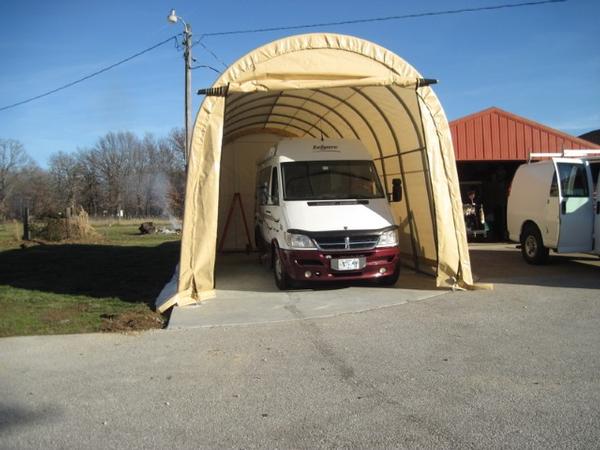 This portable RV camper garage from Portable Garage Depot is the ideal compact storage solution for an RV. With dimensions of 14′ wide 25′ long and 15′ high, it's great for higher vehicles.
The product has a well-constructed, heavy-duty 100 percent glazanized steel frame. All steel components are proudly made with American steel.
The cover is 100 percent waterproof and all fabric components feature heat-welded seam construction and have bright white interiors for solid visibility in daylight. Different weight covers are available from 9oz up to a fire-rated 21.5oz.
5. Versa Tube Pinnacle 12 x 30 x 12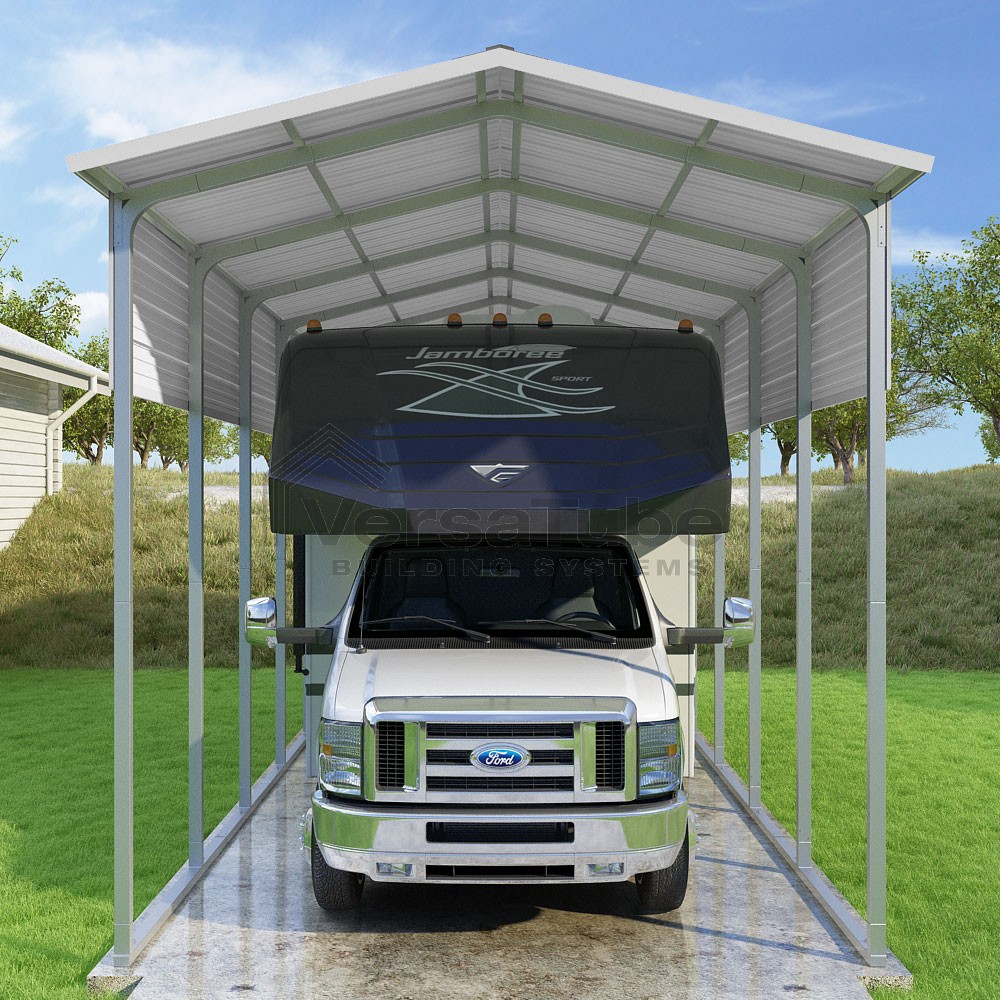 This portable RV shelter from Versa Tube measures 12′ wide 30′ deep and 12'high. With the VersaTube Slip-Fit frame system, you can have your kit assembled in a single afternoon using common tools.
It has triple-coated American-made 29 gauge steel that will prevent rust and corrosion. The roof steel has verticle ribs allowing for better rain and snow dispersal.
All frames come with a limited 20-year warranty along with a 20-year paint warranty on all steel panels.
6. Rhino Shelter 14 x 42 x 17
Rhino Shelters are as tough as the name implies. They have a wide range of shelters in many sizes t choose from. This 14′ wide 42′ deep 17′ high model is perfect for large RVs. You can park a Class A in here and still have room for extra gear and RV accessories.
It comes with dual-zipper roll-up doors on both ends for easy access. The construction materials include a galvanized, steel frame with a UV-resistant cover for strength and protection.
The 22 tie-down cables are strong and will keep your structure secure. A heavy-duty rope is included for tying down the cover.
The shelter will stand up to a substantial storm but like all portable options has its limitations.
What Matters Most When Determining the Best RV Garage or Carport?
There are several factors that are important when looking for the best portable RV camper garage. You want one with a good snow and wind rating, as well as one that is resistant to UV rays.
Additionally, you will want to find one that is durable and resistant to corrosion and rust. Going cheap on these will usually not be worth it in the long run. After all, you do not want to need a new one every few years.
There is one factor that is more important to all of them, and that is size. You need something that will fit your RV and ideally allow for easy entry and exit as well as some room to move around the RV.
Portable garages are made for all kinds of vehicles, not just RVs. As a result, many of them are not large enough to fit an RV. So, you cannot just go out and purchase the first portable garage that interests you. Instead, you need to pay close attention to its dimensions.
If you don't, you might end up with a shelter that you can't even get your RV into. So, taking the time to ensure that you have a garage that is big enough to fit your RV is essential. Knowing the dimensions of your RV will allow you to search for portable RV camper garages more freely.
Which RV Garage or Carport is Best for Winter Weather?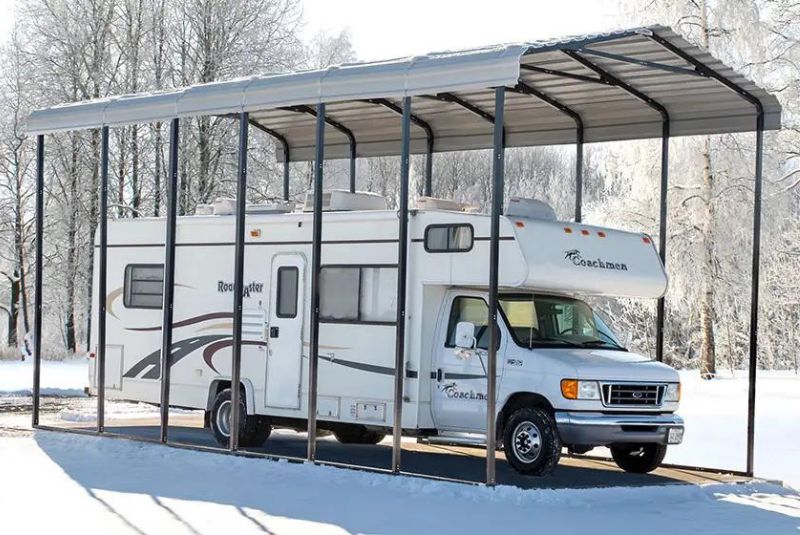 If you live somewhere colder or somewhere that is prone to lots of snow and harsh winter weather, you will want a portable garage that can accommodate you. However, that means that you will need to do a little extra research before you make a purchase.
While most portable garages are made with a degree of snow resistance, not all of them are built with winter weather in mind.
Options such as the Steel Factory Mfg model mentioned above at number 3 are a great choice as they have higher snow and wind ratings. They can also be used in combination with a heating source to keep things from freezing up inside.
Metal framed shelters with metal roofs are also suitable. The weight ratings are generally high and the roofs are sloped, allowing snow to slide off. If you choose a soft-covered option, double check the snow weight rating.
How Well Will a Portable RV Garage or Carport Protect My RV?
Before you purchase your portable RV camper garage you will probably wonder why you need one of them. What kind of protection do they provide, and are they worth all that money?
They provide a great deal of protection against several potential damage sources, which in the end, may be more of a cost than a covered shelter.
UV Protection
While you might be aware that UV rays can cause damage to human skin, they can also damage your vehicle.
These powerful rays oxidize and fade RV paint and can make it look old and worn out much quicker than it would naturally. Fiberglass RVs are also susceptible to damage from the sun which can cause cracks and have negative effects like discoloration.
Regardless of RV type, the roof and exterior seals are all affected by UV rays. Exposure causes the seals and roof coatings to dry out, resulting in possible leaks and water damage. Having a roof overhead eliminates direct UV exposure.
Heat and Cold Protection
When hot air gets trapped in your rig it can cause drying, and eventually, it can even crack the dashboard, leather seats, and steering wheel. Keeping your RV in the shade is beneficial when stored for longer periods or if you use it often. Nobody likes opening a door and being hit with hot air.
Even though most portable options won't be heated there are still cold weather benefits. Keeping your RV out of the wind and direct cold exposure can lessen some freezing and cold temperature issues.
Protection from Weather
Finally, the most obvious reason you need a portable RV camper garage is to protect your vehicle from the weather.
Rain, snow, hail, and flying debris can all cause damage to your RV. Repair costs and time can add up quickly.
Are Portable RV Garages Worth It?
Whether portable RV garages are worth it or not is something you will have to decide for yourself. They are certainly cheaper than building a large sticks and bricks garage for your RV.
Protecting your RV if you are in an area that is prone to extreme weather is a worthwhile investment for sure. Rain, snow, hail, and even sunlight can compromise the integrity of your RV, but a portable RV garage can help with that.
Additionally, having your RV stored inside may lower your risk of theft or vandalism. People are less likely to investigate a tent and steel from it than they are to attempt to steal or damage an RV that is left out in the open.
Keeping your RV in a portable garage has the potential to save you thousands of dollars in damages from weather or losses from theft.
How Does a Portable RV Garage Compare to a Permanent Garage?
While portable RV garages can be very effective, permanent garages have a more solid structure and they are stronger.
That does not mean that portable RV garages are ineffective. They are very effective and can protect your RV from even the harshest weather. However, permanent options are more structurally stable and can be well-insulated and heated if needed.
One big pro of portable RV garages and shelters is that they can be built by most RV owners. Most of these kits are going to involve working from ladders at heights so there are safety concerns to consider. It is also likely that you will need a few sets of hands.
However, with a couple friends and basic tools, most can be assembled in an afternoon. If you do choose to pass on the DIY side of things, the hours charged by someone to assemble it should be pretty minimal.
How Big Should an RV Garage Be?
The size of your RV garage is completely up to you. All that matters is that it can fit your RV, camper, or travel trailer. As long as it is that big then you should be good to go. If you want to store other things in the garage, then you might need to increase the size.
Don't forget to confirm the door size as well. You may find a structure that will fit the RV dimensions inside but first, you need to get it inside.
Another consideration to make is giving yourself enough room should you decide to upgrade to a larger RV.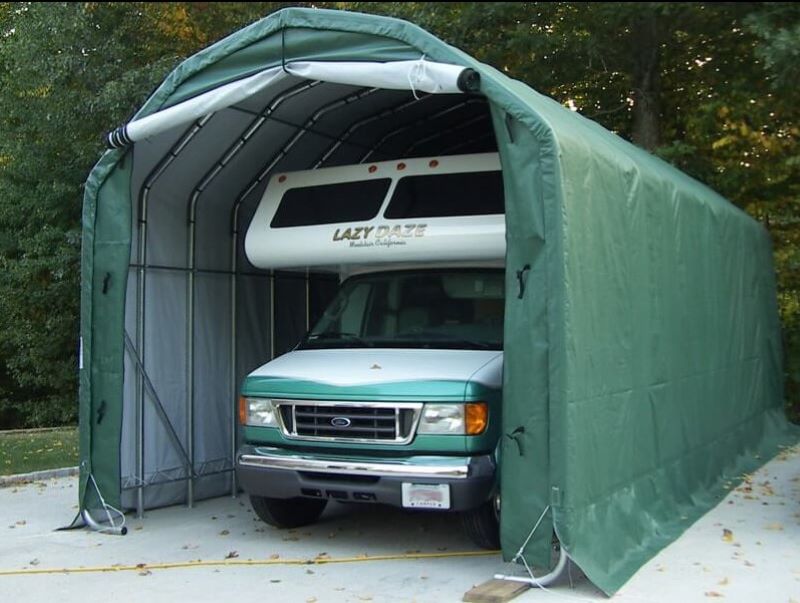 Do You Need An RV Cover?
Some of the options on this list included top cover-only shelters. Using an RV cover in addition to these types of shelters is a good idea. There are many to choose from, so the first thing you will want to do is get one that is big enough to completely cover your RV.
You will then want to make sure you get one that is high quality and durable. Using some cheap tarps from the hardware store won't end well.
Additionally, you should try to find one that lets you go through the door of your RV with ease. Remember, you will probably keep it on even in good weather. Having to deal with a cover every time you want to access your RV can be annoying.
Finally, you want to make sure it comes with tie-downs that will keep the cover secure.
Do I Need a Permit for Covered RV Storage?
If you want to set up covered RV storage on your property the laws are different from location to location. You will want to check the regulations for your area, including your neighborhood HOA if you live in one.
RV storage structures can be pretty large so there are limitations in some places that may restrict them. There are also different rules regarding permanent and non-permanent structures so do your homework before buying anything.
Final Thoughts: Is A Portable RV Camper Garage Right For You?
A portable RV garage is something that all RVers should consider purchasing. Mother nature is unpredictable and doesn't care about your RV.
Beyond storm damage, we talked about damage from UV rays which is always present. While it might be expensive to buy a portable RV garage, it can be far more expensive to repair the potential damages.
Which portable RV camper garage do you think is best? What type of weather worries you the most? Let us know in the comments!
---
Related Reading:
---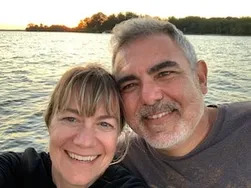 Source: https://rvblogger.com/blog/best-portable-rv-camper-garage-or-shelter-kits/