5 Incredible Winter Vacations for Snow Lovers
Winter is often associated with the holidays and spending time with loved ones. Kids are home from school and everyone is coming together to celebrate. However, the time leading up to the holidays can feel stressful and overwhelming for many. If you're feeling that pre-holidays stress, it might be time to book a vacation away from the madness of the season. These winter wonderland destinations will have you itching to book your flight.
Videos by Outdoors
Vail, Colorado, United States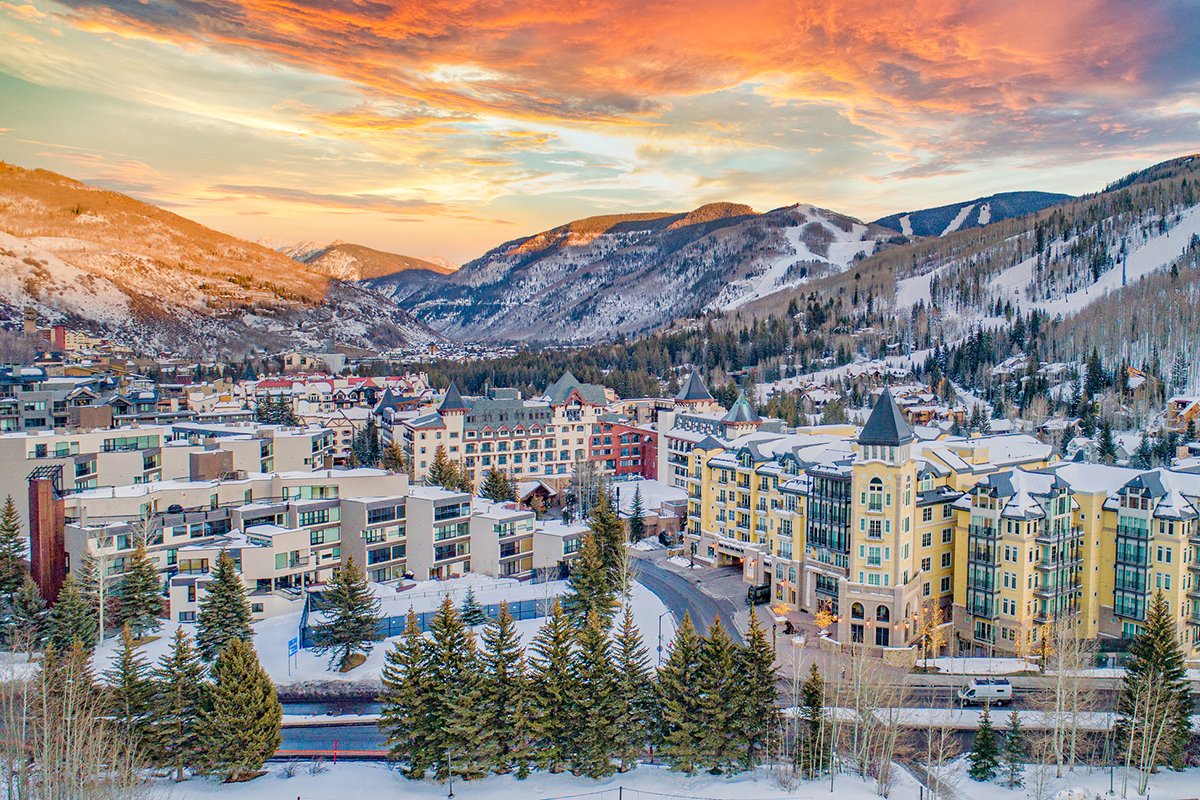 Vail is a favorite location for skiers in the United States and is home to a luxury ski resort that was founded in 1962. Vail is alpine living at its best, featuring world-renowned skiing as well as several shops and restaurants, all surrounded by stunning mountain views. Although Vail is a beautiful year-round destination, winter makes it feel like a scene from a Christmas movie.
Things to Do:
If you love to get a unique view of the places you visit, taking a gondola ride in Vail will be an unforgettable experience. You'll travel from Vail Village up the mountain, enjoying a bird's eye view of the breathtaking scenery. The ride will take you up to Eagle's Nest, which offers shopping and dining options as well as more beautiful views of Vail Village. The best part? If you can't make it to Vail in the upcoming months, no need to worry, the gondola is open year-round.
Must-Stop Photo-Op:
Whether you're looking for a jaw-dropping Instagram-worthy picture or you just want to capture the moment, Vail is beautiful and full of photo opportunities. According to DiscoverVail.com, the best place to snap a photo during the winter is the Covered Bridge. The bridge is decorated with lights and blanketed with snow during the winter. The Covered Bridge is a great place to take your family holiday card picture, and as an added bonus, it's within walking distance of Two Arrows Coffee Bar, known for its marshmallow hot chocolate.
Salzburg, Austria
Austria is a beautiful place to visit any time of year, but if you're looking to celebrate the holiday season in a different way, Salzburg is a great place to do it. Christmas celebrations include beautiful lights, music, and unique festivities, as well as Winterfest, Salzburg's winter-themed circus performance. Salzburg, known as "the stage of the world," is a cultural hub. It is the birthplace of Mozart as well as the setting for "The Sound of Music."
Things to Do:
New Year's Eve is another great time to visit Salzburg. There are celebrations in the town square as well as the beautiful concert hall. Ring in the year with jazz bands, delicious catering stalls, and fireworks at the end of the night. Salzburg has several New Year traditions to take part in or watch, and the celebrations continue into January 1.
Must-Stop Photo-Op:
Taking in the culture of places you visit is both fun and educational. Part of Salzburg's rich culture is salt mining. You can book a tour at the Salz Welten salt mine and explore this unique, local subterranean experience. As the world's oldest salt mine, you'll travel through beautiful orange and red rock salt. There's even an opportunity to taste the delicious minerals straight from the mine.
Yellowstone National Park, Wyoming, United States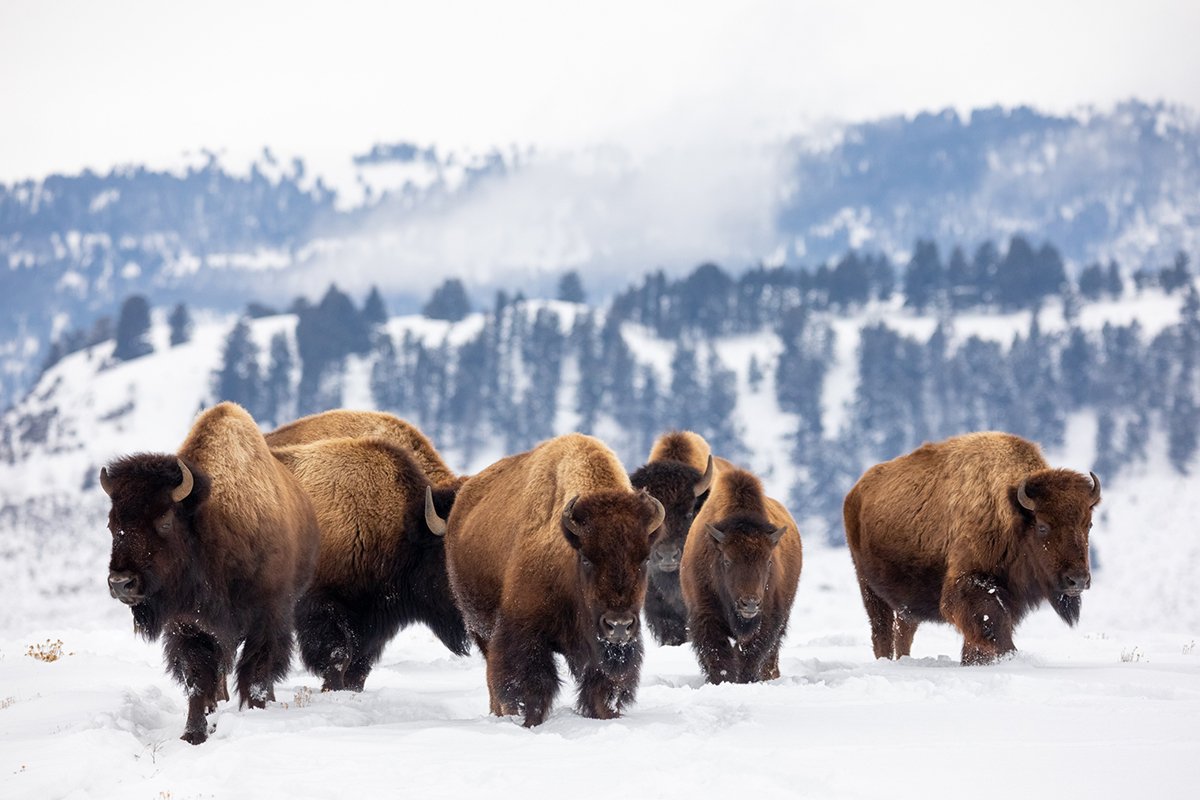 Yellowstone National Park is a beautiful year-round destination; however, winter adds a certain charm and beauty to the landscape. Many of the roads are closed to traditional cars during winter, so make sure to plan ahead and check the National Park Service website for updates on road closures. From mid-December to mid-March, some roads in the park will be open to snowmobiles only, but the roads between the north and northeast entrances are open to automobiles year-round. The park rules and regulations are still in effect during the winter, so be sure to pay attention to posted signs and park rangers.
Things to Do:
As a part of Yellowstone National Park, Old Faithful is also a beautiful site no matter what time of year you go.. In the winter, the snowy landscape adds a lovely element of beauty to the already spectacular view. Guided trips and tours are available throughout the park, including to Old Faithful. As an added element of fun, a snowmobile or snow coach is necessary to reach Old Faithful in the winter. Animal sightings are still common in the winter, so keep an eye out for bison, elk, and other critters near the geyser.
Must-Stop Photo-Op:
Yellowstone National Park is a beautiful place to capture a stunning landscape photograph. If you're looking for a more unique photo op, check out the Yellowstone Winter Photo Safari. This experience will help elevate your photos and capture the magic of winter in Yellowstone.
Greenland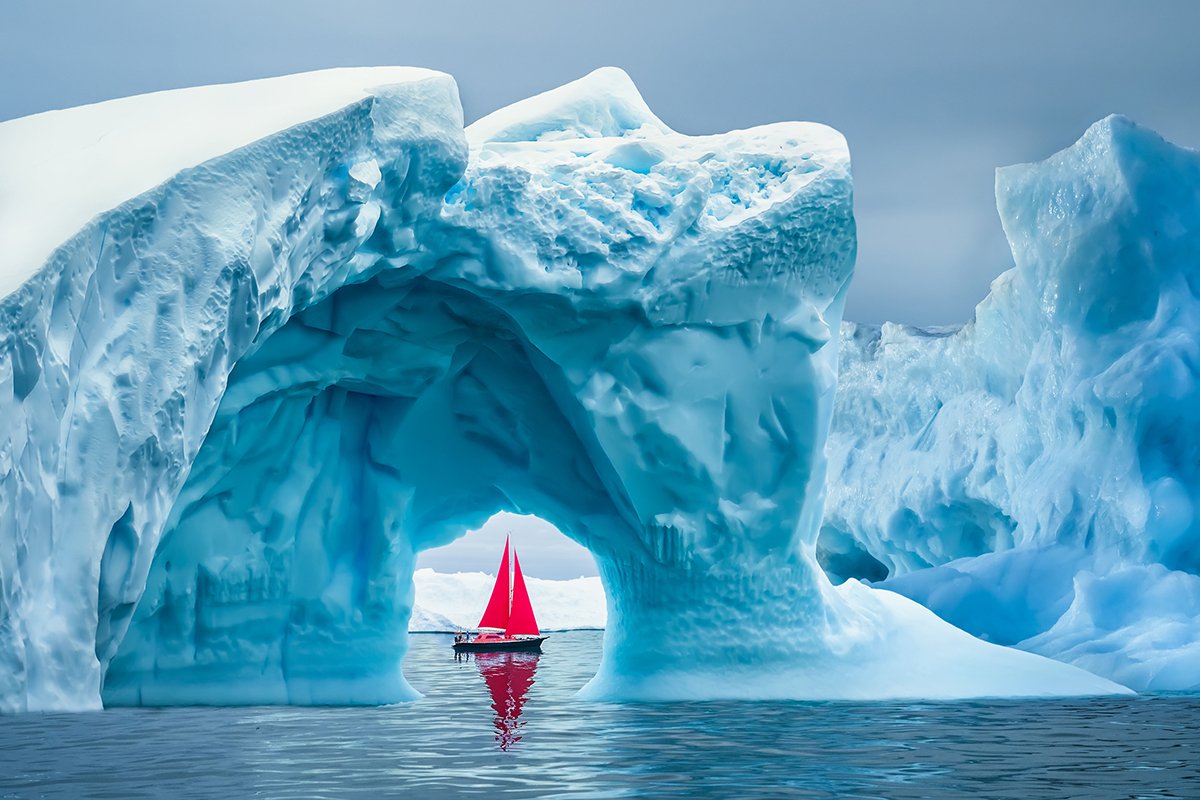 Described as an Arctic paradise, Greenland is a great place to experience the Northern Lights. This territory is a large swath of backcountry land, and it makes a perfect destination for people looking for an off-the-beaten-path winter vacation. You will also see fewer tourists compared to similar destinations such as Iceland. About 100,000 people visit Greenland per year, while Iceland gets about two million. Besides the Northern Lights and lack of tourists, it is also interesting to note that 79% of this territory is covered by the Greenland Ice Sheet.
Things to Do:
Looking for a unique experience during your visit? Book a dog sledding tour. During one of these tours, you'll experience the stunning arctic landscape while traveling like the Inuits have for thousands of years. These tours range from one to two hours long, are offered in multiple locations, and will make for an unforgettable experience. The dogs love to howl when they hear music, so if you attend a concert be sure to keep an ear open for them. e
Must-Stop Photo-Op:
Northern Lights are one of the most spectacular things you can see in Greenland, so be ready to stay up late and dress warmly. This all-natural light show is beautiful and will be an unforgettable experience, especially in the sparsely populated area. Watching the lights flash across the sky, creating amazing patterns and colors is an experience you won't want to miss.
Zermatt, Switzerland
Zermatt, Switzerland is a winter wonderland and a must-do ski vacation. During the winter, the snow-covered mountains create a bright, white landscape that is reminiscent of a winter fairytale. Take in the views as you ski, snowshoe, or sled through this breathtaking landscape.
Things to Do:
Snowshoeing is a great way to take in the beauty of Zermatt. With a variety of trails to choose from, you can take a relaxing stroll or a more strenuous hike and enjoy the winter landscape. The mountains and trails, as well as the delicious culinary experiences in the region, are sure to deliver an unforgettable winter vacation.
Must-Stop Photo-Op:
Switzerland is a jaw-droppingly gorgeous destination, and there are dozens of excellent photo locations. If you're looking for something unique to Switzerland, make sure you get a photo at Riedweg Viewpoint. This viewpoint offers a stunning view of the Matterhorn during "Blue Hour" (the time between sunset and dusk). The Riedweg has no specific address, but it can easily be accessed above the Parkhotel Beau Site. A photo from this location is beautiful any time of day, but during Blue Hour, it will certainly be the most spectacular.