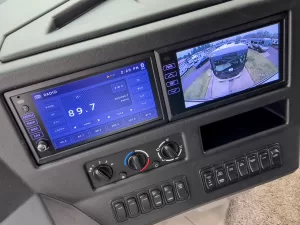 A classic luxury diesel pusher rolls into the new model year with updated décor, safety features, and options.
By Bruce W. Smith
May 2023
Newmar has been handcrafting luxury motorhomes one at a time since the 1980s, and the company's reputation for building ultra-modern 37- to 43-foot Type As has withstood the test of time. Newmar is ranked among the top motorhome manufacturers, and the Dutch Star line, which started in 1998, has been a big part of that legacy. It's the company's top-selling coach.
The Cummins-powered Dutch Star 3736 has been restyled for the 2023 model year. This luxury Type A sports the glistening Newmar-exclusive Full Paint Masterpiece Finish and Diamond Shield protection over the front cap, and it's a great example of the craftsmanship, styling, amenities, and mechanical and safety features that draw the eyes of discerning buyers looking for a coach that delivers an exceptional RV living experience.
The 37-foot-11-inch-long luxury diesel pusher, built on the popular rear-engine Freightliner XCR chassis, is also the beneficiary of a model-year change, which brings many new features, furnishings, and styling updates to the entire Newmar lineup — changes that I had a chance to see firsthand during a walk-through at Bish's RV in Junction City, Oregon.
When you step into the interior of the Dutch Star 3736, the first thing that jumps out is the all-new cockpit, from the seats to the dash. The driver's seat vibrates as part of the Mobileye lane tracking and lane departure system, now a standard safety feature of the XCR chassis.
The new Freightliner OptiView dash incorporates larger, 9-inch displays for the 180-watt Harman/JBL sound system with an integrated navigation system and a second display for the color HD backup camera, which gives a clear view of the surroundings.
Another feature I liked was that Dutch Star's designers placed the master control panel in the overhead console above the steering wheel for accessing the slideouts, solar charger, power monitoring, awnings, steps, exterior lights, heat, air-conditioning, block heater, and other items. Like all the other wood used in Newmar motorhomes, both the cabinet and the panel the controls are mounted to are made of thick maple.
Lounging In The Lap Of Luxury
Floor to ceiling, the Dutch Star's living area evokes an air of refined luxuriousness. The tile flooring, which extends into the slides, is new, and the interior décor now comes in four versions: Alora, Bayshore, Camelot, and Dali. The unit I toured featured the Bayshore décor with the Glacier cabinet finish and matte tile, a combo that gives this coach the rich, soft, light feeling of a luxury apartment.
It also had a number of options, including mitered raised-panel doors on the cabinets and electric radiant-heated tile flooring — a wonderful feature if your travels take you into colder climes. Not that you'd ever get too cold (or too warm) in this coach, because a 50,000-Btu furnace and twin 15,000-Btu Penguin heat pumps on the roof handle those matters.
Comfort for lounging isn't a concern, either. This coach was set up with Ultrafabric-covered, power-recline theater seating on the off-door side, with a comfortable jackknife sofa on the curb side. Behind the sofa is a huge, 50-inch Samsung 4K LED TV on a Televator power lift.
What I found striking is the ceiling treatment in this coach. It's a coffered, cathedral-like design that is far more elaborate and larger than that in previous models. The layers of sunken panels hold nearly two dozen LED lights and do a very nice job of hiding the big ceiling vents for the heating and A/C system. The look oozes elegance.
Modern Residential-Sized Galley
For those who enjoy cooking, the Dutch Star offers a three-burner gas cooktop as standard equipment, or, as this model had, an optional flush-mount, two-burner induction cooktop. Included in the induction cooktop option are eight AGM batteries (or a lithium-ion battery array) and a 2,800-watt inverter to better handle the power needs when camping off the grid. (Six 6-volt house batteries are standard.)
This unit was also set up with a residential-size stainless-steel convection-microwave oven over-head, as well as an equally large dishwasher, another option, inside the lower cabinet under the high-polished solid-surface countertop. Owners of older Dutch Stars will notice that the 2023 model changes include an updated deep double sink, fixtures, and backsplashes throughout the coach.
Food storage in the 2023 Dutch Star 3736 is handled by a big, deep pantry next to the fridge that sports push-to-open drawers on heavy-duty slides and indirect LED lighting. Newmar outfits these coaches with a huge, 19.7-cubic-foot Whirlpool double-door refrigerator that has a deep pull-out freezer drawer beneath; so, eating well on extended stays shouldn't be an issue.
Space to store cookware, towels, pots, pans, baking sheets, and the like abounds. All cabinets have soft-close doors, and like all the other wood in this motorhome, every cabinet and drawer is top-shelf in quality, with a great feel and a tight fit. It's obvious the Amish craftspeople who build these coaches take great pride in their woodwork.
Bedroom Suite Treatment
The Dutch Star 3736 bedroom exhibits the same wood craftsmanship and coffered ceiling touches as the living room. This model has a queen-size bed (the 3709 has a king) in the curbside slideout; it faces the floor-to-ceiling dresser and shirt wardrobes contained in the full-wall slideout.
Between the wardrobes is a 43-inch Samsung TV with a Bose sound bar to provide theater-like viewing of your favorite programs and movies. The designers also placed a nice soft-touch panel on the underside of the four cabinets above the bed's updated headboard. You can control all the lighting in the bedroom — and turn on/off all the motorhome's interior lights — without raising your head off the pillow.
In fact, the Dutch Star has an array of similar panels conveniently located throughout the coach, from the galley to the midships bathroom to the rear bathroom. This makes it easy to set the lighting mood no matter where you are. An app now allows control of the coach's lighting, heating, water pump, and many other features from a smartphone or tablet.
Heavy maple doors isolate the living area and the rear bathroom from the bedroom. These solid doors glide on smooth rollers and have stout latches to keep them open or closed. The solidness of the hardwood doors adds another layer of quiet to the bedroom when they are closed.
Bath And A Half
Another nice feature on two of the three 3700-series Dutch Stars (3709/3736) is the rear bathroom that spans the width of the motorhome. It's spacious and luxurious. It includes a large wardrobe, a second wardrobe plumbed for a stacked washer/dryer, a large vanity with a deep stainless-steel sink, a beautiful 35-inch curved glass shower door, a high coffered ceiling, great lighting, and an abundance of storage space. The model I reviewed had the optional safe built into the rear of the street-side wardrobe, too.
Another standard feature that, in my view, makes a wonderful addition to any RV shower is the Aqua View Showermiser water reclamation system. It recirculates the cold water until it reaches the temperature you set; then, a light on the shower control illuminates to let you know the shower water is ready. This system reportedly can reduce fresh-water usage by up to 40 percent.
The midships half-bath is fairly spacious, too, once the hardwood bifold door is closed. The vanity is bright, and there are numerous drawers and cabinets in which to store towels and other items.
Under It All
All of Newmar's 37-foot Dutch Star motor coaches are built atop the Freightliner XCR chassis, which comes standard with a 450-horsepower turbo-diesel engine and Comfort Drive adaptive steering. The 8.9-liter Cummins is one of the most fuel-efficient Type A motorhome engines on the market, achieving about 11 mpg. The engine warranty is five years/100,000 miles — the best in the industry. (The longer Dutch Star floor plans are available with a standard Freightliner chassis or an optional Spartan chassis.)
On top of the Freightliner chassis is another platform Newmar calls the "STAR Foundation." This is a precisely engineered Newmar exclusive: a heavily gusseted steel superstructure welded to the XCR chassis to improve chassis strength, durability, quietness, and stability. Newmar craftspeople then build the coach like a residential home with ⅝-inch insulated floor decking, R-19-rated insulation in the roof, dual-insulated ⅝-inch sidewalls, and galvanized sheeting to prevent distortion over years of travel.
Underneath the STAR Foundation are heated basement storage compartments with easy-close, side-opening doors and some of the largest storage capacity in the industry, thanks to the design of the raised Freightliner chassis. There, you'll have easy access to the 8.0-kw Cummins Onan Quiet Diesel series generator on a slide-out tray, as well as another slide-out tray that holds the house batteries.
Getting Your Money's Worth
When you drop $500K or more on a motorhome, you no doubt expect a product that delivers top-quality amenities, comfort, and driving experience. After all, it's not just a motorhome — it's a luxury apartment on wheels. In my opinion, the Newmar diesel line delivers in all those areas.
This year's life-cycle change in the Dutch Star 3736 adds more comfort and convenience to what was already a very nice luxury Type A motorhome. Combine that with a seemingly endless number of options to customize this model to fit most buyers' wishes and whims, and it's easy to see why the Dutch Star is the most popular Type A motorhome in the Newmar line.

SPECIFICATIONS | DUTCH STAR
MANUFACTURER
Newmar Corporation, 355 N. Delaware S., P.O. Box 30, Nappanee, IN 46550-0030; (574) 773-7791; www.newmarcorp.com
MODEL
2023 Dutch Star
FLOOR PLAN
3736
CHASSIS
Freightliner XCR
ENGINE
Cummins 8.9-liter turbo-diesel; 450 horsepower; 1,250 pound-feet torque
TRANSMISSION
Allison 3000MH 6-speed
AXLE RATIO
4.78 to 1
TIRES
Michelin 315/80R 22.5 20-ply
WHEELS
aluminum
WHEELBASE
242 inches
BRAKES
front — Bendix air disc with ABS;
rear — Bendix air drum with ABS
SUSPENSION
rear axle — Freightliner V-Ride;
front axle — ZF with Sachs custom-tuned shock absorbers
ALTERNATOR
240 amps
BATTERIES
chassis — (2) 1,900 cca;
house — (6) 6-volt on pull-out tray, standard; (8) AGM or lithium-ion 640 AHR battery system, optional
ELECTRICAL SERVICE
50 amps; flexible cord with automatic transfer switch
AUXILIARY GENERATOR
8.0-kw Cummins Onan Quiet Diesel series on slide-out tray
EXTERIOR LENGTH
37 feet 11 inches
EXTERIOR WIDTH
101.5 inches
EXTERIOR HEIGHT
13 feet 1 inch
INTERIOR HEIGHT
6 feet 11 inches
GROSS COMBINATION WEIGHT RATING (GCWR)
50,000 pounds
GROSS VEHICLE WEIGHT RATING (GVWR)
40,000 pounds
GROSS AXLE WEIGHT RATING (GAWR)
front — 16,000 pounds;
rear —  24,000 pounds
OCCUPANT AND CARGO CARRYING CAPACITY (OCCC)
5,600 pounds
FRESH WATER CAPACITY
100 gallons
HOLDING TANK CAPACITIES
gray water — 75 gallons;
black water — 55 gallons
PROPANE CAPACITY
22 gallons
FUEL CAPACITY
100 gallons
FUEL REQUIREMENTS
diesel
WATER HEATER
Chinook dual-loop heat with continuous hot water
HEATING SYSTEM
50,000-Btu
AIR CONDITIONING
(2) 15,000-Btu with heat pump
REFRIGERATOR
19.7-cubic-foot double-door and pull-out freezer with 2,000-watt pure sine inverter
TOILET
(2) Dometic 321 porcelain stool or macerator stool
WARRANTY
chassis — 5 years/100,000 miles;
engine — 5 years/100,000 miles;
coach — 1 year/unlimited miles, limited; 5 years, structural
MANUFACTURER'S BASE SUGGESTED RETAIL PRICE
$556,785
The post 2023 Newmar Dutch Star 3736 appeared first on Family RVing Magazine.
Source: https://familyrvingmag.com/2023/05/03/2023-newmar-dutch-star-3736/