12 Best RV Flagpoles
Thanks for your support! If you make a purchase using our links in this article, we may make a commission. And, as an Amazon Associate, I earn from qualifying purchases. See the full disclosure here.
RV flagpoles are more than just a utility; they're an emblem of your spirit of adventure, a beacon that unifies RV enthusiasts at campgrounds.
Whether showcasing your loyalty to a sports team, honoring veterans, or flying the proud red, white, and blue, an RV flagpole is a must-have for any RV owner.
The question isn't whether to display your flag but how to do it with style and ease. It must also be sturdy and reliable as your adventurous spirit.
We've journeyed through the market to bring you the 12 best RV flagpoles, ensuring your flag soars high no matter where your travels take you.
What Are RV Flagpoles?
In a world where you're constantly moving, your RV becomes more than just a vehicle; it symbolizes your freedom, a home away from home.
But how do you make this mobile haven truly yours?
Enter the RV flagpole.
Imagine a sturdy, securely attached pole soaring high above your RV, fluttering your chosen flag against clear blue skies.
It's not just a pole but a beacon telling the world, "This is my space, my journey." RV flagpoles come in a variety of forms to suit your needs.
Some stand tall and proud in a fixed position. Others are adjustable so that you can raise or lower them, offering flexibility that matches the adventurous spirit of the open road.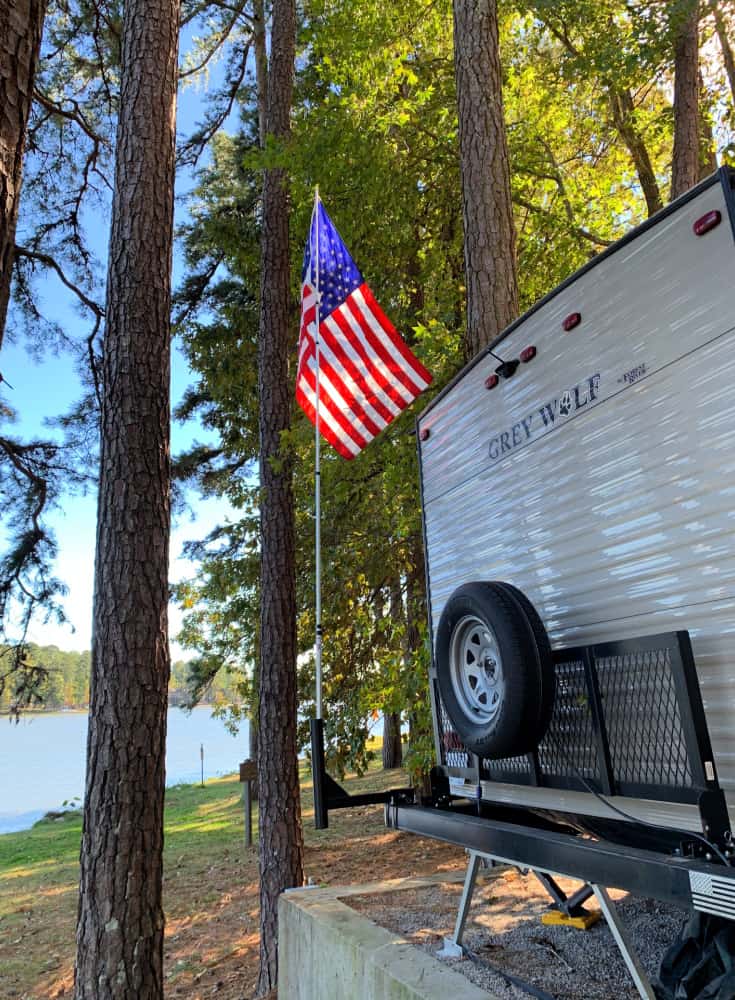 12 Best RV Flagpoles
There are lots of options when it comes to RV flagpoles and a quick Amazon search can quickly become overwhelming.
Here are what we think are twelve of the best RV flagpoles to help you make your RV truly yours.
1. Flag Pole Buddy 22' X-treme Ladder Kit
Crafted with double the wall thickness of standard flagpoles, the Flag Pole Buddy 22' X-treme Ladder Kit is a testament to strength and durability.
This 22-foot-tall giant is not just a flagpole; it's a declaration of resilience designed to withstand the capriciousness of the weather.
The kit has a sturdy fiberglass RV flagpole system that adjusts to fit most RV ladders easily. It's versatile enough to accommodate flags up to 3' x 5' and allows you to fly multiple flags with the help of four included clips.
But the real magic lies in its ease of use. Created by an RVer for RVers, this flagpole system is quick and easy to install. You can extend the fiberglass pole from a compact 4' to a towering 22' based on your needs.
The kit also includes a unique mount that allows the pole to be installed from ground level, providing sturdy support. A lower cup mount secures the bottom of the pole, ensuring stability regardless of the conditions.
2. Camco 20' Telescoping RV Flagpoles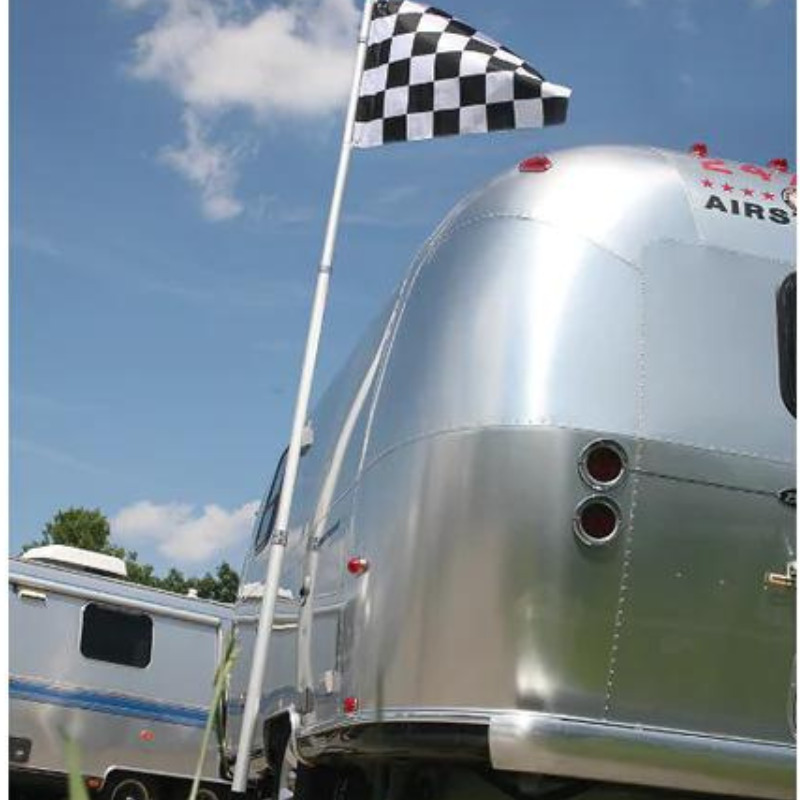 As an RVer who takes pride in their journey, you need a flagpole that's as flexible and ready for adventure as you are.
The rust-proof anodized aluminum pole extends to an impressive 20 feet, allowing your flag to fly proudly. And when it's time to hit the road, the pole collapses to just 64 inches for easy storage.
One of the Camco's best features is the easy push button and lock system, which ensures maximum height and stability. Plus, the included hardware allows you to fly up to two flags or even fly a flag at half-mast if needed.
The kit also has a tire-anchored flagpole holder, providing a secure and stable base. And as a bonus, you'll also receive a storage bag and a 3″ x 5″ American flag.
3. Flagpole To-Go Ultimate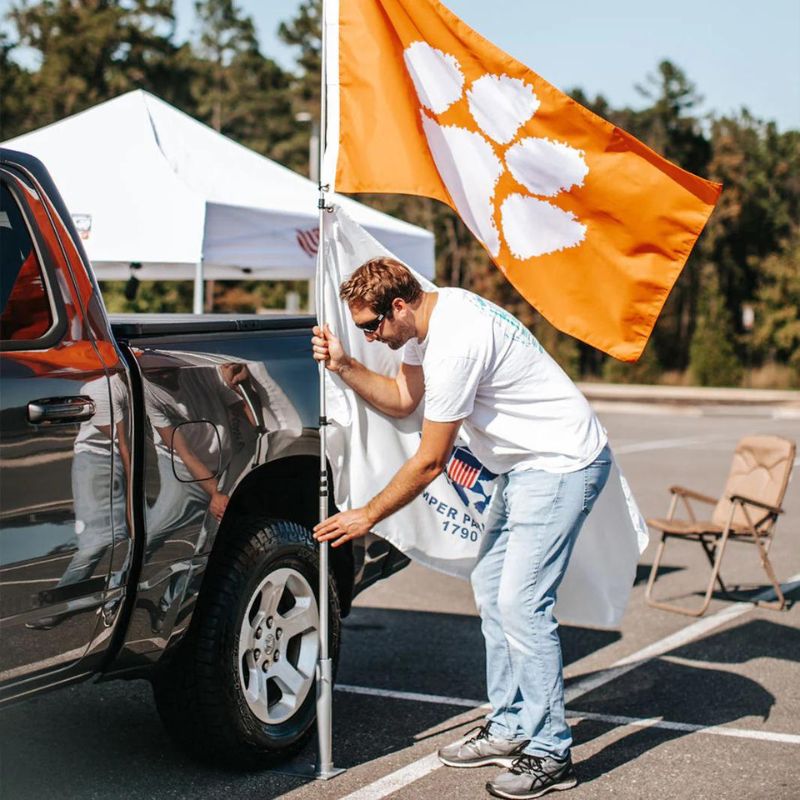 Many RVers love the Flagpole To-Go Ultimate because of its portability, adjustability, and lightweight design, which are part of the Ultimate Tailgaters Package.
The telescopic aluminum pole is equipped with a cam-locking action, allowing each section to lock securely. RV flagpoles like this one are great for raising the American flag and serve the practical purpose of marking the spot where you parked your RV.
You can extend the Flagpole-To-Go system from 12 feet to 20 feet in the air and secure it using your vehicle tire.
With its ability to fly two flags up to 3' x 5', you can display your love for your country and your favorite sports team or organization at the same time.
The pole is also easy to store and transport, making it a convenient addition to your RV gear.
4. Titan Telescoping RV Flagpoles
The Titan Telescoping Flagpole is a portable, adjustable, and lightweight flagpole made from high-strength 6105-T5 anodized aluminum tubes.
It features a patented interlocking sleeve mechanism that makes extending and retracting the pole easy and provides extreme joint stability.
Swivel ring clips allow flags to fly freely 360 degrees around the pole, reducing flag wrapping or tangling.
Every Titan Telescoping Flagpole kit includes the flagpole, a premium nylon US flag with sewn stars, hardware to fly two flags, a 3″ gold ball topper, a ground sleeve (ABS plastic), and easy-to-follow installation instructions.
The pole comes pre-assembled and ready to extend. It's maintenance-free and comes with a limited lifetime warranty.
5. Yescome 25' Flagpole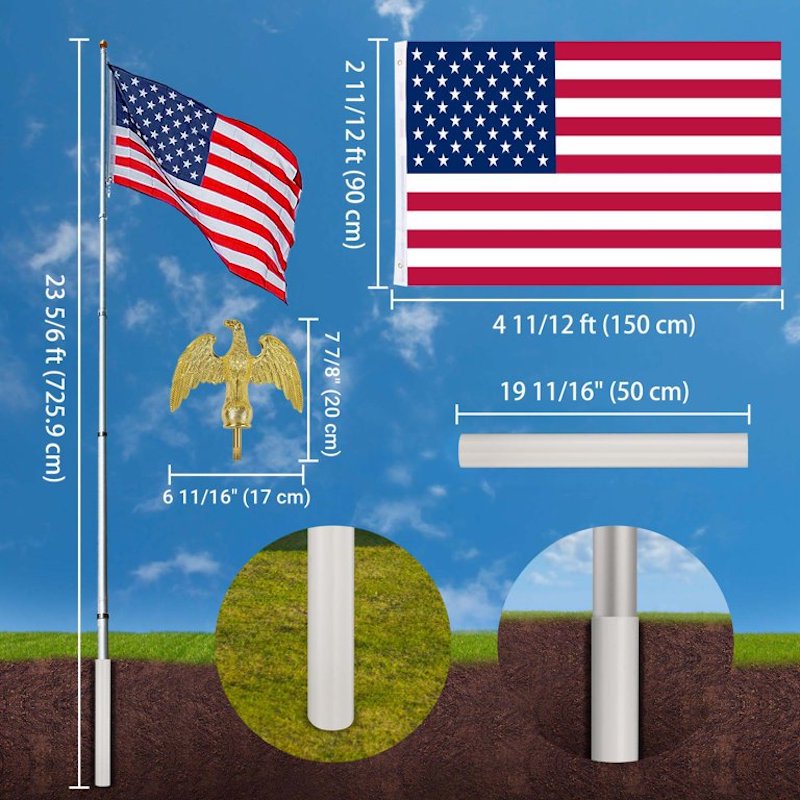 Built to last, the Yescom 25' Flagpole is a durable aluminum flagpole that stands up to the elements, making it a solid choice for those who love life on the road.
But what sets the Yescom 25' Flagpole apart? It's more than just a flagpole; it's a complete American Aluminum Telescopic Flagpole Set.
Standing at attention at 25 feet tall, this impressive black pole makes a statement. The 15 Gauge aluminum tube is heavy-duty, durable, flexible, and stable for outdoor use.
One of the standout features of the Yescom flagpole is its freely rotating bracket design that ensures blustery days won't leave your flag wrapped around the pole. The Yescom flagpole is also designed with user-friendly operation in mind.
You can effortlessly adjust the height of the flagpole and quickly raise and lower your flag by simply pulling the halyard rope.
6. Valley Forge 16' RV flagpoles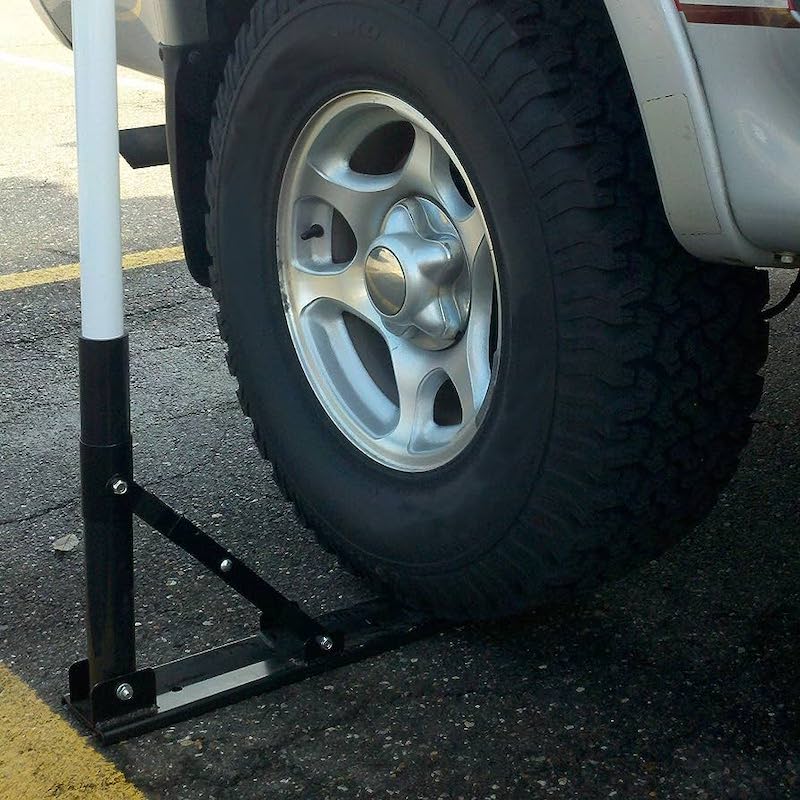 As an RVer, expressing patriotism on the open road can be a unique experience. The Valley Forge 16' Telescoping Pole is the perfect accessory.
Produced by a family-run business with over four generations of expertise, this high-quality flagpole offers a blend of durability, versatility, and convenience, making it a must-have for any RV trip.
It's a complete set with a ball top, portable wheel mount bracket, ground sleeve, swivel flag hooks, and a nylon carrying case.
Despite its towering 16' height when assembled, it's designed to accommodate standard 3' x 5' grommeted flags, making it easy to find a fit.
Not just for patriotic displays, it can also serve for tailgating, camping, advertising, parties, picnics, and even at home on decks or docks.
The portable wheel mount bracket allows for quick and secure mounting to your RV. ensuring stability even on windy days, while the ground sleeve provides additional support when parked.
7. Pyramid LED Whips Flag Pole
The Pyramid LED Whips Flag Pole is an ideal choice for those seeking both functionality and style in their setup.
One of its most distinctive features is the unique camp locator. Available as an LED-lighted version or an Infinity Bluetooth model that serves as a beacon for your RV. This flagpole will set your RV apart in the busy campgrounds, even from a distance.
You will appreciate this feature if you've ever had trouble locating your RV after an exhausting day of hiking or exploring.
Lightweight yet sturdy, they built the fiberglass construction to withstand the elements, while the telescopic design allows for easy transportation and setup. Choosing a ladder or ground mount offers flexibility in how and where you display your flag.
It also includes four rings for flags, so you can easily swap out flags as you wish, letting you express your patriotism or show support for your favorite sports team.
The kit also comes with a carry bag for convenient storage and transportation.
8. In The Breeze 19' Heavy Duty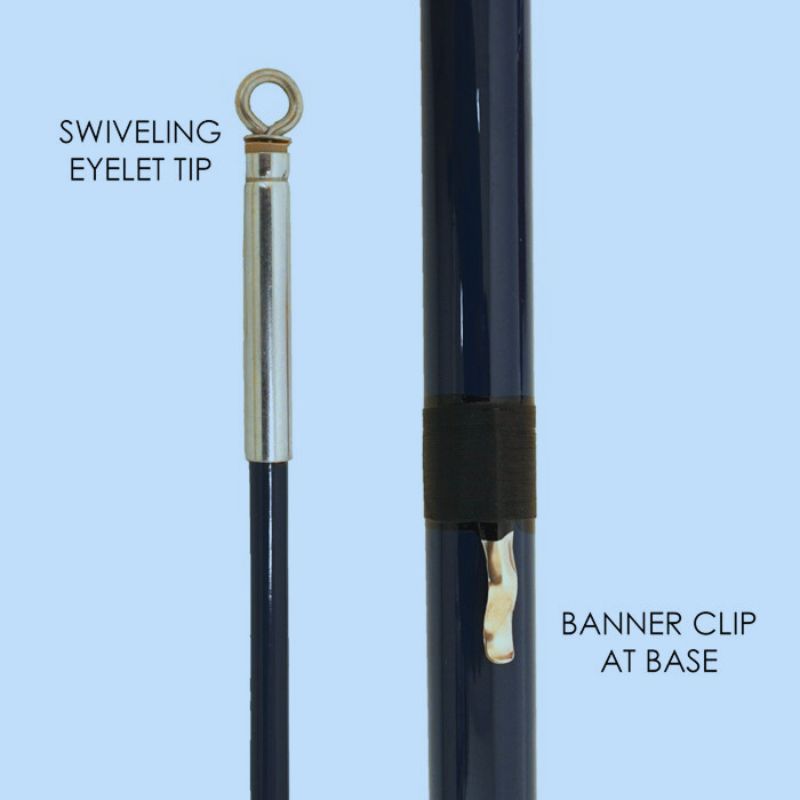 The In The Breeze 19' Heavy Duty Telescoping Pole is a stellar choice for RVers, designed with features that cater specifically to the needs of those living the mobile lifestyle.
The flagpole has a swiveling eyelet tip and a banner clip at the base. This allows for smooth and secure attachment of your flags or other outdoor decor.
No matter the speed of the wind, your banner will rotate freely on the swiveling eyelet, reducing the chances of tangling and ensuring optimal display.
The pole collapses to 45 inches, making it practical for RVers with limited space. The easy twist-to-tighten assembly means no fumbling with complicated instructions or tools, saving time and effort.
When ready to hit the road, collapse the pole and store it in the reusable fabric bag, perfect for transport and storage.
9. Martin's Flag Co. PVC Flag Poles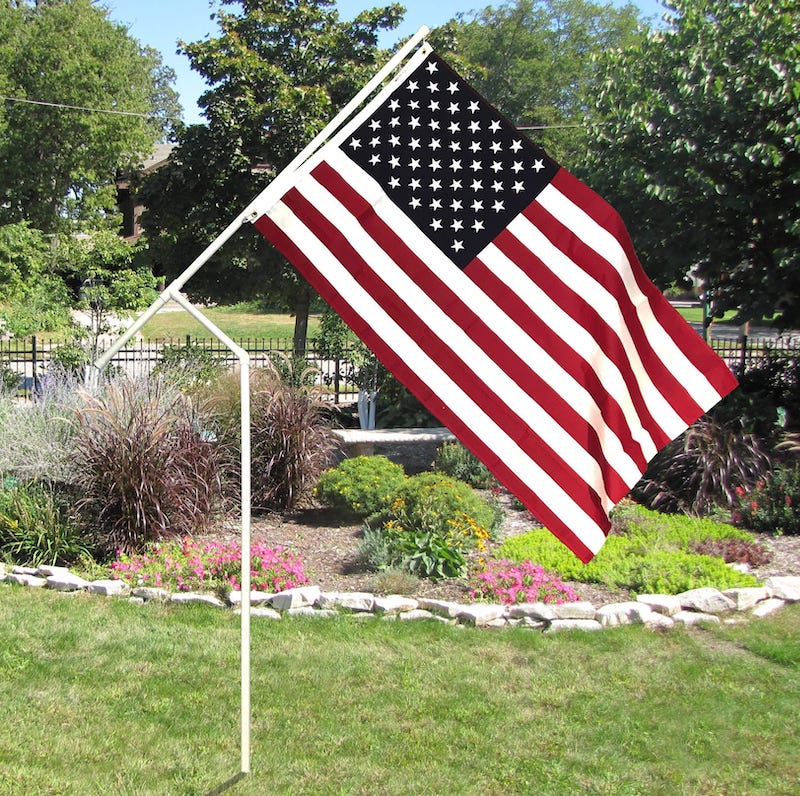 For those who relish the RV lifestyle on a budget, the Martin's Flag Co. PVC Flag Pole is a top choice for a lightweight, effortlessly installable, and affordable flagpole.
Its PVC body adds appeal, promising durability and resilience against the weather.
Included with your purchase is a 3'x5' flag, proudly made in the USA! Ready to fly high, and add a touch of patriotism to your RV setup.
What adds to its charm is its low cost. The Martin's Flag Co. is a perfect fit for RVers wishing to showcase their flag without splurging on a flagpole.
10. Camco Hitch Mount Flagpole Holder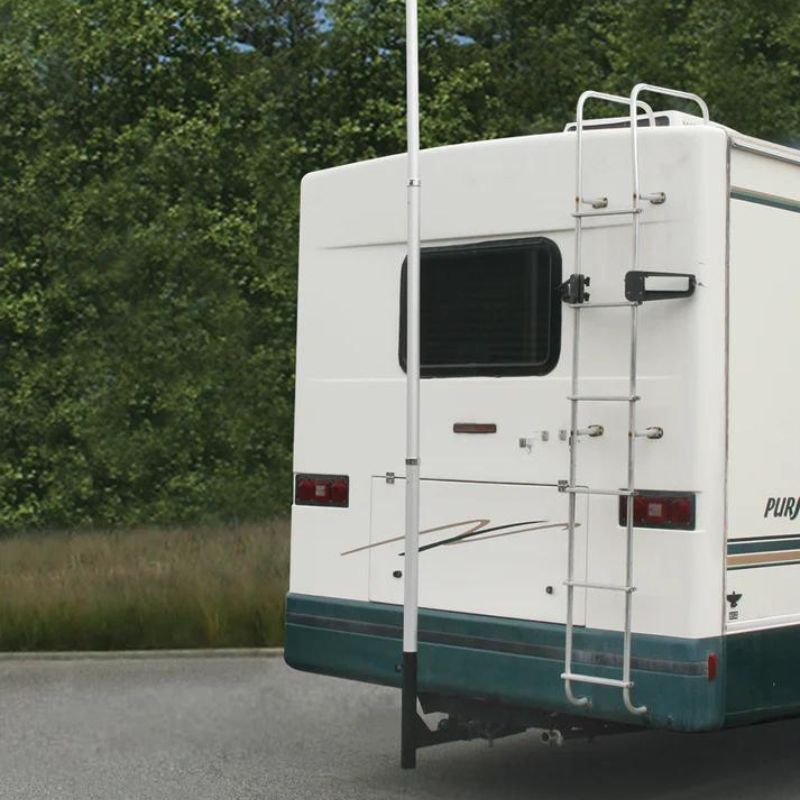 The Camco Hitch Mount Flagpole Holder is an excellent accessory for RVers who want to fly their favorite flag while on the road.
You can stick this holder in any standard 2-inch hitch receiver, and it'll hold a flagpole up to 2 inches in diameter. It also includes a thumbscrew to hold the pole securely in place.
The benefit of this holder is its powder-coated finish, which provides durability and protection against the elements. You can easily mount it on most RVs because it is compatible with standard hitch receivers.
It's important to note that the Camco Hitch Mount Flagpole Holder does not come with an actual flagpole, so you must purchase one separately.
If you have a bumper on the back of your rig and don't want to use your main hitch to mount a flag pole, you can always buy a secondary hitch just for your flag pole, like the Eaz Lift RV Bumper Hitch we show below.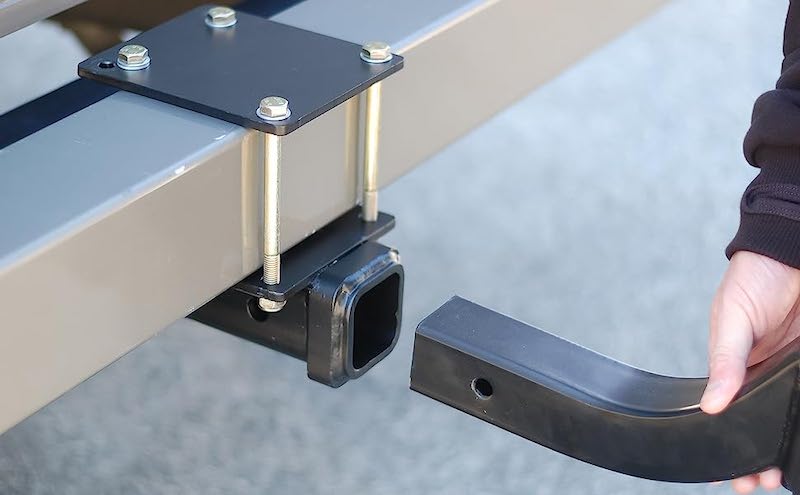 11. The Traveler RV Flag Pole Kit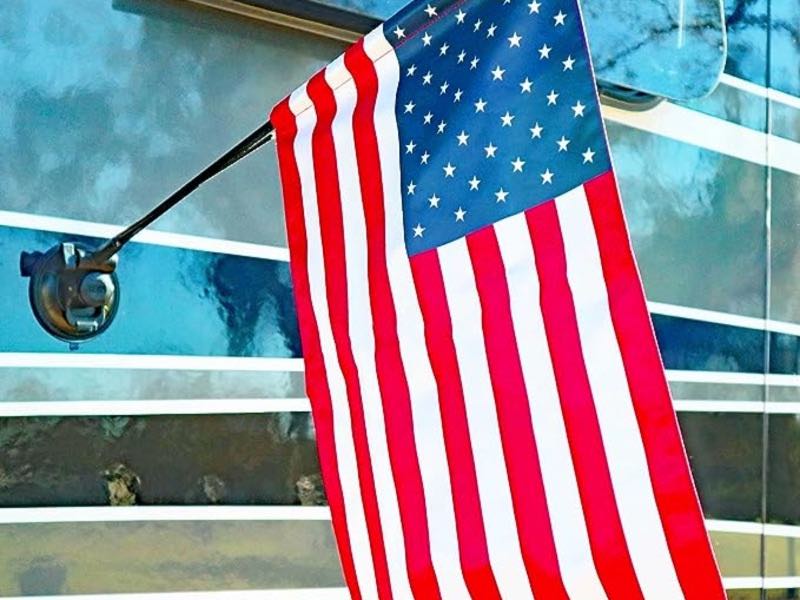 For RV enthusiasts, The Traveler RV Flag Pole Kit is the must-have accessory that adds more fun to every vacation.
With an adjustable angle suction cup mount, you can set up your flagpole on any smooth surface and show off your team's colors, patriotism, or unique style.
The kit includes a 24-inch flagpole and a 12″x18″ inch flag, which you easily swap out with any other flags you choose.
The Traveler RV Flag Pole Kit also excels in portability. The pole collapses to a compact size, making it easy to store when it's time to hit the road.
12. FlagPole Buddy Starlink/Flag Conversion
The FlagPole Buddy Starlink/Flag Conversion is a kit that allows you to convert your FlagPole Buddy Starlink Pole into a 16 ft flagpole.
The conversion kit is useful for RVers who own the Starlink Kit. It enables the pole to display a flag when the FPB Mounts are not being used to hold a Starlink dish.
The kit has everything you need to make the conversion. It includes a 16 ft aluminum flagpole, two 0.25″ wall thickness mounts, and all the hardware necessary for installation.
It's an easy-to-install process that requires no special tools or knowledge. Just follow the simple instructions in the kit, and you'll have your new flagpole up quickly.
You can fly multiple flags simultaneously with the FlagPole Buddy Starlink/Flag Conversion kit and additional FPB Mounts.
Do RVs Come With Flagpoles?
While RVs offer many amenities and comforts, they rarely have flagpoles as a standard addition. Manufacturers consider flagpoles an aftermarket accessory, meaning they're not included in the base price of the RV.
Some RVs might come with a pre-installed flagpole holder, a bracket, or a mount to hold a flagpole. If your RV has one, you'll only need to purchase the flagpole and of course your flag of choice!
Where Do You Mount RV Flagpoles?
Understanding where to mount an RV flagpole is vital. You want maximum visibility, stability, and want to prevent any potential damage to your RV.
Rear ladder: This is one of the most common places to mount an RV flagpole. It's easy to install, doesn't interfere with the operation of your RV, and provides excellent visibility.
Hitch mount: A hitch mount allows you to use the trailer hitch on your RV. This option is very stable and requires no drilling.
Under tires: Some RV owners prefer to use a mount placed under one of the vehicle's tires to secure the base and mount their flagpoles for stability.
Suction cup/bolted holder: If you prefer not to attach anything to your roof or hitch, consider a suction cup or bolted holder on the side of your RV.
Attach to grab handles: This is another easy and non-invasive method. You can attach the flagpole to the existing grab handles beside the RV doors.
Are You Allowed To Have Flags At Campgrounds?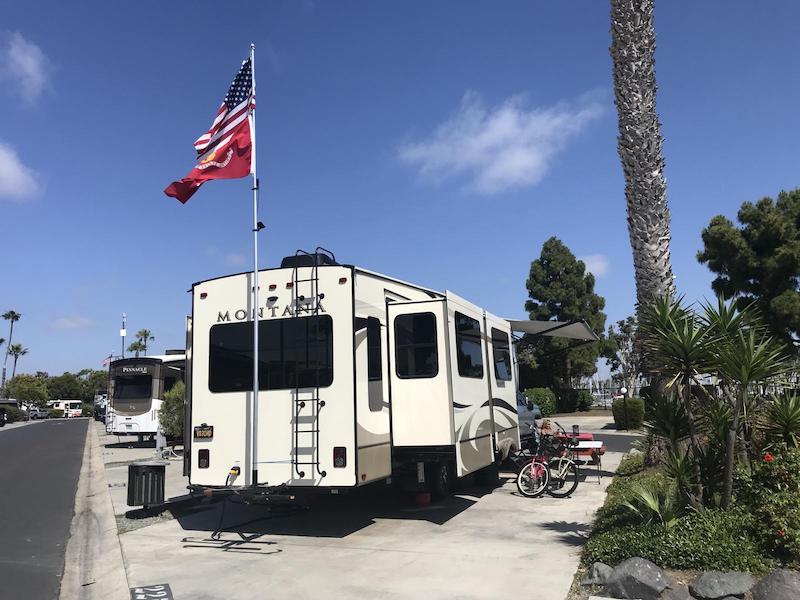 Yes, you are generally allowed to have flags at campgrounds as they can add a festive ambiance. However, they should not be offensive and must respect flag etiquette.
Some campgrounds may restrict certain flags or size limits. It's always a good idea to check with the campground if you need clarification.
Can You Drive With Your Flagpole Up?
While some sources advise against driving with a flagpole attached to your RV, others suggest you can do it with certain precautions.
The height of the flagpole must be within limits, and it should not obstruct your view while driving. Be aware that local laws and regulations may vary, so check with the state you're traveling through.
Can You Make Your Own Flagpole?
Yes, of course, you can make a flagpole for your RV. All you need is a sturdy pipe, a secure mount, and a flag clip to keep your flag waving in the breeze.
Just be sure to take the time to ensure you firmly attach the flagpole so that it doesn't damage your RV.
A large flag on a windy day catches a lot of wind that can put some real strain on the mount. Ladder mounted and under-tire applications are usually not an issue. However, anything mounted to the RV itself needs to be strong!
Final Thoughts About RV Flagpoles
RV flagpoles are a fantastic way to express your personality. They allow you to show off your affiliations while on the road and add fun and festivity to your travels.
Displaying a flag can also spark a conversation with fellow travelers, fostering community wherever you park.
With the right flagpole, you can ensure your flag flies high and proud without worrying about it getting damaged by the elements. The 12 best options we've discussed offer a range of features to suit different needs. From durability and height to ease of installation.
Choosing the right RV flagpole is not just about functionality but also about enhancing the overall aesthetic of your RV.
It's a minor detail that can significantly elevate your camping experience, making each trip memorable and unique.
Safe travels and happy flag flying!
---
Related Reading:
---