Zion, Joshua Tree and More National Parks Where You Can Rent An Airstream
Zion, Joshua Tree and More National Parks Where You Can Rent An Airstream
Next week, Zion National Park will play host to the newest location of AutoCamp, a glamping hotel where you can stay in your own kitted-out Airstream.
The brand-new AutoCamp Zion opens May 1 in Virgin, Utah, just outside the boundaries of the national park. It'll feature luxury Airstreams with spa-like bathrooms, spacious accommodations with private outdoor sitting areas, and canvas "basecamp"-style tents with room for up to six guests. If you book now, you can get an early bird discount in advance of the opening. Once you get there, you'll have access to a fleet of mountain bikes you can use to explore the property and really take in the views.
Can't quite make it to Zion but dying to see what it's like inside an Airstream? Here are a handful of other Airstream-focused hotels near the best national parks.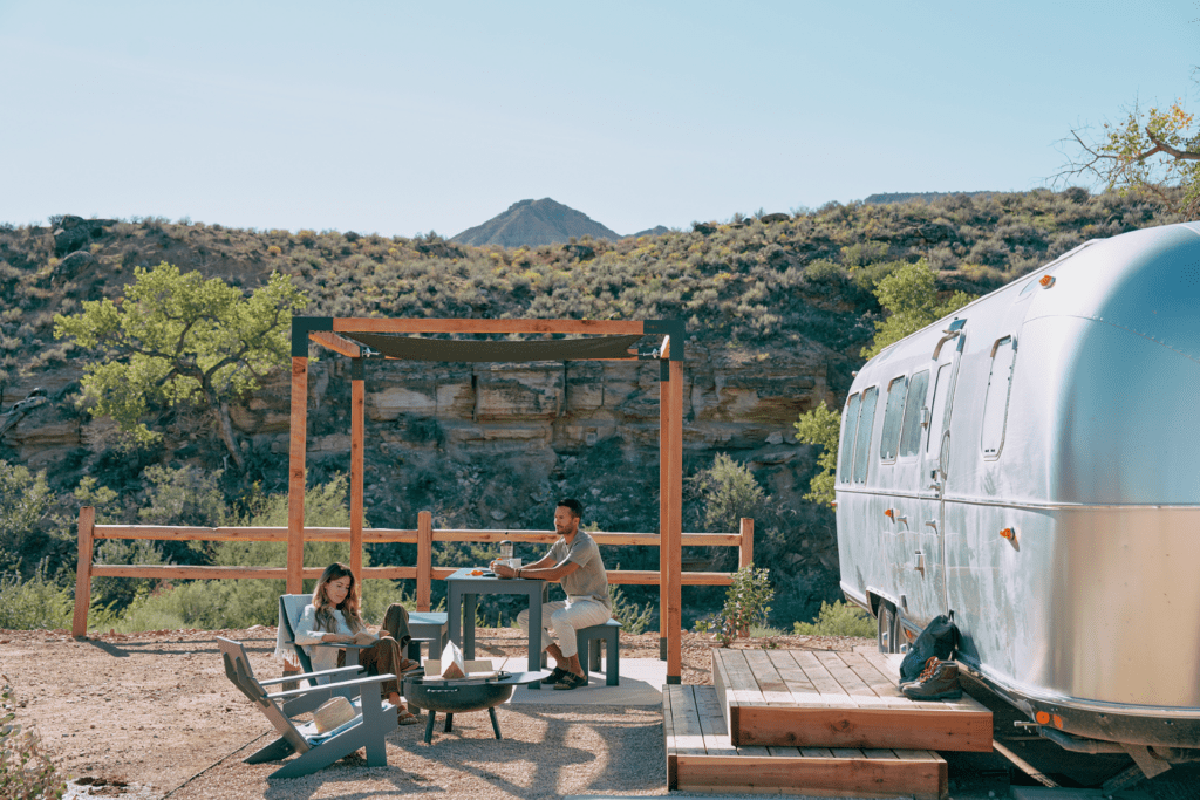 Yosemite National Park
AutoCamp's Yosemite location takes advantage of more than just what the park has to offer. Aside from guided hiking trips within the park, you can also easily get to wine- and cider-tasting experiences and ski lifts and snowshoe trails at Badger Pass. Back at basecamp, relax in the clubhouse or lounge by the pool.
Joshua Tree National Park
Outside Joshua Tree National Park, you'll find not one but two Airstream-themed hotels: Kate's Lazy Desert and AutoCamp. Kate's features brightly-colored, custom-decorated trailers. AutoCamp's Joshua Tree location has a pool, yoga and wellness experiences, and guided hikes you can book for an extra fee.
Great Sand Dunes National Park
About 90 minutes outside of the tallest sand dunes in North America, stay in a retro Airstream at the Amigo Motor Lodge in Salida. Salida is the epitome of mountain towns. It's the gateway to all-season adventure, so much so that you can ski, hike, and fly fish all in the same day.
Coming Soon: Sequoia and Kings Canyon National Park
AutoCamp has still more on the horizon: They're planning to open a new location near Sequoia and Kings Canyon National Park during the 2023/2024 winter season. Stay tuned for more on what the new hot spot will look like.