EDEN PRAIRIE, Minn. – Winnebago has released an update on the test program for its all-electric eRV2 Class B motorhome.
"On Jan. 23, 2023, the first of our eRV2 prototype test pilots hit the road to embark on months of real-world testing, to provide insights that will inform the final design," the release stated. "With the first three weeks of testing completed, Winnebago has already begun to gain valuable insight that we are eager to share with you today, along with more information on the eRV2's electrification."
The eRV2 is built around the Ford E-Transit chassis and proprietary IonBlade house battery system. This all-electric platform has the capability to provide up to seven days of boondocking.*
The E-Transit delivers silent, zero-emission travel with powerful torque and smooth handling. With a published range of 108 miles (per Ford) this trusted brand proved to be a well-suited option for our current pilot program, but our team continues their efforts to research range extension opportunities.
The IonBlade house battery system, developed in partnership with Lithionics Battery, is one of the most powerful, compact and safest battery solutions developed, according to the release.
Most powerful: This 48V system powers all coach appliances and provides up to 15,000 watt-hours of useable power.
Fast, flexible charging: charging (in as little as 2 hours) is simple and convenient thanks to a three-in-one plug-in that works at home, campgrounds or dedicated charging stations. Further extending the house battery's life is the best-in-class 900W solar.
Most compact: Specifically designed to store beneath the floor, this unique flat design, maximizes usable interior space and provides a lower center of gravity for improved driving dynamics.
Superior safety: With UL certification, the eRV2's house system is one of the safest solutions on the market.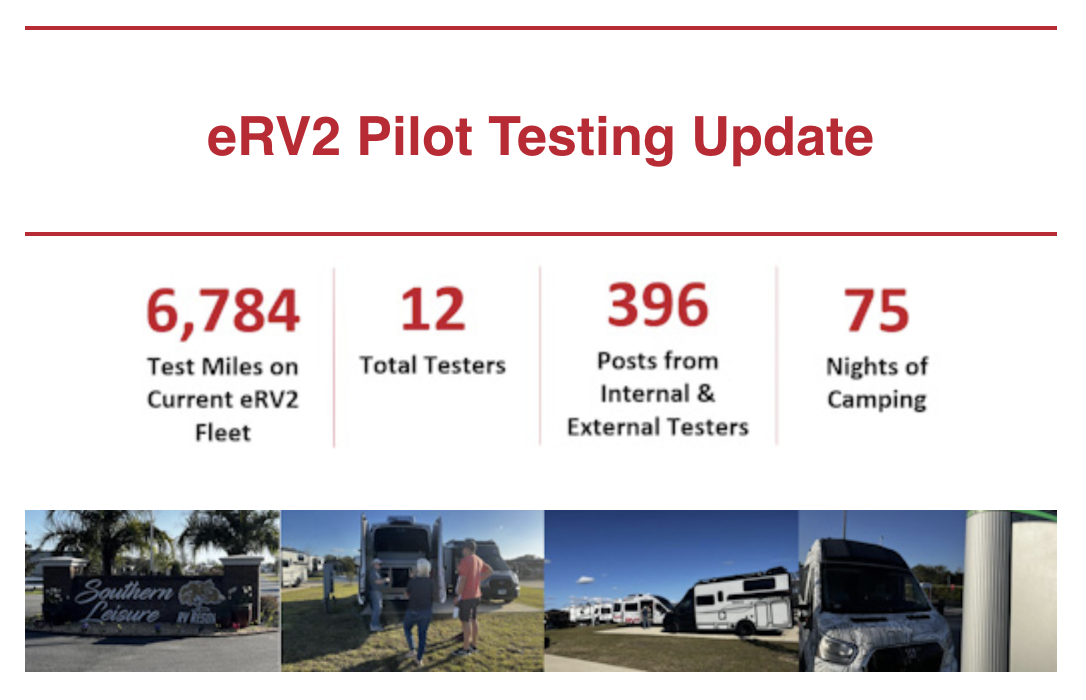 Winnebago has partnered with Sun Outdoors to host its eRV2 Prototype testing program. Click here to visit the Sun Outdoors website.
* ©2023 Winnebago Industries, Inc. The eRV2 is a prototype vehicle and is not available for sale. Up to seven days of boondocking capability based on a full charge. Actual boondocking capability varies with conditions such as external environment, vehicle use, vehicle maintenance, and battery age and health. All product names, trademarks and registered trademarks are the property of their respective owners. Unless noted trademarks are the property of Winnebago Industries, Inc. Go to Winnebago.com for the latest information.
Source: https://rvbusiness.com/winnebago-hits-the-road-for-real-world-test-of-erv2-proto/