What to Wear Kayaking

Cold, soaked clothing can ruin an otherwise great day on the water, but preparing for the conditions you'll encounter with the right apparel can keep you safe and happy as you paddle.
You might get a rare spring day when temperatures top 80 degrees, but the water will still be relatively cool in many regions — and falling in could leave you freezing. So it's important to dress for the water temperature, not just the weather.
The ideal kayaking getup will keep you comfortable on the water, protect you from the elements, and allow for plenty of mobility as you paddle.
Whether you're navigating through rapids, fishing from your watercraft, or floating through city limits, here's what to wear when kayaking in a variety of conditions.
What to wear kayaking in the summer and warm weather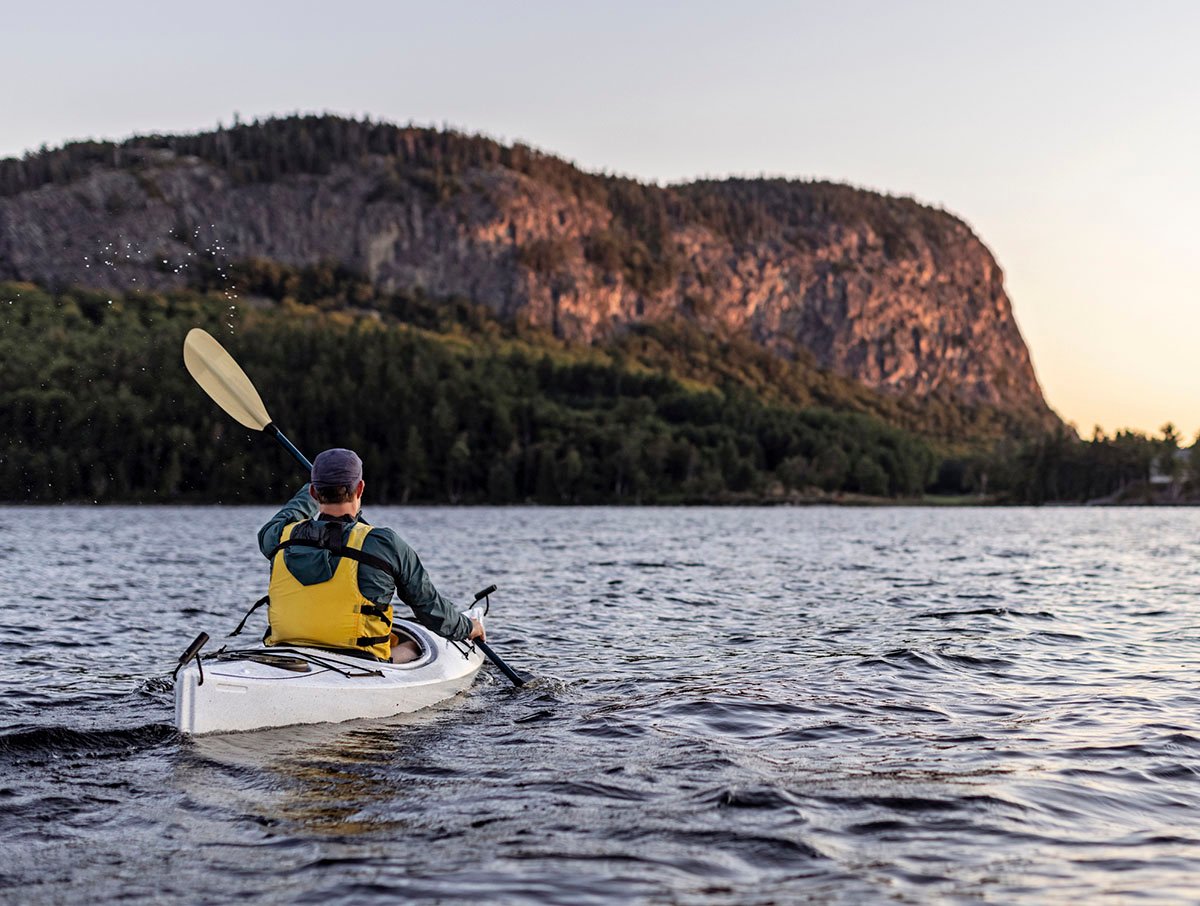 When paddling under the summer sun, breathable, moisture-wicking, and quick-drying fabrics are best for keeping you comfortably dry and stink-free. Here's what to wear from head to toe in hot conditions.
Hat
A baseball cap can protect your head, but a wide-brimmed sun hat will also shield your ears, neck, and shoulders from the sun's harsh rays. Choose one with a strap to prevent any strong gusts from blowing it away.
Long-Sleeve Shirt
Although you might be tempted to choose a tank top on blazing hot days, a lightweight long-sleeve shirt such as a rash guard with built-in UPF protection can actually keep you cool, dry, and sunburn-free.
Shorts or Leggings
A pair of quick-drying board shorts, lightweight pants, or leggings will provide enough coverage to prevent chafing without overheating your legs or limiting movement.
Shoes
Choose a pair of lightweight water shoes or hiking sandals with a heel strap to keep the soles of your feet protected. Steer clear of sneakers (which can get waterlogged and heavy) and flip-flops (which can slip off too easily).
What to wear kayaking in the winter and cold weather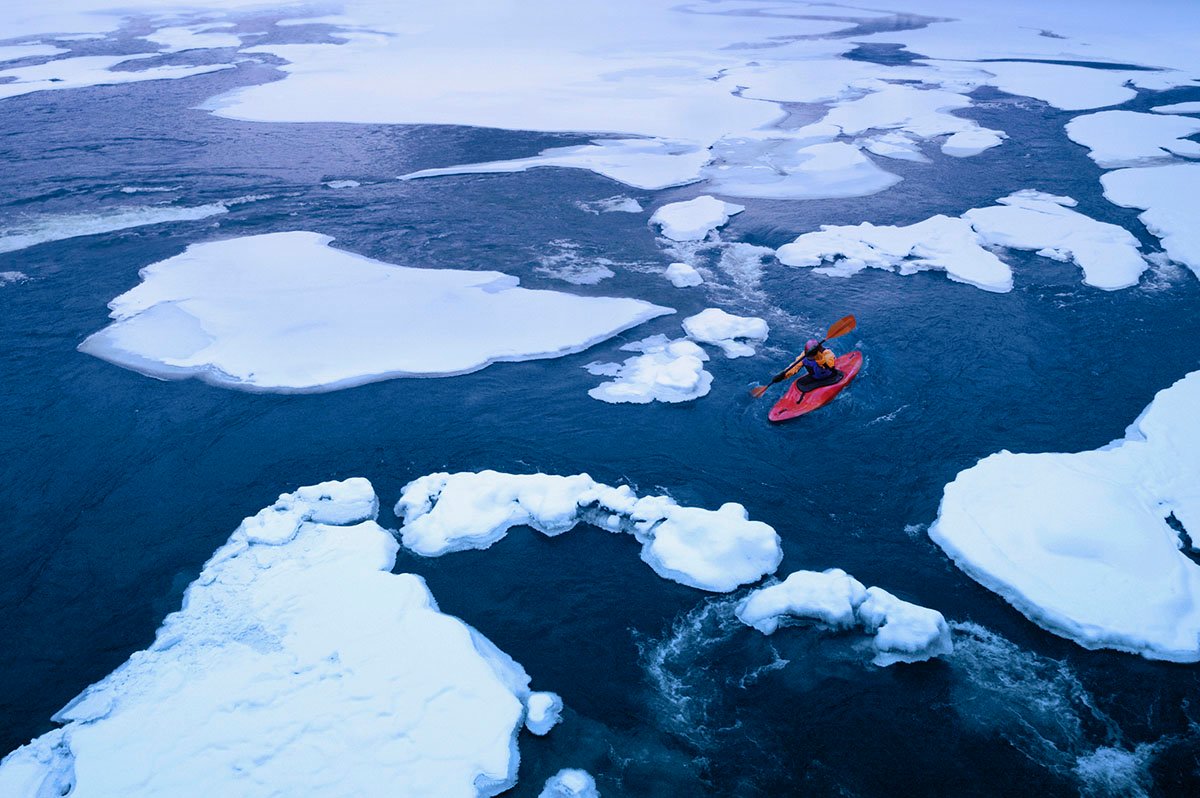 While you might not think of unseasonably warm spring days or balmy fall afternoons as cold conditions, much of the calendar year calls for layering up when kayaking. Anytime water temperature dips below 70 degrees, the risk of cold shock and hypothermia increases and you should adjust your attire accordingly.
Hat or Balaclava
A beanie can keep your head and ears toasty on chilly days, but consider adding a balaclava for more coverage when conditions are bitter cold.
Base Layers
Fitted, moisture-wicking base layers next to skin can help regulate your body temperature and keep you comfortable in changing conditions. Start with synthetic materials or merino wool on both your upper and lower body, then add a mid layer (such as a fleece jacket) before putting on outerwear.
Jacket
A rain jacket or waterproof coat can keep your body dry and warm amid showers, snowfall, and splashes. Look for one with a waterproof hood to keep your head protected from precipitation too.
Pants
A pair of splash pants or other waterproof bottoms over a base layer will keep your legs and seat warm and dry in fierce weather.
Gloves
You can't keep cold hands in pockets when paddling, so remembering a pair of neoprene or waterproof gloves is key to preventing frozen fingers.
Shoes
Upgrade to neoprene boots for cold-weather kayaking to keep feet warm and dry. For an added layer of warmth, you can also add some wool socks underneath.
Wetsuit or Drysuit
Any time the air temperature is below 60 degrees or air and water temperature combine for less than 120 degrees, you should wear either a wetsuit or drysuit. A neoprene wet suit will still allow your body to get wet, but it provides a layer of insulation and slows down the loss of body heat. But when temperatures are incredibly cold, you should opt for a dry suit. Dry suits are constructed with waterproof materials, water-tight zippers, and secure cuffs at every opening. They're generally not insulated, so you should still wear insulative layers underneath.
General guidelines for kayaking apparel
No matter the scenario or conditions keep these general guidelines in mind when determining what to wear kayaking:
Check the local weather forecast before you hit the water, but always be prepared for the unexpected. A cold front could bring severe weather, including plummeting temperatures, high winds, and significant rainfall. So even if you anticipate a calm day with moderate conditions, pack for the worst.
Dress in layers. You can always shed a layer or two, but you can't make up for not packing a jacket. Remember that temperatures often feel much cooler on the water.
Opt for quick-drying clothing. Avoid fabrics that get heavy when wet and dry slowly, such as cotton and denim. Instead, choose moisture-wicking fabrics like neoprene, polyester, nylon, and merino wool.
Bring a change of clothes in a dry bag in case you capsize or get drenched. Even in warm weather, sitting around soaked is no fun.
Invest in a pair of polarized sunglasses. Polarized sunglasses can protect your eyes from intense glare but also provide you with a better view of fish swimming below the surface.
Always take a life jacket. Even the most experienced kayakers can end up in the water and risk drowning. Be sure to check local regulations before hitting the water, as some regions require kayakers to wear life jackets seasonally or year-round.
Avoid kayaking outside of daylight hours, but if you do end up on the water after dark, be sure your clothing has reflective elements or add reflective tape to your gear.
If you're kayaking rapids or other extreme waters, wear a helmet to minimize risk of serious head injury.
FAQ
What do you wear when you go kayaking?
The best apparel for kayaking will depend on when you're going as well as the water and weather conditions where you're paddling. In general, you should dress in layers and choose quick-drying fabrics next to your skin.
Do you wear shoes while kayaking?
Shoes are important for protecting your feet and providing traction on wet, slippery surfaces. Depending on the conditions, you can wear water shoes, hiking sandals with heel straps, or neoprene boots.
Should I wear pants or shorts for kayaking?
When water and air temperatures are both warm, you can choose from quick-drying shorts, leggings, or pants. In cooler conditions, choose splash pants with an insulative base layer underneath. Always avoid heavy fabrics such as denim.
Do you get wet when kayaking?
It's rare to spend a day on the water without at least getting splashed a few times, especially if you're whitewater kayaking or kayak fishing rather than leisurely paddling. Kayaking always comes with the possibility of getting wet or even capsizing, so dress as if you're going to end up in the water.
Choosing the right clothing for the type of kayaking you'll be doing, your location, and the seasonal conditions can keep you comfortable through all-day excursions and safe even in dicey waters. Stick with smart layering, quick-drying fabrics next to skin, and protective footwear — and always be prepared for extreme weather, no matter the forecast. Staying dry and warm will ensure you enjoy your time on the water and make it back home healthy.
Ready to hang your watercraft up for the off-season? Follow these tips for storing a kayak through the winter.