What To Do If Your RV Gets Stuck In The Mud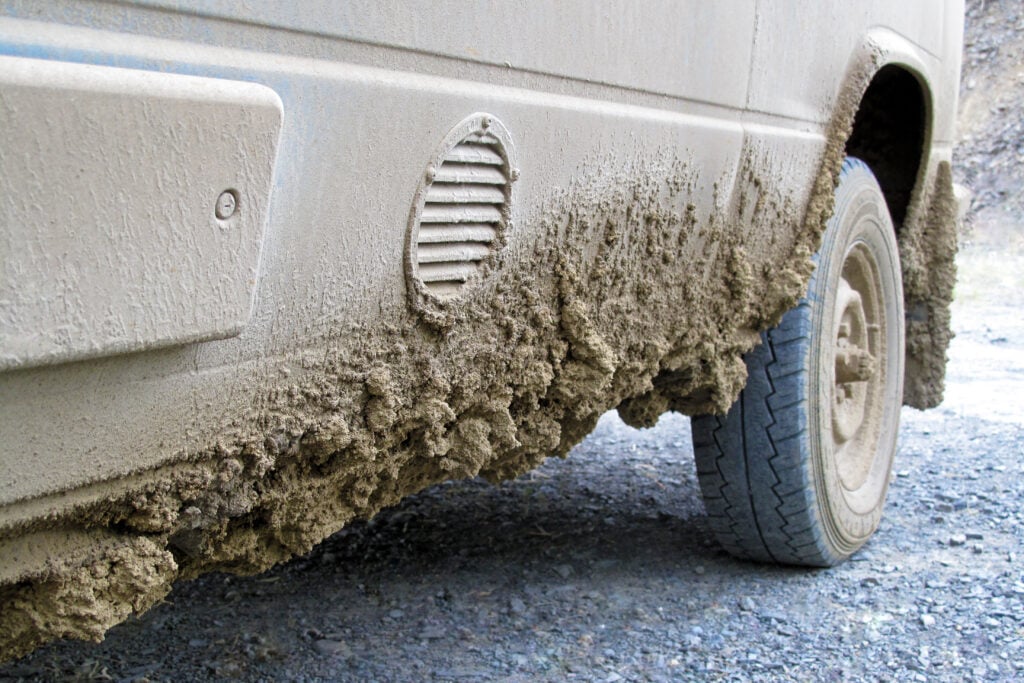 How To Get Your RV Unstuck From Mud: A Complete Guide
Getting any vehicle unstuck from a muddy spot can be tricky. However, extricating a heavy motorhome out of the mud requires an extra measure of preparedness and know-how. And don't think it won't happen to you. RVs get stuck in the mud more often than you think.
All it takes is a grassy or soft RV site, a good overnight rain, and you can wake up to find your RV is stuck in the mud. However, you might have made a driving decision that turned out to be a bad one too. Knowing what to do ahead of time will give you a game plan if it happens to you. In this article, we won't muck around. Instead, we'll dive right into what you should do if your RV gets stuck in the mud.
Maybe you woke up to find your wheels deep in mud. Perhaps you misjudged your RV's ability to drive on soft ground and found yourself up to your hubcaps in slimy mud. However you got there, the following tips will help you get your RV unstuck.
Don't spin your wheels!
Spinning your wheels while trying to rock your way out of the mud can damage your tires and destroy parts of your vehicle. This includes your transmission after it gets overheated when you spin your wheels while shifting back and forth. Always bring the wheels to a complete stop before changing gears.
How to rock your RV out of the mud
Start by turning your steering wheel left and right. This will clear the area around your front wheels.
Now shift your transmission into reverse and and lightly depress the accelerator panel, just enough to move the wheels backward without spinning them.
Release the accelerator pedal and shift into a forward gear. Lightly depress the accelerator pedal, so you go forward a little without spinning the wheels.
Rocking back and forth this way might be enough to get your RV out of the mud, but it doesn't always work.
Rocking back and forth doesn't work after a few tries, you can try another one of the methods in this article.
Deflate your tires a little
Deflating the affected tires a little can give you the added traction you need to get out of the mud. However, you should only do this if you have a good portable tire inflator or air compressor to refill your tires. This is because driving a heavy RV with underinflated tires could destabilize your RV besides wrecking your tires.
Use traction devices
There are basically two different types of products for adding traction under your tires to get your RV out of the mud.
Traction mats or boards are used on the ground adjacent to your tires. They can sometimes be helpful for giving your tires enough traction to roll your RV out of the mud. However, when you're done using them you'll very likely have to pack up some very muddy mats. Look for tramats that can be easily folded up to be stored in a trash bag or bucket.
But traction mats aren't the only option for getting your wheels unstuck. There are also traction devices that can be strapped directly onto your tires when you need a lot of extra grip to get your RV out of the mud. They're small, lightweight, and easy to use when you need them.
Let's just say you have neither of these devices. In that case, you can always try using more traditional traction devices that you may have on hand. You may have rubber floor mats, planks, or Link Blocks with you. Whatever you use, you'll need to get it underneath your tire a little.
So you might have to use a shovel to dig a bit of the slippery mud out of the way. In theory, you should be able to drive onto the item and your RV will be free. However, the reality is that using items you happen to have on hand doesn't often work. Nevertheless, it will give you something to do while you wait for the tow truck to arrive.
Get a tow truck
To many RVers, getting your RV towed out of the mud is like admitting defeat (sometimes in a very expensive way). While it's true that getting towed can be expensive, when all else fails, it might be your only option.
If you've tried other methods to free your RV from the mud and nothing has worked, you'll need to do two things. First, consult your RV owner's manual and find out the right towing procedure for your RV. Then call a reputable towing company that has experience with towing RVs that are the same size as your rig.
Get tips from other RVers
Forums such as iRV2.com and blog sites like RV LIFE, Do It Yourself RV, and Camper Report provide all the information you need to enjoy your RV. You'll also find brand-specific information on additional forums like Air Forums, Forest River Forums, and Jayco Owners Forum.
Related articles: 
The post What To Do If Your RV Gets Stuck In The Mud appeared first on RV LIFE.