Voyager RV Centre Makes Big Donation to Local Charities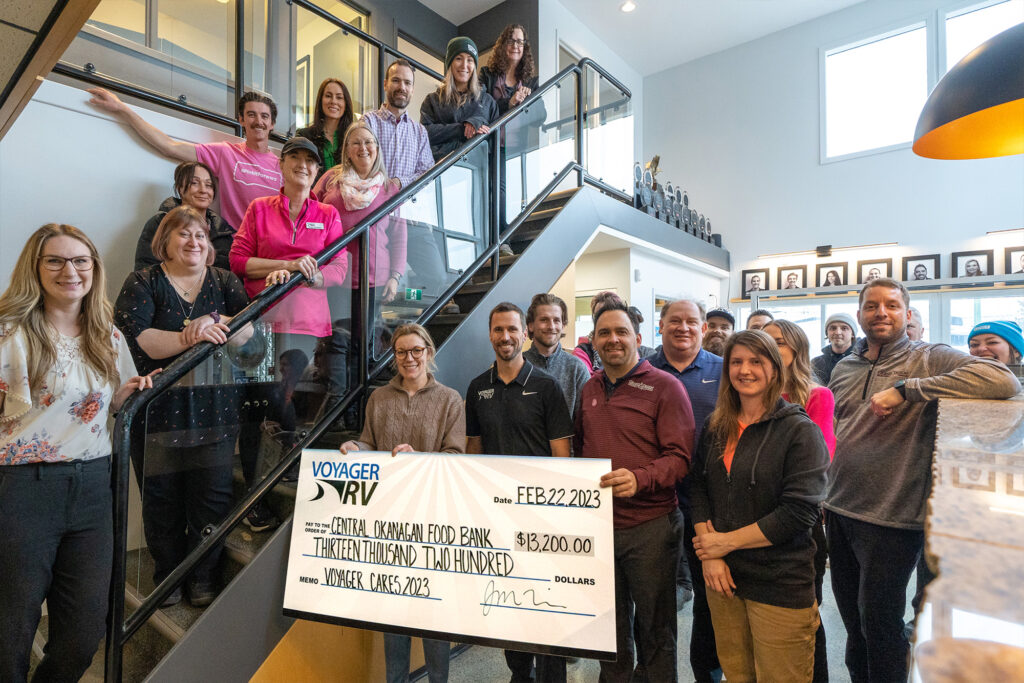 LAKE COUNTRY, B.C. – Voyager RV Centre's "Voyager Cares" initiative for 2023 is now in full swing, with over $30,000 in donations made so far for local charities, according to a release from the British Columbia-based dealership.
The campaign kicked-off late 2022 with the goal of raising well over $100,000 for local charities by the end of this year. The first two donation amounts for the Central Okanagan Food Bank ($13,200) and the Canadian Mental Health Association ($18,750) exceeded expectations, and puts the dealership on pace to exceed its donation goal.
"Despite some headwinds in our industry, we thought it was important to bring back Voyager Cares for this year." explains Voyager RV Vice President Jason Friesen, "For me it's simple – there has to be more to this business than sales and servicing of RVs. While that's important and will always be our focus, helping our community has to be just as important."
Every Voyager RV employee got to vote for their favorite charities, ones that hit close to home for them. The top eight vote-getters were then selected as the recipients for 2023, with each charity being assigned a certain month (or months) where they will benefit. Then, for every RV sold during that time period, each Voyager RV department commits to making a donation to that charity.
"It's a simple concept, but it works really great because the staff here are a huge part of it all," continued Friesen. "They picked the charities, and their hard work finding, selling, servicing and cleaning the RVs each month is what leads to these big donation amounts. Plus, we bring reps from each charity here for the cheque presentations, so that our staff can learn about what the donations mean to the charity and our community. It's a pretty cool experience."
During her presentation on Feb. 22, RayAnn Garza of the Central Okanagan Food Bank said they provide food assistance to over 4,000 individuals in the Okanagan on a monthly basis, and that the donation they received from Voyager was very timely.
"I just want to thank every single one of you at Voyager who made this possible!" Garza stated. "Right now we are serving double the amount of people than pre-Covid, an average of over 6,000 people in the community … so this (donation) is beyond our wildest dreams. With our buying power purchasing food on a wholesale level, this is like a $40,000 donation from Voyager RV in terms of what we can purchase for the community."
The cheque presentation to the Canadian Mental Health Association (CMHA) was made on April 13. Founded in 1918, the CMHA is the most established and extensive community mental health organization in Canada. Sarah Wallace, the Events & Development Specialist for CHMA Kelowna talked about what this $18,750 donation means to their organization, saying, "This is extra special because you all chose us."
"This helps the over 300 people that we house, as well as our outreach services team that help support the unhoused population in the community, the discovery college programs, youth population, and just the thousands and thousands of families that we support here in the Okanagan. Thank you!" she said.
Locally owned and operated, Voyager RV has always been a big supporter of the community, but Friesen said that it's important to not get complacent. "I know that I am so lucky to get to do what I do", he explains, "and our staff of almost 70 all feel fortunate to have stable, full-time jobs here as well. So we have to make sure to do our part and give back."
The next beneficiary of Voyager Cares, based on RVs sold during the month of April, is the Kelowna Hospice House.
For more information about the Voyager Cares campaign contact Voyager RV Vice President Jason Friesen at 250-766-4607 or [email protected] or General Manager Ward Fraser at [email protected]
Source: https://rvbusiness.com/voyager-rv-centre-makes-big-donation-to-local-charities/