Tyrone Larson, Wisconsin conservationist, dies – Outdoor News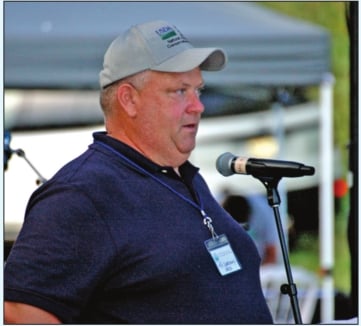 Madison — Tyrone "Ty" Larson, state conservationist of Wisconsin for the Natural Resources Conservation Service (NRCS), passed away at age 50 on Oct. 8.
Larson, a graduate of UW-Platteville, worked as a soil conservationist and district conservationist for NRCS, then assistant conservationist for Wisconsin, Minnesota, and Michigan, prior to becoming Wisconsin's state conservationist in the summer of 2023.
On Sept. 9, Larson attended and spoke at the 90th anniversary of the Coon Creek project in Coon Valley in Vernon County. There he highlighted the importance of locally-led conservation, as reported in the last issue of Wisconsin Outdoor News.
In memory of Larson's devotion to conservation land management, donations can be made to Groundswell Conservancy, a land trust in Dane County.

Source: https://www.outdoornews.com/2023/11/14/tyrone-larson-wisconsin-conservationist-dies/