The Power of Type Two Fun
10,000-foot peaks are not easy to summit by any stretch of the imagination. In high altitudes, with the sun beating down on your neck, climbing two miles in vertical elevation is not a casual, relaxing way to spend summer vacation. However, for some people, casual and relaxing is no way to live; in the words of Nat Geo Explorer Mike Lebecki: "The time is now. Why ration the passion?" 
Adrenaline junkie Anna Nemo, a junior at the U, did not ration any of her passion for the outdoors between the winter and fall semesters. A California native, Nemo attempted to summit eight 10,000-foot peaks, ranging from the beautiful peaks in the Wasatch all the way to the Sierras in California — she was successful in seven of those attempts, halted only by a lightning storm at Mount Agassiz. The summits she completed were:
Mount Baldy, CA  (10,068')

Mount Whitney, CA (14,505')

Mount San Gorgonio, CA  (11,503')

Mount San Jacinto, CA (10,834')

Red Baldy, UT (11,171')

American Fork Twin Peaks East, West UT (11,891', 11,489')

Mount Timpanogos, UT (11,752)
"It is definitely a personality thing, though not everybody likes the type two fun because it is pretty grueling and emotionally challenging. But it grows your character, makes you appreciate life more, and makes you a better human overall," Nemo said. 
Totaling nearly 70 hours of steep, uphill hiking in the hot Utah and California heat, Nemo's "suffer-fest" was a gritty way to spend a summer. Starting hikes in pure darkness before the sun rises and ascending for hours in upwards of 100-degree weather, hiking these peaks is a unique experience that everyone who is able should challenge themselves to. Mount Timpanogos, the Twin Peaks, and Red Baldy are peaks within driving distance of the U and are staples of the outdoor lifestyle boasted by Salt Lake City. A fan favorite is the sunrise at Mount Timpanogos summit: if you start hiking around 1 am, with headlamps on and backpacks filled with trail mix, watching the sunrise at the makeshift hut atop the peak is truly invigorating.
The highest of the peaks — the 14,000-foot beast of Mount Whitney — was a unique challenge for Nemo: "Whitney was absolutely beautiful and physically grueling. We did it in one push and didn't backpack it, which made it even harder. During the hike, I went through every mood from pure bliss to stoke to get me down right now, back to fun again." Endurance activities create mental blocks and challenges for anyone; attempting these hikes with friends makes the battle easier to overcome. 
Climbing these mountains is fun, but there is always danger that comes with being at high altitude. Rock scrambles are common at the top of many summit hikes: these stretches of loose rock are often gorgeous but can require firm footing, ready hands, and great balance. A small slip could be dangerous, so hiking with a friend/group of people is a great way to stay safe on both the ascent and descent. There are typically multiple routes you can take up the mountain, so getting lost is another safety concern that pairs/groups help mitigate. In addition to a friend, sturdy footwear and an abundance of water are musts when attempting to summit a peak.
"Whenever you're on long hikes with friends it's a huge bonding experience. You see each other at your low points and high points and either feed off the energy or try to help each other out of the slump," Nemo said. 
In today's age of Snapchat, Tik Tok, and Instagram, entertainment is literally just a click away: it is so easy to just pull out your phone and lose hours of your day without even realizing it. For Nemo, getting outside in the wilderness and away from your phone is "therapeutic." Social media is a massive milestone in interconnectedness among peers, yet it often leads to a lack of connection with your surroundings. These summit hikes really put things into perspective and are a much-needed outlet for outdoor lovers such as Nemo. Everyone should stop looking forward to the next BeReal, and start getting excited about being outside.
These long, arduous hikes were staples of Nemo's summer. Living in her hometown of Orange County, access to outdoor fun is around every corner. While it has its perks, Southern California life presents many challenges as well, wildfires included. These fires rage all over California, and the West in general, drastically affecting the way in which our environment is accessible. For so many, including Nemo, these fires are directly dangerous to communities and millions who live in high-danger zones — and they are directly dangerous to all outdoor lovers everywhere. Trails and campgrounds everywhere are being destroyed, and recreation is often halted as a result of fires. 
Mountain enthusiasts all over the United States flock to the western United States in the summers, Utah and California included. Sadly, these hikes that epitomize the lifestyle of adventurers are at risk: in 2022 alone, over 6,000 wildfires were recorded in California. With global temperatures rising and droughts affecting millions of people, these tragic fires have come to be expected every summer. This is a sad reality of the effects of climate change. A thick smog covered the entire Salt Lake valley in late August of 2022 as a result of raging wildfires in Idaho and Nevada, and over 25,000 acres of land across the state of Utah burned this summer alone. Whether or not you are in the danger zone of raging wildfires, you are undoubtedly affected.
Climate change is beginning to become more and more prevalent in everyday life all over the world. Salt Lake City, specifically, is a mecca for the outdoors and provides an opportunity for everyone to find a niche. Take advantage of these opportunities now, because who knows how much longer they're going to be available. Go outside!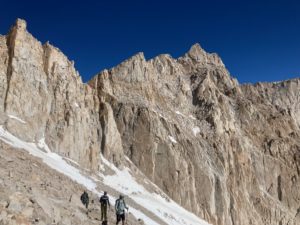 The post The Power of Type Two Fun appeared first on Wasatch Magazine.