The Best RV Resort in Louisiana: Sun Outdoors New Orleans North Shore
Discover Elite RV Camping at Sun Outdoors New Orleans North Shore
Located in Ponchatoula, Louisiana, Sun Outdoors New Orleans North Shore is a stunning RV resort on the shore of a picturesque lake. Formerly known as Reunion Lake RV Resort, this idyllic vacation spot offers convenient access to the Interstate 12 corridor and serves as an ideal stopping point for those traveling between Texas and Florida. Moreover, the resort is just an hour's drive away from both Baton Rogue, the state capital, and New Orleans, aka "The Big Easy."
Resort amenities
Sun Outdoors New Orleans North Shore is a pet-friendly RV park that provides a dog wash station. Each RV site is well-equipped with full hook-ups, including 20/30/50 amp electric, water, sewer, cable, and Wi-Fi. Guests can enjoy their meals outdoors with picnic tables and fire rings that are available on-site. The RV park also offers spacious, level concrete pads.
There are four types of sites available for guests to choose from: Premium Pull-Through, Premium Waterfront, Waterview Back-In, and Standard sites. Double and triple sites are also provided for guests who are traveling with two or three RVs. The RV park offers various facilities for guests' convenience, such as an onsite meeting room, bathhouse, laundry room, Sonic Drive-In, general store, golf cart rentals, and an Exxon Gas Station.
Sun Outdoors New Orleans North Shore offers a multitude of recreational activities. Guests can unwind and socialize in the clubhouse, indulge in the game room, or relax in the adult lounge. Two pools, a family pool and an adult pool, are complemented by a lazy river and a colossal hot tub. Additionally, guests can relax in poolside cabanas or enjoy refreshments from the swim-up bar.
For those seeking more active pursuits, the resort features basketball, volleyball, pickleball, horseshoe, miniature golf, and shuffleboard courts, as well as walking trails. The resort also provides lake activities such as fishing, kayaking, and paddleboarding. If guests desire to explore beyond the resort, Ponchatoula boasts various family-friendly attractions, including Gliebert and Sons Gator Tours, shopping, restaurants, and a scenic drive on the Southern Swamps Byway.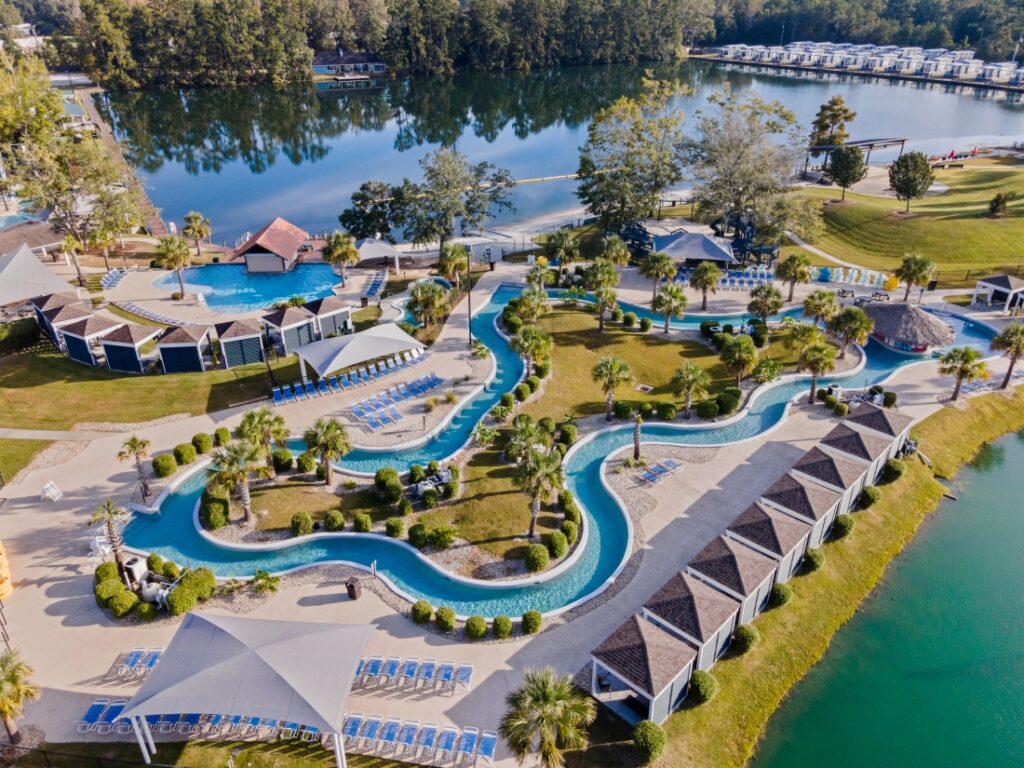 Resort reviews
Sun Outdoors New Orleans North Shore has an excellent 8.6/10 average rating on RV LIFE Campgrounds. According to a recent reviewer,
This a real RV resort conveniently located off I-12 near Hammond, La but far enough away so no road noise. The large RV park has concrete roads and pads with a large concrete patio area with a picnic table. The sites are level and very spacious with grass between sites. Each site has a fire ring and cable. There a small young tree at each site with a few scattered larger trees. No issues getting satellite. The Wi-Fi is excellent able to stream Netflix. There are many activity facilities—sand volleyball, basket ball court, pickle ball, mini golf, shuffleboard, lazy river, adult and family heated pools, hot tub, cabanas, lake with play equipment, playground, kayaks and golf cart rental, lounge, restaurant, arcade, fitness center, amphitheater, dog park. Not a place to go if you want quiet and no kids. We camped at Sun Outdoors New Orleans North Shore in a Motorhome.

– via Tom Willing
Things to do in New Orleans
Travel south, less than an hour from Sun Outdoors New Orleans North Shore, and you will be in "The Big Easy." There will be plenty to do and see while in New Orleans.
The city is considered one of the most haunted places in the United States, and there are several walking tours to help you explore the city's paranormal side. You can choose from popular tours such as the New Orleans Premier Haunted Ghost, Voodoo, Vampire and Mystery Tour, or the St. Louis Cemetery No. 1 Official Walking Tour, which takes you inside the cemetery.
If you want to do some sightseeing, you can take a swamp airboat ride, tour the Oak Alley Plantation, visit the Garden District, ride a riverboat on the Mississippi, or spend some time in the French Quarter visiting Bourbon Street and Jackson Square. The city is also home to a world-class zoo and aquarium.
Food options
New Orleans has some of the best food in the country. With everything from quick bites to fine dining, you will find some amazing new dishes while in town. Fresh seafood, Cajun, and Creole food are among the specialties from which you can choose.
Visit the world-famous Café du Monde and have the city's best beignets and coffee. Want to try your hand at cooking some of the dishes famous in New Orleans? There are several hands-on cooking classes. If you prefer, you can take one of the foodie tours where you can eat the best dishes in town.
Culture and festivals
Of course, no trip to New Orleans would be complete without hearing Dixieland Jazz at least once. There are many jazz clubs in the city, and you can hear music in the air while walking along Bourbon Street. Depending on when you are traveling, you can also attend the yearly New Orleans Jazz and Heritage Festival, French Quarter Festival, Bayou Boogaloo, Greek Festival, or the New Orleans Wine and Food Experience.
The Mardi Gras celebration is the most prominent yearly occasion. People from across the United States come to the Crescent City to enjoy parades and festivities that span several days. If you want to experience more Mardi Gras, make a point to explore Mardi Gras World.
Visit Baton Rouge
Less than an hour west of Sun Outdoors New Orleans North Shore, you will find the state's capital city. Baton Rouge has an eclectic culture just waiting to be explored. Visit the Old State Capitol, which was built on a bluff that overlooks the Mississippi River. The beautiful Gothic-style building is also known as the Castle on the River and the Castle of Baton Rouge.
One of the most unique things to do while in town is to visit the Mike the Tiger Habitat on the campus of Louisiana State University. The team's mascot is the only living tiger on a university campus in the United States. While on campus, take time to visit the LSU Museum of Art or watch the Tigers play a football game. Kids of all ages will love visiting the Baton Rouge Zoo, the Bluebonnet Swamp Nature Center, and the Blue Bayou Water Park and Dixie Landin'.
There are several museums to peruse while in Baton Rouge. The Louisiana Art and Science Museum is located in a historic railway station and has both permanent and temporary exhibits, art and science galleries, and a planetarium.
The LSU Rural Life Museum has 30 historic buildings spread over forty acres. It highlights 18th and 19th-century life in rural Louisiana and the Lower Mississippi Valley. The Knock Knock Children's Museum has several hands-on exhibits (learning zones) designed to encourage children to further explore STEAM (science, technology, engineering, art, and math) subjects.
Start planning your trip
It's never too early to start planning your next road trip, and we're happy to help. We have some amazing tools to help you plan your perfect vacation to Sun Outdoors New Orleans North Shore and other amazing resorts.
No matter where your destination is, what amenities you are looking for, or even the route you choose to get there, RV LIFE Campgrounds and RV LIFE Trip Wizard will help you plan an amazing vacation. RV LIFE Campgrounds is a trusted source of campground and RV park reviews written by fellow RV enthusiasts.
Along with its accompanying RV LIFE App, RV LIFE Trip Wizard gets you to your camping destinations utilizing RV-friendly routes customized to your RV and travel preferences. These online tools take the guesswork out of finding great places to stay, as well as the perfect route to get there.
Related articles:
The post The Best RV Resort in Louisiana: Sun Outdoors New Orleans North Shore appeared first on RV LIFE.
Source: https://rvlife.com/sun-outdoors-new-orleans-north-shore/