Survive Outdoors Longer Lantern Review
One of the most useful tools when outdoors is a lantern. Whether you're camping, hiking or cooking outdoors as the sun begins to set a bright and powerful long-lasting light source is essential. The Survive Outdoors Longer Venture Light 3000 and the Camp Lantern are my go-to adventure lanterns for all the moments in life that needs some light.
The SOL Venture Light 3000 is a useful lantern – small and portable for camping trips or vacations where you need to be more mindful of packing up gear. Plus, it only weighs seven ounces. The Venture Light 3000 is not just a lantern, it's also a power bank capable of charging your phone, camera batteries, tablets, or any electronic device in need of a boost while on an adventure or on the go!
Venture Light 3000, Image by Survive Outdoors Longer
Bright, Long-Lasting Lantern
There are multiple light modes including high mode with six hours of runtime, medium mode with 14 hours of run time, and SOS flash with 24 hours of runtime. This lantern has a battery indicator so you'll know exactly when you need to charge it next and the SOS flash can be used for rare emergency moments. The best part? It's rechargeable, so no need to keep an endless supply of batteries on hand! Simply use the integrated USB core to recharge the Venture Light 3000, which takes five hours for a full recharge.
The Camp Lantern has four lighting modes from low to high ranging from 300 to 1000 lumens—which is so bright, that it can easily light up the entire base camp. The runtime ranges from three to seven hours depending on which mode you're on. The flash mode can last up to 30 hours.
Versatile
This lantern can hand anywhere using wire bail hooks and magnets, so it'll not only stick on our RV fridge but also on branches, cars, tent poles, or anywhere I need some extra light. In case you're wondering, the 3000 in Venture Light 3000 is because it has a 3000 milliampere hour rechargeable lithium battery, which is basically how much energy charge the battery will hold.
The SOL Camp Lantern may look like a traditional lantern but it's packed with all the bells and whistles of the Venture Light and more! This powerful lantern comes with anti-slip rubber, and is resistant to splashes of water, and has an anti-shatter removable bow. This is definitely worth considering if you have little ones that come camping with you.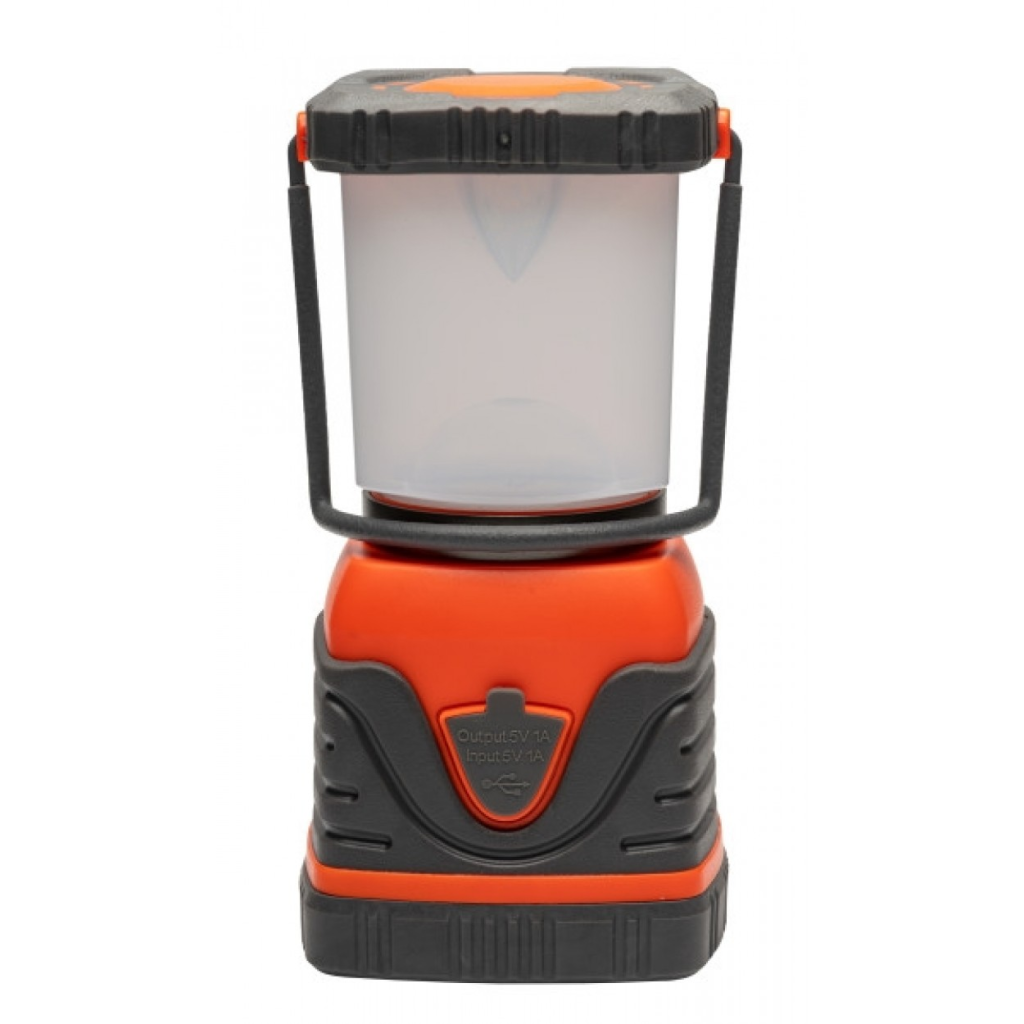 Camp Lantern, Image Survive Outdoors Longer
Features of the SOL Camp Lantern
One of my favorite features is that there are two spectrums of light on the camp lantern, cool and warm. I love the warm setting because of the ambiance it sets and the much less harsh lighting. It's a great mode to have while fireside or for dimmer lighting before bedtime. Like the Venture Light, the SOL Camp Lantern can power electronics through its micro USB port. It's great for those emergency situations where your phone dies and you need a quick recharge. It takes six hours to fully recharge the Camp Lantern. I love that you can hang or carry this lantern anywhere with the built-in carabiner in the base, or the top folding bail handle.
Conclusion
The Survive Outdoors Longer adventure lanterns have been a great addition to our camping supplies. We make sure we have either the Venture Light 3000 Rechargeable with Power Bank or the Camp Lantern Rechargeable with Power Bank – or both – when we're out and about on every adventure!
Related Video: SOL Flat Packs Make for Easy Prepping and Cleanup
Source: https://outdoors.com/survive-outdoors-longer-lantern-review-video/