Soaring Eagle Campers Offering Affordable hard Sides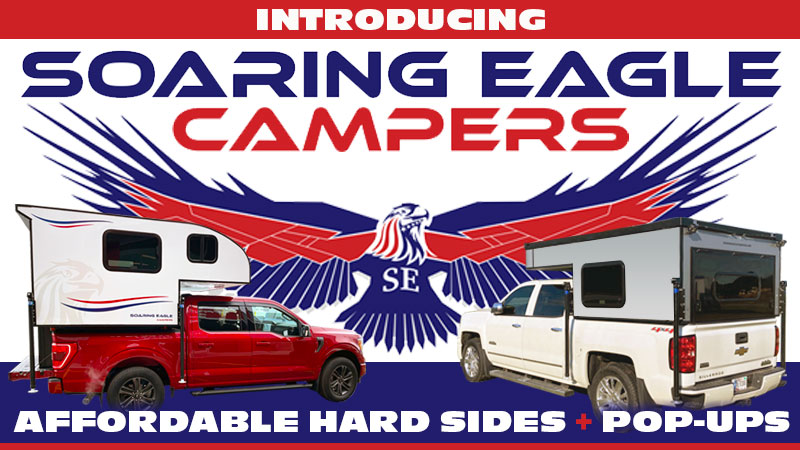 Out of Wakarusa, Ind., comes Soaring Eagle Campers, a new truck camper manufacturer producing aluminum framed pop-up and hard side campers, writes Gordon White for Truck Camper Magazine.
Focused on lightweight and affordable campers for half-ton trucks, Soaring Eagle Campers aims to spread the proverbial wings of the truck camper marketplace, and fly.
Over the past decade, we've watched the average truck camper price escalate to levels that threaten the future of our beloved pastime and industry. As camper manufacturers continuously chase profitable high-end buyers, the standard features and options have ballooned. The resulting camper weights push consumers into bigger and ever more expensive trucks. While some people have the financial resources to absorb these increases, others are getting left behind.
Soaring Eagle Campers is launching directly into the opportunity this situation has created. With a line of basic hard side and pop-up campers for half-ton trucks, they're catering to first time and more budget-conscious buyers. In fact, they firmly believe their models will meet the demand for affordable and lightweight campers and expand the truck camper dealer base and marketplace as a whole.
This all might come across as ambitious hype if it weren't from a proven source. Scott Tuttle, Founder and Partner of Soaring Eagle Campers, has an ironclad track record of starting innovative and ambitious companies that go on to become some of the most successful RV industry entrepreneurial stories of our time. Joining his leadership team and production crew are the who's who from his previous ventures. One thing is for sure; Soaring Eagle Campers will be a truck camper start-up to watch.
To learn more, we talked to Scott Bradshaw, Scott Tuttle, and Troy Andrews, three Partners at Soaring Eagle Campers. For the floor plans and specifications for the Soaring Eagle Campers Adlar 6.5, Adlar 6.5XL and OV-X, scroll to the bottom of this article. Click here for a Soaring Eagle Campers brochure.
Click here to see the complete Truck Camper Magazine article.
Source: https://rvbusiness.com/soaring-eagle-campers-offering-affordable-hard-sides/