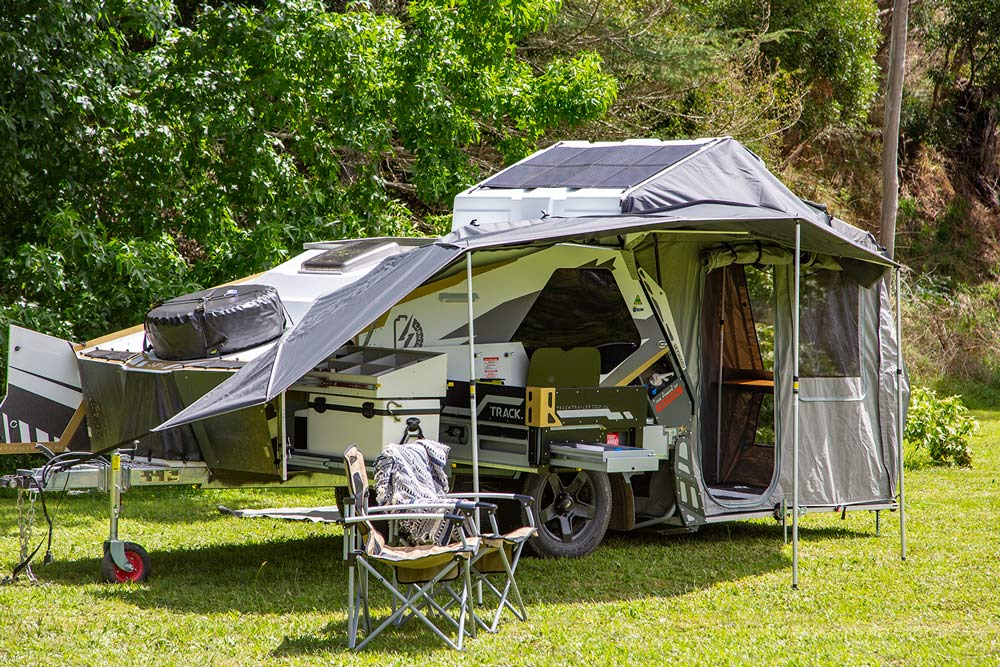 Like it or not, the world is gradually moving away from fossil fuels, focusing on renewable energy. This has led to increased demand for onboard high-capacity battery systems in RVs that can run induction cooktops and power other electrical appliances. The result: an RV that does not require a single gas cylinder.
Track Trailer, the company behind the legendary Tvan, has taken note of this trend. Its response to the growing need for muscular battery and solar systems is found in the Lightning, a Tvan that proves power never needs to be the limiting factor again.
TVAN LIGHTNING: ALL ELECTRIC, ALL THE TIME
The Lightning is a standalone Tvan model. Its key features, especially the increased battery capacity and inclusion of an induction cooker, called for specific design requirements that won't be found on other Tvans.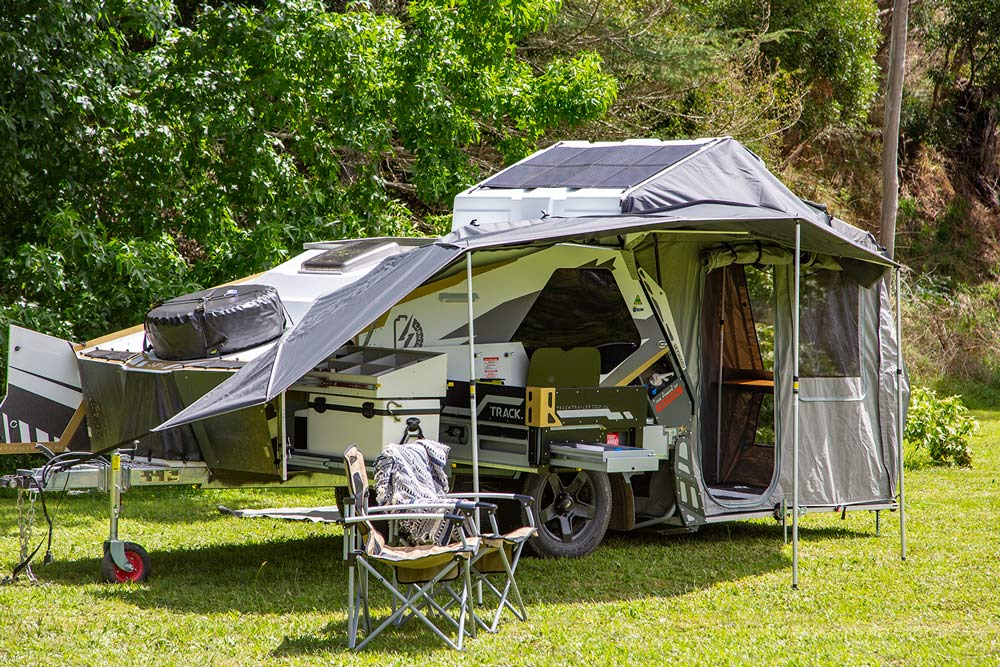 So how much battery capacity are we talking about? The Lightning is fitted as standard with a generous 500Ah worth of lithium batteries and 360W worth of solar. The battery system is comprised of twin 250Ah Revolution lithium batteries wired to a 40A Redarc Rogue TVMS control and distribution module. This system allows the user to control features such as onboard lighting and other devices, such as fridges, fans and water pumps, whether through the onboard display or via the RedVision smartphone app. It also allows the user to view energy charge/consumption data and activate or deactivate the inverter.
The solar system is made up of a 200W panel mounted on the roof and a 160W monocrystalline solar blanket that can be mounted to the rear hatch or used as a portable system. Other Tvans are fitted with just 120W of solar. Further, Track Trailer has given the Tvan Lightning a larger inverter. While other Tvans get a 300W inverter, the Lightning benefits from a 2000W pure sine wave unit wired to the 240V powerpoints throughout.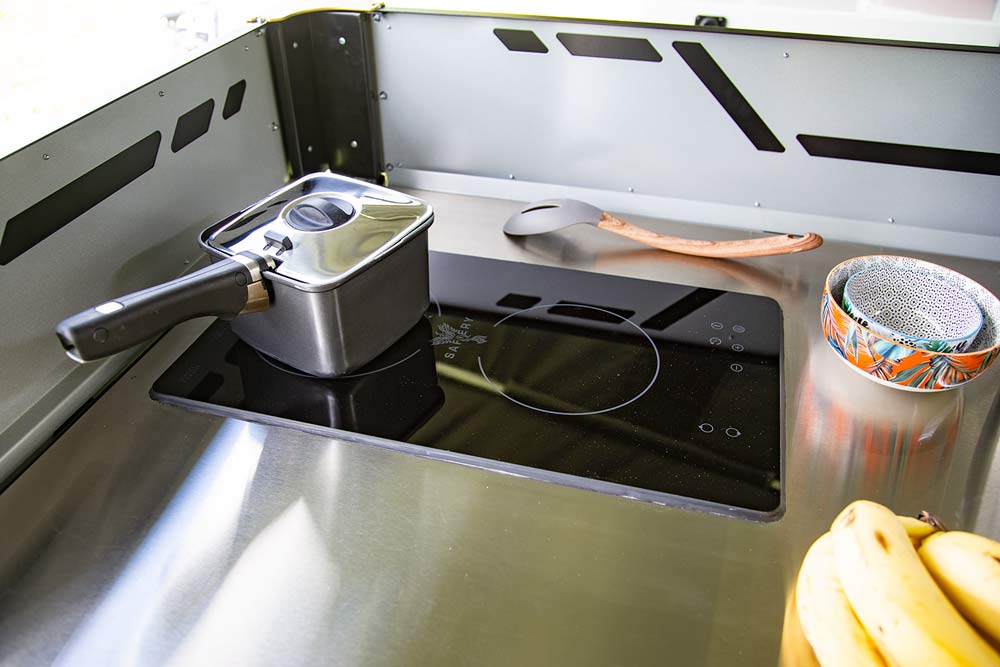 Okay, but in practical terms, what does all of this mean? Essentially, it will let the rig's owner power appliances such as a kettle or a hair dryer when off-grid. No need to plug into a 15A outlet at a holiday park. The inverter, backed by the battery (which is backed by the solar system), will provide the juice for you.
This battery system has allowed Track Trailer to do away with a traditional gas-fired cooktop in the Tvan Lightning. Instead, the external slide-out kitchen features a high-output, dual-hob induction cooker. According to Tvan, the induction cooker offers vastly better performance in poor weather conditions, such as high winds, when compared to a traditional gas flame. And that just makes good, logical sense.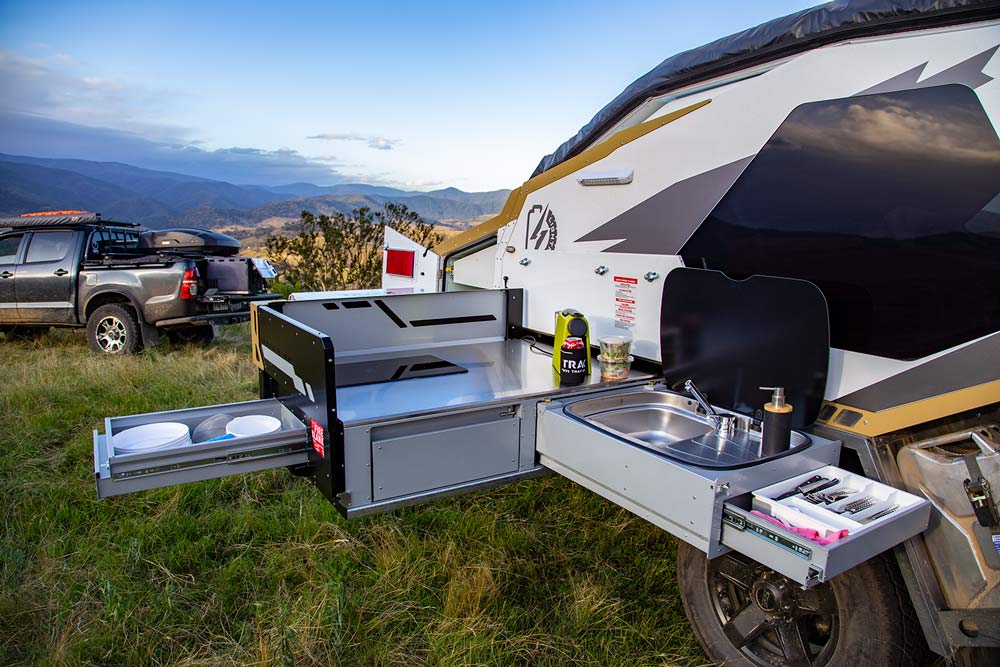 The Tvan premium kitchen is not an 'off the shelf' stainless steel number, such as those found on some caravans and hybrid campers. It is a high quality, highly engineered unit designed to properly fit the space available in the Tvan. Track Trailer, however, has added a couple of extra 240V powerpoints to the Lightning's kitchen… and the dual-hob induction cooker has been seamlessly integrated.
While the electric induction cooktop won't be as affected by the elements as a gas cooker, Track Trailer has retained the kitchen's lift-up wind-shield, since it also works to keep little hands away from the hot surface and, as Track Trailer's marketing manager Lloyd Waldron jokingly put it, "It will prevent the wind from reorganising your salad."
OTHER WAYS TO CHARGE
You might be thinking that all of this sounds great, but what if the sun isn't shining – how will I charge my batteries? While solar panels are indisputably less efficient during overcast or inclement weather, they will still offer some charge.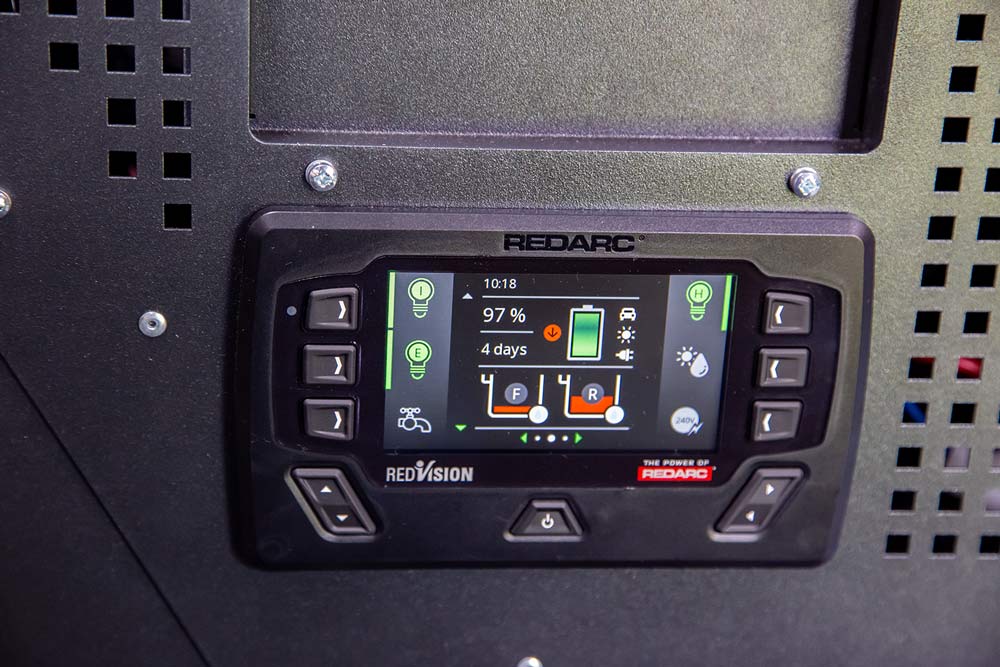 But the electrical system also includes a 50A Redarc DC-DC charger, and the Manager 30, which will charge the two batteries off the tow vehicle via the two onboard Anderson plugs. And if you really wanted to, you could pack a small generator as a means to charge the batteries when the sun just isn't cooperating and you're staying put for a few days.
While lithium batteries are known to offer a significant weight saving when compared to lead acid batteries of the same capacity, Track Trailer has located them, along with other electrical components, over the axle, with clear and organised circuit breakers and segmented shut-offs provided, too.
Positioning these items over the axles has, in turn, allowed Track Trailer to include some custom under-bed drawers and some other additional storage solutions.
The rest of the build is typical Tvan, complete with that unmistakable Track Trailer offroad DNA found in all of this company's campers and caravans. In Victoria, it has an RRP of $101,800, and that's a pretty penny. However, there's a reason why Track Trailer is synonymous with remote touring… and the Tvan Lightning is bound to live up to this reputation.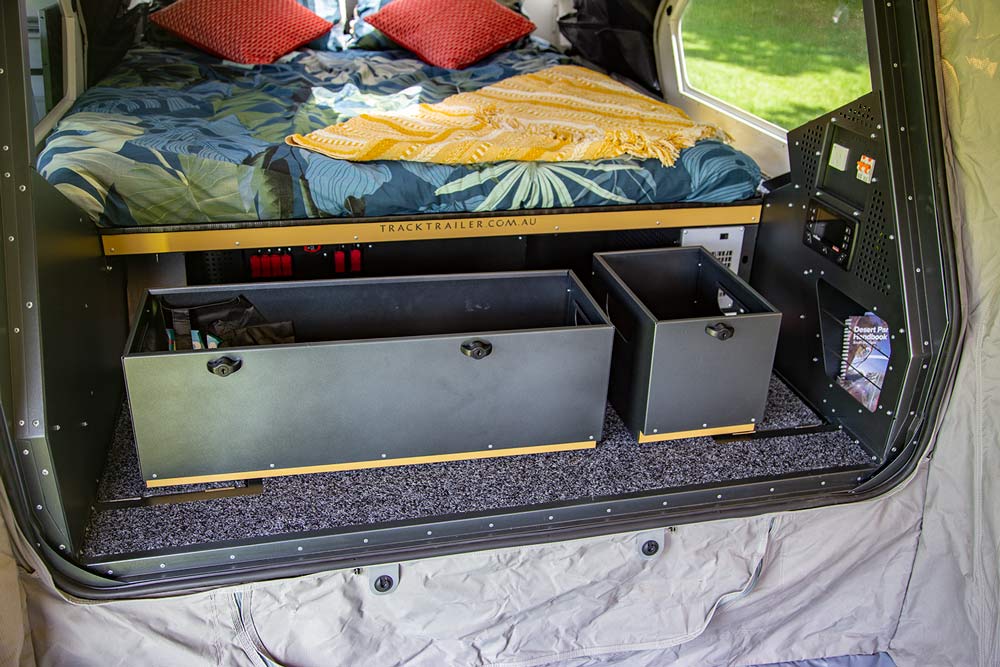 If what you want is a highly engineered camper that you'll even be able to pass down to your kids, don't overlook the Tvan, whether it's the Lightning or one of the other models, from the Tanami to the Murranji.
More information: www.tracktrailer.com.au/tvan-lightning
The post Sneak Peek: Tvan Lightning appeared first on GoRV.