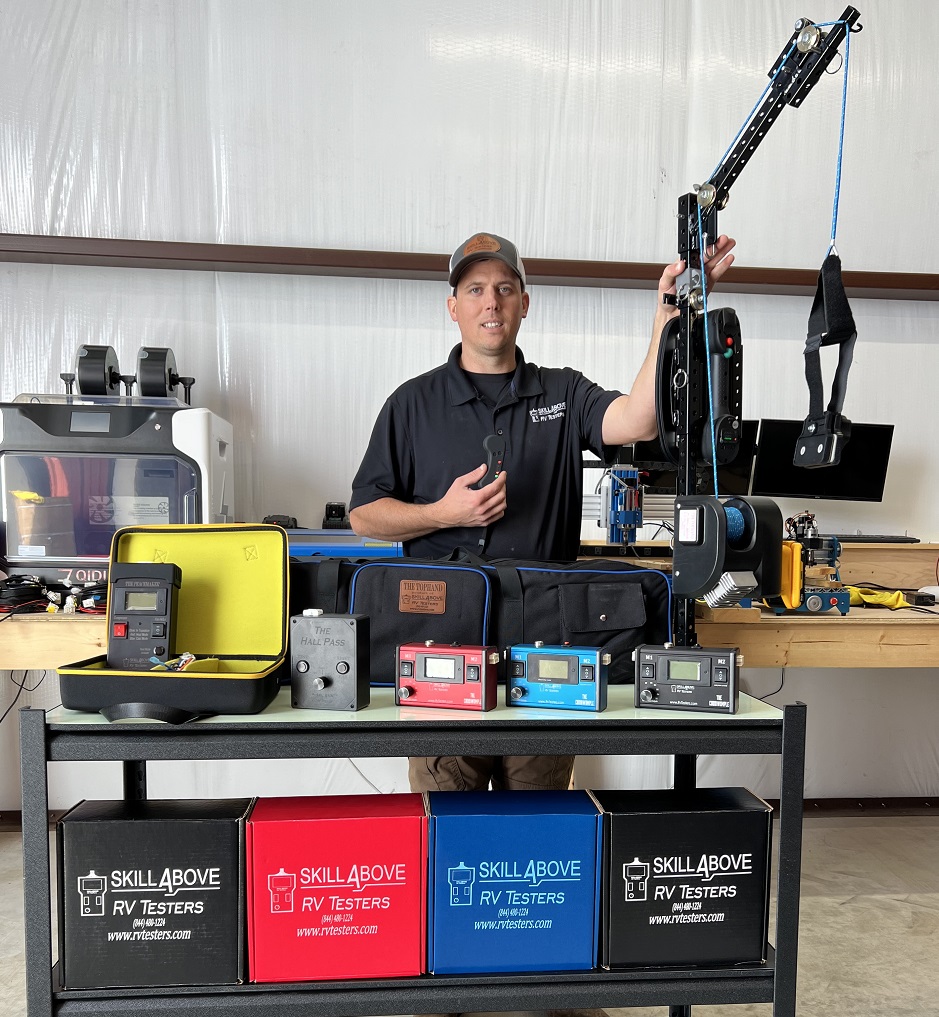 STEPHENVILLE, Texas – SkillAbove today announced it is making specialized diagnostic test tools available to technicians and RV owners through its website at RVTesters.com.
SkillAbove was founded in 2021 to develop and produce tools for mobile RV technicians, RV owners and technicians employed at RV dealerships. Its RV Testers Innovation Center is where prototypes are developed and evaluated. The company's primary goal is to help service technicians do their jobs more efficiently by diagnosing the real reason something is not working, said Chandler Cooper, president of SkillAbove.
"When the pandemic struck, many people were just standing around asking what do we do now?" he explained.
Instead, the young man from central Texas, who is a full-time RVer and lives in a customized fifth wheel with his wife and three children, started building test and service equipment specifically for the RV industry.
Chandler is also an instructor at the National RV Training Academy (NRVTA) in Athens, Texas. He specializes in RV exteriors and hydraulic systems. Chandler has been experimenting with ideas to enable RV technicians to better use technology to zero in on problems with recreation vehicles.
After attending Texas State Technical College in Waco, Texas, Chandler went to work in the gas industry servicing advanced electrical controls and safety systems. From there, he began specializing in high-speed manufacturing systems encompassing programable logic controls (PLC), robotics and network communications.
With that experience, Chandler became a co-owner of a technology training company, which contracted with several Fortune 500 corporations to train their maintenance staff. When COVID restrictions paused their live training events, and the job opened at NRVTA, it led to the formation of a unique partnership.
"Chandler has developed a reputation as a strong troubleshooter and problem-solver for his ability to use technology to improve the lives of technicians," said Terry Cooper, founder of NRVTA.
The RV Testers Innovation Center is transforming Chandler's prototypes into finished products for the RV industry, and is in the process of getting patents on his innovations. With 26 products in development for RV technicians and RV owners, Chandler has committed to releasing a new product with SkillAbove every month for the next 18 months.
"I plan to create quality tools that technicians and consumers can use to better diagnose and troubleshoot various systems in modern RVs," said Chandler.
When creating the products, he chose to power the bulk of his testers with the same batteries used in popular cordless power tools that many technicians and consumers already own.
RV testing tools currently available from the SkillAbove
Chandler invented four primary tools that can attach to hundreds of RV connectors to plug into brand-specific devices. They include:
The Coddiwomple
By definition, coddiwomple means to wander in a purposeful manner toward a vague destination. That's what many technicians have been doing, Chandler said.
The device can be used with a variety of leads or adapters to take the guesswork out of troubleshooting components. It can also be used to override a component to retract or extend a slideout and leveling system so an owner can get the RV to a repair center.
When electrically overriding components, the screen displays amp draw and voltage drop on Schwintek and SlimRack motors, hydraulic pumps, cartridge valve coils, screw style actuators, awnings and other RV systems. A new wireless feature allows technicians to activate the Coddiwomple via remote control without physically handling the tester.
The Peacemaker
Chandler named this tool because without a working air conditioner or heat pump, there is little peace among the occupants inside an RV.
By plugging the Peacemaker into a rooftop air conditioner or heat pump, a technician or educated RV owner can take the guesswork out of diagnosing problems. It will diagnose the compressor, multi-speed fan motor, heating elements, and a heat pump's reversing value by displaying the amperage draw and voltage provided to each component.
Hall Pass
This tool evaluates the function of motors for Schwintek, SlimRack and Ground Control 3.0 systems by displaying a green light to indicate "pass" or a red light to indicate "fail" on the front panel.
Many times problems with motors on these systems are misdiagnosed, said Chandler. The Hall Pass can eliminate an expensive trouble­shooting experience where technicians often try swapping out parts in hopes that corrects a problem.
Top Hand
RV Testers' newest product is a winch system for awnings and slide-out toppers that acts in place of a second person to hold equipment in place at job sites.
The 21-pound Top Hand uses a suction-mounting tool attached to a remote-control cordless winch – all of which are powered by cordless tool batteries – to hold awnings and slide toppers in position while a single technician completes an installation.
"In the past, mobile technicians and those working at RV dealerships have needed an extra ladder and another person to simply hold up the end of an awning," said Chandler. "With Top Hand, its arms never get tired, nor does the fabric accidentally shift while being attached."
The simple-to-set-up Top Hand reduces the risk of people falling off of ladders and also reduces labor cost when working on awnings and slide out toppers, he added.
High-tech equipment
SkillAbove's RV Testers Innovation Center houses fiber-optic lasers, a carbon dioxide (CO2) laser and an ultra-violet laser system, as well as filament- and resin-based three-dimensional printers, plus a computer numerical control (CNC) router for precision cutting of materials.
That equipment enables Chandler to produce and fine-tune testing equipment to exact specifications without having to outsource components, he said. He also has the ability to create prototype circuit boards.
Being an NRVTA instructor gives Chandler an opportunity to test equipment he develops while getting feedback from professional technicians and RV owners who are attending classes.
"NRVTA has been a great resource to evaluate my equipment's durability by allowing many students to use it on a variety of devices," said Chandler. "Students provide valuable input on modifications that would make the tools even better. By the time devices are available for sale, we know technicians in the field will not be serving as guinea pigs to make sure tools work as intended."
SkillAbove is now selling RV Testers' diagnostic tools to mobile service technicians, those employed at RV dealerships, and to educated RV owners.
For more information about the tools, visit www.rvtesters.com, email [email protected] or call 844-480-1224.
Source: https://rvbusiness.com/skillabove-creates-diagnostic-tools-for-rv-techs-consumers/