Simple RV Kitchen Organization Tips That Will Save You Space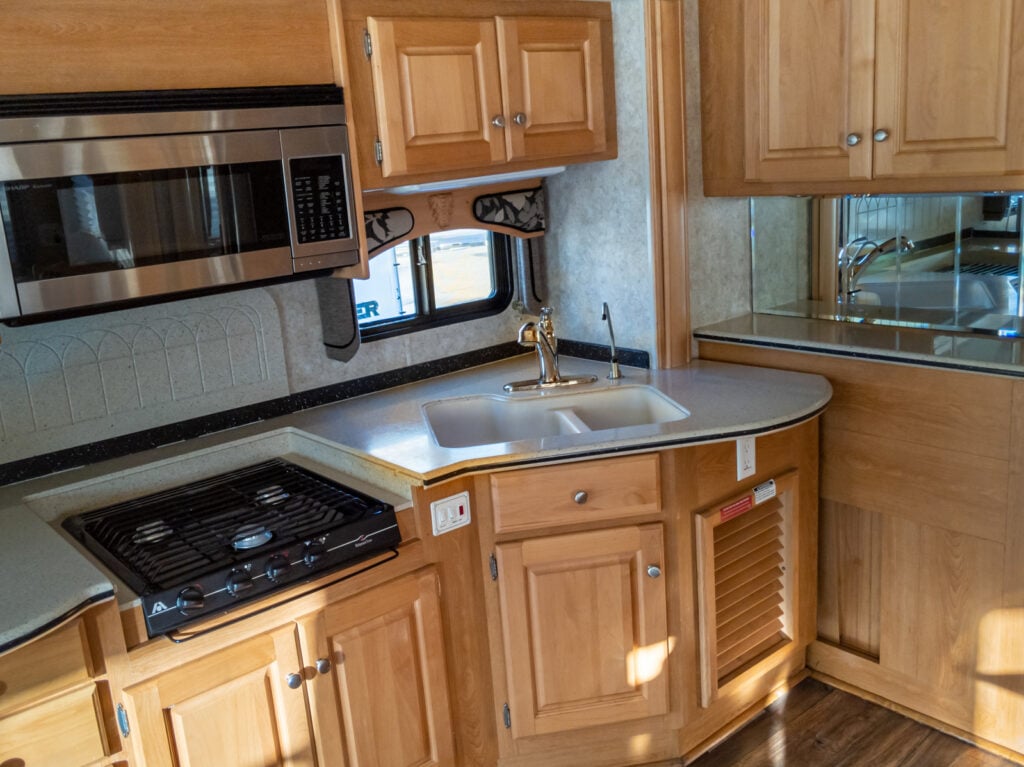 The Top RV Kitchen Organization Hacks You Need To Know
The RV kitchen presents a chance to cook while on the move, but it also has its challenges. Limited storage is a typical issue for most RV enthusiasts due to the confined space, which cannot be increased. Hence, organizing the kitchen is crucial.
Proper organization can help you maximize every inch of your storage space. If you love to cook, you'll need a lot of room for cookware, dishes, silverware, ingredients, and utensils. Although downsizing is a good first step, you still need to find ways to store everything.
Everyone needs something different from their kitchen, and no one has the same items. It's like a puzzle that's unique to each person! But even though each RV is different, we have some general kitchen organization tips to help you make the most of your storage space.
Downsize as much as possible
Before you do anything else, it's time to downsize your RV kitchen. This can be a difficult process, but it's absolutely essential! If you try to pack a bunch of stuff you never use, you'll quickly run out of space.
Begin by identifying the items you use most regularly. This will vary from person to person, but it might include things like toasters, blenders, and kettles. Next, reduce your dishes and silverware. If you travel with one or two people, you only need a couple of each. Use disposable dishes if you plan to host larger gatherings in the future!
Next, consider if there's anything that you could do without. Sure, it might be nice to have a popcorn popper or an ice cream maker. But you could also just buy ice cream or microwave popcorn! Consider the space that something will take up and compare that to how often you'll actually use it.
Try nesting cookware
As you downsize, you might want to get some space-saving alternatives. Nesting cookware is one of the best options for RVers. These products are designed to stack neatly inside each other so they only take up a small amount of space. There are nesting mixing bowl sets, as well as measuring cups, dishes, and even pots and pans!
Prioritize squares over circles
A lot of kitchen items are circular. Bowls, plates, pots, pans, and many appliances are circular. This shape works fine for traditional kitchens, but circles are not very space efficient. If you place a circular bowl in a square box, there's unused space around every corner.
That's why you should prioritize square items as much as possible. Look for Tupperware containers, plates, bowls, and cookware that will fit neatly into your cabinets. It might feel strange to use straight-edged kitchen items, but it's much easier to store them! Check out this 24-piece set for inspiration.
Install pull-out shelves
RVs do come with built-in storage cabinets, but they tend to be quite deep. It's easy to lose things in the back, and you definitely won't want to unpack the entire shelf whenever you want to find something.
That's where pull-out shelves come in handy! This is one of the most common RV kitchen organization tips (and for good reason)!
Anyone can create shelves that are easy to pull out. You can use separate plastic containers, wire shelves, or a system of rollers.
Use wire shelves for extra surface area
Speaking of shelves, you don't just have to use the ones that come with your RV. Some shelves are quite low, leaving unused space at the top. If you want to maximize your storage, place a wire shelf above the rest of the items. It never hurts to have extra surface area!
Hang items at the top of cabinets
In addition, you can also use the topmost portion of your cabinets for hanging storage. Sometimes you might have large or oddly shaped items that don't fit anywhere else. Hanging storage is a great solution that keeps these things out of sight and out of mind!
Some RVers hang their pot lids at the top of their cabinets. Others use hooks to hang large water bottles, measuring cups, or other items with handles. Just make sure that whatever you hang can handle a bit of motion. For instance, you don't want your mugs to break if they bump into each other!
Use vertical organizers for flat items
Organizing flat items might seem like an easy task. But if you have several different items to work with, they can stack up faster than you might expect. They also tend to slide around and crowd cabinets, so they generally need their own storage solution.
Vertical organizers or dish drying racks are a great option. With these, you can store baking sheets, frying pans, plates, lids, and other flat items right next to each other. It also minimizes breakage because each item has its own space.
Use the oven as storage space
You might feel hopeless if your cabinets are full and you don't have anywhere else to put things. If this is the case, you still have options! If you have an oven in your RV, this can double as an extra storage space.
Although ovens are useful, most RVers don't use them on a regular basis. It's much easier to use the stovetop, microwave, or outdoor grills. Therefore, this space is just sitting unused for the majority of the time! Make it useful by storing bulky items in here.
Many people use their ovens to store pizza stones, baking sheets, muffin tins, and other items that they don't use every day. It's a neat and simple solution. Just make sure you take everything out before you preheat the oven!
Remove food from the original packaging
Dishes and cookware aren't the only things you need to worry about. You also need to find space for your shelf-stable ingredients. You don't need to travel with a six-month food storage, but everyone should have a few essentials on hand.
Managing pantry storage can be tricky, especially because everything comes in different boxes, bags, and cans. In order to simplify the process, remove food from its original packaging and transfer it into standard-sized alternatives. Many people like to use airtight Tupperware containers for this purpose.
Just make sure you write down the expiration dates of all your food. After all, it's easy to lose track once you rearrange everything.
Utilize empty wall space
Finally, you can always use the empty wall space around your kitchen. Hanging storage is one of my favorite RV kitchen organization tips. This strategy makes it easy to store utensils, fresh fruit, and anything else that you want to keep within easy reach.
You can also use magnets to your advantage. Magnetic knife racks are safer than tossing your knives into a drawer, plus they're more stable than blocks. Magnetic spice racks also provide easy access and organization.
Command hooks, nets, and wall-mounted baskets are other great ways to maximize your storage capacity.
You don't have to spend a lot of money in order to have a neat and efficient RV kitchen. With these RV kitchen organization tips, you should be able to streamline your kitchen and get cooking!
Get tips from other RVers
One of the best parts about RVing is engaging with the community of traveling enthusiasts. iRV2 forums allow folks to chat with other RVers online, and get other perspectives on everything RVing, including products, destinations, RV mods, and more.
Related articles:
The post Simple RV Kitchen Organization Tips That Will Save You Space appeared first on RV LIFE.